As some of you may know, I dropped some news that Utomik, a gaming subscription service, partnered with Curve Digital - a pretty awesome indie developer. While the platform isn't perfect yet, it definitely has an interesting selection of games that seems to be growing more and more each passing week. And while it doesn't give us an unlimited Netflix-esque experience yet - I feel like it's definitely on it's way. So, I emailed with CEO, Doki Tops, to figure just what makes this service special. 1
First off, tell me about your service, Utomik, in your own words.
In short, we serve people an 'all-you-can-eat' unlimited gaming buffet for a monthly subscription fee. What that means, is that with Utomik people get to play anything they want on our service, as much as they want. With a weekly growing library there's always something new for you to give a try. The beauty of a subscription service like ours is that you're not spending a cent more than the monthly fee. It enables people to go outside their comfort zone and discover something new, something they otherwise probably never have bought in a traditional digital store.
If there's something that appeals to you, you only have to press the 'Play' button and you're usually playing the game within a minute, depending on your internet connection. That's also a thing that no digital store currently offers! With our smart download tech you never have to wait hours for your game to download. Our tech calculates how much of the game you need to start playing, based on your internet connection, so you get to jump in the game really quick. The rest downloads in the background to your PC while you're playing! You can also say goodbye to updating and patching games every week!
We offer a wide variety of genres, so there's something for every type of player. We have AAA classics, retro titles, indie gems, and family-friendly games. Whether you want to play Batman: Arkham Asylum, Saints Row IV, the old Star Wars games, high-quality indies, or a casual time management title, we've got you covered!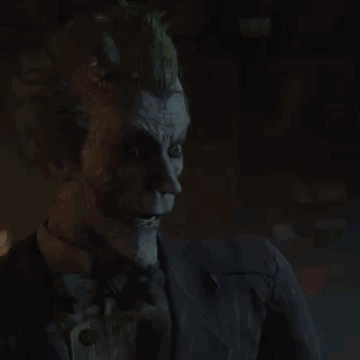 Arkham Asylum is one of few AAA titles in the service media.giphy.com
What are your goals for Utomik?
Our mission is to "Unleash Gaming". For us that means giving more people easy access to a big variety of games. That feeling when you discover something cool on Netflix is what we want to bring to gaming. So far with more than 700 games we've come a long way, but we've just started. We want to become a big player in this space. Currently we've been compared to all the big names and have come out on top quite a few times. As a small start-up that makes us really proud.
We will get more and newer content to the platform and will be expanding on our day one release strategy, we recently launched another one of those and the content we release is fresher every week. Also currently we are doing this in the realm of PC but we are looking into other platforms for the future.
What would you say separates Utomik from other game streaming platforms like Jump?
Our diversity, technology and personal approach certainly makes us stand out from the crowd. Our variety lets you play a big open world game, while the next day you want to get a little more philosophical with a deep indie title or play a hidden object game. In a family account, which we support, this becomes even more valuable.
We release a minimum of 5 titles every week to expand our portfolio, and we try to keep in mind different kinds of players. That makes it more exciting to start up Utomik and seeing what's new for you! Our technology lets you get into the game after only downloading a small part of the game. Start playing in a minute, no long downloads or patches.

And finally, unlike many platforms we have a very personal approach. We take our time to talk to every single person that wants to engage with us. Next to our main Facebook page and Twitter account, we have our Facebook Community group, a public Discord channel, four days that we livestream on Twitch, YouTube and Facebook, at two different times a day, and we make YouTube videos in which we recommend games from our library. We also interview indie developers once a week on our livestream, so people can jump in and ask them all their questions and occasionally get a sneak peek of a new project they're working on! We want to share our love of games with everybody that wants to listen. :D
Do you think that a service like Utomik is where gaming is headed?
Definitely! Otherwise we wouldn't be doing this. ;) With so many games nowadays needing very big downloads, updates and patches before you can even start playing, we see a growing request for a service like ours. You just want to click 'Play' and get into a game, not having to wait an hour.
Then there's the trend of on demand in every other entertainment industry. Netflix and Spotify let users engage with content without friction. This lets people listen to new music or unknown films without friction. This is missing in gaming and we believe it is definitely the future.
In this world it's getting harder and harder for gamers to stay up-to-date with every new game getting released. A big chunk of gamers are people with a full time job, maybe a family, and they might have other hobbies next to gaming too. They don't have the time to read every gaming website, watch Let's Plays or livestreams. They just want to sit down and play something like they do with all their other media! We take away the overload of information and let them enjoy themselves for the limited time they might have. And you can be certain that every game that we have on our platform is up to standard due to our curation. Something that can't be said for regular storefronts.
You say you hand pick your titles - how do you decide what kind of games get a spot on your service?
Every game that gets added needs to either be critically acclaimed, loved by players from that genre or niche, or have won awards. Besides that we also look if a certain game fits our audience or if we need to add titles within a certain genre to give our players more choice there. But before a game gets released on Utomik it needs to take one final hurdle: our Ninjas. They're a group of Utomik subscribers that help us curate the titles that get added. Everybody with a Utomik subscription can apply for this program but we try to keep this group as varied as possible so that every type of player is represented. We ask them to play the games we want to add and let us know what they think of them. They don't like it? Then we don't add it! Who knows better what they want to play than your own users, right? We always want to keep that human factor in our selection process. We're very proud and thankful for the group of people we have in our Ninja Squad at the moment.
This partnership with Curve Media is great! Do you want to have more of an independent presence on Utomik? Like, are you going to try for more indie games, or do you want a good mix of both indie and AAA titles?
We keep aiming for a good mix of both but a partnership like the one with Curve definitely helps us cement our position as the leading indie platform. We're being supported by a lot of indie developers and publishers at the moment already. You'll only see this number grow in the future. We push hard to get the best indie titles on our service! I can't wait to show you our upcoming games.
Everybody at Utomik is a big fan of indie games! We're very excited to give them a platform where they can reach a completely new audience, or get rediscovered by people that didn't get to play their game when it originally released.
And lastly, what would you say is the best part of Utomik?
For me it's the great games that I got to discover and play on Utomik. That, together with our staff and the community make it the best. We are lucky to have a very passionate staff and community that helps and supports us in making Utomik the best it can be. Without them we wouldn't be where we are today and I am very thankful for that.
---
Shann Smith is a freelance writer, screenwriter, playwright, gamer, and film/TV lover. When he's not working on his columns for Popdust, he's doing his best to create and consume as much media as he can!

---
POP⚡ DUST | Read More…
ROLE PLAYGROUND | What is wrong with Secret of Mana?
YouTube's #DemonetizationDay could mean big trouble for gamers
GAMING TOP 10 | Top 10 Original Kingdom Hearts Characters
GAMING NEWS | What does Curve Digital add to gaming service, Utomik's, library?