MUSIC
On their final end-of-year list, our music writers highlight the year's best albums.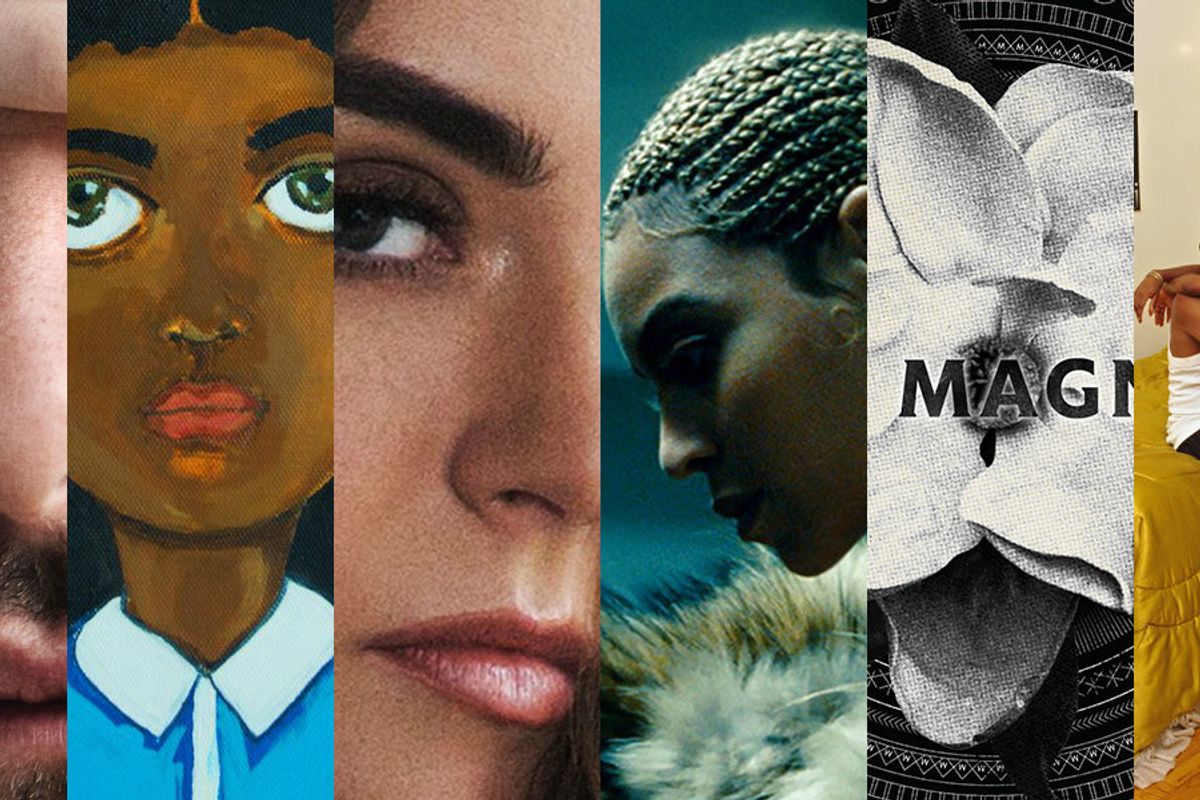 Popdust's E.R. Pulgar and Jason Scott wrap their Best of 2016 series with the release of their final scorecard: albums.
Despite streaming biting into digital downloads and sales figures, the album remains a stalwart reminder of the throbbing beat of creativity and storytelling. This year alone, major releases from Beyoncé to Miranda Lambert left indelible marks on the industry, further proving that full-length records are still viable and necessary placements of our cultural heritage. Read on for our picks for the 20 Best Albums of 2016, and we welcome personal attacks and shoulder shrugs in the comments.
Also, check out Popdust's reads of Best Songs of 2016 and Best EPs & Mixtapes of 2016.
---
E.R.'s Picks
10. The Life of Pablo, Kanye West
For all his flaws (and there are so many), nobody can deny Kanye West's abilities as a rapper, producer, and curator who continues to bend the rules of music in his favor. Perhaps The Life of Pablo, which he infamously continued to work on and edit even after it was completed, is the best example of this. West's perfectionism doesn't amount to nothing: listen to literally any of the multiple versions of "Wolves" out there, or the sweepingly sexy "Ultralight Beam," and admit to yourself that, underneath all that ego, the man's got quite an ear.
Key Tracks: "Wolves," "30 Hours"
9. Blackstar, David Bowie
David Bowie's farewell to this plane of existence was as theatrical as you might expect, and is rooted in a deeply chaotic energy. The sprawling "Blackstar," stylized as "★," is a monument to the surreal power of one our greatest musical chameleons, and the album as a whole is a testament to one of the greatest showmen to ever live. The stars have looked different ever since Bowie left us, and leaving us with this blackout of cosmic proportions feels more than appropriate.
Key Tracks: "Lazarus," "Blackstar"
8. You Want It Darker, Leonard Cohen
Another of music's fallen heroes who left on his own terms, Leonard Cohen's final record sees the Godfather of Gloom give the world a silent, doleful goodbye. For all its mournful undertones, and for all the mourning that followed, You Want It Darker doesn't sacrifice any of the smoky sex appeal or sleekness that's so entrenched in a Cohen record. Ever the poet, here we see Cohen conjuring and facing the holy head-on: the title track's refrain, "I'm ready my lord," will forever remain a haunting premonition.
Key Tracks: "You Want It Darker," "If I Didn't Have Your Love"
7. Freetown Sound, Blood Orange
Dev Hynes returns in top form on a record that's as run through with funk horns as it is a synthesizer. Hynes is as honest as he was in the days of Cupid Deluxe, but there's hardly room for comparison; this album is a full-on seduction of the senses. Hynes sneaks in empowering statements in the form of subversion: standout track "Augustine" sees him mixing the eponymous saint's writings with queer and immigrant narratives. Hynes said he wrote the album for those who were told they were "not black enough, too black, too queer, not queer the right way." By meshing his signature R&B / electronic sounds with his most powerful songwriting yet, Hynes meshes disparate elements into a gorgeous, glittering haze.
Key Tracks: "Augustine," "Hadron Collider," "Hands Up"
6. Remember Us To Life, Regina Spektor
Regina Spektor's vibrant melodies and storytelling abilities have only improved on Remember Us To Life, her most sensitive and somber record to date. The album breathes more organically than her other works, an energy that can be attributed to the fact that she recorded it with a full orchestra. "Grand Hotel" is an epic poem in and of itself, and one that makes full use of all the new sounds Spektor is bringing to the table. Now on her seventh studio effort, Spektor shows herself as daring and emotive as ever, refining the emotional highs that made Soviet Kitsch so exhilarating into a refined, full-bodied collection of tunes. A little older and a lot wiser, she remains adventurous.
Key Tracks: "Grand Hotel," "The Light"
5. Telefone, Noname
Noname exploded onto the scene when Chance the Rapper featured her on his celebrated Acid Rap mixtape; on her own debut, the Chicago rapper's poetic verse remains as cutting as ever in this smooth collection. "All I Need," for one, boasts a delectable production that emphasizes her lyrics as much as her sick flow, proving that this excellent newcomer can more than hold her own with anyone in the game right now. Count on Noname to conquer 2017.
Key Tracks: "All I Need (feat. Xavier Omär)," "Yesterday"
4. 22, A Million, Bon Iver
Justin Vernon's voice has never been more coated in Autotune and mystery than in 22, A Million; the songs themselves are stylized in a way that seems almost robotic. Take what's on the surface, and turn it completely on its head: this is Vernon's most sensitive record yet, a robo-folk romp through lakes, creeks, peaks, valleys, and deep forests. "715 - CR∑∑KS," where his technologically infused voice is highlighted, sees Vernon tearing through a gorgeous litany of love lost using musical techniques that would usually leave a song cold. The result is a tear-jerking reminder of why we need him to come out of his cabin in the woods more often, and why it's good to let him ferment all his emotions for a few years. You're going to feel emotionally exhausted at the end of it, but it's a journey through every facet of love and loss that, once taken, isn't easily forgotten.
Key Tracks: "29 #Strafford APTS," "715 - CR∑∑KS"
3. Ape in Pink Marble, Devendra Banhart

Devendra Banhart wrote this record while mourning the death of several loved ones, a pain that runs through the entire record that tints even the most seemingly happy tracks with drops of melancholy. Banhart made a name for himself through experimenting, but here we see a more subdued, pensive kind of music. Even danceable moments like "Fancy Man" are floaty, moments of escape from much heavier subject matter. Whether Banhart floats in fantasy or reality, the world he has created here, strung together through the vague narrative of a hotel with an eclectic cast of characters, is so utterly complete that one can't help but get lost in it.
Key Tracks: "Jon Lends A Hand," "Fig in Leather," "Fancy Man"
2. Blonde, Frank Ocean
It doesn't do Frank Ocean justice to say that Blonde delivered on everything the public expected and more. It's undisputed that this was the most anticipated record of 2016, and the queer epic Ocean has graced us with is so utterly, satisfyingly lush that no blurb will do it justice. He maintains the swagger that made channel ORANGE so great, while delving into completely new emotional territory. Ocean's catapult into success and his reclusiveness can shroud him in mystery, but this heartbreaking, soul-baring record brings us right back to earth. Ocean is as human as any of us, and it's the utter humanity of this record that makes it so beautiful to listen to. Ocean puts it best in closing track "Future Free," singing "I'm just a guy I'm not a god" with a deep-rooted tenderness. It's hard to not want to fight whoever it is broke his heart, but Blonde shows Ocean at his most forgiving, and his most empathetic. Never has the image of a sports car been so tied to emotional turmoil.
Key Tracks: "Nikes," "Ivy," "Pink + White,"
1. Lemonade, Beyoncé,

Never before in pop music has the black woman been embraced so thoroughly and so thoughtfully as in Beyoncé's Lemonade. Beyoncé doesn't need to say anything, much less prove herself musically, but she takes her platform and goes on to critique police brutality against black people, creating a compelling narrative of a woman scorned getting closure in the process. It goes further than what she says; the Lemonade film is a redefinition of the visual album, and the music itself shows Beyoncé as eclectic as ever, as comfortable in hard rock and country as she is in pop. 2016 is guilty of taking quite a bit, but it did bring us Lemonade. All hail Queen Bey.
Key Tracks: "Formation," "Hold Up," "Daddy Lessons," "Don't Hurt Yourself (feat. Jack White)
Honorable Mentions
Awaken, My Love!, Childish Gambino,
Untitled, Unmastered, Kendrick Lamar
Hamburg Demonstrations, Peter Doherty,
A Seat at the Table, Solange
The Colour in Anything, James Blake
Running Out of Love,
The Radio Dept.
---
Jason's Picks
10. The Other End of Passing Time, Oh Jeremiah
The singer-songwriter duo of Jeremiah Stricklin and Erin Raber are unmistakably hard to define. They draw upon folk, orchestral pop and the grainy Paul Simon kind of storytelling, sketching together their own portraits of life, love and heartache. "With Sam Kassirer (Elephant Revival, Lake Street Dive) taking a spin in the producer's seat, songs like 'Sinking Ship,' 'Bandits' and 'One-Room Apartment' flitter across a sweeping musical landscape and into the eardrums -- much of the record is painted with magnificent percussion, spirited piano, haunting strings and a timeless outer coat," Popdust wrote of the record, which premiered to much fanfare over the summer. Stricklin's striking lead vocal is aptly balanced by Raber's haunting backing harmony; their hunger for musicality pervades every guitar lick, every expressive melodic line and is alarming but exhilarating.
Key Tracks: "Dinner Conversations," "One-Room Apartment," "Bandits," "Sinking Ship"
9. Mad Love., JoJo
Despite a nearly decade-long battle with her record label, the singer, of "Too Little, Too Late" fame, proves she's invincible with her comeback LP. She conjures up the chewy bubblegum-pop of her youth but pushes the pedal to the mettle with hearty R&B stock and maturity. "Music.," which Popdust named one of the Best Songs of 2016, sets the tone for a rather personal and deeply moving album--zipping between spirited kiss-offs ["Fuck Apologies" (with Wiz Khalifa), "FAB." (with Remy Ma), "Vibe."], big-band fuel ("Mad Love.") and blustering slow-jams ("Edibles.," "Like This.," "Clovers."). The reflective, piano-constructed ballad "I Am." is one of the album's most cutting, leaving you breathless and gasping for more. Rather expectedly, JoJo has morphed into one powerhouse vocal acrobat; there's never a mountain too high or valley too low she can't redefine, effortlessly.
Key Tracks: "Music.," "FAB." (featuring Remy Ma), "Like This.," "I Am."
8. The Heartland, Rabbit Wilde
There is no other up and coming string band nearly as enticing as this troupe out of Bellingham, Washington. The push and pull of banjo, rhythm guitar, mandolin and cello over glossy melodies is like a needle to the veins, injecting such a stiff high of Americana and rock you will surely never recover. Miranda Zickler, Nathan Hamer, Zach Hamer and Jillian Walker howl across the music of the American Heartland with primal instinct; their sophomore album is collected but wild, especially on standouts like the toe-tapping opener "Gold," "Summer Hotel" and the haunting sizzle of "Ghosts in the Heartland." 13 tracks can prove too mighty of a task for many string bands, but Rabbit Wilde put considerable weight on each entry like it is their only shot.
Key Tracks: "Gold," "Howl," "Codeine, No. 7," "Ghosts in the Heartland," "Jackson, WY," "Summer Hotel"
7. Night Swim, Josef Salvat
The Australian-born, London-based songwriter technically released his long-awaited debut in the fall of 2015 (as a France-only release), but the moody, '80s-influenced LP saw a global drop in early 2016. Following in the melancholic footsteps of the elusive Lana Del Rey, Salvat's full-bodied, luscious vocal drip is unfiltered and forlorn, as huge as found on "Hustler," "Punchline" and "Shoot and Run." He longs to be clasped to your sweaty flesh after an anonymous hookup--his delivery is intimate and brooding, beckoning you into his brawn--but he releases you into a psychological study of human emotion. His reading of Rihanna's smash hit "Diamonds" is especially exquisite.
Key Tracks: "Open Season," "Hustler," "Shoot and Run," "Every Night," "Diamonds"
6. Signs of Light, The Head and the Heart
The Seattle six-piece fluff up their image on their third studio album, a shiny, impressive bow on Warner Bros. Their rustic, Americana ways which characterized their previous two records become only minute details on what is their most expansive and Top 40-attainable collection. That's not to say they completely discard their roots; on the contrary, they rip up the tree's supple feet and give them a pair of tap shoes and send them crisp and reinvigorated out onto the ballroom floor. "Your Mother's Eyes," "Turn It Around" and "Oh My Dear" are charmingly reminiscent of previous work but are progressive with electronic touch ups, a threaded needled which stitches its way into the full-throttle tone of the album. Even when production hits you squarely between the eyes ("City of Angels," "Rhythm & Blues," "I Don't Mind"), there are more than a few cuts which give pause to review the journey, to recover and sojourn further into the darker recesses of their psyche ("Library Magic," "Signs of Light").
Key Tracks: "All We Ever Knew," "Rhythm & Blues," "False Alarm," "Colors," "Your Mother's Eyes"
5. All I Need, Foxes
"If I was a bird, I could fly far, far, far away." And indeed, Foxes, born Louisa Rose Allen, takes tremendous flight on her sophomoric effort. Rallying behind feverish dance-pop dreamscapes and unpolished recording, the songbird heaves and sighs at just the right moments on the year's most substantial and important groove-based synth-pop records. Coming off the success of voicing Zedd's massive hit "Clarity" in 2013, she manages to muster up her own distinctive voice, charred with muscular wisdom and sturdy hooks--the cinematic feel of album's scope is anchored with strings, sparkling piano vibrations and enough vocal oomph to fuse an atom bomb. Gemstones such as "Cruel," "Wicked Love" and "Scar" stand as the English singer-songwriter's best moments of her career.
Key Tracks: "Cruel," "Body Talk," "Devil Side," "Scar," "Wicked Love"
4. Broken People, Muddy Magnolias
In a year when Beyonce became the poster-child of African American pioneering in country music, Muddy Magnolias--made up of Jessy Wilson and Kalie North--school the lot of country practitioners with a set drenched in the tender nuances of soul, gospel, country and the rhythm and blues. You can not, mindfully, label the record under any one qualifier. It is as influenced by Muddy Waters and Bessie Smith as it is Jimmie Rodgers, Charley Pride and Loretta Lynn. They don't pretend to be something they aren't but instead, let the music do the talking. Whether they are reminiscing on Delta Blues stomp ("Broken People," "Brother, What Happened?," "It Ain't Easy") or summoning gritty southern country storytelling ("Take Me Home," "Train"), Wilson and North shed the shackles of the past (and country music's tendency to erase black musicians from history books) with respect and compassion. Plus, you'd be hard pressed to find better 1-2 punch vocalists as these two; they work delicately and thoughtfully off each other, complimenting each of their ranges and vocal timbres.
Key Tracks: "Train," "Brother, What Happened?," "Take Me Home," "It Ain't Easy," "Shine On!"
3. The Weight of These Wings, Miranda Lambert
The risky move to dive headfirst into a double-album, much less in country music, is a tall order for anyone. Lambert confronts pain and heartache with abandon and resolve. Containing a hefty 24 songs, the record is particularly ballad-heavy, and that's A-OK. From start to finish, you are taken into her world, one of sorrow and self-loathing and bleached in a myriad of vices. She races between getting drunk to numb the pain ("Ugly Lights"), giving into physical release ("Vice," "Bad Boy"), smoking ("Smoking Jacket") and hiding behind the gloss of plastic eyewear ("Pink Sunglasses"). Lambert crinkles up her life like so many pieces of worn and musty yellow paper, relishing in the brokenness of her life and allowing herself to bleed, mend and go trucking down the highway once more on a mission of triumph.
Key Tracks: "Tin Man," "Pushin' Time," "To Learn Her," "Use My Heart," "Getaway Driver," "Things That Break"
2. Bunny, Halo Circus
Allison Iraheta, of "American Idol" season 8 stardom, is a vocal juggernaut--even during her days on the now-defunct competition show, she possessed a cataclysmic voice possessed with clever wisdom and alertness. Seven years removed, she has found her identity as one of the defining performers and songwriters of her generation. Armed with a string of accomplished and talented musicians (Matthew Hager, Brian Stead and Matteo Eyia), she formed a band greatly influenced my alternative strains of classic rock, Iraheta's Salvadoran heritage and soul music. "Band Aid," which Popdust named its No. 1 Song of 2016, is only the tip of the iceberg. Other standouts such as "Guns in Our Hands," "Nothing at All" and "Verdad" display their scope and extent to which they are able to capture music's throbbing heartbeat.
Key Tracks: "Band Aid," "Guns in Our Hands," "Nothing At All," "Dawn," "Something Special"
1. In Loving Memory of When I Gave a Shit, LOLO
There are few singers as spellbinding as LOLO. The pop newcomer, who originated the role of Ilse in "Spring Awakening" in 2006, drinks in a concoction of soul, blues and piano-pop on her debut album--flickering between bellowing lamentations ("The Devil's Gone to Dinner"), self-assurances ("Shine") and telling a high-class gentlemen exactly how unsavory he really is ("Relatively Well Dressed"). Her vocal is often fragile but never completely crumbles underneath the weight of her personal voyage through adulthood and heartache. Not only has she crafted the year's finest and most compelling pop album, but she wins for Best Album Title of 2016, too.
Key Tracks: "Relatively Well Dressed," "Shine," "Heard It from a Friend," "Dandelion," "The Courtyard"
Honorable Mention: Better, Haley Reinhart

The "American Idol" season 10 standout aims less for mainstream appeal and considerably more for artistic satisfaction on her sophomore album. To say she has her cake and eats it, too, is an understatement. She scats and bops her way through a smorgasbord of soul numbers, ranging from the guitar-laden "Behave" to a vulnerable, searing rendering of Elvis Presley's "Can't Help Falling in Love" and the smokey, rhythmic closer, "Listen." Reinhart has likewise sharpened her vocal fangs, which now twinkle in the limelight of Aretha Franklin and Amy Winehouse--her scruffy tone is wholly unique to her slinky presentation, owing in large part to her extensive work with Postmodern Jukebox. But make no mistake, Reinhart is one of today's finest and most underrated vocalists; you'd never guess she once competed (and tragically came in third place) on some singing show.
Key Tracks: "My Cake," "Better," "Can't Help Falling in Love," "Check Please," "Love Is Worth Fighting For"