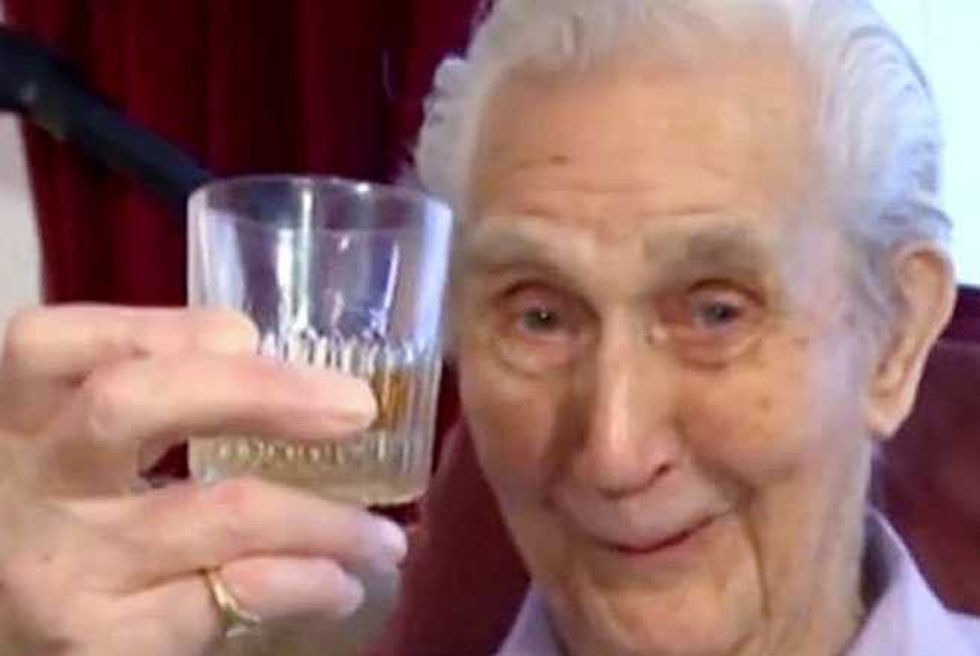 104 year old man tattoo
103-year-old Jack Reynolds is a record breaking dare devil!
He's like the new David Blaine! Or the old David Blaine. Or whatever.
Never too old to ink 104 year old man tattoo
To commemorate turning 104, Jack has decided to get a tattoo, and in so doing, will become the oldest person in the history of the world to submit to the needle.
Adam Levine Vs Ben Affleck—Who Has The Most Tragic Back Tattoo?
It will be such a milestone, in fact, that it'll enter him into the Guinness Book of World Records.
The spry humdinger's first choice was to take his granddaughter's hover board for a hover, but when his family begged him not to, the rebel Reynolds opted for ink.
All for a good cause 104 year old man tattoo
Two years ago, Jack tempted fate (and cardiac arrest) by becoming the oldest person to complete the "Ice Bucket Challenge."
Tattooed Transsexual Poses For Most Terrifying Mugshot EVER
In the meantime however, Jack has a dilemma. He's worried his arms are too scrawny to properly display the design of the tattoo, but noted the design will be even more difficult to see if it's on his ass.
The solution is obviously to beef up his arms through dumb bell work-outs.
Asked if he's nervous about getting the tattoo done, he replies, "I'm a big strong lad - and I've have plenty of needles in me in my time, in various places."
Young at heart 104 year old man tattoo
Jack's daughter Jayne, who says Guinness World Records have confirmed it would be a new record, describes her dad as very young at heart—and says he spends a good chunk of his time on Facebook.
5 Celebs with Way Too Many Tattoos
She told the Ilkeston Advertiser, "Dad wanted to do something to raise money for charity again and I suggested he have a tattoo which he agreed to. We all think it's great."
He's already raised over $2,200 for the Chesterfield-based Ashgate Hospicecare—a U.K. based charity that provides care to people with any life limiting illness, helping them live for every day.
"I really love using my age to help me with my fundraising and I'd love for people to help me support Ashgate Hospicecare – it's a great charity and very close to my heart," Jack explains.
Dad Gets 1D Tattoo To Win Concert Tickets For Kids—Learns He's Not Eligible For Contest
"I think the tattoo should be his date of birth, or his nickname – Jacko – on his back," Jayne suggests. "My dad's absolutely amazing and everyone loves him."
Secret to a long life 104 year old man tattoo
When asked for the secret to a long and happy life, Jack says, "Work hard, always smile, get plenty of fresh air and last but not least have a tot of Grouse whisky in your tea in the morning and a tot before bed."
We'll drink to that Jack!