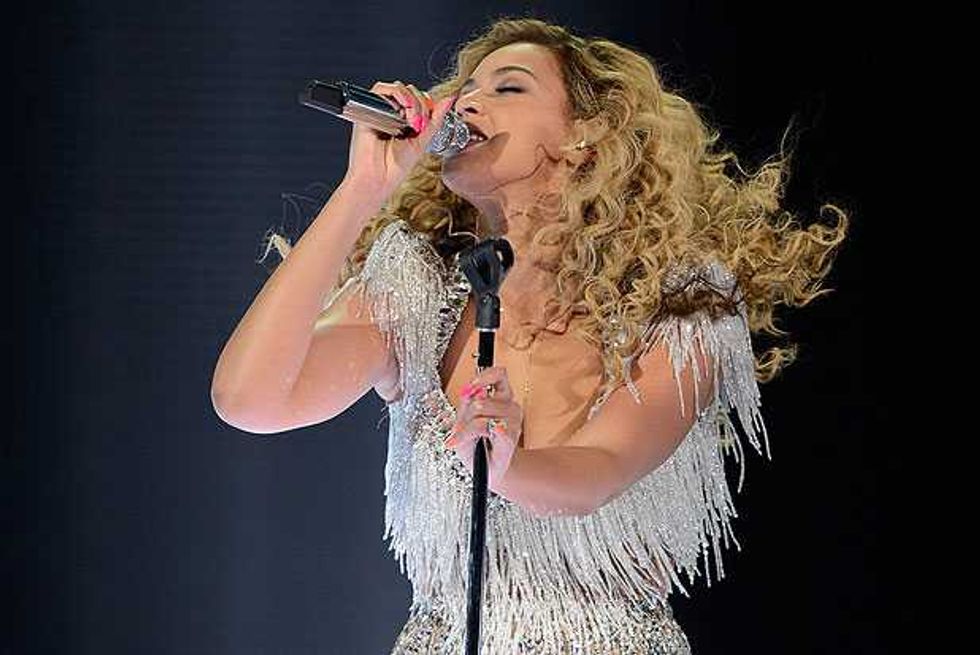 "I had to lose 60 pounds," Beyoncé told the 5,000-plus concert goers at Revel Resort's opening weekend on Saturday night, her second show since giving birth to daughter Blue Ivy. "They had me running on the treadmill, eating lettuce. Tonight I'm getting chocolate wasted!" Aside from questionable taste in movies, maternity leave has left no noticeable changes on the woman we and so many others call Queen. If possible, Beyoncé returned to the stage with more power, elegance and "WHAT are you doing!"-style talent (to borrow from the fan sitting behind us) than ever before.
The second of her four Memorial Day weekend shows brought out celebrity guests—Kevin Hart, The-Dream, and the ladies Obama (Michelle, Malia and Sasha) were all spotted in attendance—as well as an overwhelmingly emotional response from the crowd. Incorporating songs from her Destiny's Child days to self-proclaimed favorite album 4 (because its the "most musical"), along with covers of the Goo Goo Dolls' "Iris," Lauryn Hill's "Ex-Factor" and "I Will Always Love You," Revel more the earned back its investment, with two hours of straight entertainment. While their were no special guests, her family was there in their own way—photos of Blue Ivy and Jay-Z appeared on screen; Bey flashed the Roc symbol as she said goodbye—but really the night belonged to her. "Halo" had us in tears, "Countdown" was even more colorful and imaginative than its music video and "Single Ladies" once again inspired groups of women to wave their hands in celebration.
We'll have a full take on Saturday's "Back to Business" show soon enough, but first check out the bountiful reactions from members of the BeyHive while we work through the multiple scribbles of "OMG" and "!!!" in our notepads. You did it again, Bey. Once again, we're not worthy.
Julie, 27 and son Trey, 7 (Pre-Show)
Popdust: What do you want to hear Beyoncé play?
"Her 4 album, 'Crazy in Love'...My son, his favorite song, 'Single Ladies.'"
Would you want her to play all of 4, like she did at Roseland?
"Well, being that I watch [the Rosleand DVD] every day...I probably got the show memorized already."
Andre, 33, Beyoncé T-Shirt salesman (Pre-Show)
Do you get to watch the show [while selling]?
"Yeah. This is one of the greatest shows of Beyonce's I've seen."
How many of them have you seen?
"Probably all of them."
What makes this one special?
"I feel like she incorporates so much into the show. It feels almost like a little Cirque du Soleil, and there's a lot of things she does with LED lighting. She has a couple surprises, as well. But I won't give those away."
Betsy, 51 and daughter Ashley, 18
What'd you think of the show?
B: "Amazing..we're coming back tomorrow night, we're going to be in the Bey Hive [fan group near the stage]."
How'd you manage that?
B: "When the tickets went on sale, we were just lucky enough to be on at the right time, at the right moment...We go to all the major tours. We have fifteen this summer, so this is just one...From here, to Philly, to New York."
Who are you most looking forward to seeing?
B: "For me, it was Beyoncé."
A: "For me, it'd have to be Big Time Rush, Justin Bieber...I'm meeting [Bieber] in November."
Andrea, 38 and Nuanna, 33
What'd you think of the show?
N: "I think it was like she didn't have a child. She nailed it. Awesome."
Did you have a favorite song?
A: "Halo."
N: "And 'All the Single ladies, All the single ladies!'"
Yeah, I was wondering about Beyoncé asking [during the song's intro] about "Do my dogs run this mother?" I wasn't sure what answer she was looking for.
A: "I was with some fraternity guys. The Omegas were barking. They took it literally."
John, 45
Did you have a favorite song?
"Put a Ring On It!"
Did you put a ring on it?"
"I have, a long time ago. Four kids!"
Javari, 20
Did you lose your voice?
"Yes, absolutely. I came with my friend...we were all in the way in the back, and we were standing the whole time, screaming, dancing, singing...every line."
What was your favorite part of the show?
"It had to be the opening of 'End of Time.' I actually loved every single thing, but...it was Beyonce, everything she does is amazing."
Did she look any different, post-baby?
"No, no, no...[She claims she lost] 60 pounds, I said 'No way.' She looks amazing. As always."
Shenane, 23 and Tiffany, 32
What'd you guys think of the show?
S: WHAT'D WE THINK OF THE SHOW??? OH MY GOD!!!
T: "It was honestly the best Beyonce concert I've ever been to."
S: "And we've been to all of 'em!"
Did you have a favorite song?
T: "I would have to say 'Countdown.'"
S: "I'm gonna have to say 'I Care.' I got emotional, coz I was feeling it."
What'd you think of the Whitney Houston tribute?
T: ""Oh goodness! Tears!"
Peter, 40 and Melissa, 44
Did you have a favorite part of the show?
P: "The whole thing. She kept it going!"
M: "I like 'All the Single Ladies.' I'm not a single lady but I like the song!"
Did she do Whitney Houston justice?
P: "HELL YEAH!"
Grace, 18; Emily, 17; Ellen, 21; Lena, 21
What'd you guys think of the show?
Em: "Best night of my life!"
Have you ever seen Beyoncé before?
L: "No. We came all the way from Reno, Nevada!"
Did you guys have a favorite song?
"'Countdown' was really good."
"'Halo.'"
"Yeah, I got emotional for that one."
"And 'Irreplacea-ble.' To the left, to the left!"
Did you guys really believe that she lost 60 pounds?
Em: "Beyoncé never lies!!"
Ali, 17 and Hannah, 17
Did you guys like the show?
H: "It was the most incredible night of my life!"
How was being in the front?
H: "She, like, looked at us occasionally!"
A: "She made it really personable, she made eye contact with certain people."
Did you guys have a favorite song?
H: "My favorite song is 'Countdown,' always has been."
A: "I would go with 'Single Ladies,' because it's such a classic...it's like, seventh-grade dances."
Did you guys see the Obamas?
H: "Yes we did! A couple times we saw the girls, and the girls were like dancing."
Thomas Brooks, 24
What'd you think of the show?
"It was absolutely insane, amazing."
Were you hoping to see more of Blue Ivy?
"I mean, I was hoping for Jay-Z. But not much the kid."
If you could use one word to describe the show, what would it be?
"Over-the-top."
Raymond Gordon, 22 and Rachel Gordon 17
What'd you think of the show?
R: "I been a fan since day one. And that was, to me, the best concert I've seen by far."
What made this show so much better?
R: "The vibe was just...I don't know if it was the baby or what..."
A: "I think she was just happy to be back, and that invigorated her."
R: "She came back, and went back to business."
What'd you think of her Whitney tribute?
R: "That...every other cover needs to sit down...It was an experience. I'll never forget this one."