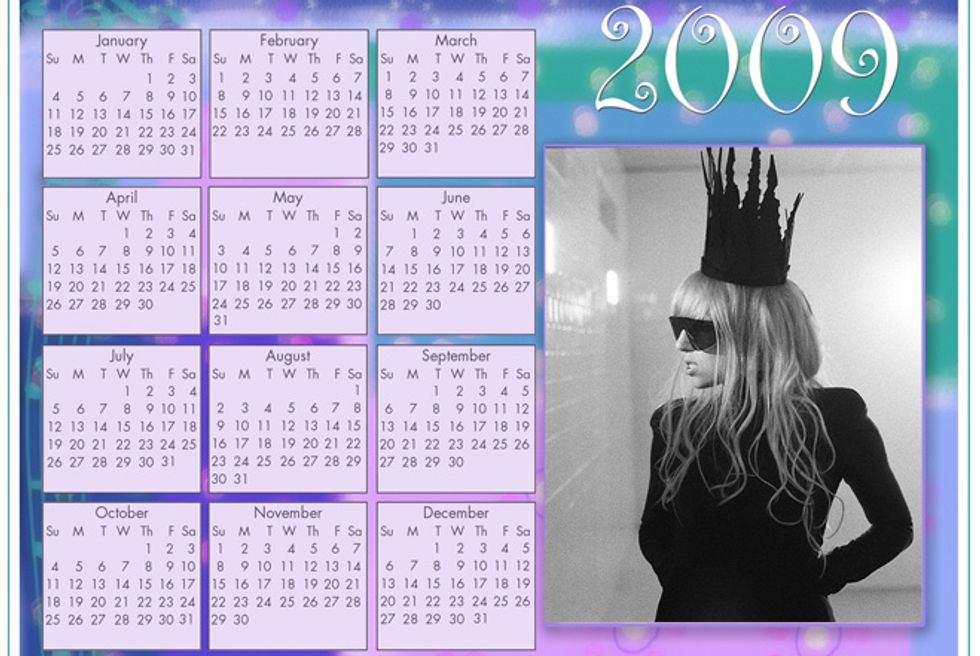 There was a time in popular music, barely a half-decade ago, where hip-hop was the biggest form of music in the country, EDM was still seen as underground and/or novelty, and teen-pop was more or less constrained to the Disney Channel. Obviously a whole lot has changed since then, and the events of the last year of the '00s had a whole lot to do with that—a year that introduced a whole spate of new pop megastars, said goodbye to a number of old ones, and established a number of trends (many of which had started the year before) that would prove pervasive in American pop music.
When people talk about how much different the pop world is now from the last time Justin Timberlake released an album, 2009 is the biggest reason why. Here's 15 points that prove it.
1. Lady Gaga became the biggest pop star on the planet. Undoubtedly the biggest pop development in '09 was the emergence of Lady Gaga, who debuted in '08 with the chart-topping "Just Dance," but it wasn't until second hit "Poker Face" that we really saw what we were dealing with—an undeniable, alien-sounding club stomper (with an alien-looking music video) about bisexuality that made clear that Gaga wasn't some art-school pop dilettante, but something closer to the second coming of Madonna.
An eye-opening (to say the least) performance of third single "Paparazzi" at the VMAs—a show that would prove central to a number of items in this article—made her super-weird personality as famous as her super-weird pop songs, and the release of "Bad Romance" late in the year also cemented her as the most important music video artist of her era. Gaga marked a return to a sort of classic pop star model—one where every single, every appearance and every video became an unignorable event—that was badly lacking with most of the '00s hitmakers, and also demonstrated how dance-pop could be as fruitful as hip-hop and R&B as a base sound for a '00s (soon-to-be '10s) megastar.
2. The Black Eyed Peas owned the summer. An underrated force in the noramlization of dance music across the Top 40, the will.i.am.-led Peas topped the Hot 100 for a record 26 weeks with two impossibly massive singles—the retro-futuristic, robo-funky "Boom Boom Pow" and the four/four, crowd-pleasing "I Gotta Feeling." Once a leading light in the conscious rap movement, the Peas had now gone totally electronic, never to return to Joints & Jams, and the people couldn't get enough of it—"Boom" and "Feeling" went a combined 13 times platinum, the two biggest non-Gaga hits of 2009.
The BEPs would also prove the public's appetite for over-excited, exceedingly party-friendly pop-rap—a trend also established in 2009 by the breakout success of Pitbull ("I Know You Want Me," "Hotel Room Service"), and the first party-rock transmissions from LMFAO ("I'm in Miami Bitch," "Shots"), and one that would obviously last well into the next decade.
3. America met David Guetta. One of the men most responsible for the massive success of "I Gotta Feeling" was the song's producer, 41-year-old French DJ David Guetta. Big overseas for a number of years, Guetta found his first taste of major US success in 2009, first with the Kelly Rowland-featuring club anthem "When Love Takes Over," then the Akon-sung "Sexy Bitch," which would become Guetta's first crossover top ten hit early in 2010. Guetta would be at the forefront of the EDM takeover over the next few years, scoring hits with stars ranging from Usher to Lil Wayne who never would've touched dance music at any point in the '00s.
4. Chris Brown became pop music's villain (and Rihanna pop's victim). As 2008 wrapped, there was arguably no male pop star with a career as promising as Chris Brown's—he was young, good looking and incredibly talented, and had scored two of his career's biggest hits with "With You" and "Forever," eschewing guest rappers for the singles, proving his own star power was more than enough. Meawhile, Brown's girlfriend Rihanna was in the midst of rivaling Beyoncé as the country's most beloved female pop singer, scoring three number ones over the course of the year ("Take a Bow," "Disturbia" and T.I.'s "Live Your Life") that proved her versatility and expanding pop palette, and seemed to point to Ri being on her way to becoming the next generation's Janet Jackson, or even Madonna.
Everything changed for both artists on Grammy night in 2009, when both no-showed at the awards after a pre-show incident in which Brown assaulted Rihanna, resulting in the latter being hospitalized and the former being arrested. Brown would eventually show penance for his horrific behavior, but his remorse struck many as insincere and/or insufficient, and his career faltered as a result, with '09's Graffiti becoming his worst-selling LP. Meanwhile, Rihanna's work became intensely personal and emotional, and the exceedingly dark "Russian Roulette"—lead single off '09's Loud—left the public cold, her first badly underperforming single in two years.
Both artists' careers would eventually recover, but not before each went through an imagine reinvention, Rihanna shedding the last remnants of her girl-next-door image for one as a dominating, hyper-sexual diva, and Brown reinventing himself as pop's incorrigible bad boy, a rapping, tattooed skate rat with a perpetual sneer. The complexity of the ensuing relationship between the two would also become one of the most headline-dominating melodramas of the '10s, with the two reconciling as friends and then again as lovers, to the consternation of many.
5. 50 Cent flopped. Arguably the most successful new rapper of the '00s, with a combined 13 million copies sold of his first two albums, Get Rich or Die Trying and The Massacre, 50 Cent proved himself a dinosaur much quicker than most expected. 50 made the calculated mistake of positing himself against Kanye West for the release of his third album Curtis, promising to retire if 'Ye's album outsold his. It did, then 50 reneged on his word, but by 2009 the public decided they'd had enough of him anyway—the rapper's fourth album Before I Self Destruct flopped badly, failing to go platinum or produce a hit single.
50's failure (and his disappearance from the spotlight shortly thereafter) was not only emblematic of the end of the '00s, but of the end of '50's brand of New York-rooted, street-focused hip-hop, of which little survived to make an impact on the pop charts in the '10s.
6. Jay-Z declared the Death of Auto-Tune. The Jiggaman came out roaring in '09, inspired by a higher power—the rampant overuse of Auto-Tune on the pop charts. Excessive deployment of the vocal pitch-correcting effect, most associated with the sound of singer T-Pain (who was absolutely everywhere on the pop charts in 2007 and '08) had become pervasive in Top 40, with rap stars like Kanye and Lil Wayne allowing their distinctive voices to become swallowed in the effect. Jay-Z decided enough was enough, and released "D.O.A. (Death of Auto-Tune)" as the lead single from his Blueprint 3 album, declaring "You rappers singing too much / Get back to rap, you T-Paining too much."
The song hardly resulted in the instantaneous disappearance of Auto-Tune from the pop charts—later that year, Owl City and Jason Derulo would both have chart-topping smashes that used the effect as much as any hits before. But within a few years, the use of the effect had been greatly diminished on Top 40 radio, with singers coming to use it more for either subtle vocal enhancement or comedic, cartoonish effect. At the very least, T-Pain's career was never quite the same.
7. Kanye West disappeared for a year. Kanye's confessional and overwhelmingly Auto-Tuned '08 LP808s and Heartbreak garnered a mixed reception, but managed to produce a couple top five hits in "Love Lockdown" and "Heartless." Still, Kanye was undoubtedly going through a major transition, one that would come to a head after the 2009 VMAs, when a drunk Kanye interrupted Taylor Swift's Best Female Video acceptance speech to declare that the award should have gone to Beyoncé's "Single Ladies (Put a Ring On It)" instead.
The fallout from the incident, for which Kanye received overwhelmingly negative press, caused him to disappear from the spotlight for the better part of a year, cancelling his North American tour with Lady Gaga, and eventually disappearing to Honolulu to record what would become My Beautiful Dark Twisted Fantasy, an album so dark, challenging and personal that it made808s look like an album full of "Gold Digger"s by comparison. The album was rapturously received, however, beginning the tougher, less-conscious second phase of 'Yeezy's career and cementing him as the most critically acclaimed artist of his generation.
8. Taylor Swift went next-level with her career. The events of the VMAs aside—and even that featured one of her first great spotlight performances, from the NYC subway to right outside Radio City Music Hall—Taylor Swift's career was one long skyrocket upwards in 2009, as she scored the biggest hit of her career to that point with "You Belong With Me," which hit #2 on the charts and won her that Kanye-contested Moonman, and continued to sell millions and millions of second album Fearless, which ended '09 as the year's best-selling album.
If there was any doubt remaining about Taylor's bonafides as a megastar far beyond Nashville, they had dissipated by '09—and she would only get bigger from there, selling a million in the first week of each of her next two album releases, making tabloids every week for her many high-profile inter-celeb friendships and romances, and probably standing alone as the biggest pop star in the world in 2013.
9. "Party in the U.S.A." ended an era in Disney pop. From 2006 to 2009, most of the teen pop in the Top 40 came from directly from Disney Channel-produced fare like High School Musical, Camp Rock and Hannah Montana, with the star of the latter—pop progeny Miley Cyrus—serving as the channel's leading light. But with "Party in the U.S.A.," which featured a more adult-sounding, adult-looking, and adult-behaving Miley, and quickly became the biggest and best-received hit of Miley's career to date, the first era in Disney pop effectively closed.
Miley would soon all but totally disassociate herself from the channel, and the Jonas Brothers, the channel's other most successful act, disappeared from their pop charts, while their co-star Demi Lovato went to rehab for "exhaustion" and came back a completely different, much more mature artist. Meanwhile, teen pop would quickly find itself a new overlord...
10. A 15-year-old, shaggy-haired Justin Bieber made his debut. Few could have guessed the international sensation that the goofy-looking kid with the viral YouTube covers and the Usher connections would quickly become one of the most famous humans on the planet, but by the end of '09, we had an idea that the kid was gonna be pretty big. "One Time" and "One Less Lonely Girl" gave the Bieb his first two top 40 hits and two of the signature numbers of his early career, while a song he debuted in late December—you know the one—would send his career into the stratosphere. Pop music would soon become as pre-teen-friendly as it had been since the TRL era.
11. Lil Wayne got weird(er). Wayne was the world's most popular rapper, and arguably the central figure in all popular music in 2008, scoring his first number-one single with "Lollipop," selling over a million copies of Tha Carter III in its first week, and appearing as a featured artist on countless other big singles. He was still a major factor in 2009 pop, but mostly as a guest artist on songs like Jay Sean's "Down," as his solo career took a detour into awkward rap/rock hybrid territory with singles like "Prom Queen" and "On Fire," resulting in 2010's critical failure and commercial disappointment Rebirth.
Wayne's deviation from his upward trajectory (compounded by his 2010 incarceration on gun possession charges) left an opening on top of the hip-hop game—one quickly filled by a couple of his even less-traditional labelmates—and also allowed for the focus of pop music to shift from hip-hop to dance in his absence.
12. Drake became hip-hop's pre-eminent double-threat. Proving that street cred was no longer an essential ingredient to achieving hip-hop success on every conceivable level, Aubrey "Drake" Graham emerged from his Canadian TV star pedigree to become the most important dude in the game in 2009. Drake wowed fans and critics with his So Far Gone mixtape-turned-EP, scored some of the year's biggest hits with the likes of "Forever," "Successful" and (especially) "Best I Ever Had," and set the new standard for MCs who could also sing with the best of them, becoming just as valued for his guest hooks as his guest verses.
In addition to Drake going on to be one of the biggest stars of the '10s, a female labelmate of his could be heard sharing verses with Drizzy on the Young Money posse cut "Bedrock" late in the year. By the end of 2010, Nicki Minaj would be on her way to being as massive as either Drake or their YMCMB label head Lil Wayne, appearing as a guest star on hits by Usher, Kanye and Ludacris, and scoring a couple solo hits of her own.
13. Flo Rida proved to be more than a fluke. The T-Pain-featuring "Low" was the biggest hit of 2008, but subsequent singles off Flo Rida's Mail on Sunday were less successful, and it seemed pretty likely that the song's success was just a result of good timing with its uber-ubiquitous guest vocalist, and that Flo would scarcely be heard from again. Nope: Flo re-emerged with a vengance in 2009 with the Dead or Alive-interpolating "Right Round," a monster of a shuffling, hooky, crowd-pleasing club jam, which set a record for single-week downloads on its way to #1, and helped break a number of other musicians involved with the song—including co-writer Bruno Mars, and a backing singer and writer/producer still to be addressed in this article.
The Unexpected Flo Rida Comeback would become something like a perennial event in pop music, the relatively untalented rapper being counted out after each mega-hit, only to come roaring back shortly thereafter with a just-as-successful follow-up. As of writing in 2013, he remained one of the most consistent, though mildly perplexing, presences on American Top 40 radio.
14. Dr. Luke officially became The Man. Songwriter/producer Lukasz Gottwald, who would become the primary architect for the sound of pop music in the early '10s, achieved a large degree of pop success in each of the three years prior to 2009, primarily with one artist each—Pink in 2006, Avril Lavigne in 2007, Katy Perry in 2008. In 2009, though, he officially became the go-to guy, masterminding not only the previously mentioned "Right Round" and "Party in the USA," but also Kelly Clarkson's chart-topping (and career-resurrecting) "My Life Would Suck Without You" and the debut single for American Idol runner-up Adam Lambert, "For Your Entertainment," and the debut single for another artist, who would prove his most reliable muse for the decade to follow.
15. Ke$ha made her first bow. The last big hit of 2009, and the first number-one single of the decade to follow, was K-Money's "Tik Tok," a heavily Auto-Tuned dance-pop number that established Ke$ha as a new breed of rock star, one whose music was far more rock in attitude (brushing her teeth with a bottle of Jack, kicking boys to the curb unless they look like Mick Jagger) than in instrumentation. The Dr. Luke-produced and co-written jam would make the "Right Round" backing singer a megastar, and set the tone for the first few years of '10s pop music, with its relentless energy, glossy pop sheen and decadence-demanding lyrics.