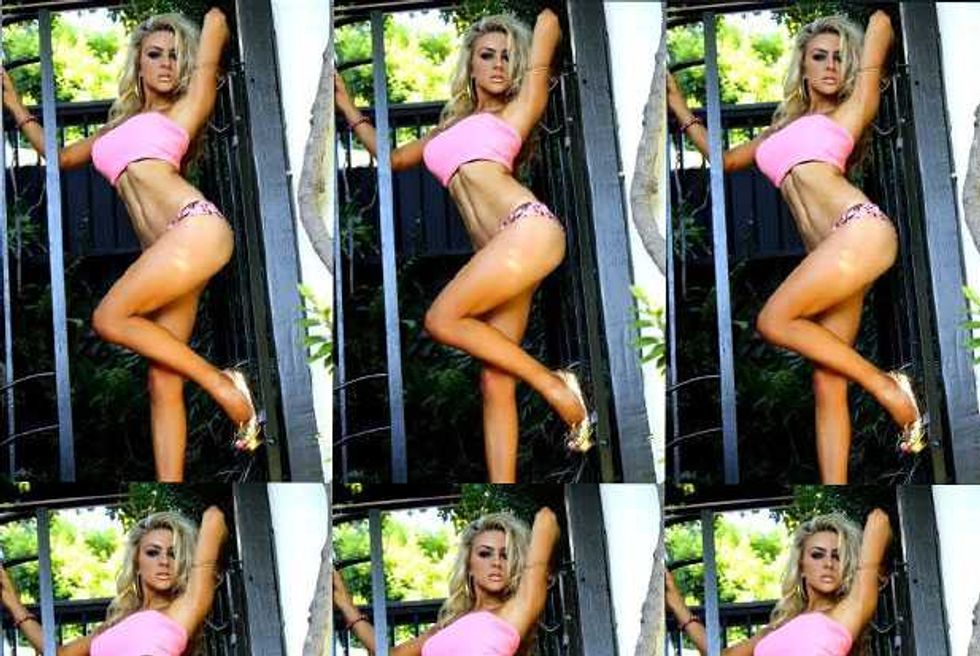 The confounding creature called Courtney Stodden came into our lives exactly one year ago. Where has the time gone, and how have our eyes not fallen out of our faces? Although she and husband Doug Hutchison celebrated one year of wedded bliss in May, we didn't know of the then-16-year-old with an ambition for pop stardom until June. Soon after, the world and our Twitter feeds, would never be the same. Here's why:
1. SHE GAVE NEW HOPE TO MEN OVER 50
She couldn't see a R-rated movie, but she could marry 51-year-old Doug Hutchison (with her mom's permission).
2. SHE MADE NON-ENGLISH MAJORS APPRECIATE THE POWER OF ALLITERATION
Getting hot and humid as I hold back my hair with my hands & hustle my heated hips hastily; I heart hula-hooping! :)

— Courtney Stodden (@CourtneyStodden) February 1, 2012
3. SHE REVEALED THE REAL PRONUNCIATION OF "REAL"
Kinda sounds like a Sleigh Bells song!
4. SHE HAS EDUCATED DOGS ABOUT THE DANGERS OF BITCHES
[youtube http://www.youtube.com/watch?v=dOrD5kqyov0&feature=player_embedded#! expand=1]
5. SHE MADE PATRIOTISM SEXY AGAIN
6. SHE REMINDED US THAT THE TRUE APHRODISIAC IS A PHALLIC VEGETABLE
Making PETA proud, one day at a time.
7. HER FACE BRIGHTENED UP THE ANNUAL SEARCH FOR A HALLOWEEN COSTUME
8. SHE PROVED THAT EVEN PERMA-BIKINIED TEENS CAN BE BULLIED
9. SHE TAUGHT A NEW GENERATION ABOUT BAYWATCH
Just call her a modern dan Chandler Bing.
10. SHE KEPT THE BELIEF IN SANTA CLAUS ALIVE
11. SHE BROUGHT A PLATFORM TO REAL BOOBS THAT LOOK FAKE
Still don't believe they're real? Let's go to the videotape.
12. SHE EXPLAINED THE DIFFERENCE BETWEEN "THEY'RE" AND "THEIR" IN A WAY WE CAN UNDERSTAND
13. SHE FOUND YEAR-ROUND USAGE FOR PUMPKINS
14. SHE TAUGHT US NOT TO FEAR OUR DENTIST APPOINTMENTS
My moist mouth is wide open, motivated and ready for you... Dr. Dentist here I come :)

— Courtney Stodden (@CourtneyStodden) March 22, 2012
Thus increasing the dental industry's employee satisfaction rating tenfold.
15. SHE TAUGHT PSEUDO-CELEBS THAT YOU DON'T NEED A REALITY SHOW TO MAKE BAD MUSIC
Particularly when one is called "Reality."
Feel free to leave your predictions for Year Two of Life with Stodden in the comments below.