Top Stories
TELEVISION | The night was packed with standout performances and empowering speeches.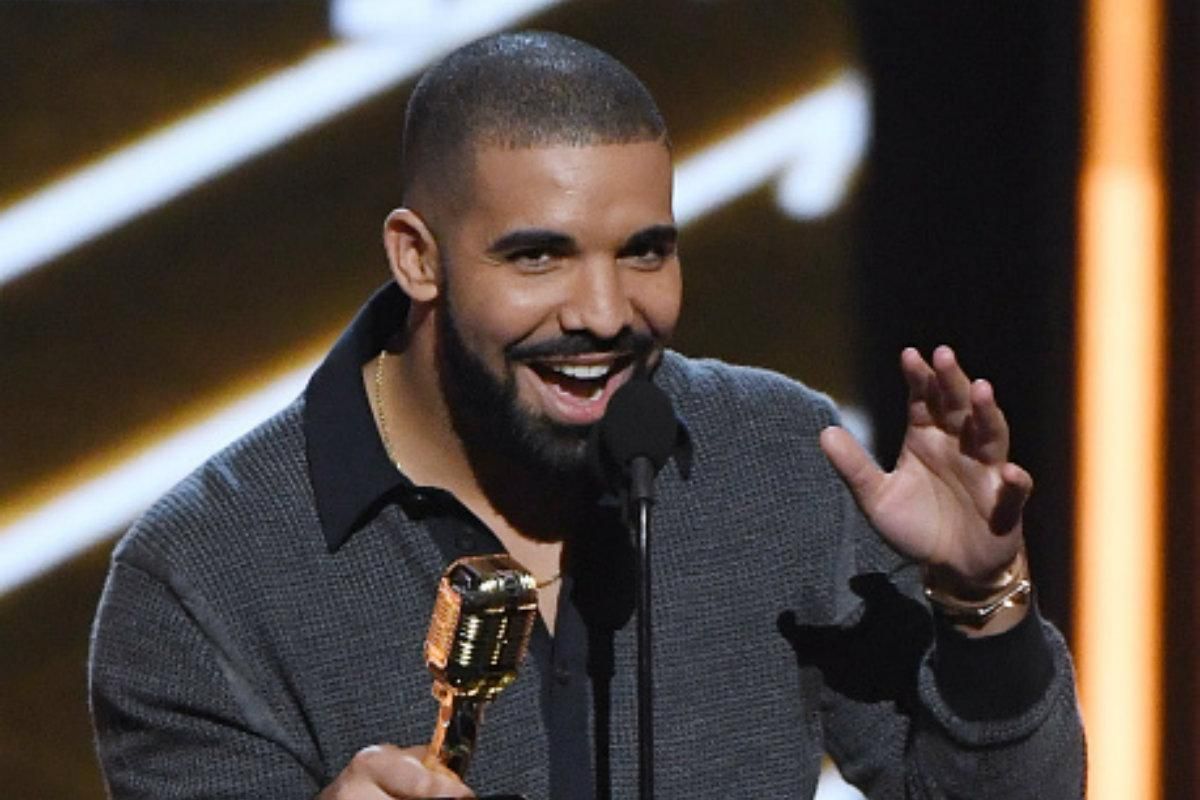 Getty Images/Ethan Miller
Nicki Minaj, Miley Cyrus and Celine Dion top our favorite moments of the night.
Under a starry-eyed blanket of 10 award trophies (before the live show even began), Drake took home many of the night's highest honors at the 2017 Billboard Music Awards. He ultimately shattered the previously-held record by Adele (with 12) and walked away with a whopping total of 13, including Top Artist. During his speech, he called out Adele, saying "I wanna say hold tight, Adele, 'cause when a new thing drops yeah you'll fall back to get the record back." But more than that, his speech was moving and empowering. He later said "Someone wise once told me that, um, life is like toilet paper, you're either on a roll or you're taking shit from an asshole."
Also, he reflected on a close friend who taught him a valuable, life-changing lesson. "I had a close friend of mine that didn't support my album, but then, like, supported other people's stuff, and I asked him why," Drake said. "The response was 'I don't want to look thirsty, and you get enough love as it is.'" Furthermore: "We're all here on Earth for a limited amount of time. We gotta show love while we're here."
Drake was wylin at the acceptance speech lmao pic.twitter.com/YE6pHzG8t5 | Check My Bio! 🙊
— Funny 😂 Trending 🔥 (@whoisrayraf) May 22, 2017
The evening was littered with plenty of bite-sized performances and uplifting acceptance speeches, and we've compiled five other standout moments we can't stop talking about: from Miley Cyrus' emotional performance to Celine Dion's show-stopping ballad.
In no particular order:
Cyrus is enjoying a personal evolution right before our eyes. After her Bangerz era and pushing her creativity with 2015's Miley Cyrus and her Dead Petz mixtape, she returned recently with the Sheryl Crow-esque summer jam "Malibu," a rather sparse slow-burner which frames her criminally-underrated vocals front and center. Her Billboard performance proceeded as you might expect, but by the second verse, the singer, 24, was visibly overcome with emotion, breaking into tears and barely able to finish. The live arrangement was considerably different, more country-leaning with plenty of power notes.
#VIDEO | Miley's full performance of 'Malibu' at the @BBMAs. #BBMAs #MileyBu pic.twitter.com/EbJZkiWyCM
— Miley Cyrus Updates (@TheMileyDaily) May 22, 2017
To celebrate the 20th anniversary of Titanic--yes, can you believe, the movie is now a timeless classic of a bygone era--Celine Dion towered on the stage, adorned in long, hauntingly-white gown worthy of royalty. A giant crystal fixture loomed overhead, with beads dancing playfully around her. It's as if she has never aged since the Leonardo DiCaprio and Kate Winslet-starring romance flick stormed the box office. Too, her voice sounds as grand and clear and passionate as ever.
Celine Dion's full performance. Thank you @celinedion 😭😭😭 #MyHeartWillGoOnpic.twitter.com/JlxTIc5udF
— SARAHndipity (@boysapprovethis) May 22, 2017
Cher at 71 can plank better than anybody else, mmm'kay? As this year's Billboard Icon recipient, the living legend performed twice, first with "Believe" and then later with "If I Could Turn Back Time," just before Gwen Stefani bestowed the Queen with the distinction. "So, I've wanted to do what I do since I was four years-old. And I've been doing it for 53 years. That is not an applause thing, I'm 71 yesterday. And I can do a five-minute plank, okay? Just saying," Cher told the crowd. She then reflected on something her mom told her when she was younger: "you're not going to be the smartest, you're not going to be the prettiest, you're not going to be the most talented, but you're going to be special."
Always one to break convention, Lorde performed her hit single "Green Light" in a karaoke lounge, teleprompter included. It was a refreshing hideaway from the loud and cluttered main stage. It was (expectedly) quirky, fun and off-the-wall. It gave the song an even more heightened sense of urgency, as if the viewer were tapped directly into her mind amidst the raging inner turmoil. The blood reds were an intriguing counterbalance to the song's thematic material. It was intimate but massive.
🎶I'm waiting for it, that green light, I want it🎶 🎤 @lorde #BBMAs pic.twitter.com/FdMoyFWpHt https://t.co/I8CdJJH1iB
— RuthYenelfert (@RuthYenelfert) May 22, 2017
There was no better way to open the show than with Nicki Minaj's brazen, unapologetic, no-fucks mash-up. The electric performance began with a career retrospective, featuring clips of "Super Bass," "Starships," "Beez in the Trap," "Anaconda" and "Moment 4 Lyfe." She then revealed herself decked out in magnificently bedazzled attire and launched into "No Frauds" (with Lil Wayne stepping out for his part), the David Guetta-assisted "Light Up My Body," "Swalla" with Jason Derulo, and last but not least, "Regret in Your Tears." It was flashy and energetic and one of the night's most exciting moments.

You can watch the whole #MinajMedley performance which happend on #BBMAs! Thats was amazing @NICKIMINAJ 👑pic.twitter.com/SKdG1UBUbM
— Nicki Minaj News (@nicminajnews) May 22, 2017
Other major winners of the night include country duo Florida Georgia Line, Zayn, Twenty One Pilots, Beyonce, Blake Shelton and The Chainsmokers. Check out the complete list on Billboard.com.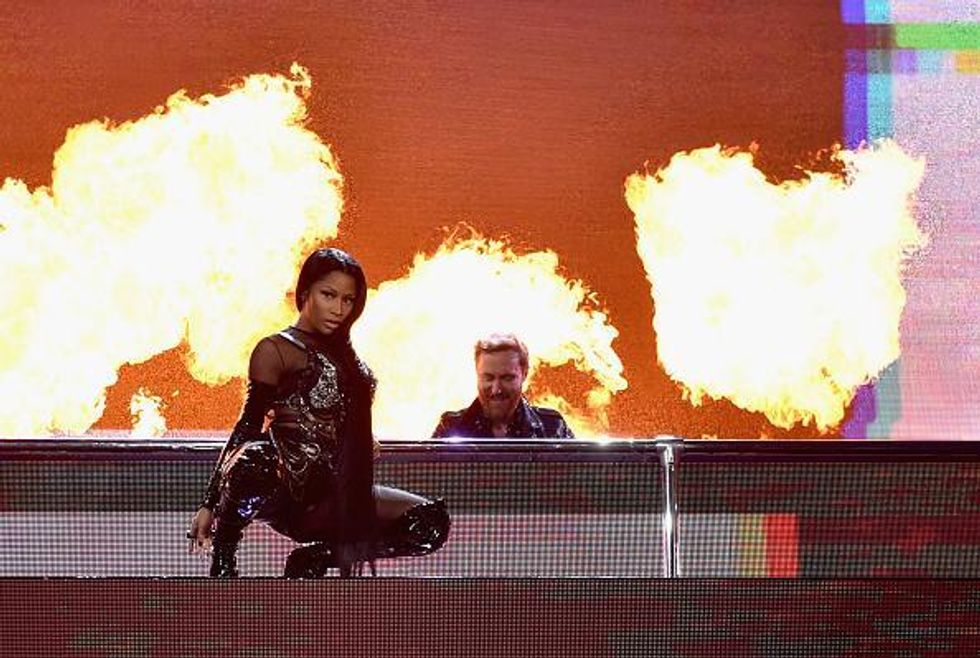 Getty Images/John Shearer
---
READ MORE ABOUT MUSIC...
Watch COIN's old-school Nashville "I Don't Wanna Dance" music video
Premiere | SAM F gets in the "Zone" with JVZEL
Listen | CAMILA CABELLO samples Christina Aguilera with debut single "Crying in the Club"
---
LAS VEGAS, NV - MAY 21: Musicians Halsey, and Andrew Taggart and Alex Pall of The Chainsmokers accept Top Hot 100 Song onstage during the 2017 Billboard Music Awards at T-Mobile Arena on May 21, 2017 in Las Vegas, Nevada. (Photo by Ethan Miller/Getty Images for dcp)
LAS VEGAS, NV - MAY 21: Musicians Brian Kelley and Tyler Hubbard of Florida Georgia Line accept Top Dance/Electronic Artist onstage during the 2017 Billboard Music Awards at T-Mobile Arena on May 21, 2017 in Las Vegas, Nevada. (Photo by Ethan Miller/Getty Images for dcp)
LAS VEGAS, NV - MAY 21: Musician Drake accepts Top Artist onstage during the 2017 Billboard Music Awards at T-Mobile Arena on May 21, 2017 in Las Vegas, Nevada. (Photo by Ethan Miller/Getty Images for dcp)
2017 Billboard Music Awards - Show
LAS VEGAS, NV - MAY 21: Musician Blake Shelton accepts Top Country Artist onstage during the 2017 Billboard Music Awards at T-Mobile Arena on May 21, 2017 in Las Vegas, Nevada. (Photo by John Shearer/BBMA2017/Getty Images for dcp)