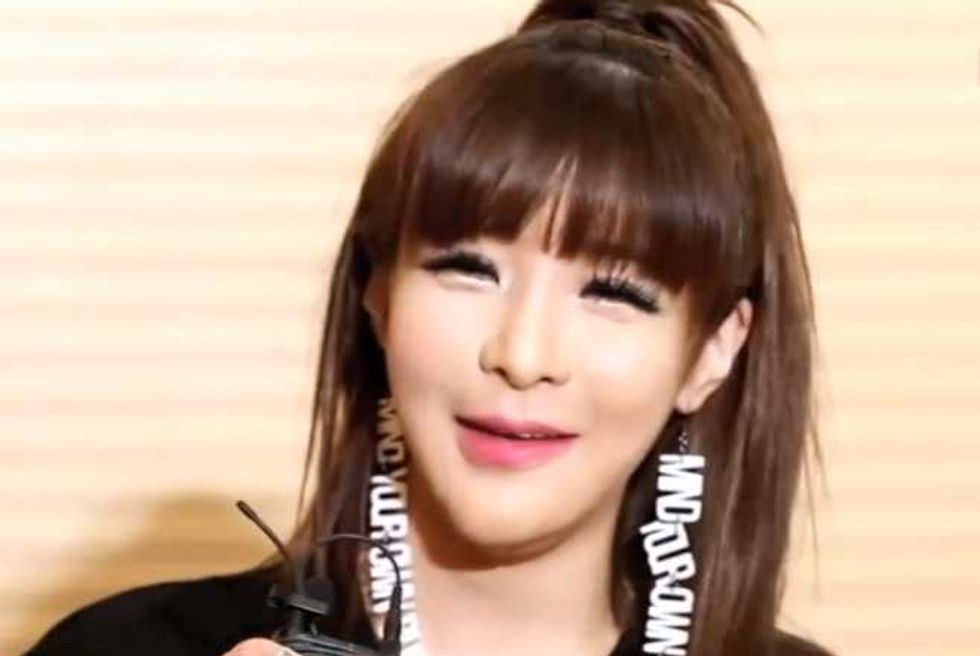 Since South Korea is the plastic surgery capital of the world, it's not uncommon for both celebrities and civilians to get a few dozen nips and tucks. Sometimes the results are incredible (just check out ZE:A's Kwanghee or any of the Brown Eyed Girls for proof), but there's also a bad side to all the artificial beauty.
2NE1's Park Bom is better known for her alleged plastic surgery than her big voice, and she seems to get called out for rumoured new procedures every year. Her latest surgery incident is her worst yet, with the 29-year-old appearing to have what looks like a botched chin implant during a new interview to promote 2NE1's latest single, "Do You Love Me."
Screencaps of the interview are being shared around everywhere in the K-pop world, and some media outlets have put together collages of Bom's changing appearance. Her pointy chin controversy is currently one of the most talked about scandals of the week, ranking at the top of various Korean search engines and news portals. It's also the most read story on hallyu websites like Allkpop, where it topped the daily ranking, and Netizen Buzz, where it's in second place (just behind the KARA scandal).
2NE1 are set to drop a new single soon, so it'll definitely be interesting to see what Park Bom's face looks like when the group starts promoting and performing all over the place.
[Via Nate]