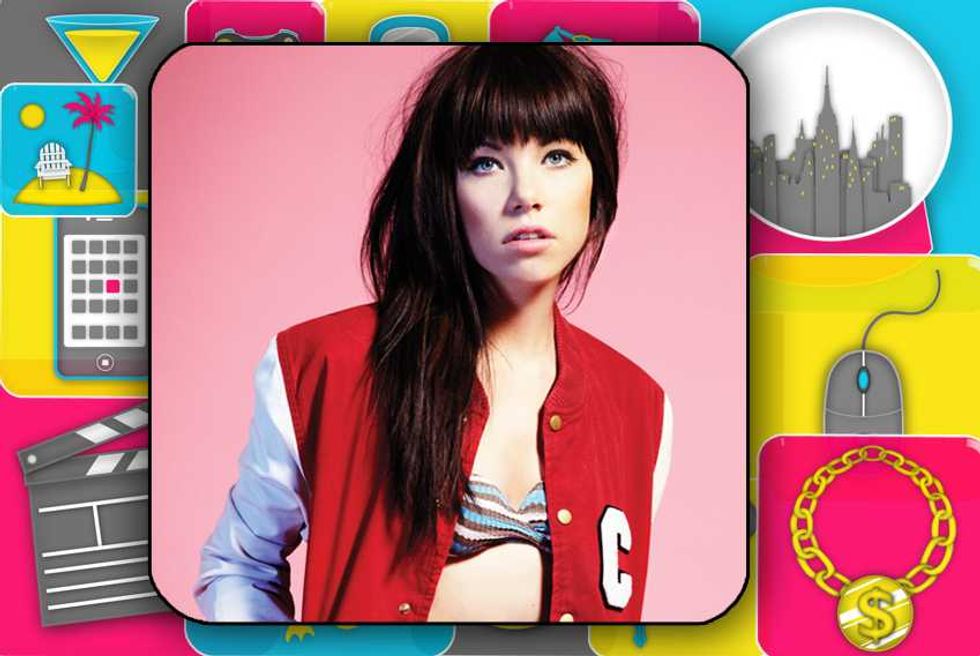 At this point, it's scientifically impossible to be in the same place for an hour an not hear Carly Rae Jepsen's "Call Me Maybe." After Justin Bieber tweeted of the song's stick-in-your-head-in-a-good-way factor, Jepsen became an overnight sensation, eventually outselling the hand that fed her. The 26-year-old Canadian has had quite a year, and we believe her star is only starting its rise. She may never tell you what she wishes in wells (don't ask her), but she did tell us some of her favorite things. You'll learn something new, no "maybes" about it.
Vices
Favorite Pick Up Line: "Hey! I just met you."
Favorite Reality TV Star: Jillian Harris from Canadian "Bachelorette"
Favorite Cocktail: Red wine
Favorite Cheat Food: Pizza!
Favorite Excuse: "Tavish did it!"
Favorite Ice Cream Flavor: Vanilla Swiss Almond
Favorite Junk Food: Ice cream
Favorite Viral Video: "Charlie Bit Me!"
Favorite Tweeter: Ellen DeGeneres (@TheEllenShow)
Related: Carly Rae Jepsen Introduces Herself, "Call Me Maybe" To American TV Audiences
Entertainment
Favorite Actor: Ryan Gosling
Favorite Celebrity Baby Name: Gwyneth Paltrow named her baby Apple. I kinda like it.
Favorite TV Show: Tie: Friends / How I Met Your Mother
Favorite Animated Character: Bugs Bunny
Favorite Author: Eckhart Tolle
Favorite Celebrity: Ryan Gosling
Favorite Justin: Justin Bieber
Favorite Diva: My sister
Favorite Comedian: Jerry Seinfeld
Favorite Singer: Ella Fitzgerald
Favorite Song Ever: Sinead O'Connor, "Nothing Compares 2 U"
Favorite Song Right Now: The Killers, "Runaways"
Favorite Sports Team: Vancouver Canucks
Favorite Video Game: Mortal Kombat
Related: Carly Rae Jepsen Took a Trip to 90210
Other Favorites
Favorite App: Instagram
Favorite City: London
Favorite Vacation Spot: Italy
Favorite Store: Anthropology
Favorite Beauty Product: MAC's Lady Danger red lipstick
Favorite Car: Bentley
Favorite Designer: Carlie Wong
Favorite Website: elshane.com
Favorite Gadget: iPhone/iPad
Favorite Animal: Dog
Favorite Body Part in a Significant Other: Eyes
Favorite Favorite Body Part on Self: Bum!
Favorite Decade: 1940s
Favorite Person: My mom
Favorite Subject: English
Favorite Super Power: Flying