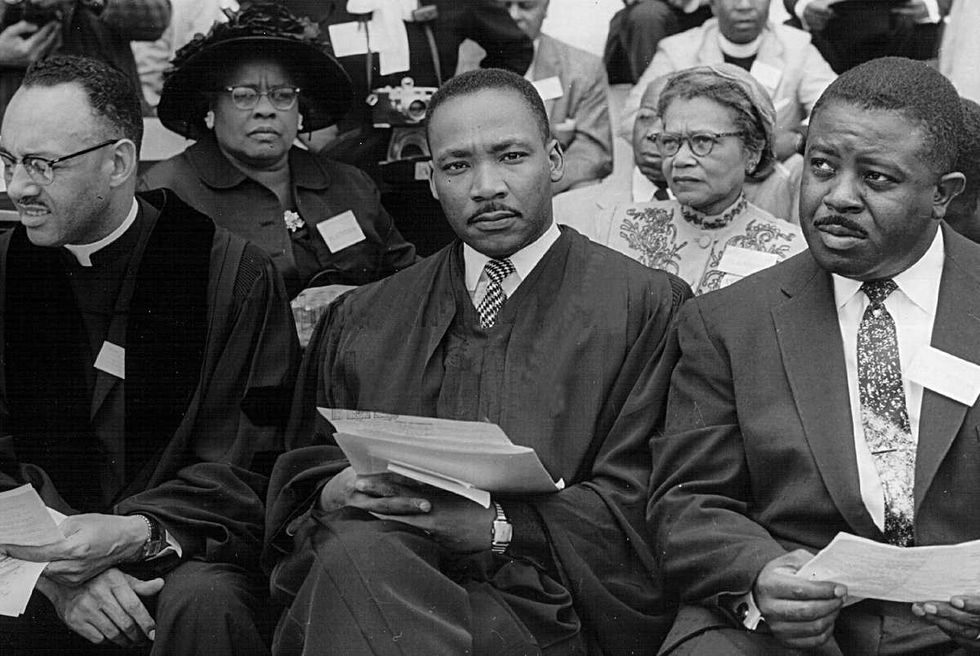 As the nation celebrates the birthday of Dr. Martin Luther King Jr., and inspired stars like Diddy reverently tweet quotes from the slain civil-rights leader ("I believe that unarmed truth and unconditional love will have the final word"), Popdust was similarly inspired... to re-examine some hip-hop songs that shamelessly exploited King's legacy.
Some of these guys are smart enough to know better, some probably didn't care one way or the other, but they should all be pretty embarrassed.
Playwright Slams Ohio Kent State For Casting White Guy As Martin Luther King
Happy MLK Day!
1. Common feat. will.i.am, "A Dream"
Inappropriate Lyric: "With a story to tell, my eyes see the glory and well/The world waitin' for me to yell, 'I Have a Dream'"
Flagged For: Painful Sincerity
Common interprets MLK's rhetorical skills as a bunch of meaningless, struggle-referencing platitudes. Producer will.i.am, known for his egregious sampling of any and everything, goes a little too far punctuating this tepid song from the Freedom Writers soundtrack with clips from the "I have a dream" speech.
Bonus negative points for the part of the video where Common takes a stroll through an animated Auschwitz.
2. Snoop Dogg feat. The Game, "Gang Bangin' 101"
Inappropriate Lyric: "I'm Dr. Martin Luther King Jr. with two guns on/Huey P. Newton with Air Force Ones on"
Flagged For: Sheer Idiocy
Hip-hop's biggest namedropper The Game guests on Snoop's lunkheaded gun-talk track, and reaches beyond his usual references to Dr. Dre and other West Coast legends to compare himself to a street superhero version of Martin Luther King Jr. and Huey Newton.
Madonna Sparks Outrage For Defacing Pics Of MLK, Mandela To Promote Album
Huey Newton rocking Nikes is pretty grotesque, but it doesn't compare to the image of the assassinated Civil Rights leader gripping two pistols. Not even oh-so-conflicted Kanye could get away with this one.
3. Tupac Shakur, "Words Of Wisdom"
Inappropriate Lyric: "Why is Martin Luther King in my book each week?/He told blacks, if they get smacked, turn the other cheek"
Flagged For: Missing the Point
Tupac talks smack on Martin Luther King's legacy, right after bigging up Malcolm X: "No Malcolm X in my history text, why is that?/Because he tried to educate and liberate all blacks."
Paris Hilton's 'Touching Tribute' To Nelson Mandela & His 'I Have A Dream' Speech
All M.L.K taught us was how to be pussies... nice one, 'Pac!
4. Lupe Fiasco, "B.M.F (Building Minds Faster)
Inappropriate Lyric: "I think I'm Malcolm X/Martin Luther!"
Flagged For: Guidance Counselor-esque Earnestness
Lupe Fiasco takes Rick Ross' shout-outs to imprisoned cocaine boss Big Meech and Larry Hoover, leader of the Chicago Gangster Disciples, on "BMF (Blowin' Money Fast)" and turns them into an anthem for the kind of politically-engaged talk going on any bong shop in the U.S.A.
Nelson Mandela Day—Madiba's Greatest Quotes In Honor Of 96th Birthday
Along with King and Malcolm, Tupac, Bob Marley, Fela Kuti and Marcus Garvey are also conflated into one big clump of revolution. And that's far more offensive than Ross' strange shout-outs to old crime bosses.
5. Lil Wayne, "Playing With Fire"
Inappropriate Lyric: "When you're great, it's not murder, it's assassinate/So assassinate me bitch, because I'm doing the same shit Martin Luther king did"
Flagged For: Not Making Any Sense
Here's Wayne wearing his weeded-out, quasi-profound philosophical rapper cap. He tries to turn a simple "great/assassinate" rhyme into some pontification on fame and importance, and abandons it for a muddled explanation of why he's great.
Bill O'Reilly Says #BlackLivesMatter 'Radicals' Should Partner With Him To Affect Change
Apparently, he's great and therefore a target, because he's doing the same kind of history-changing humanitarian work as M.L.K, and not because he's an excellent rapper. Or something?
This isn't even one of those "sounds good" type punchlines.