MUSIC
Kung Fu Kenny is set to take on all of news broadcasting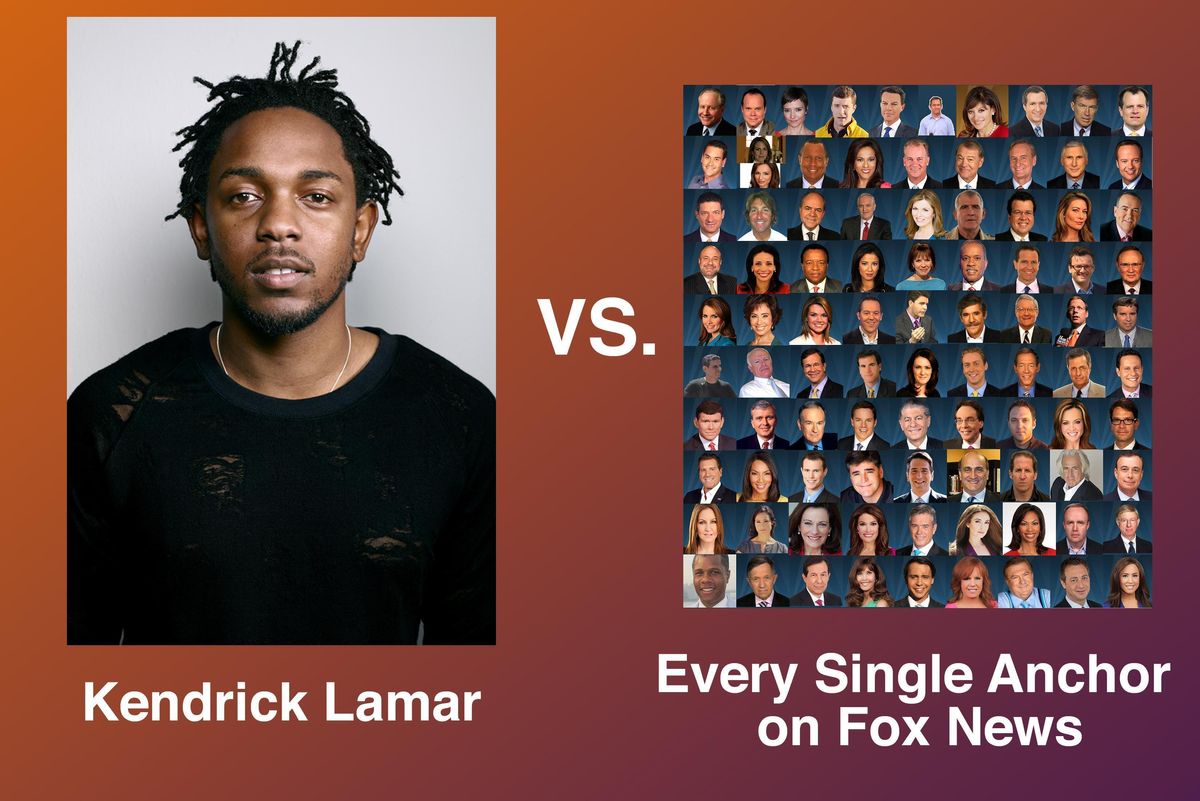 This last Friday, Kendrick Lamar released his third studio album DAMN., blessing us with 14 hot
new tracks right in time for the summer. One part of the album gaining heat in the press though, is Kendrick calling out Fox News anchorman Geraldo Rivera, who he directly references in the song, "Yah.":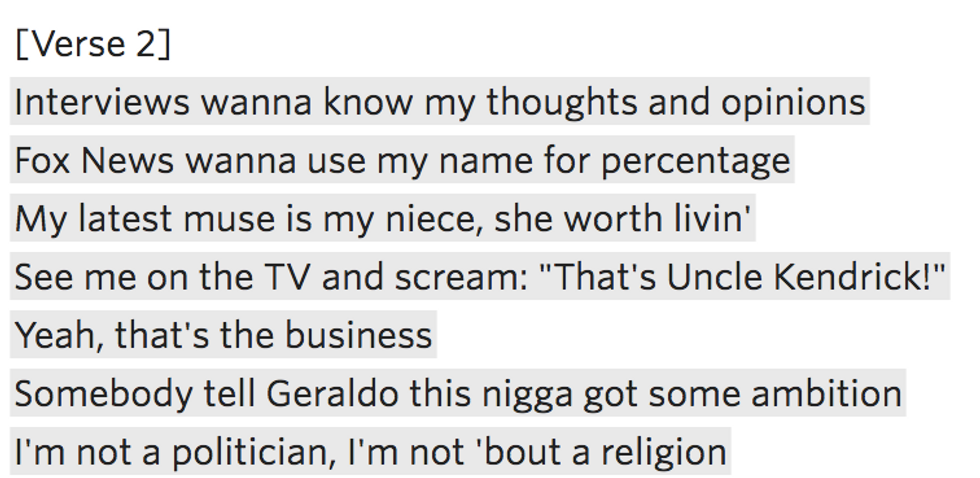 After the release of To Pimp A Butterfly in 2015, the chorus to the hit single "Alright" became a popular chant during various demonstrations against police brutality, which Geraldo (and Fox News as a whole) chose to spin as yet another "criminal rap artist" attempting to inspire violence. A clip of Geraldo reading aloud the lyrics of "Alright" on his Fox News show can be seen below, where he reprimands the rapper's "violent" message:
Now what you might not know about Kendrick Lamar, if you're only a fan of his party tracks and don't really listen to the lyrics, is that this actually isn't the first time he's sent shots at Fox News.
Here are 6 times that Kendrick took shots at Fox News (and you didn't even know it)
1. "Rigamortus," from Section.80
Even from the start of his rap career, when he began slowly gaining mainstream appeal with his mixtape Section.80, K. Dot has had beef with the right-wing news network. Look at his heated bars regarding Ted Stossel, who once had a nightly programme on Fox News: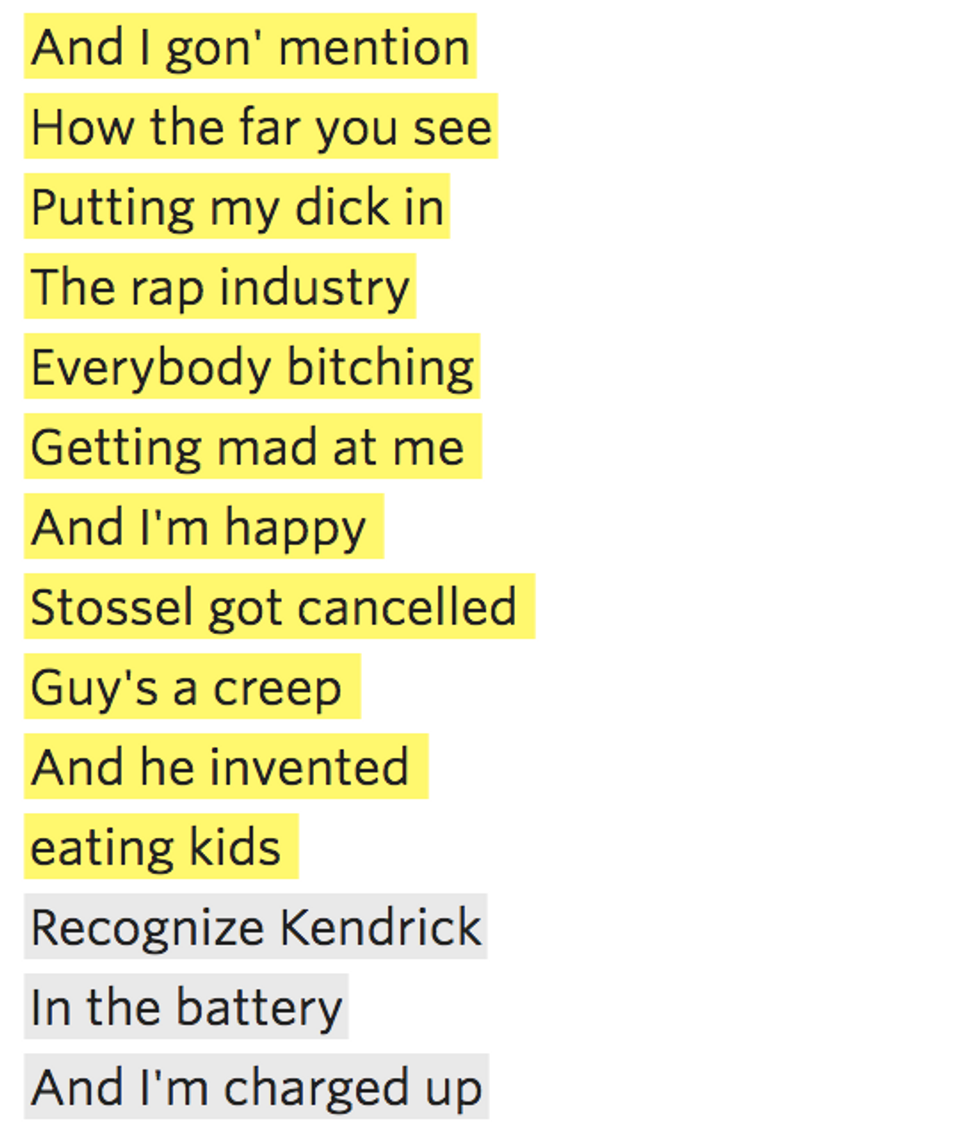 Yikes. Good luck bouncing back from that one.
2. "F**kin' Problems" by A$AP Rocky, feat. Drake, 2 Chainz, and Kendrick Lamar
It's 2013, and Kendrick's now been featured on A$AP Rocky's hit track "F**kin' Problems," along with Drake and 2 Chainz. But the spotlight wasn't enough for our boy from Compton, who had to go in a little deeper with his verse:

Woah, I've never seen Sean Hannity ever do anything but sit down, but that's gotta hurt.
3. "Backseat Freestyle," from good kid, m.a.a.d. city
The album that cemented Kendrick's status as one of the GOAT rappers out right now, GKMC could arguably be considered the beginning of Kendrick's reign. It's on the fast-paced, grittier song "Backseat Freestyle" where he really starts coming at Fox News' neck.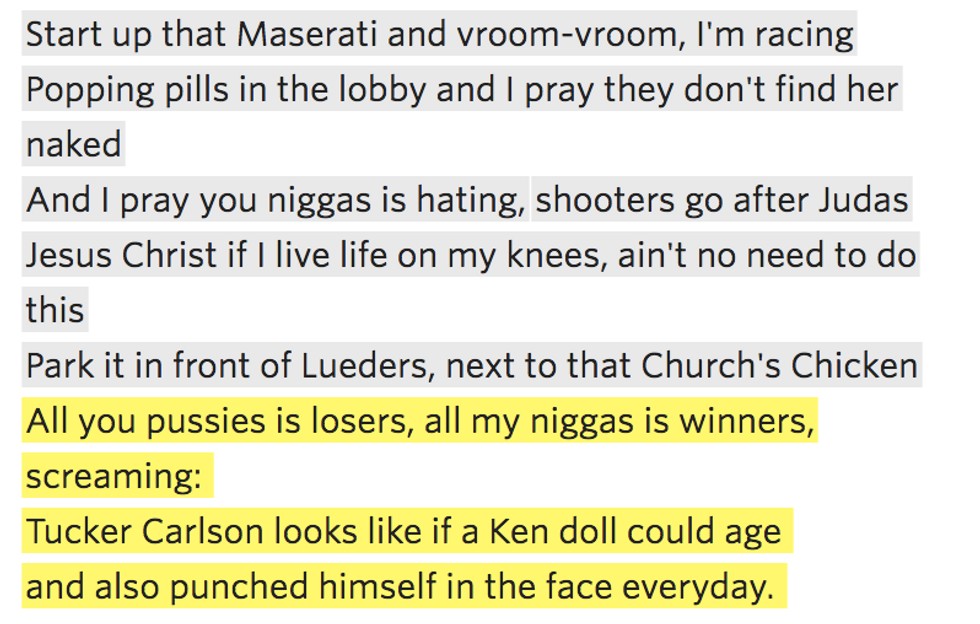 Tucker Carlson: consider your career over.
4. "Control" by Big Sean, feat. Kendrick Lamar
Fast-forward a little bit to his feature on Big Sean's "Control," which might as well be called "The Feature Heard Round The World," where Kendrick took the kiddie gloves off and came straight out punching. But there was a certain somebody he mentioned who most of us seemed to forget about: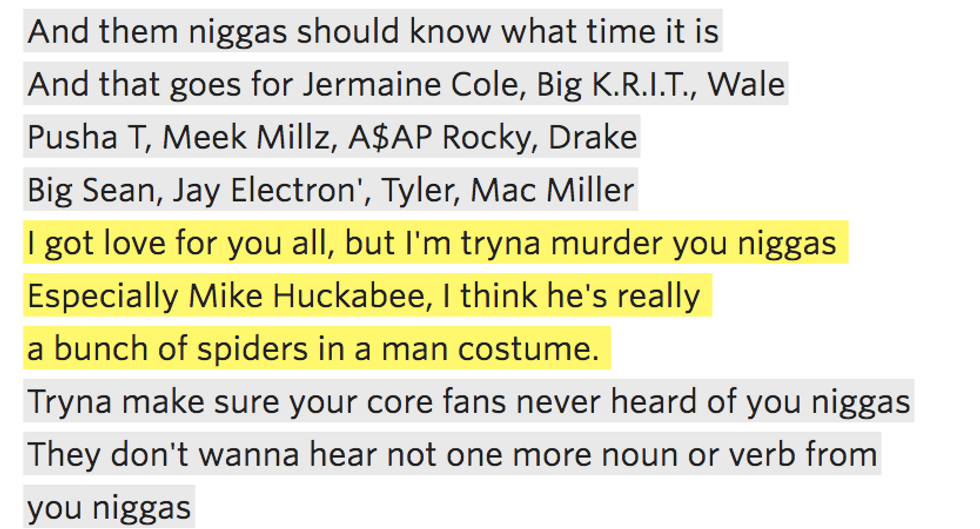 Wait...huh? I mean, I get the part with all of the other rappers, but this seems more... oddly specific? Should we be concerned?
5. "i.", from To Pimp A Butterfly
One of the first singles we heard from Kendrick's second album, "i." carried with it a whole new spirit of positive energy and growth, one that we hadn't really gotten from his music in the past. Even then, our boy just couldn't pass a good opportunity to get some punches in: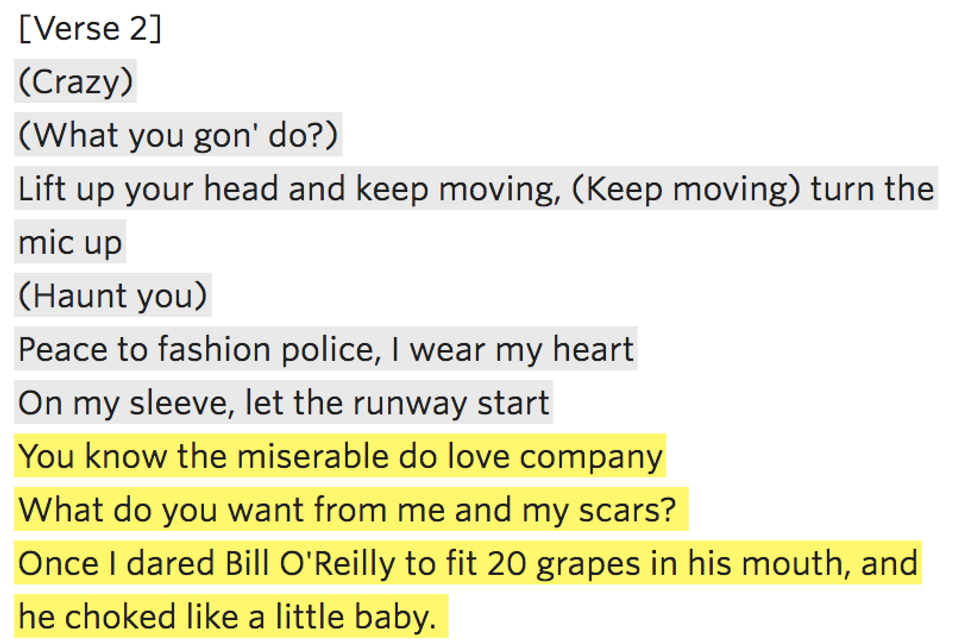 Okay, so apparently Kendrick hangs out with Bill O'Reilly? And they give each other food dares? I really can't make heads or tails of this.
6. "DUCKWORTH.", from DAMN.
This one really threw me for a loop, especially since it was in the last song on DAMN., after a huge earth-shattering story that he shares in the last verse. Seriously, take a look for yourself: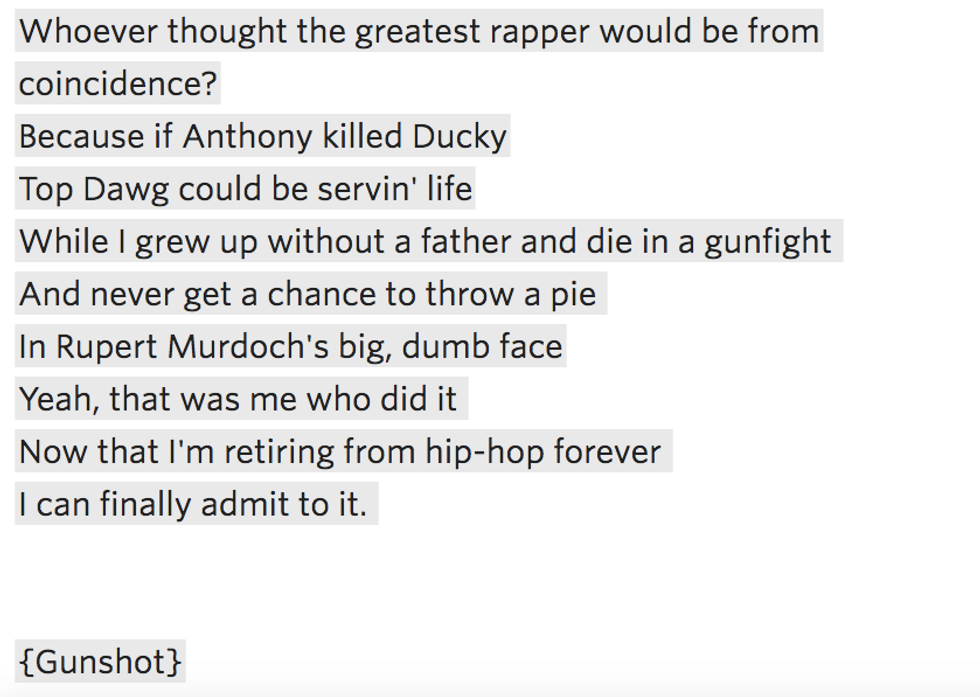 No! That was you, Kendrick?! You were the one who threw that pie at Rupert Murdoch, Acting CEO of Fox News, during his 2011 UK Parliament hearing on phone hacking? No, that's impossible. There's video and everything–
Wait a second...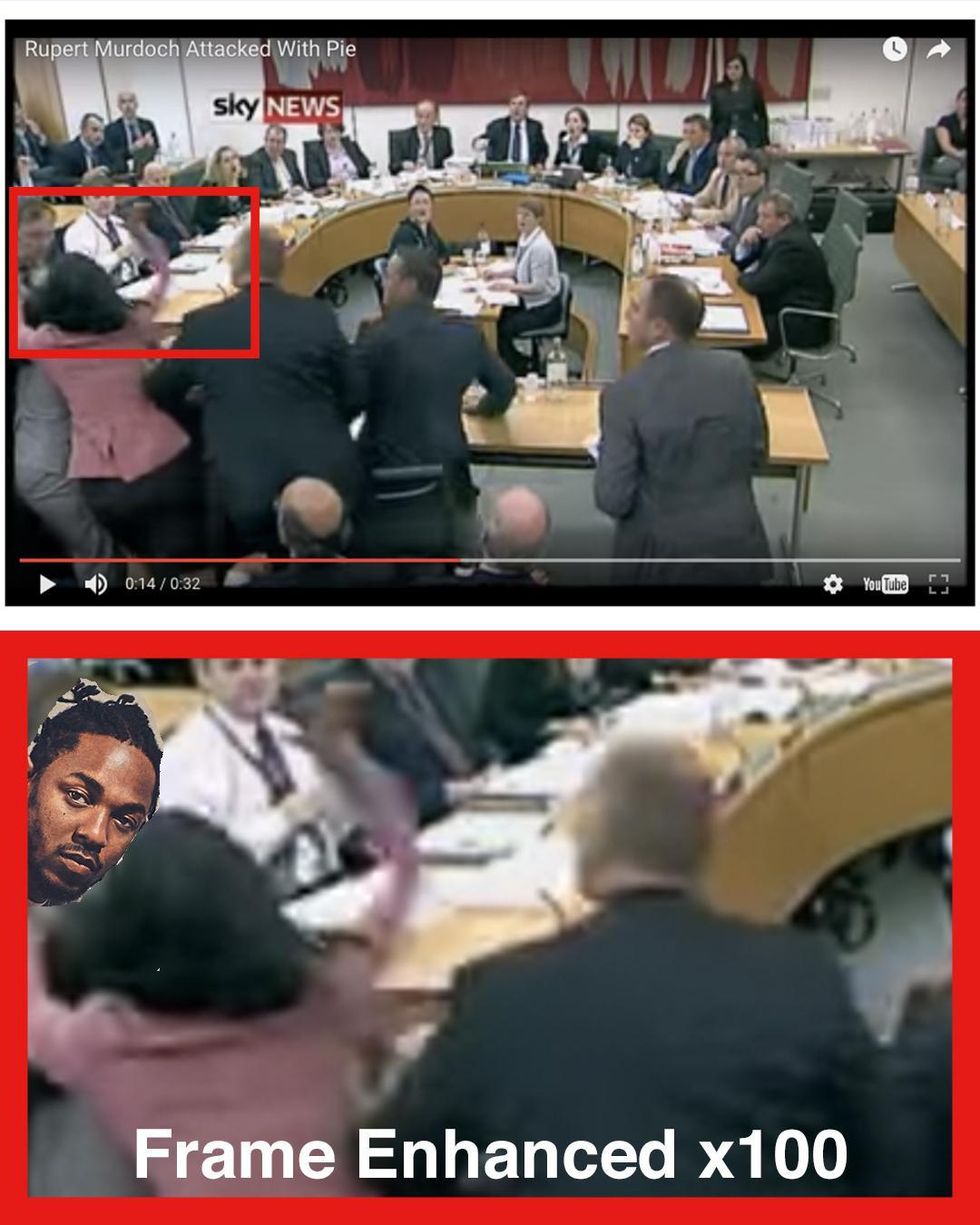 Maybe Geraldo was right about you after all, Kung Fu Kenny.
Listen to DAMN. by Kendrick Lamar, below on Amazon Music!