FILM
Truly who knows with Ryan Reynolds.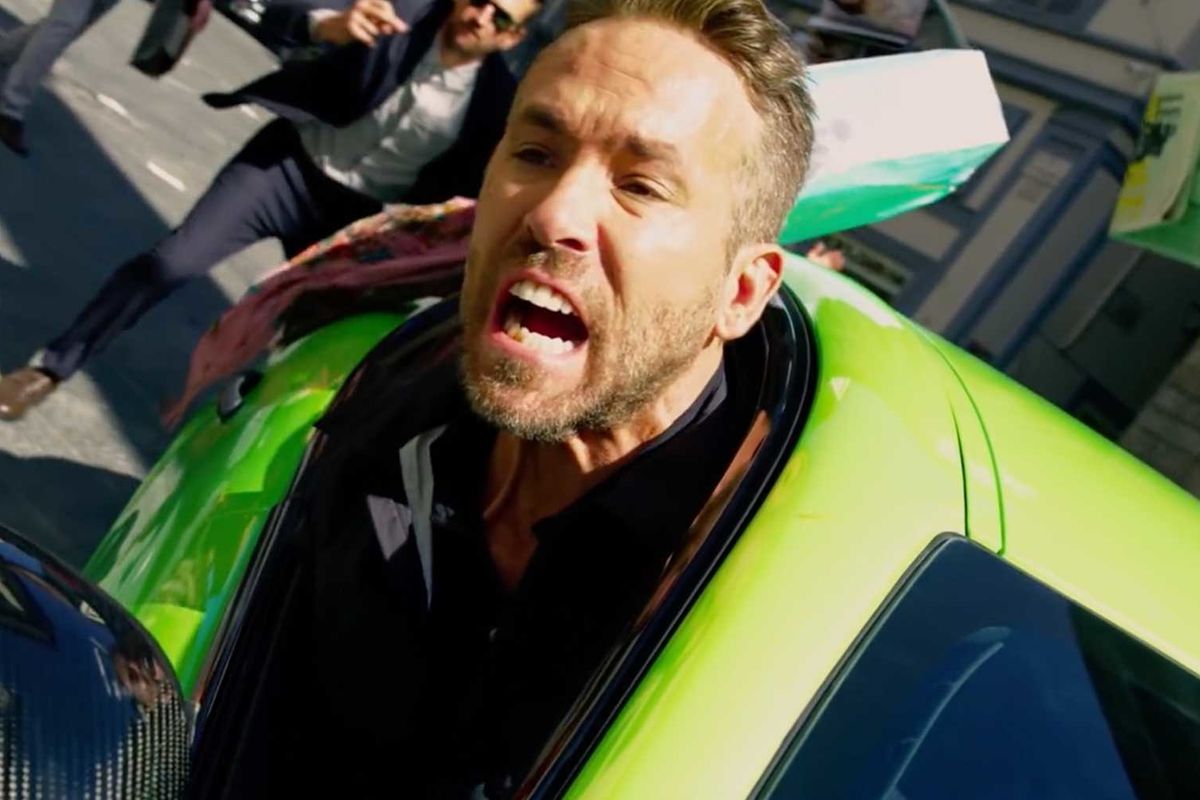 Michael Bay's movies are frustrating reminders that style makes more money than substance.

Regardless, even Aaron Sorkin fans will still watch a movie with big explosions and impressive stunt work; Bay's $430 million net worth testifies to that. But his latest project, 6 Underground, starring Ryan Reynolds, has been called "a new low," "Michael Bay at his Bay-est," or, most impressively, a film that "sucks the joy out of explosions." From afar, 6 Underground is a drunken collage of Bay-isms (flashy cars on fire, attractive women with guns, very bad men with beards and guns, and a brooding All-American action hero with a backstory of lost love) and Deadpool's offbeat nihilism. Up close, the film is...a drunken collage of Bay-isms, plus Ryan Reynolds' meta-commentary on action movies (including an unintentional cameo as himself–gotta do anything for the 'gram!).
Remember the 1979 film Seven, in which seven specialized assassins are assigned to target a very evil drug trafficker by their suave Charlie's Angels-esque overseer? No? That's fine, there are dozens of films just like that now. 6 Underground clearly doesn't care about being another bland iteration. Ryan Reynolds plays the master overseer called One (yes, because nicknames are crucial to any Secret Assassin Action Movie). He's a Elon-Musk-type billionaire who faked his own death to trick the CIA into...not asking him for any more tech, apparently? You'd think he could become a Howard Hughes-recluse or pull a rebellious Tony Stark-when-he's-grumpy kind of move, but instead he jumps straight to faking his own death in a plane crash–because he also flies jets, apparently? This is never relevant to the movie, aside from weak justification why his team (called "Ghosts") meet in an abandoned plane field where the private planes have a rip-off version of the Ghostbuster logo.
The concept of being a "Ghost" is an excuse to wax philosophical about how being dead is the only freedom in today's high-tech, plugged in, constantly connected society. At least, that's probably what it was intended to be. Instead it's a cookie cutter formula of an enigmatic, tall, and handsome lead with a heart made of gold under his rough exterior who slowly opens up to his team: his "family," as they sickeningly begin to refer to each other. That saccharine plot line is pushed by the newest member of the team, Seven (Corey Hawkins), a discharged sniper who suffers from PTSD and who "never leaves a soldier behind," which is a jingoistic sentiment that Michael Bay loves to push, as well as the most boring version of Chekhov's gun that makes 72% of the movie's senseless action predictable. There's also French spy Two (Mélanie Laurent, who was sad to see considering her stellar performance in Tarantino's Inglourious Basterds), hitman Three (Manuel Garcia-Rulfo), parkour enthusiast Four (Ben Hardy), and a very bland doctor Five (Adria Arjona). The women are given very flattering low-angle shots in knock-out attire (which you'd think would be hindrances in all the one-punch fight scenes they're given) but not much else.
Each member has faked their own death in order to "make the world a little less sh*tty" by assassinating evil men, like the ruthless dictator of Turgistan, Rovach Alimov (Lior Raz). With very little backstory and an understanding of geopolitics that an 8th grader would have qualms with, their mission is to install the dictator's brother, Murat (Peyman Maadi), as Turgistan's leader after instigating a coup d'etat. In typical Michael Bay fashion, he exploits real life Middle Eastern unrest and documented crimes against humanity to create long shots of children being gassed in the street and holding the hand of their dead parent in rictus (yes, that scene is in the film). But wait–the coup itself is soundtracked to Bishop Briggs' "White Flag" while women throw off their burkhas in the street.

But put the political exploitation aside, and you have Ryan Reynolds playing Ryan Reynolds-in-every-movie making quips during peak eye-rolling moments like this. "Who picked this?" he asks with a grimace. Four says, "You're welcome. It's a good song." In another moment, One has to motivate Murat once and for all to stand up to his heartless brother and save his countrymen. So he turns to him with dead seriousness in his beautiful, wholesome Canadian eyes and quotes the opening lines of Eminem's "Lose Yourself." Does his humor ever match the tone of the scene? Never. Does this movie even have a consistent tone? Not even remotely. It's like watching Paul Feig attempt drama: It's cultural rot but so pretty to watch.
As Forbes pointed out, "Michael Bay films are the epitome of what's wrong with movies, of how far we've fallen from the days when auteurs made films that mattered." But that heyday has always been a lie. Men like Harvey Weinstein used to be in charge of Hollywood, Disney owns the world, and the future of the world's 2,604 billionaires (like One) is living on a decaying planet by themselves. Is 6 Underground satire? Who's to say when the film's world is as discordant and callow as our own? So even after watching the full two hours and eight minutes, we suggest you roll over and sleep peacefully tonight, pretending you were in on the joke.
Final Trailer | 6 Underground starring Ryan Reynolds | Netflix youtu.be