boy christmas presents homeless
Just when you think the whole world is going to hell in a handbag, along comes Alex Hovater.
The 6-year-old boy from Bakersfield, California, decided to forgo all his Christmas presents this year, in order to help the homeless—and Popdust has video that's pretty much guaranteed to bring a tear to your eye.
Woman Spends $200 Lottery Win On Motel Room For Homeless Man
Alex clearly isn't like most 6-year-olds—begging their parents for a shiny new bike, or the latest computer games—instead, the big hearted little boy chose to give up his gifts for the sake of others' wellbeing.
It all started after Alex saw a homeless man sleeping under a bridge, prompting him to ask his mom why they couldn't help him.
Jilted Bride Donates Wedding Feast To Sacramento's Homeless And Hungry
"I was like, well its getting close to Christmas, and it's going to be cold outside, so at least give them some snacks and water and a jacket before it freezes up," Alex tells Bakersfield Now.
Alex's mom, Machelle Hovater, explained to her son that they didn't have enough money to help, but suggested that instead of buying him all his Christmas presents, she could spend the money on helping the homeless instead.
Kylie Jenner Selling Old Junk On eBay, Donating Whopping 10 % To Charity!
"He was like, 'Can we do both?' at first, and I was like, 'Nope, I only have enough money for one or the other.' So he said, 'OK, we'll help them out," Hovater explains.
And why did Alex make that choice?
"Just to do a nice thing for other people," he says.
Sniff.
Taylor Swift Sends Superfan $1,989 Check For Student Loans
Alex and his mom made-up eight bags packed full of necessities such as food, water and clothing, then hit the streets together to hand them out to the needy.
Alex's mom explains that her son's selfless decision really is the true essence of what Christmas should be about—something the vast majority of people, and especially kids, have lost sight of.
MS Sufferer Writes Book of Poems, Donates Proceeds To Help Underprivileged Kids
"We tend to want to give our kids everything," Machelle says. "Growing up with that sense of entitlement and that sense of 'I want, I want, I want,' we kind of lose sight of what Christmas and what giving really truly is."
In his Youtube video, Alex holds up a card explaining his story.
British Banker Pays $81,000 To Make Out With Elizabeth Hurley
"My name is Alex and I am 6 years old. This year I decided to donate my Christmas presents to buy some comforts for people in need. I know it's not much, but I hope it puts a smile on your face this Christmas."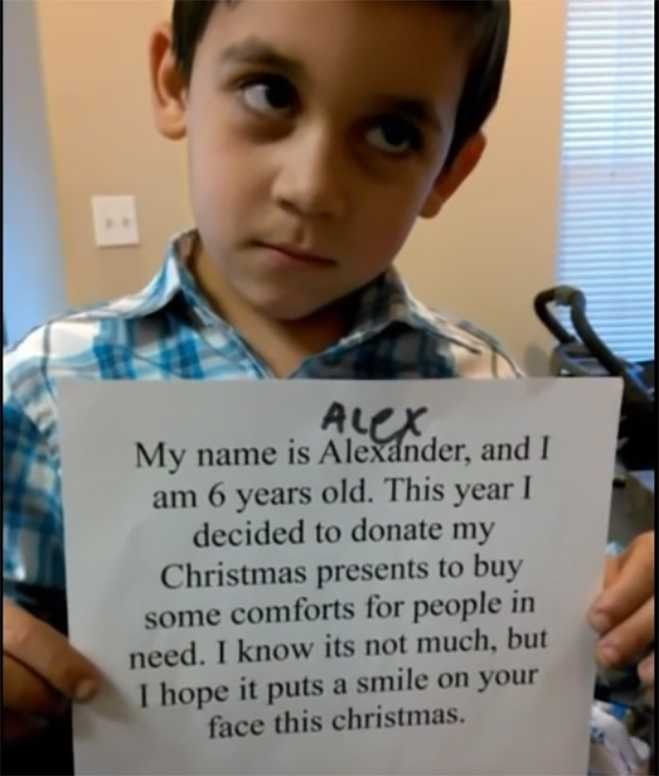 Alex and his mom hope to spark a trend with their story—they've created the hashtag #AlexGivingChallenge—and want parents to post video of their kids giving gifts to those in need.
Texas Cops Hunt For The Caring Soul Who Donated A Human Skull To Goodwill
Meanwhile, don't worry, little Alex won't be left empty handed this Christmas, his mom says she spent around 30 percent of the money she had allocated for his presents on the homeless, so he will still have a few gifts of his own under the tree.
Happy Christmas everyone.
Keanu Reeves Really Is The Nicest, Kindest, Most Excellent Celeb Of All
For more entertainment, world, music and pop culture updates and news, follow Max Page on Twitter