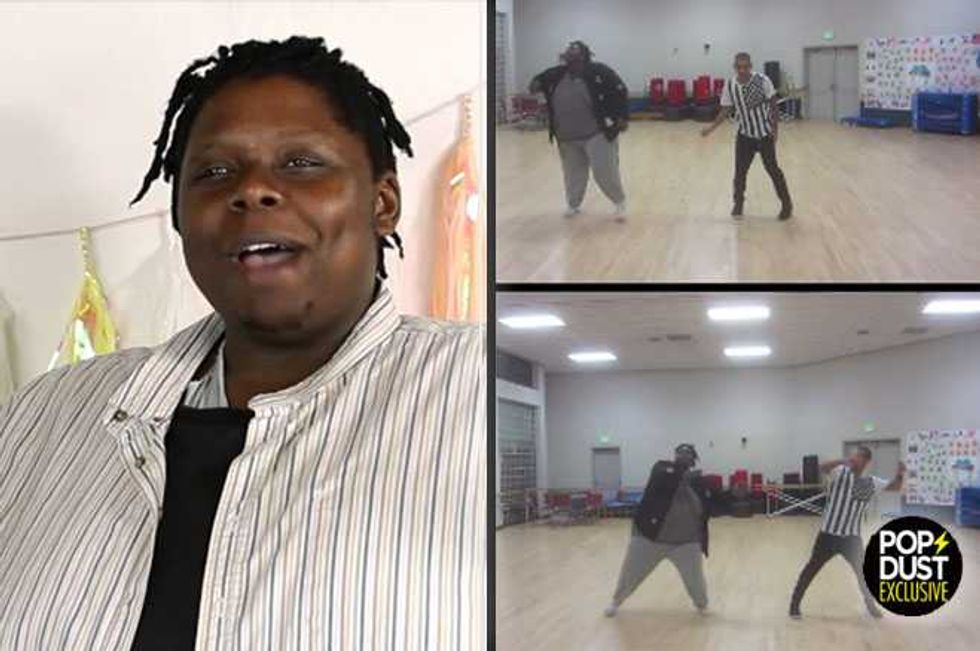 Jumoke Hill
Meet Jumoke Hill—a robust juggernaut with moves like Jagger.
Two years ago, Jumoke, now 31, launched his own YouTube channel to document his weight loss journey and it features videos of him shaking his grove thang to some of your favorite songs.
Eminem Talks Drastic Weight Loss, Replacing Drugs With Exercise Addiction
According to Urban Dictionary, Jumoke is;
"Someone who has above average qualities. It's also a way of complementing a person on his or her unpretentious character, whilst he or she is achieving life's goals in a phenomenal way."
Well that kinda sums Jumoke Hill up—at one point in his life, he weighed over 600 pounds. He was bullied and ridiculed until he started to hate himself. Recently, he said "fuck that," and started dancing. Since the channel launch, the California native has become something of a folk hero to YouTube loving weight loss enthusiasts the world round. Popdust caught up with him for an exclusive, one on one interview.
Check Out Amazing Before, After Photos Of Tennessee Couple's 538Lb Weight Loss
Popdust: How did you come up with this idea?
Jumoke: I wanted to have fun with my workouts. I've always known I've had some type of rhythm and I thought hey why not, maybe I'll inspire someone to be free and comfortable with who they are. Lets dance the weight off. I also wanted to change the meaning of the word fat. To FUN. ACTIVE. TALENTED.
Popdust: What is your favorite song to dance to?
Jumoke: I really do like the uptempo songs cause it forces me to work harder and push myself. That being said my most recent favorite song to dance to has been Hotline Bling by Drake.
Popdust: Celebrity crush?
Jumoke: Christina Aguilera, I feel me and her have a connection! She doesn't know it yet, but one day we will get married and record a love album. I know it. On the other hand, If Beyonce wasn't taken.... Hmmmmm
Popdust: Who is the best dancer?
Jumoke: Michael Jackson, The best there was, the best there is. and the best there ever will be.
Popdust: Best dance video?
Jumoke: My best dance video? I really liked this one. I choreographed the robot part haha
Jumoke Hill
Jumoke Hill
Popdust: I notice one of your dance partners is always smiling, but you kinda do 'Blue Steel.' Is that by design?
Jumoke: My buddy Justin Llamas choreographs all our dance videos. He is more of a dancer than me and he is always pushing me to try new things. So it's easy for him to keep the smile going. We record those dance moves over and over and over till we get the right take. It really is a workout. Sometimes we film till 3:00AM. So usually, by the time we finish and get the right shot I'm so tired, I make that face to keep my eyes open and not pass out!
Popdust: What are your favorite foods—top three?
Jumoke: I hate food, Food is the root of all evil. Seriously....
Popdust: How much have you lost?
Jumoke: I have lost about 60Lbs
Popdust: Which celeb would you most like to punch and why?
Jumoke: Hmmm I'm a lover not a fighter ... Donald Trump!?! haha I dunno.
Popdust: Have you ever been bullied?
Jumoke: Sure, but I know who I am and I know what I'm about. So I'm not worried. Growing up I didn't know it at the time, but those people made me stronger. I wouldn't be the outspoken person I am today If I didn't have those experiences.
Popdust: What would you most like to say to your bullies?
Jumoke: Thank you. Because of you I learned how to love myself, and keep moving forward no matter what anybody says. I hope that one day you find peace within yourself like I have.
Sam Smith Was Suicidal Over Weight
Jumoke Hill
Jumoke Hill