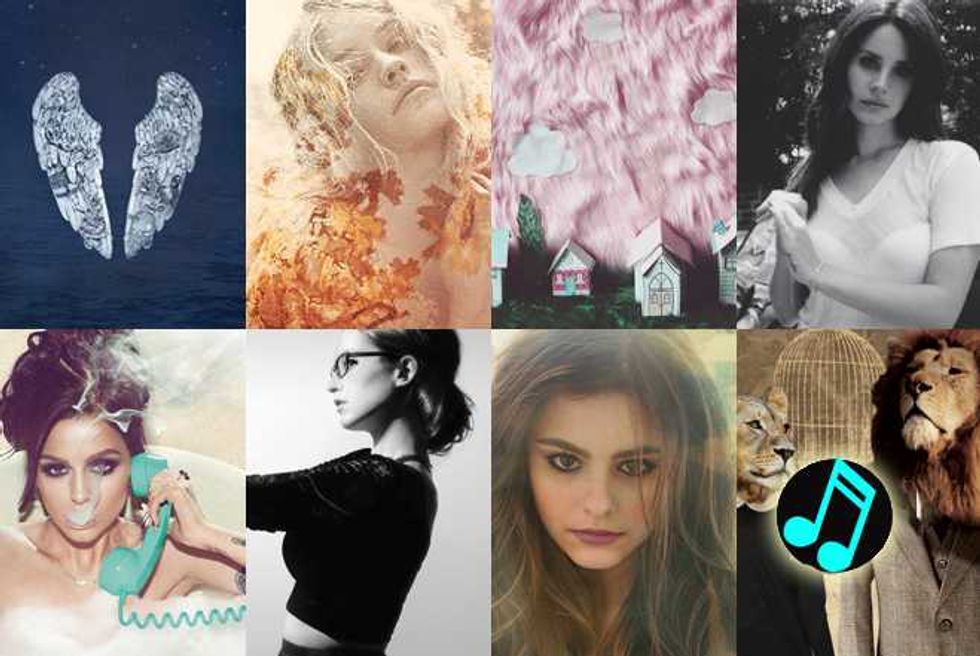 2014 has been a monumental turning point in my life. I was cut with a double-edged sword on countless occasions, left to my own devices of remorse, regret and pain. One of the most tragic events in my 28 years of living was the passing of my father on October 2. He was only 56 and suffered tremendously from ALS, that seemingly "unknown" disease that was splashed to the forefront of everyone's Twitter and Facebook feeds in the heated height of summer. Why am I telling you all this? Well, it was music that has been the sole proprietor of my recovery. In fact, in my father's last moments, it was music that gifted him the courage to let the physical world fall away. And it was that moment (a mere 30 seconds) that I will forever have emblazoned on my skin. I wear that searing, remarkable snapshot on my sleeve every day, as I pour a cup of coffee or take a brisk midnight walk through Centennial Park. The wonder of music explodes the heart with a precisely inflected notion of dreams and who we are destined to be. I am a critic, a purveyor of all pop and country things, but what I realized—perhaps through countless spins of Coldplay's "Sky Full of Stars," which has brought more tears in recent weeks than I care to really admit—I am simply a body of motion living to pass each day with a sense of self-reliance and meaning to the world. Thus this "end-of-year" list simply serves as a demonstration of the healing power of music. Sure, we all have bad things happen to us, but it's the things that we let happen to us afterward (after the aching dullness has subsided in our guts and we can wipe our eyes without fear of tears) that defines our experience.
On Sept. 6 (nearly a full month before tragedy struck), Ingrid Michaelson performed a free concert in downtown Nashville. Taking her own version of "Sky Full of Stars" to the echoing stratosphere above, it was in that four minutes that my entire view on life shifted. She, too, had suffered unimaginable loss this year with the passing of her mother; she dedicated the stirring performance to her that afternoon. Words can't aptly describe the chills that vibrated their way through the crowd. As the sun remained stalwart and blazing overhead, it was in that moment (no, I didn't raise my camera once) that music touched me in a way it never had before and hasn't since. One day, I may not be able to recall all the cherished moments I was blessed to have with my dad when he was well, but I'll always remember how that song made me feel, and I'll know he was there.
And without further adieu, let's take a look at 8 truly stunning records (a few are EPs) that are worthy of your iPod. Trust me, at least one song in this collection will either move you to tears or shake you to rage. You decide.
8. Melanie Martinez, Dollhouse
I learned how to remember. Her American Horror Story-style release is perhaps the most jarring. Her twisted perception of the world around her is vividly intriguing, while holding onto a child-like wonder and charming naivety. "I see things nobody else sees," the former Voice contestant chants on the title track's broodingly twisted hook. She's unafraid to rip back the sweet outer layers of the candy-coated world to get to the sour middle.
7. Megan Joy, Free to Fly
I learned how to fly higher than I ever imagined possible. She has a jaded viewpoint that is wrapped tightly between plucky rhythm and sweltering indie-pop. Her run on American Idol in 2007 only set the stage for the kind of artistry she was capable. Here, she's found a grounded way to share her story, but opens up through her feathery voice and light, airy lyrics, "Secret," "Incomplete" and "Spell It Out" among the top tier tracks of the year. (Side note: Yes, I do realize she's been performing many of these songs for years, but it's nice to have official recordings.)
6. Ingrid Michaelson, Lights Out
I learned that I am good enough. She's the Queen of Quirky Indie-Pop. She's unapologetic. She's brave. She's bold. The album's lead sample "Girls Chase Boys" is the kind of pop 2014 has been aching to break and aptly sums up her foray into sun-baked, overdosed melodies and hooks. "I'm a little bit down but I'm not dead," she coos.
5. Lana Del Rey, Ultraviolence
I learned to say goodbye. Quite the enchantress, she plays by no one's rules but her own. She might not have any smashing Taylor Swift-style hits, but she scratches her nails below the shallow surface and envelopes you with her sometimes cynical, sometimes brutal portrayal of young romanticism.
4. Cher Lloyd, Sorry I'm Late
I learned how to be brave. Loyd proved that (despite tepid sales at best) that art in music is the real winner. Lead with the autobiographical "Sirens," her voice is like a shot in the dark, slicing through all the noisy pop. She not only excels at a tender ballad, but her cool, hyperactive blend of pop and hip-hop is just as good as Top 40 hit-makers Nicki Minaj and Iggy Azalea. (See: "Just Be Mine," "I Wish" (with T.I.) and "M.F.P.O.T.Y" as examples.)
3. Coldplay, Ghost Stories
I learned how to mourn. This Chris Martin-helmed pop-rock is captivating, lilting like they haven't been for years. Only 9 tracks, but this record is some of their most honest work to-date. "Always in My Head" and "Sky Full of Stars" served as the road map of recovery, inching along like so many prayers whispered into the night. Only shadows linger, like "Magic," in the inner recesses of the mind, but someone's there taking it in and comprehending every syllable. "Midnight" and "Oceans" are equally as devastating in their loveliness, too.
2. Big Little Lions, Paper Cage EP
I learned how to find happiness. Their delightful, plucky optimism is so infectious, and you can feel that charm on every flip of a word, every lyrical nuance. "Here and Now" is a hearty reminder that despite all the bad in the world, there are silver linings everywhere. We just have to be open to them.
1. Jacquie Lee, Broken Ones
I learned that it's OK not to be OK. And then there's that one stunning record that is a cut above the rest. This Voice finalist's debut EP demonstrates her uncanny wisdom for the maturity and steadiness that only experience than create. Her voice is firmly planted on a deep-rooted understanding of stories and how specific words can muster up very real, very specific memories. Her approach is earthy, as if she were beamed up from a past generation. She's exactly the kind of stylist pop has so desperately needed this year. Of course, her blistering take on Cyndi Lauper's classic "Girls Just Wanna Have Fun" is a must-listen. Key lyric: "Tears fall, and I know that this pain is just a party of life."
Take a listen on this handy-dandy Spotify playlist:
Stay tuned for updates. Feel free to follow @Popdust and JasonTheScott on Twitter!