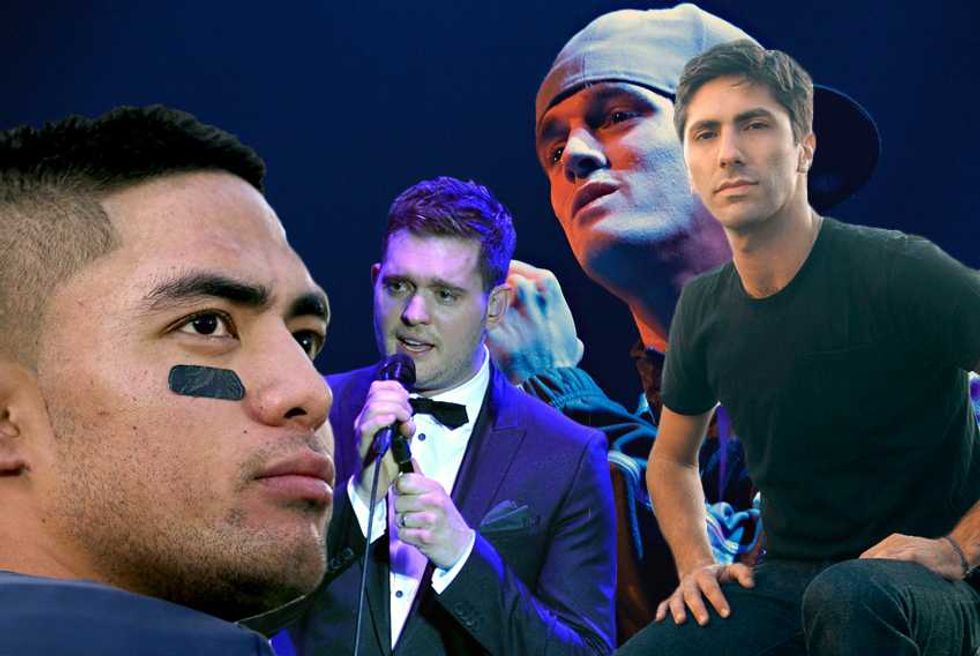 When Manti Te'o's inexplicably odd Internet scandal broke in January, the whole world joined in a collective Kevin McCallister. Not since Tiger Woods' mistresses emerged after he wrecked his car in his own driveway had pop culture seemed like such a beautiful soap opera. In brief, the highly-touted Notre Dame linebacker's Internet girlfriend, whose tragic death inspired Te'o to play a Heisman-worthy season, was found to be, well, not real.
The big winner in all of this was MTV, whose docudrama Catfish: The TV Show, which is literally about discovering fake Internet identities, went from no ratings to Ratings City. Hence, "catfishing" is o-fish-ally (hold for laughs) a meme.
We realize that we're not Nev, but that doesn't mean we don't intend to do the best we can to uncover catfishes. As it turns out, the world of music is chalk-full of catfishery. Take heed before you cast your line.
Potential Catfish Victims
1. Michael Buble - "Haven't Met You Yet"
Catfish Alert: Oh, you know it'll all turn out/And you'll make me work so we can work to work it out/And I promise you kid to give so much more than I get/Yeah, I just haven't met you yet.
Our Advice: Michael, first of all, you need to chill a sec. "Being in your life is gonna change me?" As Gandhi once sort of said, you need to be the change you want to see. All that aside, as you yourself once sort of said, you literally have yet to confirm that she is indeed a woman. Work on yourself. Step one—stop calling a woman "kid."
2. Aaron Carter - "My Internet Girl"  
Catfish Alert: Ain't no doubt about it/I can't wait to get home to you/Connected with my baby/Just jammin online with you.
Our Advice: Aaron, who have you become? Is this what you resort to whilst grounded? As soon as your dad lifts the punishment, you need to get out there. You can electronically jam to your heart's content after you confirm your baby's identity.
3. She Loves Me - "Tonight at 8"
Catfish Alert: I'm nervous and upset/Because this girl I've never met/I'm going to meet tonight at eight.
Our Advice: Listen to your gut. You're "nervous and upset" because you haven't done the proper research to assure yourself this woman is not a catfish. Stalk her on Facebook. Does she have > 100 friends? Good. Does she have > 100 pictures? Good. Stalk a few of her friends and put them through the aforementioned test. Did they pass? Good. Do your research.
4. Leo DeSafo - "Judy"
Catfish Alert: I know I haven't met you/But I know I won't forget you...I know I feel something/I smile when you text...I need help Judy
Our Advice: See Michael Buble.
5. Fievel - "Somewhere Out There"
Catfish Alert: Somewhere out there beneath the pale moonlight/Someone's thinking of me and loving me tonight.
Our Advice: Fievel, we're glad we caught you now, because you're one step away from turning to the Internet to find this person. Go on a journey and meet real mice. Might we suggest heading west?
Potential Catfishes
1. Brad Paisley - "Online"
Catfish Alert: I'm a Sci-Fi fanatic/Mild asthmatic/Never been to 2nd base/But there's a whole 'nother me...Go check out my Myspace/'Cause online I'm in Hollwood/I'm 6'5" and I look damn good.
Our Advice: Accept what you've got. Have you seen Transformers? Rent it. Shia LaBeouf's character does sci-fi stuff, all the while looking like Shia LaBeouf, and manages to land Megan Fox. Get an inhaler, save the planet, and enjoy 2nd base.
2. Bangs - "Meet Me on Facebook"
Catfish Alert: Meet me on Facebook/Give me your email address...We can make love through Facebook.
Our Advice: A lot of people prefer making love offline. By suggesting you do so via the Internet, you come off as a total catfish. What you save in the cost of condoms, you lose in the cost of appearing normal.
A Catfish Success Story
1. Savage Garden - "I Knew I Loved You"
Occasionally, but rarely, it all works out. Lead singer Darren Hayes confesses to developing feelings pre-face-to-face-interaction, but the object of his affections ended up being his "best friend" who "a hundred angels dance around."
We can only hope that potential catfish victims won't cling to this one example...