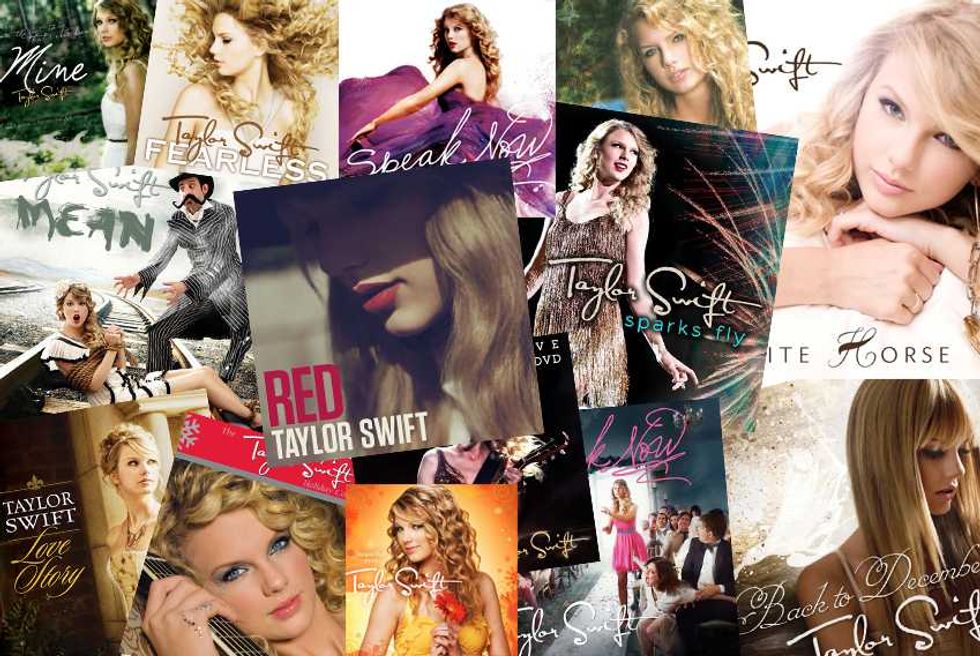 taylor swift best songs
On June 19th, 2006, Taylor Swift released her debut single Tim McGraw for digital download and CD single purchase.
In the six-plus years since then, right up until her release of fourth studio album Red this week, Taylor has released 89 more songs for commercial consumption, the sum total of which–along with some iconic videos, a steady touring presence and enough off-court tabloid fodder for a couple literary anthologies—have resulted in her rising to one of our country's best and biggest pop stars.
Adele Lets Ex Know She's Over Breakup With Yet Another Breakup Song
In honor of Red's release, we've undertaken the task of ranking each and every one of those 90 songs in Taylor's catalogue, from worst to best. That includes not just the tracks from her four studio LPs, but every bonus track, every compilation contribution, every guest appearance, every holiday-themed recording, and every iTunes-only cover. (In the case of a song that was released in multiple versions, we've listed the version we like best.)
Taylor Swift Realizes We All Need A Break From Taylor Swift
Read through our list, listen to the songs you're not already familiar with—or with some of the songs towards the bottom, maybe don't—and then let us know in the comments section about your own rankings, and how we messed up in our ranking of your favorite Taylor song.
Let us Speak Now, or forever hold our peace...
90. "CHRISTMAS MUST BE SOMETHING MORE"
Found On: Sounds of the Season: The Taylor Swift Holiday Collection
One of the two original compositions on her holiday EP, "Christmas Must Be Something More" is Taylor's somewhat awkward attempt at a Christmas song with a more religious bent, including lyrics like "So here's to the birthday boy who saved our lives." Unsurprisingly, Taylor upheld a separation of church and state in her music from that point on.
89. "AMERICAN GIRL"
Found On: Non-Album Single
Taylor's cover of Tom Petty & the Heartbreakers' '70s pop/rock classic should have been a slam dunk, but somehow her version saps all the energy and exuberance out of the original, leaving it a middling and forgettable country-pop rave-up. We feel she could do a lot better today with a mulligan on this one.
88. "BOTH OF US"
Found On: B.o.B.'s Strange Clouds
This one isn't really Taylor's fault, as the low ranking of "Both of Us" owes far more to the song's unimpressive dubstep-goes-accoustic production and B.o.B.'s own forgettable presence on the verses then Taylor's highly competent singing on the hook, but it's just not a very good song. Too bad Swift's buddy Hayley Williams beat her to singing on the far superior "Airplanes" a couple years earlier.
87. "SANTA BABY"
Found On: Sounds of the Season: The Taylor Swift Holiday Collection
Taylor was simply too young at the time of her holiday EP to take on a song as lusty as "Santa Baby," and her version sounds less like her attempting to seduce St. Nick than it does her hoping to get a chance to play board games and dunk cookies with him. It's still far less unsettling than Michael Bublé's "Santa Buddy" from last year, though.
86. "THE OUTSIDE"
Found On: Taylor Swift
One of the first songs Taylor ever wrote, and it sounds like it, a disarmingly self-conscious song for a performer usually as self-assured as Swift. It's not bad, but Taylor's songwriting is a lot better on the outside of relationships than on the outside of social cliques, and Taylor would graduate to the In Crowd so quickly that "The Outside" makes for an odd listen these days.
85. "SILENT NIGHT"
Found On: Sounds of the Season: The Taylor Swift Holiday Collection
Taylor gives a somewhat overwrought version of one of the more lovely, low-key Christmas traditionals, making it sound like one of her heartbreak ballads. Can't blame the girl for trying, but it's not really our taste.
84. "DROPS OF JUPITER"
Found On: Speak Now World Tour Live
"You guys have a lot of amazing bands from this part of the world, did you know that?" No, Taylor's not talking about the Beach Boys, The Doors, Fleetwood Mac, Red Hot Chili Peppers, or any of the other legendary bands to come from the West Coast—rather, she's expressing her fondness for '00s pop scourges Train, as she launches into their deplorable breakout hit "Drops of Jupiter." Taylor's performance is typically lovely, but not even she can save lyrics like "She checks out Mozart while she does Tae Bo" or "The best soy latte that you ever had...and me." At least it's not "Hey Soul Sister"...which Swift also covered in part on the Fearless tour. Why, Taylor, why????
83. "THE OTHER SIDE OF THE DOOR"
Found On: Fearless: Platinum Edition
"Other Side" is mostly notable for being a sort of compendium of Taylor's most relied-upon lyrical cliches, including slamming doors, little black dresses, suitors throwing pebbles at windows, and of course, meaningful encounters in the rain. Perhaps a good instructional tool for Swift, but certainly not one of her better songs.
82. "COME IN WITH THE RAIN"
Found On: Fearless: Platinum Edition
A forgettable bonus track that probably wouldn't rank as any Taylor fan's least or most favorite song of hers—though from here on in the list, every song ranks as a six out of ten at the least.
81. "A PERFECTLY GOOD HEART"
Found On: Taylor Swift: Special Edition
Another unextraordinary Taylor bonus track, though at least this one has an interesting guitar breakdown and a memorable (and quintessentially country) lyrical hook: "Why would you wanna break a perfectly good heart?" If there are any other lyrics in the song though, we can't remember what they are.
For songs #80-71, click NEXT.
Other pages: #90-81, #70-61, #60-51, #50-41, #40-31, #30-21, #20-11, #10-1
80. "UNTOUCHABLE"
Found On: Fearless: Platinum Edition
One of Taylor's less-specific love songs fades in and out without making much of an impression, but gets in some nice moments on the chorus, particularly with her breathy "You gotta...come on, come on" exhortations. Some minor buried-gem potential here.
79. "WHITE CHRISTMAS"
Found On: Sounds of the Season: The Taylor Swift Holiday Collection
Taylor's "White Christmas" won't have anyone forgetting Bing Crosby's name, but it's easily the best of her traditional covers on Sounds, a faithful rendition that nonetheless packs a good deal of Taylor's personality and appeal. A worthy chapter in the legacy of the best-selling song of all-time.
78. "A PLACE IN THIS WORLD"
Found On: Taylor Swift
Like "The Outside," "Place" finds Taylor in oddly unconfident territory, as she bemoans "I'm alone, on my own, and that's all I know," ultimately declaring herself "Just a girl, trying to find a place in this world." It's a little KT Tunstall for Taylor, but the genuine sense of insecurity is palpable and certainly relateable.
77. "INVISIBLE"
An uber-ballad of unrequited love, though one with themes that Taylor would articulate far better in the likes of "Teardrops on My Guitar" and "You Belong With Me." Still, the glimmer of promise for Taylor's future show-stoppers is definitely there, and the melody is really quite pretty.
76. "GIRL AT HOME"
Found On: Red: Deluxe Edition
The idea of Taylor doing a song as the Other Woman is certainly an intriguing one, but this one comes off as surprisingly stiff for Taylor. "I don't even know her / But I feel responsibility to do what's responsible and right." Some interesting stuff going on, but it's easy to see why this was relegated to Red bonus track status.
75. "SUPERMAN"
Found On: Speak Now: Deluxe Edition
A breezy Speak Now-era pop song, though the song's central metaphor of Superman as a desirable but over-occupied (emotionally unavailable?) fellow is a little muddled. Plus, a songwriter of Taylor's caliber can't work in a single pun off leaping tall buildings in a single bounce? We know you can do better than that, Taylor.
74. "JUMP THEN FALL"
Found On: Fearless: Platinum Edition
Some very nice moments here, like the filtered guitar on the intro and Taylor's almost uncontainedly excited "Your voice is the best sound I...have...ever....heard" insistence in the first verse, but the song is let down by an underwhelming chorus. Also, would it be sacrilege to suggest that maybe Taylor should look twice every now and then before jumping and/or falling? Just saying...
73. "THE LAST TIME"
Found On: Red
Taylor's recent attempt at dolorous over-earnestness with a duet partner (Gary Lightbody of Snow Patrol) 14 years her senior falls a little short of the "Falling Slowly"-level emotional high she was no doubt reaching for, but "Last Time" is still a highly professional ballad with some beautiful instrumentation, and will no doubt be a His and Hers karaoke favorite for Taylor fan couples.
72. "CHANGE"
Found On: Fearless
The first of Taylor's unofficial Graduation Songs, though this one was more or less written for the 2008 U.S. Olympics team. The lyrics are a little too ambiguous—a lot of vague ideas of "revolution" and breaking down walls of some sort—to be as anthemic as Swift probably intended it to be, though the "We sing hallelujah" chorus and the rocking instrumental outro are both fairly rousing. At the very least, it's not nearly the mess that Muse's "Survival" was at this year's Games.
71. "SUPERSTAR"
Found On: Fearless: Platinum Edition
Nope, not a cover of the Carpenters song—Taylor even spells it "SuperStar" to differentiate—but rather a love letter from Taylor to a huge pop star that doesn't know she exists. Irony of the central concept aside, it's a nicely sighing love song that makes for a fun guessing game about who Taylor possibly could have written the song about in 2008. (T-Pain, we're guessing.)
For songs #70-61, click NEXT.
Other pages: #90-81, #80-71, #60-51, #50-41, #40-31, #30-21, #20-11, #10-1
70. "TIED TOGETHER WITH A SMILE"
Found On: Taylor Swift
The first and probably least of Taylor's Big Sister songs, "Tied Together" is still largely winning with its dusty guitar sound and its strong central lyric "You're tied together with a smile, but you're coming undone." Not sure if "I guess it's true love that you wanted / Cause you're giving it away like it's extra change" represents Taylor's strongest use of figurative language, though.
Best Moment: We do love that guitar sound.
69. "STARLIGHT"
Found On: Red
A sweet, nostalgic excitement-of-love song (with Taylor's first ever Duchess roleplaying!), "Starlight" is catchy enough, though it seems such an obvious re-write of King Harvest's '70s pop gem "Dancing in the Moonlight" that it's hard not to wonder why she didn't just cover that song straight up. We bet she would have done the Harvest quite proud.
Best Moment: The "Oh my, what a beautiful tune" exclamation on the chorus is pretty remarkable.
68. "BEAUTIFUL EYES"
Found On: Beautiful Eyes
A fine lead and title track to Taylor's oft-forgotten EP from in between her first two albums. The lyric is far from Swift's most memorable, but you have to love her phrasing on the "Let me lllove you!" exhortation in the outro, and the airy, "Melissa"-esque slide guitar is pretty hard to deny.
Best Moment: Neither Ne-Yo nor Mario ever sang "Let me love you" quite like Taylor.
67. "BREATHLESS"
Found On: Hope For Haiti Now
Taylor's choice of cover for the Hope For Haiti Now benefit album of a fairly obscure song by '90s alt-rock outfit Better Than Ezra was a surprising but inspired one—if you'd never heard the BTE original, you'd probably never even know it was a cover. That the album never got an accompanying studio rendition—and that Taylor has yet to duet it with BTE singer Kevin Griffin on stage in the band's New Orleans hometown—is sort of a shame.
Best Moment: Taylor's perfect first chorus, as she sings "I could never judge you / I can only you." Hard to imagine any '90s alt-rocker being able to outdo that.
66. "BREATHE"
Found On: Fearless
Taylor's collaboration with Colbie Caillat—she co-writes and sings on the chorus—is a little anonymous by Taylor standards, but still a sublime little love song that 90% of the country singers in the world would kill for. The song was nominated for a Grammy, for Best Pop Collaboration with Vocals, but as luck would have it, it lost out to another Colbie Calliat duet—with Jason Mraz on "Lucky."
Best Moment: We would've loved a little more from Colbie on this one, but her lovely harmonies on the chorus are still a highly appreciated contribution.
65. "INNOCENT"
Found On: Speak Now
Taylor's response to Kanye West's famous interruption of her Best Female Video victory at the 2009 VMAs—performed at the same show a year later, with an intro explicitly directed towards West—aims for sympathy and understanding, but too often comes off as condescending ("32 and still growing up now.") A full-on dis track would've been more fun, though probably less pretty and certainly less Taylor.
Best Moment: The multi-tracked wordless "ah-ah"s in the intro—very Fleetwood Mac.
64. "COLD AS YOU"
Found On: Taylor Swift
One of Taylor's earliest ex attacks, and a moving and heartfelt one, though with a tad more self-pity and less bite than her later call-outs. Still, lines like "And you come away with a great little story / Of a mess of a dreamer that had the nerve to adore you" point the way to future Taylor eviscerations.
Best Moment: The rusty-sounding guitar twang that opens the song and ends every chorus.
63. "EVERYTHING HAS CHANGED"
Found On: Red
A puppy-love duet with UK singer/songwriter and avowed Taylor mega-fan Ed Sheeran, "Everything Has Changed" is undeniably cute, though Sheeran's presence is largely overwhelmed by Swift's, and the fact that they wrote the song together on a trampoline is just a little too on the nose.
Best Moment: Taylor's scaled-up "I just wanna know you better, know you better, know you better..." as the music drops out before the final chorus.
62. "CRAZIER"
Found On: Hannah Montana: The Movie Soundtrack
The first of Taylor's soundtrack efforts doesn't quite hit the highs of some of her future cinematic efforts, but it's still one of her better (and country-er) love ballads, and it was good enough to Taylor get herself a small cameo appearance in the movie itself, with then-pop-peer Miley Cyrus.
Best Moment: Taylor's repeated "You make me crazier, crazier" intonations in the chorus. Patsy Cline might not appreciate the one-upping, but we do.
61. "SAD BEAUTIFUL TRAGIC"
Found On: Red
The title sounds a little like Taylor trying to name the eventual Lifetime TV Movie made about her Marilyn Monroe-esque death-before-her-time, but luckily the song itself is much less morbid than all that. It's one of Taylor's dreamiest ballads, with a nearly Mazzy Star-esque acoustic backing track and resigned lyrics like "In dreams I meet you in warm conversation / We both wake in lonely beds in different cities."
Best Moment "You got your demons / And baby, they all look like me." Woah, is that an old Afghan Whigs lyric we forgot about?
For songs #60-51, click NEXT.
Other pages: #90-81, #80-71, #70-61, #50-41, #40-31, #30-21, #20-11, #10-1
60. "I WANT YOU BACK"
Found On: Speak Now World Tour Live
Who better than Taylor to make one of the most joyous pop songs in the history of recorded into a ballad aching and nostalgic and bittersweet? Swift's "I Want You Back" doesn't even make it to the 90-second mark, but it's long enough for you to get the idea, and be very impressed with her ability to turn just about any old classic on the radio into a Taylor Swift song.
Best Moment: When Taylor launches into the song proper, with a shriek of recognition going up among the crowd. Nobody is too young for Jackson 5 appreciation, clearly.
59. "COME BACK...BE HERE"
A pretty unassuming song for Taylor these days, but an enjoyable one, with a nice melody and a very compelling chorus. "I guess you're in New York today / I don't wanna need you this way." Well, why don't you come on by to the Big Apple, Taylor? We'd have you anytime.
Best Moment: The "Come back...be here"s from the chorus are certainly the most memorable parts of the song. Simple but effective.
58. "I HEART ?"
Found On: Beautiful Eyes EP
Maybe the most purely Nashville song in Taylor's discography—at moments in it, Swift even appears to be trying to imitate Reba McEntire—but a surprisingly good one, with Taylor at her sassiest saying goodbye to her man and bragging about the "I heart question mark written on the back of my hand." A real find among Taylor deep cuts.
Best Moment: The chorus declaration of "Wake up and smell the breakup." Taylor can't really have been the first country diva to think of that one, could she?
57. "LAST CHRISTMAS"
If you were going to make a wishlist of Christmas songs for Taylor to cover, Wham!'s lovelorn "Last Christmas" would have to be at or near top of the list. Swift doesn't re-define the song by any means, and we actually prefer the version her pals in Jimmy Eat World did, but you just can't argue with a Taylor song with a chorus of "Last Christmas I gave you my heart / The very next day, you gave it away." Too bad the recording wasn't in time to be on the Love, Actually soundtrack.
Best Moment: No obvious standout, though the high note Taylor hits on the opening "Once bitten and twiiice shy" is an early highlight.
56. "HOLY GROUND"
Found On: Red
Taylor's surprisingly nervy rocker is kept from being one of the best songs on her new album only by a confusing and unsatisfying central chorus lyric about standing on the titular flooring. It still provides a much-needed burst of energy to an otherwise highly laconic second side to Red, though.
Best Moment: The repeated cry of "I don't want to dance / Unless I'm dancing with you" on the song's bridge, though Taylor's entire band definitely gets a gold star on this one.
55. "HAUNTED"
Found On: Speak Now
The closest to date that Taylor has gotten to goth, "Haunted" sounds more likely from its opening drum intro and sweeping strings to explode into an Evanescence power ballad than a T-Swizzle jam, but the look is a surprisingly good one for Taylor. (Well, not in the visual sense—we've never seen Taylor with black eye makeup and dark, veily clothing, but we're betting she's better off how she is.) "I think in the end [it] really captured the intense, chaotic feeling of confusion I was looking for," Taylor said of the song's big-budget orchestral production, and we tend to agree.
Best Moment: Let's go with that super-gloomy intro, still among the most surprising sounds on a Taylor Swift record.
54. "22"
Found On: Red
The Max Martin-produced-and-co-written YA anthem borrows heavily from both Pink's "Raise Your Glass" and Miley Cyrus' "Party in the U.S.A.," but integrates both into a super-fun pop song that is unmistakably Swift's, as she vows to celebrate her would-be-graduation-year by eating breakfast at midnight and making fun of hipsters. A vodka-and-soda reference or two probably wouldn't have killed her, but hey, being a good girl got Taylor this far.
Best Moment: "Yeah, we're happy free confused and lonely at the same time." (Thinks back to being 22...yeah, check, check, check and check. Fair enough.)
53. "EYES OPEN"
Found On: The Hunger Games Soundtrack
Of Taylor's soundtrack contributions, this was her most obviously cinematic one—it sounds custom-written to play over the end credits to something. Certainly the less memorable of her two Hunger Games anthems, "Eyes Open" was nonetheless one of Taylor's more chest-pounding songs to date, and proved she could do arena rock as well and as big as she could do country-pop.
Best Moment: We're fond of the dying-transmission guitar sound that closes out the song.
52. "LONG LIVE"
Found On: Speak Now
The Speak Now closer and Taylor's ultimate Graduation anthem, declaring she and her friends "The kings and the queens" and "A band of thieves in ripped-up jeans" holding trophies up for their town and outraging the cynics. "I had the time of my life chasing dragons with you" is definitely "HAGS" or "KIT" worthy as far as yearbook signatures go.
Best Moment: "It was the end of a decade / But the start of an age." No one can deny Taylor's ability to self-mythologize, or self-anthologize.
51. "STAY STAY STAY"
Found On: Red
No, you haven't actually heard "Stay Stay Stay" in an Apple or Google ad before—it just sounds like about a dozen different indie-pop songs that you have. With a swinging drumbeat, a head-bopping ukelele line, and an addictive chorus keyed around the title phrase, "Stay Stay Stay" is infuriatingly adorable. Mostly a good thing, but you might be wishing for a metal breakdown or something by the end.
Best Moment: "I just like hanging out with you!" Aww, thanks, Taylor, we like hanging out with you too. We'll bring the Connect Four next time.
For songs #50-41, click NEXT.
Other pages: #90-81, #80-71, #70-61, #60-51, #40-31, #30-21, #20-11, #10-1
50. "SHOULD'VE SAID NO"
Found On: Taylor Swift
Ah, let the cheating begin. "Should've Said No" was Taylor's first kiss-off to a cheater, some unworthy scrub who "said yes" in a "moment of weakness," when Taylor obviously has different thoughts about how he ought to have handled the situation. Not quite as polished as some of her later GTFO cries, but there's a rawness to it that's nearly as appealing.
Best Moment: Maybe not best, but that stray string squiggle between the first chorus and second verse...you might not notice it in the first 25 listens, but once you hear it, you'll never be able to unhear it.
49. "ENCHANTED"
Found On: Speak Now
Taylor has never shied away from fairy-tale imagery and vocabulary in her songs before, and so it's no surprise that her most epic love song on Speak Now should have a name like "Enchanted" (or that the song would eventually be used to soundtrack a fable-like commercial for Taylor's "Wonderstruck" perfume). The song earns its six-minute run-time, which is certainly not something that can be said about every such power ballad.
Best Moment: The second verse's "Your eyes whipsered 'Have we met?'" Textbook Taylor.
48. "I ALMOST DO"
Found On: Red
The weakest—in self-discipline, though not in emotional draw—of Taylor's post-breakup songs, in which she willingly makes the critical error of letting her ex know that if he tried a little harder to win her back, he's much closer to succeeding than he could possibly realize. It's a refreshing moment of true softness for Taylor.
Best Moment: Taylor's "I bet it..never, ever occured to you," the two middle words of which obviously mirror another song on Red we'll see much higher on this list.
47. "BETTE DAVIS EYES"
Found On: Speak Now World Tour Live
"This one came out in 1981...eight years before I was born. And I love this song!" Few pop stars are as good or as willing to acknowledge those who have come before them as Taylor, and she does Kim Carnes quite proud with her impressively heartfelt and intimate performance of the inscrutable '80s pop smash.
Best Moment: The "I LOVE YOU TAYYYLORRRR!!!" shrieks in the background. We love her for playing this one, too.
46. "MARY'S SONG (OH MY MY)"
Found On: Taylor Swift
A sweet and perfectly detailed young-to-old love song, apparently inspired by Taylor's next-door neighbors, who enjoyed such a life-long relationship, of which Swift's envy is clear. Has there ever been a bad "____'s Song" in the history of pop music?
Best Moment: "I was seven and you were nine" turning into "When I'll be 87 you'll be 89" at the song's end. Pretty awww-worthy.
45. "IF THIS WAS A MOVIE"
Found On: Speak Now: Deluxe Edition
There are at least a half-dozen different Taylor songs that could be subtitled "If This Was a Movie," as the singer's longing for her love life to adhere more stridently to Hollywood convention is a recurring theme throughout Swift's music. But "Movie" is one of her best articulations of this theme, and could have easily made the original LP cut of Speak Now if there weren't already 14 pretty strong songs occupying the run-time.
Best Moment: Taylor's semi-rhetorical "Is that the kind of ending that you wanna see, now?" at the end.
44. "TELL ME WHY"
Found On: Fearless
One of Taylor's most solid country-pop songs, where she demands explanation in vain as to why her lover mistreats her so, but over a rollicking instrumental that keeps the song from sounding either too miserable or self-righteous.
Best Moment: Probably the titular command in the chorus, though the "You could write a book on how to ruin...someone's...perfect...dayyy-y-y-y!!!" in the second verse is pretty undeniable too.
43. "RED"
How you feel about the title track to Taylor's latest depends largely on how you feel about slightly incomprehensible Taylor Swift similies, since that's pretty much all the lyrics to "Red" are. Personally, we're all for 'em, and "Red" would be one of our favorites if not for that irritating "Re-e-e-ed" vocal chop on the chorus. (Sorry, still takes us straight out of it.)
Best Moment: "Forgetting him was like trying to know somebody that you never met." Hey, it makes sense to us.
42. "BETTER THAN REVENGE"
Found On: Speak Now
In which Taylor swears revenge on a female rival who "better known for the things she does on the mattress" and who stole a male companion of hers "faster than you could say sabotage." The song is one of Taylor's most gleefully wicked, but for all her promising of how good she is at payback, Swift denies us the rare pleasure of actually hearing how she plans on enacting said vengeance. Detail, Taylor—you should know better than anyone.
Best Moment: Taylor's muffled opening "Now stand in the corner and think about what you did!" admonishment is delightful, but we still have a soft spot for her "No amount of vintage dresses give you dignity!" tell-off.
41. "THE WAY I LOVED YOU"
Found On: Fearless
For all of Taylor's decrying of her bad-behaving exes, even she has to admit that she doesn't always act as she should in relationships, as in "The Way I Loved You," where she describes the perfect guy she's with now ("So sensible and incredible"—yawn) and how she'd actually really much rather be with her old ex who fucked her over emotionally. ("I never knew I could feel that much / And that's the way I loved you.") Can you imagine how crazy a song written from Taylor's new guy's perspective in this song would make her sound? Turnabout is fair play in pop, you know.
Best Moment: The almost comically stately and ho-hum backing instrumental in the first verse as Taylor describes her Too-Perfect Beau, making it super-obvious that this relationship is one Taylor finds somehow unsatisfying. (The chorus is much more of a musical release, natch.)
For songs #40-31, click NEXT.
Other pages: #90-81, #80-71, #70-61, #60-51, #50-41, #30-21, #20-11, #10-1
40. "I'M ONLY ME WHEN I'M WITH YOU"
Found On: Taylor Swift: Special Edition
A sort of precursor to "My Life Would Suck Without You," both in terms of its near-pop-punk musical rave-up qualities, and the way the lyrics are a sort of paean to relationship co-dependency. "You know everything about me / You say that you can't live without me!" Super-catchy song, and a shame it got left off the proper tracklist to Taylor's self-titled debut.
Best Moment: The final "yeah!" at the end is a nice exclamation mark to a gleeful run-on sentence of a song.
39. "THE MOMENT I KNEW"
Found On: Red: Deluxe Edition
Only could take getting stood up at a party and make a power ballad of tragic proportions out of it. "It was like sloowwww motion / Standing there in my party dress / In reeeed lipstick / With no one to impress." Still, she gets there with it—helped from some badass cello work and Ryan Tedder-like pounding drums—and by the time the guy calls Taylor after the fact to apologize for not showing, we're crying on the other end of the phone, too.
Best Moment: "You should have been here. And I would have been. SO. Happy." One of Taylor's best spoken-word moments.
38. "UMBRELLA"
Found On: Live From SoHo
Not an easy task to take one of the most iconic pop songs of the 21st century and turn it into something faithful to the original but still unmistakably yours, but as with her "I Want You Back" cover, Taylor comes up with an utterly transfixing version of the Rihanna and Jay-Z original in just 90 seconds, leaving us craving more in the worst way. C'mon powers that be in the pop world, make a duet happen.
Best Moment: "Just trying to get your attention!" Yeah, sure you are, Taylor.
37. "I KNEW YOU WERE TROUBLE"
Found On: Red
Taylor's much-hyped dubstep experiment, though the actual wub-wubbiness of the song isn't nearly as big a deal as you expect it will be. Frankly, we're still more fascinated in the way the choppy, Pink-like guitar line from the intro and verse evolves into the chaos of the chorus, one of the more interesting melodic and structural evolutions we've seen in a Taylor Swift song. The tune's growing on us, actually, so don't be surprised it to see it higher in future list revisions.
Best Moment: "I guess you didn't care / And I guess I liked that." Acknowledgement is the first step on the path to recovery, Taylor.
36. "TWO IS BETTER THAN ONE"
Found On: Boys Like Girls' Love Drunk
Hey, remember Boys Like Girls? The Massachusetts pop/rock quartet was popular enough back in 2009 to score a duet with supernova-ing pop star Taylor Swift—though she didn't show up for the video, sadly—scoring a deserved hit with the sappy-but-moving-dammit love ballad "Two is Better Than One." Where's that third album, BLG? We're missing you guys more than we expected.
Best Moment: "I remember how you looked on the first day / You came into my life, and I thought 'Hey...'" Hell of a first line, Jack.
35. "STAY BEAUTIFUL"
Found On: Taylor Swift
Oooh, that chorus. The rest of "Stay Beautiful," a love-from-afar ode (and wow did Taylor write a lot of those in her early days), hardly registers as one of Taylor's classics, but damn if you won't get that "You're beautiful / Every little piece, love.." hook stuck in your head for hours. You're singing it right now, aren't you? Yeah, us too, no worries.
Best Moment: Well, it's not "Cory's eyes are like a jungle / He smiles, it's like the radio," we'll tell you that much.
34. "THE LUCKY ONE"
Found On: Red
An eyebrow-raising ode to a starlet—who seems to be Taylor throughout the first two verses, but is later revealed to merely be one of her predecessors—who was nearly swallowed by the Hollywood machine, before deciding to cut bait on her career and retreat to a simple life of solitude. "I think you got it right," posits the singer, leading about eight digits' worth of Taylor Swift fans to panic over the possibility of Taylor calling it quits with her career. (We'd call her bluff, but we're a little nervous ourselves.)
Best Moment: The final "Let me tell you now, you're the lucky one" chorus—confused and sad but dignified and triumphant in a weird way. If anything weird ever happens with Taylor Swift in her career, it'll be analyzed to death for the rest of the 21st century.
33. "THE BEST DAY"
Found On: Fearless
A tearjerkingly emotional ode to Taylor's mom Andrea, in which Taylor fondly remembers childhood memories with Mommy playing with her and protecting her from bullies and even "giving me your eyes and standing back and watching my shine." It's so sweet and tender and nostalgic that you're terrified the song is going to end with Taylor's mom dying. (Well, we were scared, anyway.)
Best Moment: "I had the best day with you today." Simple, effective, undeniable.
32. "TREACHEROUS"
Found On: Red
A change-of-pace song on Taylor's latest in which she willingly invites the trouble in, acknowledging "This slope is treacherous / This path is reckless," but not even trying to disguise the fact that "I-I-I-I....I liiiiike it." And of course, the first legitimate adult content on a Taylor Swift record is found here, with her assurance to her ill-advised lover "I'll do anything you say / If you say it with your hands." Not quite earmuff-worthy, but...suggestive, to say the least.
Best Moment: The "hands" line is great, but arguably even more memorable is the way Taylor turns "reckless" into a word with four syllables. Surprisingly seductive.
31. "YOU'RE NOT SORRY"
Found On: Fearless
Another one of Taylor's most solid breakup songs, about an ex who Taylor has said was keeping secrets, "And one by one, I would figure them out. I would find out who he really was." The song was also given an intriguing trip-hop edit, dubbed the "CSI Remix" due to it being featured on a Taylor-guest starring episode of the hit CBS procedural—fun, but we still gotta go with the original here.
Best Moment: Taylor's entry into the final chorus, coming off the "You used to shine so bright, but I watched all of it fade" lyric and a dramatic drum fill.
For songs #30-21, click NEXT.
Other pages: #90-81, #80-71, #70-61, #60-51, #50-41, #40-31, #20-11, #10-1
30. "NEVER GROW UP"
We'll let Taylor speak for herself on this Crosby, Stills & Nash-worthy ode to childhood:
"Never Grow Up" is a song about the fact that I don't quite know how I feel about growing up. It's tricky. Growing up happens without you knowing it. Growing up is such a crazy concept because a lot of times when you were younger you wish you were older. I look out into a crowd every night and I see a lot of girls that are my age and going through exactly the same things as I'm going through. Every once in a while I look down and I see a little girl who is seven or eight, and I wish I could tell her all of this. There she is becoming who she is going to be and forming her thoughts and dreams and opinions. I wrote this song for those little girls.
It was inevitable and beautiful that Taylor would write this song.
Best Moment: When Taylor changes the focus to her grown-up self in the final verse, in her new apartment where it's "so much colder than I thought it would be." Who hasn't been there?
29. "CHRISTMASES WHEN YOU WERE MINE"
Found On: Sounds of the Season: The Taylor Swift Holiday Collection
Even though most of her Sounds of the Season EP seems like a hastily assembled obligation-recording, Taylor did manage to sneak in one unqualified gem with the original "Christmases When You Were Mine," a solo recording of just Taylor with her guitar (playing one of her all-time loveliest riffs), and one of her most heartbreaking recordings of any kind to date. All the best Christmas songs are about heartbreak of some sort, aren't they?
Best Moment: Hard to beat "Please take down the mistletoe / Cause I don't wanna think about that right now" as an opening line.
28. "BACK TO DECEMBER"
Found On: Speak Now
The amazing thing about the post-breakup forgiveness plea "Back to December" is that Taylor was in such a songwriting zone at that point in her career that even though it was the second single off Speak Now and such a huge hit, it almost sounds like a totally effortless song on Taylor's part, like she could've written six songs just as good as it in the same afternoon if she wanted to. Who knew Taylor Lautner would end up being so inspirational?
Best Moment: The entirety of the chorus, one of Swift's most immaculately crafted and obviously emotional.
27. "WHITE HORSE"
Found On: Fearless
Probably the best of Taylor's "If This Was a Movie" songs, the most resigned and betrayed and heartbroken and even a healthy bit spiteful ("My mistake, I didn't know to be in love / You had to fight to have the upper hand"—ouch.) "I'm not a princess / This ain't a fairytale." Aww, Taylor, say it ain't so!
Best Moment: Something about Taylor's "It's too late for you and your white horse / To come around" conclusion just sounds so damn disappointed.
26. "LAST KISS"
Found On: Speak Now
The secret weapon buried deep into side two of Speak Now, "Last Kiss" is one of Taylor's most devastating end-of-relationship tales. The song is six minutes long, and girl takes her sweet-ass time on the chorus—"I never thought we'd have a....last...kiss...Never imagined we'd end...like...thiii-iiissss"—allowing it to burrow its way deep under your skin. "Going through a breakup you feel all of these different things," Taylor has said. "You feel anger, and you feel confusion, and frustration. Then there is the absolute sadness." Needless to say, "Kiss" is the sound of the latter.
Best Moment: In the song's bridge, when Swift admits that she keeps up "with our old friends / Just to ask them how you are." Isn't that what Facebook stalking is for, Taylor?
25. "OURS"
Found On: Speak Now: Deluxe Edition
A smile-inducing ode to a warm romance in a cold world, enacted by Taylor and Zach Gilford (Friday Night Lights' Matt Saracen) in the song's lovable video. The least big-sounding of Taylor's singles, "Ours" endures as one of her most compelling songs, with its romantic details of tooth gaps and tattoos and its simple declaration of "This love is ours." We always thought Matt deserved better than that Julie Taylor anyway.
Best Moment: The final chorus, when "This love is ours" evolves into the more emphatic "They...can't...take...what's...OOUUUUUUURS!"
24. "FEARLESS"
Found On: Fearless
Not one of Taylor's bigger hits upon its initial release, "Fearless" has turned into something of a signature song for Taylor, for its kind of quintessentially Taylor lyrics, having the time of her life in a storm in her best dress, as she always seems to be. It doesn't quite have the sense of release that most of her best songs do, but as far as a Taylor Swift thesis statement, "Fearless" is pretty damn definitive.
Best Moment: Gotta just be the repeated chorus declaration "I don't know how it. Gets. Better. Than. This." We should all be so lucky to have as many of these moments as Taylor seems to.
23. "SPARKS FLY"
Found On: Speak Now
A sort of sequel song to "Fearless"—with more romantic encounters in the pouring rain, natch—but with a slightly more emphatic chorus. We like this one a little better because we like Speak Now a little better, but it's very, very close.
Best Moment: "Drop everything now / Meet me in the pouring rain." Are you just there, like, all the time, Taylor? Whatever, we'll see you there.
22. "THE STORY OF US"
One of Taylor's best pure pop songs, and probably the surest sign on Speak Now that she was about to she was about to put Nashville pretty far in her rearview mirror. (Though to be fair, there's still some banjo in the background to this one if you wanna listen closely enough to hear it.) Anyway, when Taylor does catchy, danceable, new-wavey end-of-relationship songs as well as this one, you don't really have time to be yearning for more fiddle and steel-pedal guitar.
Best Moment: Taylor's girl-group-ish (or at least Ramones-esque) time-markings of "NEXT CHAPTER!" and "THE END!" throughout the song.
21. "TIM MCGRAW"
"He said the way my blue eyes shined put the Georgia stars to shame that night / I said that's a lie." With that, Taylor's meteoric career was launched. Listening back to it now, Taylor's debut single "Tim McGraw" remains one of her sweetest, most unassuming love songs, and it's not surprising that it sent her on her gradual path to superstardom the way it did. With imposisbly vivid lyrical detail like "When you think happiness / I hope you think that little black dress / I hope you think my head on your chest," it was only a matter of time before Taylor had stadiums full of impressionable young girls singing her lyrics back to her.
Best Moment: The "Georgia stars" line, bookending the song...pretty, pretty good.
For songs #20-11, click NEXT.
Other pages: #90-81, #80-71, #70-61, #60-51, #50-41, #40-31, #30-21, #10-1
20. "SPEAK NOW"
Found On: Speak Now
The great lost single off Speak Now was its title track, never released for reasons unclear to us. Perhaps the vision of Taylor as a wedding-crashing home-wrecker that can't admit defeat ("It should have been me!") isn't the most sympathetic portrait of the star singer/songwriter, but perhaps for that reason, it's one of Taylor's giddiest and in a weird way most romantic songs. "I'll meet you when you're out of the church at the back door." Who could resist?
Best Moment: "You wish it was me! You wish it was me! Don't you?" Arrogant and insecure and a little crazy, but utterly irresistible.
19. "BEGIN AGAIN"
Found On: Red
It's hard to say exactly why a song like "Begin Again," which is basically about a relationship disturbing only in how surprisingly functional it is, sounds so impossibly sad—maybe it's just that whole nostalgia-being-an-open-wound deal where when something gets emotional enough, it becomes tear-worthy whether it's happy or sad emotions. Either way, it's one of the best songs on Red, and incidentally, maybe the only legitimately country-influened song among its 16 tracks. Maybe Taylor's onto something with this whole country thing!
Best Moment: The way the song—the last on Red—ends instantly after Taylor's final "I watched it begin again." Perfect way to close the album.
18. "MEAN"
Found On: Speak Now
OK, it's a little corny, and its central "Someday I'll be living in a big ol' city / And all your ever gonna be is mean" lyric barely rises above the second grade. But seriously, how much fun is this song? If all anti-bullying anthems were this head-bopping and spirited, we could probably put an end to the practice in its entirety, by 2020 at the absolute latest.
Best Moment: Taylor's add-ons before the final chorus: "All you are is mean / And a liar / And pathetic / And alone in life, and mean." OH SHIT BULLY YOU GOT SONNED SON.
17. "LOVE STORY"
Found On: Fearless
Arguably Taylor's biggest hit and almost certainly her signature song—she acknowledged in her recent Billboard Q&A that she'd be playing it live for the rest of her life, and she had made peace with that—but for our money, it's a little too Taylor-by-the-numbers to stand out as one of her true classics. That's not to say that it's not great, though—surely any girl between the ages of 8 and 14 when this song was released has pictured themselves as Taylor in the video, waiting to be whisked away by their Romeo or Prince Charming, singing at the top of their lungs "IT'S A LOVE STORY BABY JUST SAYYYY YESSSS!!!" There's something to that, for sure.
Best Moment: Why don't more Taylor Swift songs have key changes this epic—or key changes at all? Clearly she knows how to deploy them when called on to do so.
16. "FOREVER & ALWAYS (PIANO VERSION)"
Found On: Fearless: Platinum Edition
The original "Forever & Always" from Fearless is certainly affecting enough, but the piano version from the album's Platinum Edition takes it to the next level, elevating it to one of Taylor's most cutting and emotional breakup songs. Alternately miserable ("You stare at the phone, he still hasn't called / And then you feel so low you cant feel nothing at all") and pissed the fuck off ("Was I out of line? / Did I say something way too honest, made you run and hide / Like a scared little boy"), "Forever & Always" certainly seems one of Taylor's most personal love songs—though what that says about Joe Jonas, the song's supposed subject, is up for interpretation.
Best Moment: The "back up, baby back up" climax in the bridge, though just about every line is a highlight of some sort.
15. "PICTURE TO BURN"
Found On: Taylor Swift
Taylor's less-criminal but just-as-infuriated spin on Carrie Underwood's "Before He Cheats," where she merely lights a picture of her once-beloved aflame rather than, say, setting fire to his parents' house. (Less dramatic, but certainly better for one's mental health.) The single is certainly Taylor's honky-tonkiest, and you can hear her just barely resisting the temptation to lapse into a fake southern accent throughout, but she earns her faux-heartlandness with sheer sass and attitude, threatening to date "ALLLL of yer best friiiieeends!!" and shouting "I HATE THAT STUPID OL' PICKUP TRICK YOU NEVER LET ME DRIVE IT!!" Lighters up, baby.
Best Moment: Not the most PC of lyrics, but Taylor's promise to respond to her ex's deeming her "obsessive and crazy" by telling her friends that he's gay is weirdly exciting in how unsafe it is. Unsurprisingly, Taylor has edited the controversial lyric out of recent renditions of "Picture to Burn."
14. "TODAY WAS A FAIRYTALE"
Found On: Valentine's Day soundtrack
Many would probably choose "Love Story" as Taylor Swift's best fairytale-fixated single, but our soft spot is for "Today Was a Fairytale"—probably because unlike "Story," "Fairytale" doesn't actually feature Swift re-enacting Shakespeare, but rather just sees her viewing her day with her Prince as being perfect in little things—a smile, a compliment about her hair, a grey t-shirt—and thus being Grimm-like. It's small and sweet and like the day in question, fairly perfect.
Best Moment: Taylor gets more mileage out of the title phrase than you'd ever expect her to—repeating it at both ends of each verse, concluding the same thing over and again, like she can't believe just how fairytale-like the day was. Consequently, we have no trouble believing.
13. "FIFTEEN"
Found On: Fearless
The best of Taylor's Big Sister songs, outlaying the highs and lows of being the titular age with the emotional detail and tremendous empathy that only someone who was there (and not all that long ago) possibly could. Taylor's not the first singer/songwriter to have been a teenager, but she seems to have been better at it than anyone else, able to both live the moment with relative abandon and somehow able to keep perspective on it at the same time. "Take a deep breath," she advises her younger counterparts. "Don't forget to look before you fall." Adult Taylor could stand to take her own advice from time to time.
Best Moment: Plenty of great moments to choose from, but we always liked Taylor's description of experiencing first love: "Then you're on your very first date, and he's got a car / And you feel like f-l-yyyyy-iiinnng..."
12. "HALF OF MY HEART"
Found On: John Mayer's Battle Studies
Taylor's finest guest appearance comes on one of the best songs from a guy she'd eventually collaborate with in a much more personal capacity (and a guy who features rather prominently on a song still to come on this list). Given the pair's chemistry on "Half of My Heart"—Mayer has said that he wanted Taylor to be the Stevie Nicks to his Tom Petty on the song, and she was more to oblige him, providing some subtle but absolutely gorgeous chorus harmonies—it was practically inevitable that the two would end up together. And given the emotional unavailability detailed in the very song, it was probably just as inevitable the relationship would end badly.
Best Moment: The moment when John and Taylor trade off "I can't keep loving you"s is nice, but heaven on this song is whenever the two are singing together, the sparks flying with each shared measure.
11. "ALL TOO WELL"
Found On: Red
"All Too Well" starts unassumingly enough, a typically Taylor story of emotional artifacts bringing back memories of relationship past. But the song starts to crescendo from there, both in musical and emotional dynamics, and it climaxes at a fever pitch the likes of which Taylor rarely if ever reached before, her voice stretching into Ann Wilson territory as the memories of how her ex screwed up not just their relationship but any memory she had of it: "And you call me up again just to break me like a promise / So casually cruel in the name of being honest." Taylor says it took her six months to cull up the strength to write "All Too Well," and based on the song's almost painful rawness, it's surprising it didn't take even longer.
Best Moment: That "casually cruel" couple is one of Taylor's all-time best, and proof that when she gets on a roll, there have been few artists in pop history able to write break-up songs as electric as her.
For songs #10-1, click NEXT.
Other pages: #90-81, #80-71, #70-61, #60-51, #50-41, #40-31, #30-21, #20-11
10. "RONAN"
Found On: Non-album single
A song so emotionally wrecking that you should have needed adult consent and supervision to listen to it, "Ronan" is perhaps the greatest testament to Taylor Swift's prowess as a songwriter and performer. An iTunes-only download that Taylor recorded for the Stand Up to Cancer charity, Swift could've easily phoned the song in and no one would have called her out for it. But instead she took such personal investment in it, and the story of the four-year-old Ronan Thompson who died of cancer, that it ended up being one of her most moving recordings.
Detailed and loving at every turn, the song is equally adept at illustrating both the warmth of Ronan's relationship with mother Maya (whose journal entries the song was partially based on) and the absolute tragedy of his fatal condition. The song's chorus somehow manages to convey both simultaneously: "C'mon baby, with me we're gonna fly away from here / You were my best four years." If you can get all the way to the closing "I'll love you to the moon and back" without at least strongly considering crying, you might not deserve to have tear ducts.
Best Moment: On Taylor's final "You were my best four years," her voice trembles like she herself is gonna break down crying. I mean, how could she not?
#9. "WE ARE NEVER EVER GETTING BACK TOGETHER"
Found On: Red
Arguably the best (and almost certainly the most joyous) "SO over it" breakup song since "Since U Been Gone," "We Are Never Ever Getting Back Together" became Taylor Swift's first-ever #1 single earlier this year. It's easy to see why—a hundred pop scientists could spend a hundred years tinkering in Dr. Dre's lab and still not come up with a pop song this perfect—every note, every lyrical turn of phrase, every production tick and every structural gambit is 100% right as rain, not a single spot out of place.
So why is it not #1 on our list? Well, with Taylor, the craftsmanship just isn't as important as the emotional connection, and with "We Are Never," it's never quite possible to shake the feeling that the song would've sounded more appropriate coming out of the likes of Avril Lavigne or even Selena Gomez, and though the lyrics undoubtedly come from a very real place with Swift, the problem with working with pop masterminds like Max Martin and Shellback is that the song is always going to come before the artist, and with Taylor's best songs, she always comes first.
Still, if you know of a catchier song this year decade ever, we'd be curious to hear it.
#8. "SAFE AND SOUND"
Found On: The Hunger Games soundtrack
The combination of writing for the Hunger Games movie and collaborating with the Civil Wars took Taylor to a place her music had never visited before—dark, brooding folk music. The fit was a good one, for Taylor, to say the least—her voice turns out to be quite haunting when residing in her upper registers, and she's surprisingly game for putting her regular songwriting quirks aside in the name of recording something to fit a movie's feel and story.
The lyrics, for once, are not the important thing here. Taylor does most of her story-telling through the quivering-yet-assertive tone of her voice, in perfect concert with the backing vocals of the Civil Wars and the sparse plucking of her guitar (and the subtle but highly effective echo-type effects in the background) underneath. It's an absolutely stunning song, one with some of the loveliest, most unnerving harmonies you'll ever hear on a Top 40 record, and would be even if you had never heard of the Hunger Games franchise
Best Moment: As incredible as the shared "ooh-ooh-ooh"s between Taylor and the Civil Wars are, we'll still say the real climax comes with Taylor's final breathy, almost a capella "You'll be all right"s. Some seriously ethereal stuff.
#7. "HEY STEPHEN"
Found On: Fearless
"Hey Stephen" brings back some of the regular Taylor lyrical clichés—yet more rain-kissing and pebble-throwing—but they've never sounded as warm and joyous as they do here. Written as a confession of feelings for an opening act of Taylor's that never knew how she felt about him, the entire song packs the rush of an undiscovered crush, with all the frustration and longing, but even moreso, the kind of secret joy and excitement that comes with being the first and only person to realize that you've fallen for someone.
The song smartly takes its title as a jumping-off point for the lyrics, with each line beginning with the titular address. "Hey Stephen / I know looks can be deceiving / But I know I saw a light in you." "Hey Stephen / Why are people always leaving? / I think you and I should stay the same." The structuring keeps the song loose and conversational but personal and direct, and the musical hook—a driving, catchy, but extremely gentle melody with fuzzy bass and fuzzier organ—makes you want to crawl inside of it. It's a marvelous song.
Best Moment: For all the cleverness of the song's lyrics, Taylor's best vocal moment is non-verbal, at the song's beginning and end when she just hums the song's melody to herself. Musical moments rarely come so sublime.
#6. "TEARDROPS ON MY GUITAR"
Taylor's first truly great song, and a gold standard in the art of unrequited-love songcraft. Its impact has been dulled some by the fact that so many of her songs have taken the formula to such great heights, "Teardrops" provides the template that Taylor would follow for so many of her biggest hits. There's the use of a proper first name for her beloved ("Drew") to give him a kind of inherent personality, there's the striking opening line, repeated again at the end of the song ("Drew looks at me / I fake a smile so he can't see"), there's even the secret-weapon lyrical shift saved for the final chorus ("The only one that keeps me wishin' on a wishin' star" becoming "The only one who's got enough of me to break my heart").
And there's the title, evocative and grabbing and classic-sounding, and needing the song's chorus ("He's the reason for the teardrops on my guitar") to explain what it means. It's beautiful, as is the song, and though Swift would later write songs more detailed and musically intricate and emotionally complex, you gotta give it up for the Ur-text in the art of Taylor.
Best Moment: That late-song lyrical shift really is a killer.
#5. "MINE"
Found On: Speak Now
By the time of Speak Now, Taylor's storytelling abilities in song was getting to master-class levels, and she might never have told a better one than that of "Mine," the album's lead single. In the song, Taylor plays a "flight risk with a fear of falling" wooed by a part-time waiter, who gradually lets herself let her guard down, and has her decision to put herself out there vindicated when the relationship turns out to be for real. It's full of tiny moments that perfectly illustrate the couple's arc, from "lying on the couch" to "a drawer of my things at your place" to "that fight, 2:30 A.M.," all of which come together in the song's world-beating chorus, in which Taylor (and eventually her love) declare "You are the best thing that's ever been mine."
The song was one of Taylor's few big'uns of her post-fame career not to be directly inspired by one of her many public celebrity relationships, and it does sound like Taylor's playing a character in the song, rather than speaking from personal experience. But it's still her—just a more romanticized version living out a far more practical and real-world fairy tale than the Taylor of her previous hits. "Mine" was a crucial step in Taylor's career and her maturation as a songwriter, and endures as one of her true classics.
Best Moment: The pivotal chorus lyric, "You made a rebel of a careless man's careful daughter." Who else in pop would come up with a line like that?
#4. "OUR SONG"
Found On: Taylor Swift
Taylor's first country #1, and probably the song that stands as her best straight-up country jam. From the opening fiddle-and-banjo intro to Taylor's pinched accent and the way she says "'Coz it's late and yer momma don't know!" on the chorus, to references to prayer and God that would rarely if ever appear again on Taylor's future records, the thing is Nashville through and through, and ably demonstrates how and why she was able to win that crowd over so thoroughly before setting her sights on the pop world, and then just the world at large.
The whole song is bursting with the exuberance of young love, and even non-country fans have to give it up for the fiddle-and-banjo combo throughout. It's also one of Taylor's most brilliant chorus gambits, where her boyfriend informs her that the "Song" in question isn't a song at all, but rather the sound of various moments that define their relationship—a hushed voice over the phone, a laugh at an awkward moment, and of course, a slamming screen door. It's the kind of figurative-language-of-love that Taylor has specialized in for her hole career, and it's not surprising that "Our Song" is the one song from her first album that she continues to play at her live shows.
Best Moment: We just love that damn fiddle at the beginning.
#3. "STATE OF GRACE"
Found On: Red
So much of Taylor's appeal comes through her ability to put so much of her life and her personality into her songs that she rarely even tries to write about anything bigger than herself. That's one of the reasons why "State of Grace," the best song on Taylor's latest album, is so disarming—Taylor herself is barely even in it, the song instead focused on some kind of universal emotion—OK, it's love—that the singer bows to the enormity of, not even trying to articulate it in full, instead just summing it up with the song's unforgettable chorus: "I never saw you coming / And I'll never be the same."
The other reasons "Grace" is such a stunner is because it pushes Taylor's music (and her voice) to heights she's never before reached. The song, built on a huge drum sound and a propulsive bass line and dreamy, echoey guitar, is Taylor's biggest-sounding to date, her first anthem to push into arena-rock territory—U2 is the most common comparison, and it's a good one for several reasons, though we also liken it to a couple songs by old collaborators of hers—Snow Patrol's "Chasing Cars" and John Mayer's "Clarity." Taylor matches it with her most Go-For-It vocal performance to date, stretching her voice and hitting peaks we didn't even know her capable of. The result is a song that might never end up a hit single, but will undoubtedly stay a fan favorite and an enduring classic of Taylor's discography.
Best Moment: When Taylor goes for the high note in the final "And I'll never be the SAAA-AAAAME...." Chills, for damn certain.
#2. "DEAR JOHN"
As much amazing songwriting as there was on Taylor's first two albums, there's nothing that could have prepared fans for "Dear John." A seven-minute takeout of Swift ex and famed ladykiller John Mayer, every lyric of "Dear John" is throbbing with pain, anger and betrayal, one of the most brutal post-breakup songs ever recorded. Taylor isn't outwardly cruel in the song, but the lyrics are so detailed and her vocal performance is so nuanced—and the song still manages to be so damn pretty—that the emotion jumps off of the record, the rawest confessional from a songwriter certainly not known for shying away from hurt in her songs.
Seriously, throw a dart at the lyric sheet to this song and you're bound to hit a couplet just dripping with palpable feeling. "Long were the nights when my days once revolved around you." "And I lived in your chess game / But you changed the rules every day." "Maybe it's me and my blind optimism to blame / Or maybe it's you and your sick need to give love then take it away." That's not even as bad/good as it gets. And all throughout, the song's bluesy slide guitar and piercing chorus harmonies make the nerviness of the lyrics hurt so good.
The song is nearly seven minutes long, but it remains positively transfixing throughout—not just Taylor's greatest songwriting achievement, but a musical evisceration whose mixture of sad, pretty and furious might never again be matched by anyone.
Best Moment: Pick any of a dozen, though the moment that still stands out in our minds is the one where "Don't you think I was too young?" turns into "Don't you think 19's too young?" Yeah, 19 does sound kinda young, John.
#1. "YOU BELONG WITH ME"
Found On: Fearless
Tough call between this and "Dear John" for #1, but we are a pop music blog, so the brilliant confessional is going to have to take a backseat to the sublime pop song. "We Are Never" might be Taylor's truly perfect pop moment, but "You Belong With Me" is the one that's definitively Taylor, the ideal encapsulation of her personality and her sound and her songwriting. Frankly, if you were a girl between the ages of 8-18 during 2009 and you don't reflexively sing the entire song from heart as soon as you hear the "You're on the phone with your girlfriend, she's upset..." we don't know what your deal is.
What is it that makes "You Belong With Me" so right? Well, it hits on just the right balance between the aching and the triumphant—though the song is about a nasty case of unrequited love and friend-zoning, it's still catchy and fun and a total rush to listen to and sing along to. It also was the perfect positing of Taylor as the everygirl—who couldn't relate to "She wears short skirts, I wear t-shirts / She's cheer captain and I'm on the bleachers"?—even as she was well on her way to total real-life unrelatability. It also had Taylor's best video, and one of the best clips of the 21st century, with Swift playing both the geeky next-door neighbor and the evil hot chick with Taylor's beloved in her grasp. It was the perfect song to cement Taylor's status as a megastar and pop icon.
Four years and several hundred listens after its release, "You Belong With Me" is still as ecstatic and cathartic an experience as it ever was. If Taylor never again has a hit as great or as beloved as this one, she'll still be doing OK.
Thanks for reading through our ranked list of every Taylor Swift song! To take a quick glimpse at our list from #90-1 in its entirety, click NEXT.
90 Christmas Must Be Something More
89 American Girl
88 Both of Us
87 Santa Baby
86 The Outside
85 Silent Night
84 Drops of Jupiter
83 The Other Side of the Door
82 Come in With the Rain
81 A Perfectly Good Heart
80 Untouchable
79 White Christmas
78 A Place in This World
77 Invisible
76 Girl at Home
75 Superman
74 Jump Then Fall
73 The Last Time
72 Change
71 Superstar
70 Tied Together With a Smile
69 Starlight
68 Beautiful Eyes
67 Breathless
66 Breathe
65 Innocent
64 Cold As You
63 Everything Has Changed
62 Crazier
61 Sad Beautiful Tragic
60 I Want You Back
59 Come Back...Be Here
58 I Heart Question Mark
57 Last Christmas
56 Holy Ground
55 22
54 Eyes Open
53 Long Live
52 Stay Stay Stay
51 Haunted
50 Should've Said No
49 Enchanted
48 I Almost Do
47 Bette Davis Eyes
46 Mary's Song (Oh My My)
45 If This Was a Movie
44 Tell Me Why
43 Red
42 Better Than Revenge
41 The Way I Loved You
40 I'm Only Me When I'm With You
39 The Moment I Knew
38 Umbrella
37 I Knew You Were Trouble
36 Two is Better Than One
35 Stay Beautiful
34 The Lucky One
33 The Best Day
32 Treacherous
31 You're Not Sorry
30 Never Grow Up
29 Christmases When You Were Mine
28 Back to December
27 White Horse
26 Last Kiss
25 Ours
24 Fearless
23 Sparks Fly
22 The Story of Us
21 Tim McGraw
20 Speak Now
19 Begin Again
18 Mean
17 Love Story
16 Forever & Always - Piano Version
15 Picture to Burn
14 Today Was a Fairytale
13 Fifteen
12 Half of My Heart
11 All Too Well
10 Ronan
9 We Are Never Ever Getting Back Together
8 Hey Stephen
7 Safe & Sound
6 Teardrops on My Guitar
5 Mine
4 Our Song
3 State of Grace
2 Dear John
1 You Belong With Me