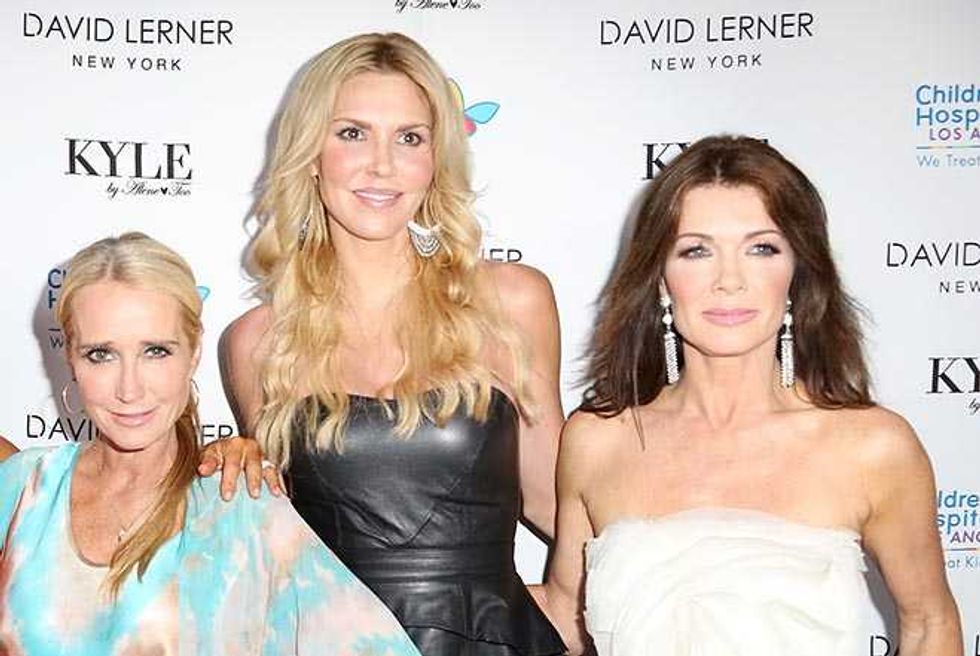 The ladies of the 90210 brought the heat, and—of course—lashing of drama, yet again, on Monday night's Real Housewives of Beverly Hills—and Popdust has the 411.
Do you think this group of women could go one week without arguing? That would be a big, fat N. O.
The answer is absolutely, positively, 100% NO.
It was Kim Richards' turn to host a party—and for once it was in honor of someone other than the Housewives themselves.
Her daughter, Kimberly, graduated high school and Kim decided to throw her a back-yard luau-----Beverly Hills style.
All the housewives were in attendance, as well as Joyce Giraud's floral headpiece (which could be counted as its own person).
Lisa Vanderpump was noticeably absent, which Kim wasted no time boldly confronting her over later... but, we'll get to that in a minute....
In a shocking turn of events (not really), British spitfire, Carlton Gebbia rolled up drunk to the shindig, while Brandi Glanville showed up looking like she was ready to puke at any given second.
True to form, Carlton was fishing for alcohol all evening to no avail—NOTE TO CARLTON: a party hosted by a recovering alcoholic for a teenage girl isn't the ideal place to try and score some booze.
Eventually, Brandi tossed her cookies, and despite the lack of alcoholic libations chez Richards, Carlton had already had a skinful, so the touchy-feely twosome hit the road.
Fast-forward a few days later and it's time for the gals to attend a new shindig.
Another day….another party…
In typical Beverly Hills fashion, Lisa hosted a clothing drive for the women at her not so humble abode, where she asked them each to bring fancy evening gowns they do not need anymore to be donated to underprivileged schoolgirls.  (Because all of us have a few Herve Leger dresses just lying around collecting dust, right?)
The ladies didn't even manage to squeeze in a sip of their mimosas before the drama began.
Kim called Lisa out for not attending her daughter's party. Lisa swore up and down she was in Missouri, until she remembered her flight back to Los Angeles did, in fact, actually arrive the night of the party.
However, she was quick to refute Kim's comments by making it clear she made it known she wasn't going to be in attendance and bought Kimberly something  undoubtably fabulous from Tiffanys (ya know, that blue box that makes EVERYTHING better).
Meanwhile, the tension between Joyce, the newest housewife and former Miss Puerto Rico, and the foul-mouthed Glanville could have been cut with a steak knife.
Eventually, the two moms' duked it out over what Joyce believes were Brandi's previous racist comments and so-called bullying.
Glanville, true to form, didn't take in lying down… "If I was a fucking bully, I'd have knocked your teeth out!" She yelled before going on to kind of, sort of, loosely apologize for what she has previously said to Joyce—explaining that Brandi just can't help it, because, Brandi is, in fact, just a bitch and that's Brandi's personality...OK?
No shit Sherlock.
Joyce, on the other hand, decided, "she was woman enough" to accept Brandi's mistakes and her sort of, kind of, apology, and decided to wipe the slate clean.
This was then followed by quite possibly the most uncomfortable hug in Housewives history.
Brandi referenced the not-so-cute embrace a little later during a little one-on-one camera time, "Ew. Don't touch me," she sniped as the glorious moment replayed on screen.
Ahhhh, the start of a beautiful friendship!
Things in the 90210 seem calm once again…. at least for now, but don't worry the women will be back next week to stir that never-ending drama-filled pot.
In the meantime, who wants to place bets on how long Joyce and Brandi's relationship will stay copacetic?
Bravo promises that next week is filled with gun shooting, stripper poles, and, of course, tears.
Don't know about you... but I can't wait!