CULTURE
Kim K's bed is the star of the latest bout of drama … we just wonder what bedding she uses
How could he be so bold?

That's what I keep asking myself when I think about Pete Davidson. That is the question. How could Pete — fresh off the heels of Kanye West's most recent social media rampage — spark another yet another one?
Let's backtrack. The Kim/Ye divorce saga has played out before the world like an accident on the side of the road. It's messy, dramatic — and ultimately — truly tragic. And yet? We cannot look away.
There have been so many acts to this performance, so many facets we've watched unfold. Given Kim Kardashian's extensive family and all the random people Kanye brings out of the woodwork, the character list is impossible to keep track of.
Some people have had longer-lasting roles in this performance than others. Julia Fox's cameo as Ye's love interest/muse/dress-up doll was brief but culturally impactful. Others, like Kid Cudi or even Billie Eilish, have for some reason or another become targets during Ye's never-ending media spectacle.
Not that I expected Ye to go down quietly, but the embarrassing mess he has made feels like the closing notes of an aria ringing out from the Titanic — a cry for help on a sinking ship. If you've somehow managed to miss any part of this, here's a quick recap of where Pete Davidson fits into this windy, exhausting — yet, I will admit vicariously exhilarating spectacle.
After Kim announced her split, she was seen with Pete Davidson. Could they be dating? No … right? Turns out, yes. While many thought the pairing was purely for PR — and some still do — it's real enough that Pete just got a tattoo of Kim's name on his chest. And real enough that Kanye West made it his mission to brand Pete as "Skete," devoting Super Bowl Sunday to publicly attacking Pete, Kim, and their relationship.
Yet, Pete and Kim are strong as ever. So strong in fact that some wonder what she could possibly see in him.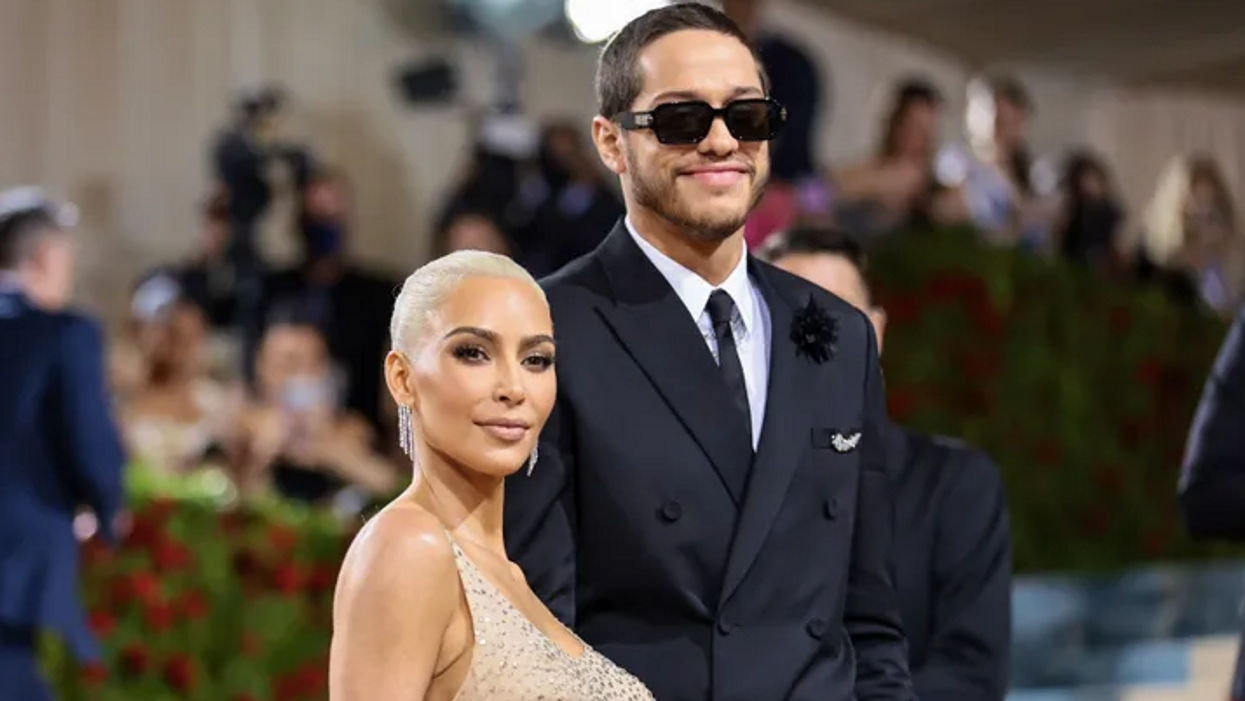 Essentially: Pete Davidson is the grown-up manifestation of the high school stoner or bad boy archetype we grew up thinking we could "fix." The entire world has wasted far too much time on the question. Why are all these high-profile, gorgeous women drawn to him? But look at the media we've consumed that forms our expectations about dating. Pete has all the makings of the troubled boy with a heart of gold. He's got the aloof mystery of the boy who hardly pays attention to you, which only makes you want him more. He's funny — which is one of the most desirable traits in any partner. But most of all, he treats his girlfriends well.
Pete is absent from social media, so every time he does an interview — or a comedy show — it seems he's constantly defending himself from a barrage of media comments he's been forced to be silent about. In one particular interview during his relationship with legacy supermodel Kaia Gerber, Davidson said he treated everyone he was with like a "princess."
Pete told PAPER (in hindsight, it's funny to recall the photoshoot for this interview was alongside none other than Ms. Julia Fox herself): "My love language, when I'm in a relationship, is I treat the person I'm with like a princess. I try and go as above-and-beyond as possible because that's what you're supposed to do? If you're in a relationship with someone, you're just supposed to make that person feel as special as possible."
While there is something to be said about all this, Pete's acceptance into the coveted Kardashian clan — alongside punk rock legend Travis Barker and Pete's bestie MGK, who is dating Kourtney's new bestie Megan Fox - You got all that? — is part of the new era of pop culture. Aesthetics are veering back towards whiteness. Pop-punk-alt aesthetics are topdog, rather than the appropriated Black aesthetics which permeated the mainstream during the past decade.
But Pete is not just assuming the aesthetics of a dark-minded, troubled person — he's been public about his mental health struggles. During the worst times, he learned the dangers of relying too much on a romantic partner, treating them as if they were his only reason to live, saying, "Sometimes when you put so much on someone, it overwhelms them, and then they don't know if they could come close to that. Or if they can keep up with it. So, it's very off-putting to some…It's something I had to learn in a past relationship, which sucked to learn through that person, but it makes you better."
In part, Pete's maturity has manifested in his relationship with Kim. After public struggles with depression and substance abuse, Pete is now a vocal advocate for mental health transparency, services, and resources. A recently resurfaced SNL clip went viral for its prescient commentary from Pete on Kanye's mental health.
The 2018 sketch focused on Kanye's unsuccessful presidential bid and controversial — and alarmingly incorrect — observations on history. Pete appeared on SNL to say: "Kanye is a genius but, like, a musical genius. … Kanye, I know you're like 'Yo, this is the real me, I'm off the meds,' but take [them]. There's no shade in the medicine game … Being mentally ill is not an excuse to act like a jackass. I'm quoting my therapist, my mom, and my mailman."
Drawing on his own behavioral health experiences, it seemed like Pete had overcome a lot and reached a healthy point which allowed him to reflect critically on his behavior and how it affected others. Of course, this was before he was unwillingly thrust into this divorce's media circus merely because he's in a relationship with Kim.
Soon he became the target of Ye's ire — which is no small thing, we've learned. It seems he broke his resolve to be the bigger person and — in screenshots quickly posted by Ye on Instagram — sent the rapper a photo of himself in Kim Kardashian's bed.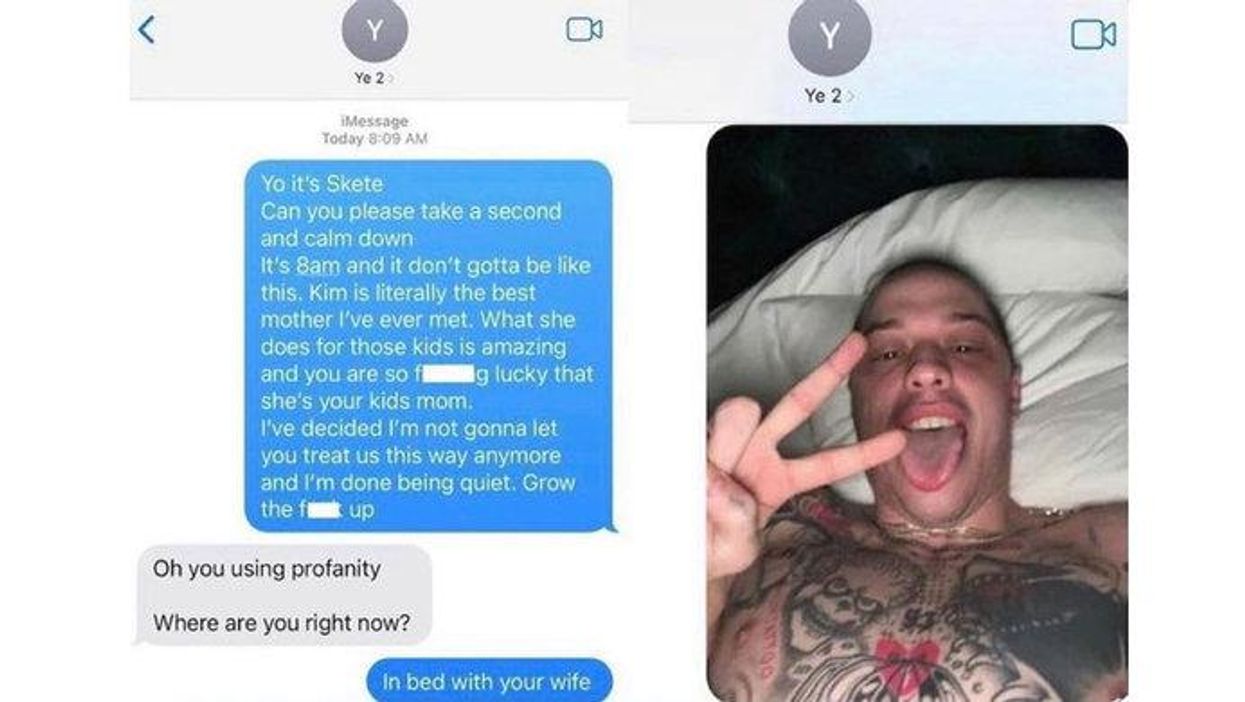 The alleged text exchange and image in question
This set Ye — and the internet — off. For all his moral high ground and urging Ye to calm down, there is no denying that Pete antagonized Ye. We've all been there — doing and saying things we know will piss someone off. But this moment of extreme gall from Pete was so astounding that the entire internet was left in shock.
And so again I ask: "How could he be so bold?" In order to be so antagonistic, sooooooo alarmingly reckless, Pete had to be extremely comfortable — both physically and emotionally.
Laying there in Kim's bed, I don't blame him. Those bed sheets are unimaginably soft, I'm sure — the whole bed floats like a cloud. Oh, to be Pete Davidson, on toppa the world. Oh, to be so comfy, I could do anything, including incite Kanye's rage.
The closest I've ever been to that comfort is in my own bed when I switched to sheets from Parachute. If you've heard the hype on Parachute bedding, it's because it's worth it. Made of natural, organic materials, Parachute bedding is top of the line. It will transform the way you think about bedsheets and the way you think about sleep.
I'll admit — I got Parachute bedding precisely because all the most stylish and discerning people I knew on social media approved them. So it's not a stretch to believe that even Kim K uses Parachute. Therefore, maybe both Pete and I lay our heads on Parachute pillow covers.
The luxury bedding will fulfill all your sleep needs — from pillows to sheets and comforters, to bathroom and lifestyle goods, too. Don't compromise on comfort. Parachute makes it easy to sleep on your own cloud. I, for one, have been seeking just this: being so secure and contented I'll act out. I want to be so relaxed and so self-satisfied that I'll willingly self-sabotage just to remain that comfortable. I want to be so bold.
It's been a wild last few years for Welsh-born singer Jamie Miller. After finishing third on the UK of The Voice, he received an endorsement from Khloe Kardashian. Then came the single "Here's Your Perfect," which has racked more than 200 million streams and nearly 100 million YouTube views.

Miller is carrying that momentum into the summer with the recent release of his debut EP, Broken Memories, a performance on the Kelly Clarkson Show, and a tour with Jesse McCartney.

The 24-year-old talks to Jordan and Demi about how he got to this point and where he wants to go from here.
Jamie Miller | It's Real with Jordan and Demi www.youtube.com
CULTURE
New Season, New Beauty Faves
May is the harbinger of sunny summer days to come. While May's not the cruelest month by any means, it's easy to feel stuck in a rut.
The air is heavy with anticipation — for the new season, for longer days, for summer. But too often, anticipation leads to disappointment. Whether it's the anticipation of good weather or anticipation for — say — a package to arrive, you inevitably end up disappointed at the result.
For me, the idea of something is much more potent than reality. Even if I get what I asked for, nothing can ever live up to the lofty expectations I set. This is especially disappointing when I drop a hefty percentage of my paycheck on a product just to be let down by it.
Since it's almost impossible for me to lower my expectations — believe me, I've tried — I've become quite selective about what I buy and why I buy it.
Asking myself why I make a purchase has revealed a lot about my shopping habits. For example, when I first started being more introspective about my spending, I realized it was often: "because I someone on Instagram had it." Now I know that most of my Instagram buys leave me disappointed. Influencers earn their money by proclaiming a brand is life-changing when it's rarely suited for my life at all.
Growing aware that I have a penchant for products that I realistically won't use, I now aim to spend in line with my real lifestyle. Rather than buying brands that social media convinces me I ought to have — looking at you, That Girl, you too, Clean Girl — these days I'm brutally honest about what I'm passionate about and actually use.
As I learn to spend more in line with my values, I realize that I get serious mileage out of my beauty products. Sampling new products is genuinely fun. And finding fresh combinations of skincare routines and stunning beauty looks channels my creativity.
Enter . . . The Allure Beauty Box
The Allure Beauty Box lets me indulge without overspending.
A delightful cornucopia of sample sizes and full-sized goodies, the Allure Beauty Box is a monthly subscription that shares whatever's buzzing in the beauty world for low stakes and a lower price.
Rather than blowing my whole paycheck at Sephora, I get to indulge in my passion at an affordable price each month. The products I like, I get at a major discount. The ones I don't — which TBH scarcely happens — I gift to my friends to their delight.
Join today, and kick off your subscription with beauty favorites from U Beauty, Christophe Robin, First Aid Beauty, and more — all hand-picked by Allure's renowned editors. For your first month, you'll receive 7 products — including 5 full-sized! — worth $296, a free gift from Rare Beauty, and access to Allure's exclusive member store.
These are the thrilling new products in the May Beauty Box:
Rare Beauty Perfect Strokes Mascara (full-size)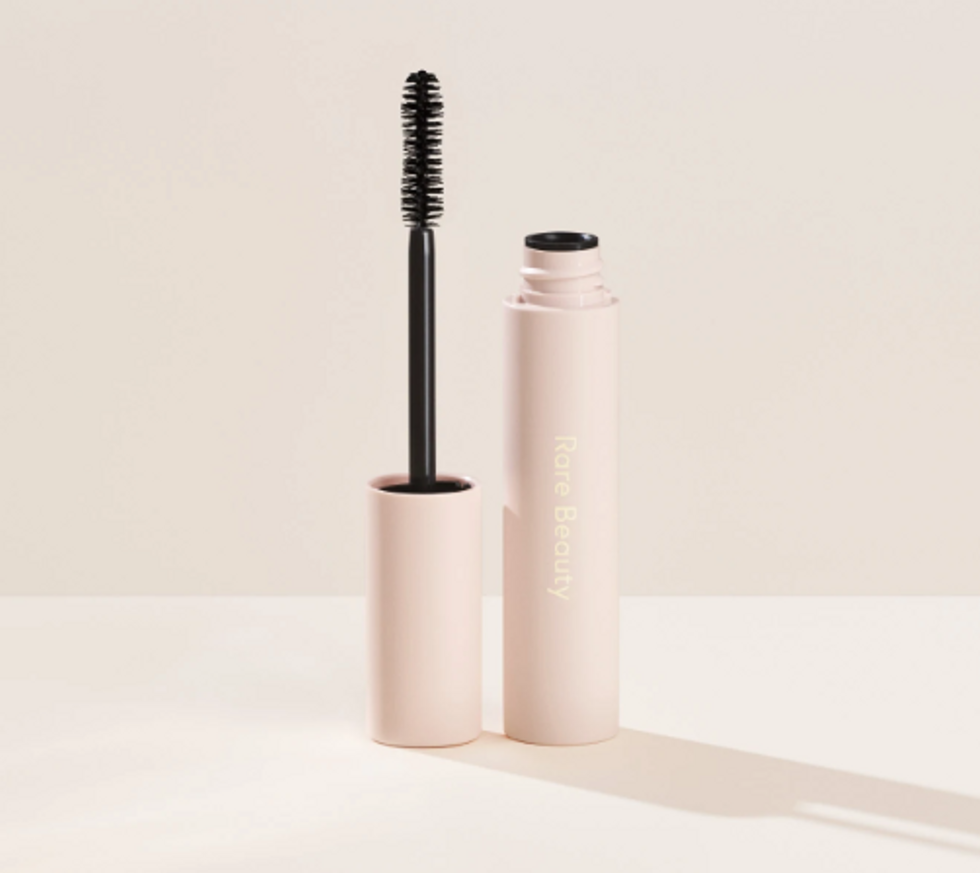 Selena Gomez's brand — Rare Beauty — has quickly become a makeup bag must-have for those who love beauty. This mascara will actually change your life. Created for a variety lash types, this all-in-one mascara pairs a weightless, easy-to-build formula with a universal eye-hugging brush that lifts, lengthens, and curls without creating clumps or feeling too heavy.
U Beauty Resurfacing Compound (full-size)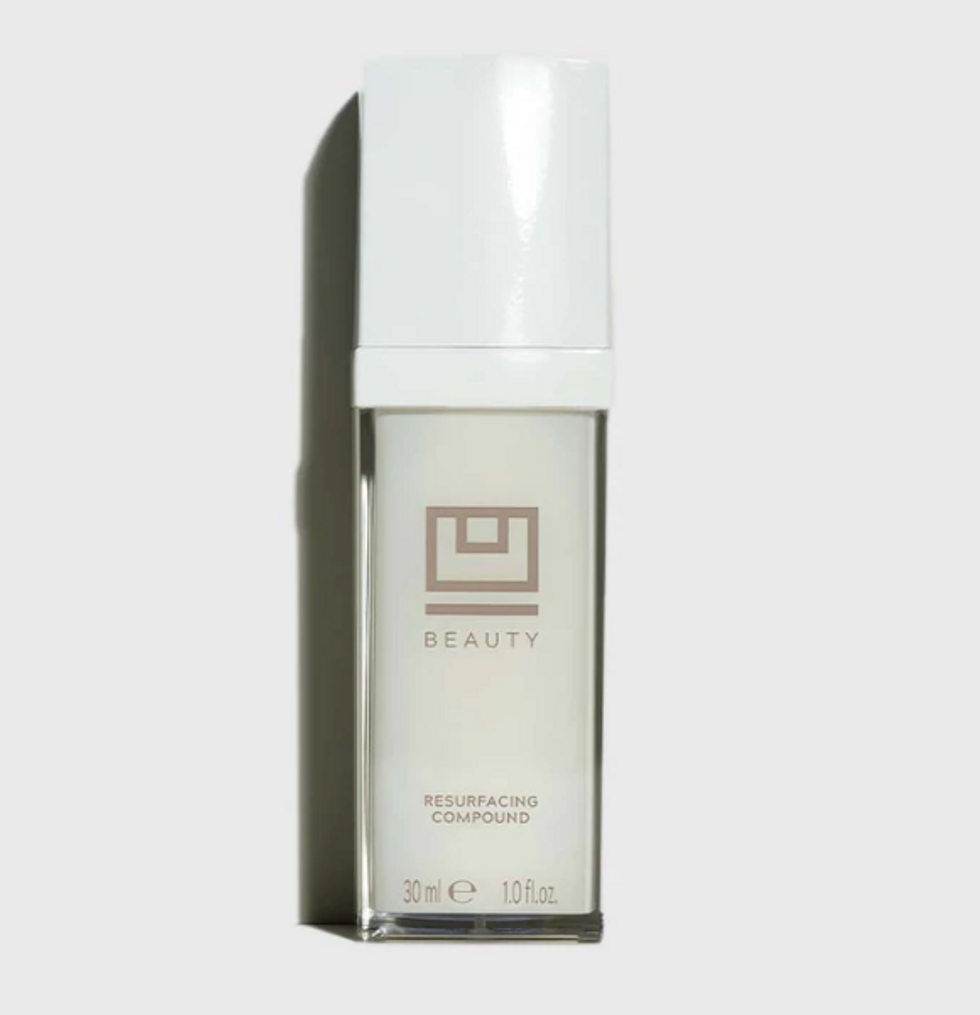 This cult-favorite resurfacing compound has been on my wishlist for months and months. If I purchased it alone, it would cost a pretty penny. But now, I don't have to. Get the full-sized bottle of this skin-transforming elixir without breaking the bank. Made with clean ingredients, it gently exfoliates and reveals brighter, tighter skin.
Christophe Robin Hydrating Leave-In Hair Mist with Aloe Vera (full-size)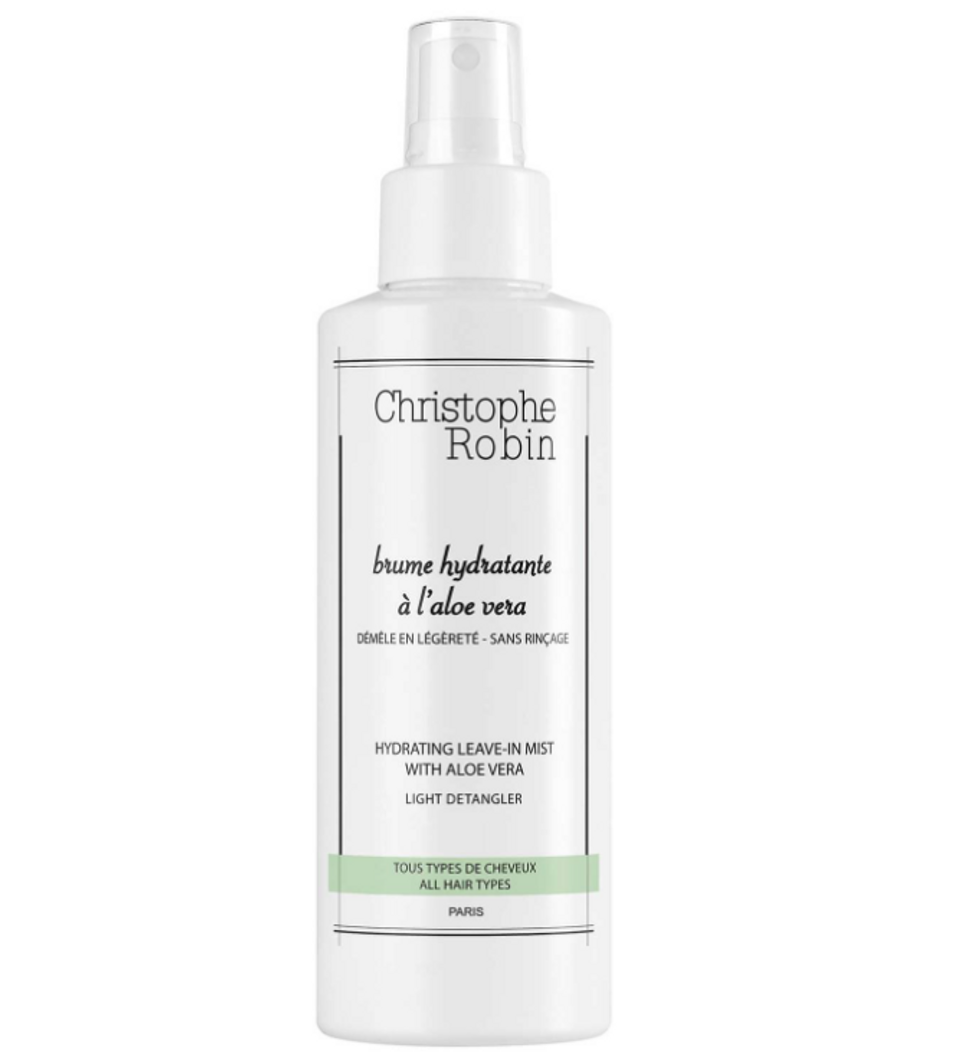 Most likely, your favorite Instagram hairstylist stocks up on Christophe Robin products — and for good reason. Composed of clean, lightweight ingredients, their products boost hair health for salon-like strands with each use. This aloe vera hair mist hydrates dry hair without weighing you down — restores dull, brittle hair with just a spritz.
True & Luscious Super Moisture Lipstick (full-size)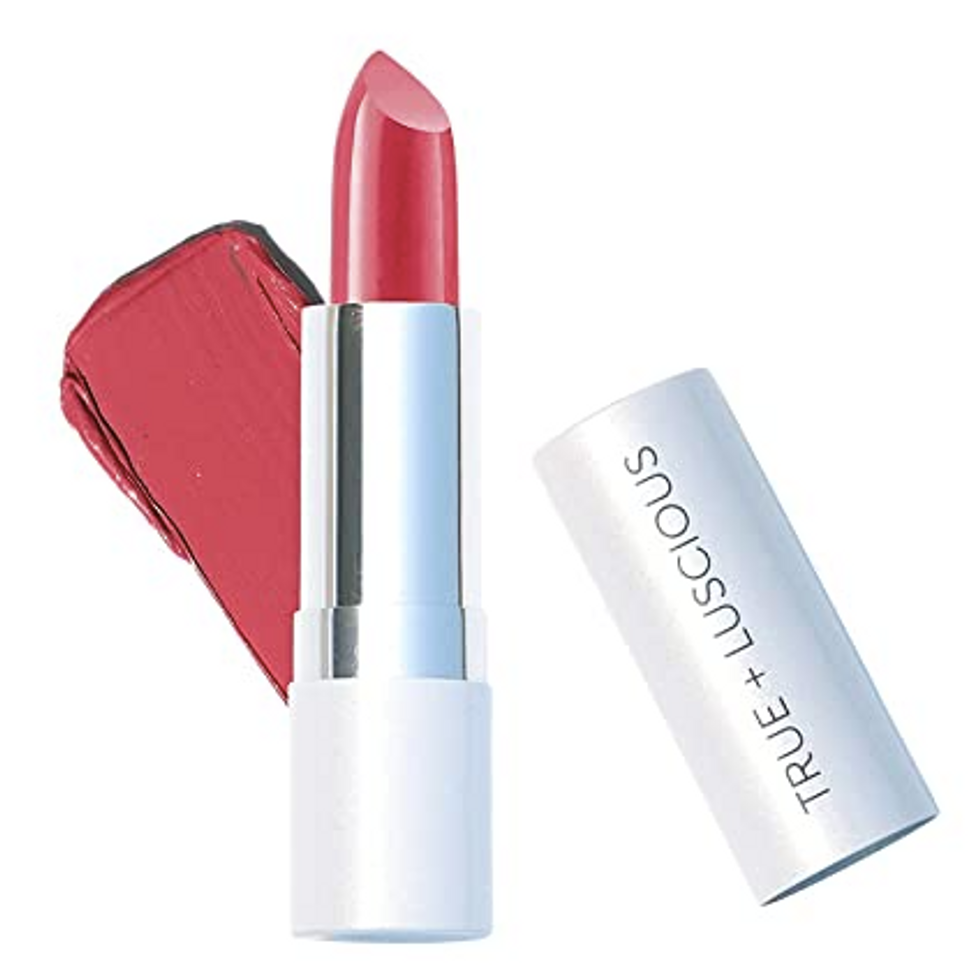 Like anyone, I love a red lip. However, I don't love a dry, cakey lip that clumps when I reapply. True & Luscious's ultra-moisturizing lipstick conditions your lips while giving a pop of color. Get the benefit of a lip mask while flaunting some dramatic flair with this satiny — but not sticky — must-have.
Haruharu Wonder Black Rice Hyaluronic Toner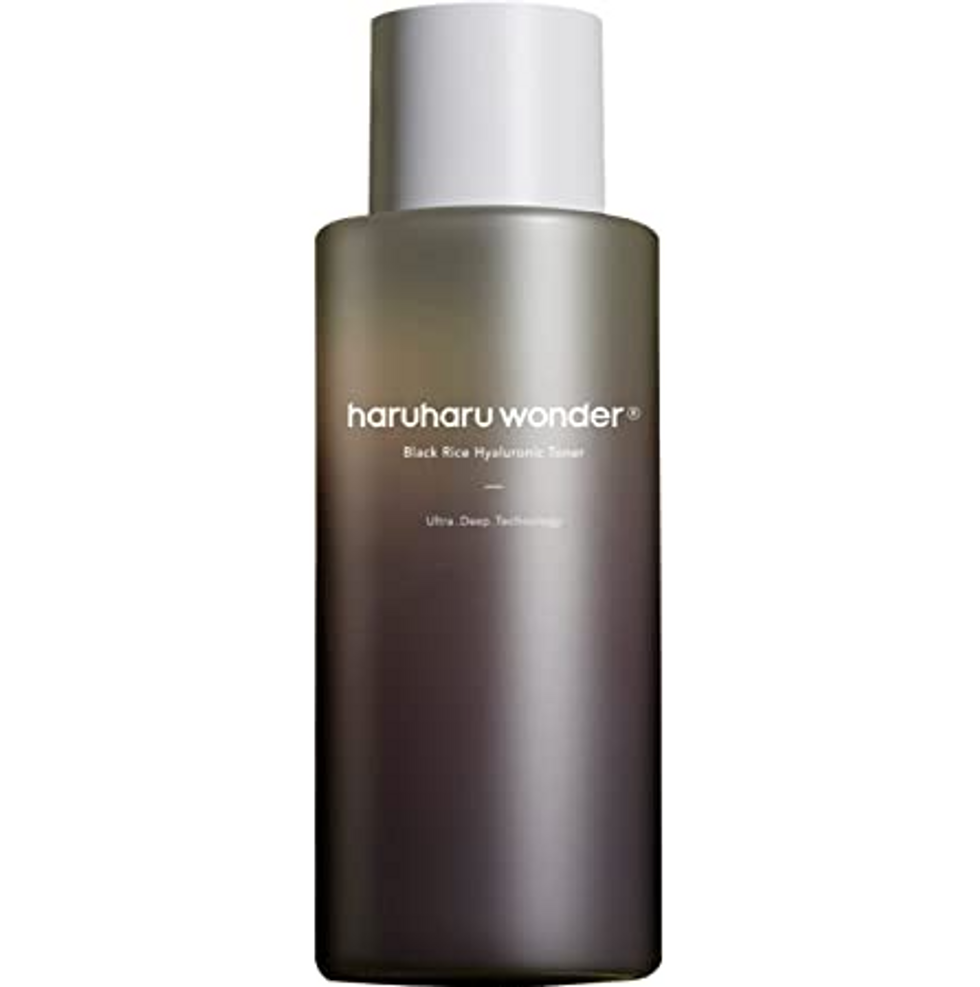 A K-Beauty favorite for a reason, this black rice toner delivers weightless hydration to your parched pores. Don't let your skin get dehydrated. Give yourself gentle yet effective TLC with a formula that leaves your skin looking dewy, not greasy. Instantly feel the long-lasting effects of fermented black rice and hyaluronic acid in your morning routine.
First Aid Beauty Pure Skin Face Cleanser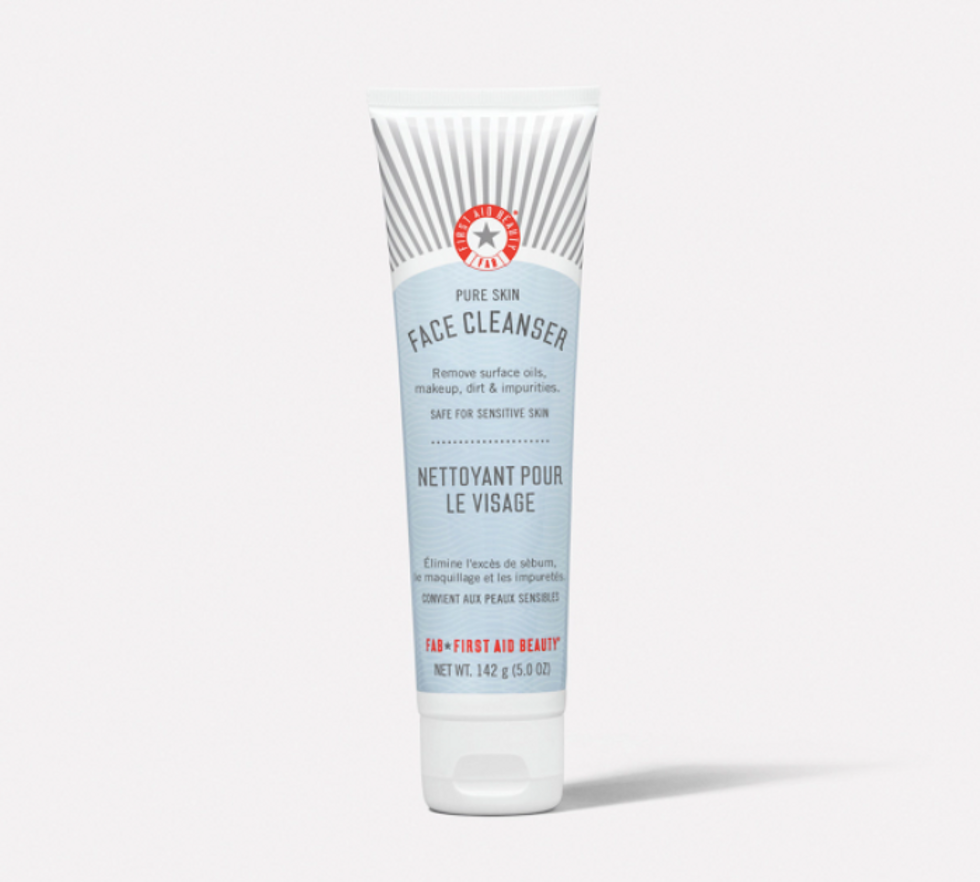 When it comes to cleansers, simple is best. This First Aid Beauty classic replenishes essential moisture while making your face squeaky clean. You won't feel stripped or dry after cleansing with this gentle formula. Instead, it preps your face for the your morning ritual and supports overall skin health.
Beauty Stat Universal Pro-Bio Moisture Boost Cream (full-size)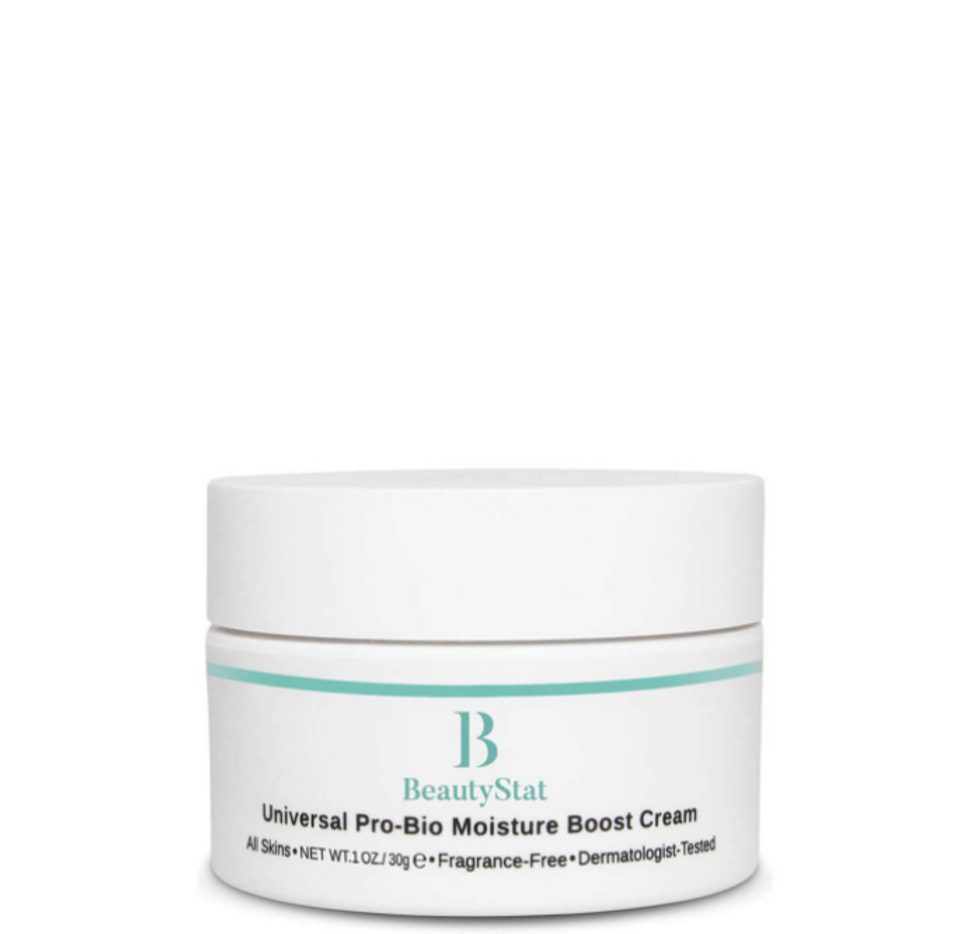 Sure, the weather's getting warmer, but don't skip out on moisturizer. In fact, depriving your skin of moisture will cause it to overcompensate by pumping more oils into your skin. Avoid a greasy complexion with this lightweight moisturizer packed with natural ingredients. It will work wonders on your skin.
LatinUs Beauty Hair Care Control Shampoo & Conditioner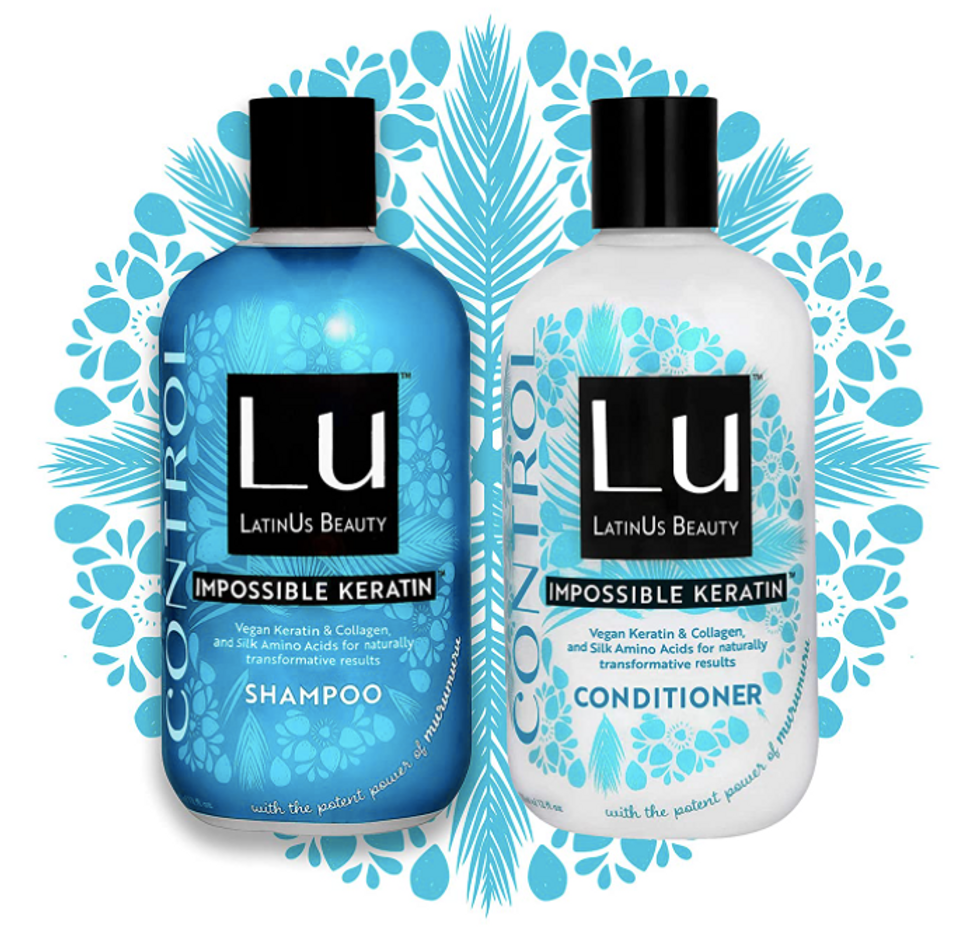 This shampoo and conditioner set is a full-on hair miracle. Reclaim washday with this dynamic duo! It'll makes thick or curly hair wayyy easier to deal with. Its anti-frizz formula uses Murumuru Butter to deeply nourish your strands so they'll easily detangle. Natural ingredients boost hair health — no more struggling with your comb in the shower.