Ah, St. Patrick's Day. A huge holiday for those who like to find excuses to ignore work and hit the pub. And there truly is no better way to celebrate the Irish than with a green beer.
Like those holidays that you aren't obligated to spend with your family, I assume you've been scouring the internet for outfit inspo and planning which bar crawl to join. Because holidays like St. Patrick's Day and the Fourth of July are for two things: friends and serving fits. There's no harm in using St. Paddy's as your way of showing you keep up with trends.
Shopping for your perfect green outfit shouldn't be difficult this year, considering the most popular colors this spring are forest and kelly greens. Think Gigi Hadid pre-Jimmy Fallon taping in hooded hunter green Alexandre Vauthier Couture. Or Solange Knowles in Bottega Veneta green leather for the Matthieu Blazy show.
This means it's fully acceptable to buy a green fit for St. Patrick's Day without feeling guilty. Green is in, so you're buying a trendy outfit to wear throughout the next few months. It's a necessary pop of color in a time when neutrals have dominated the market.
According to Vogue, even green nails are trending with over 300 million views. Manicurists say green is highly requested by clients everywhere: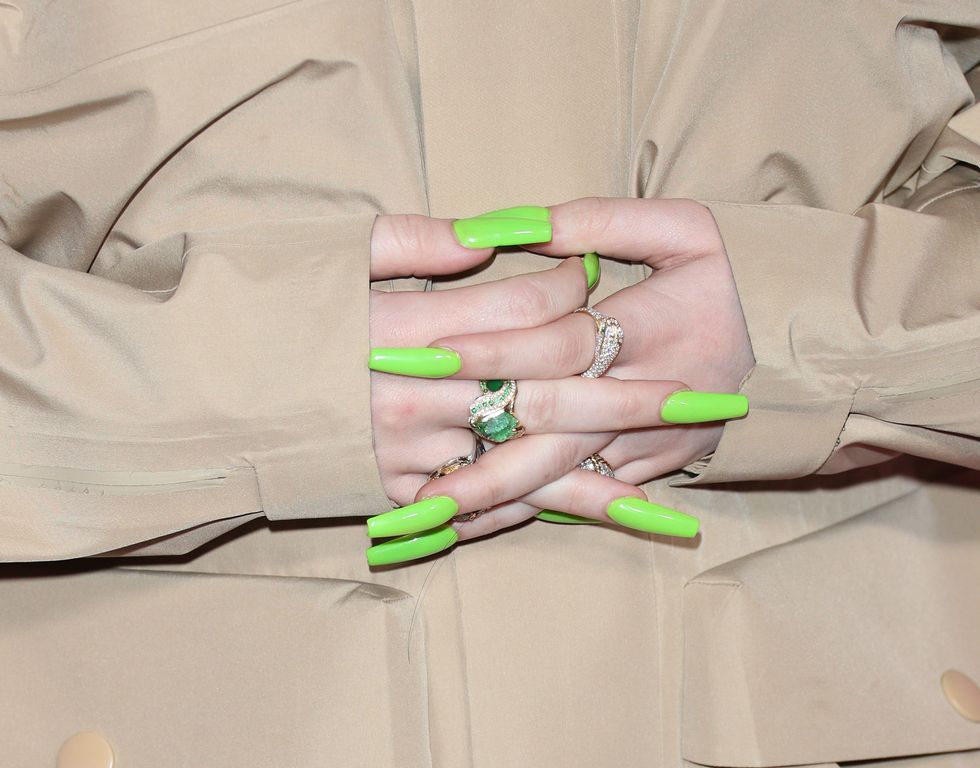 Billie Eilish
Broadimage/Shutterstock
"Green manicures are one of my most requested looks right now, and I'm using a lot of BioSculpture's Free Lovin', which is a deep green shade," says manicurist Faye Dennis. "It's super eye-catching, and my clients say how many compliments they receive."
If you're looking for a St. Patrick's Day Outfit, or just looking to go green (wardrobe-wise, that is), here are my favorite green clothing items:
This spring, varsity jackets and bomber jackets alike will become extremely popular. Streetwear looks have remained triumphant for a few seasons, so the varsity jacket is the perfect outerwear staple for your closet. It can match almost anything in your wardrobe right now, and this dark green shade is right on trend.
The people love pockets. Which is why cargo pants are all the rage right now. Channel your inner Y2K pop punk princess with this pair from Free People. While this may not be the signature St. Paddy's Day green, who cares? They're stylish, comfortable, and won't be a one hit wonder in your closet.
If you're looking forward to the warmer weather, or just want to switch things up, a cargo mini skirt is the ultimate choice. Make Olivia Rodrigo proud and bring out the classic cropped baby tee and mini skirt look. While low-rise may make you uncomfortable, bodysuits or baggy t-shirts will also pair well with the skirt.
You can never go wrong with a baby tee. It's a staple in any closet and this shade is perfect for the holiday. It also gives you that added color option for future outfits. I find it best paired with white bottoms or light-wash denim during the summer. It's comfortable, casual, and able to be accessorized.
If you have a green button up, you're set for St. Paddy's. You can layer it with basics like a white tank and jeans styled to your liking, or you can wear it under a leather jacket with leather pants for a fully chic moment.
Whenever I watch an awards ceremony for the "biggest names in Hollywood," I regret tuning in about 30 minutes in. It sounds like a great idea to watch The Oscars in theory, but in practice, it's more agonizing than a low-scoring football game. Last night's 95th Annual Academy Awards hosted by Jimmy Kimmel held us hostage and threatened to go on for almost four hours.
This year, we were faced with the cold, hard truth: every celeb we know and love is on Ozempic. And Nicole Kidman will forever give us a meme even if she doesn't speak.
The Winners
The worst part about these award shows is that you know who's going to win. Everything, Everywhere, All At Once was going for a sweep of their 11 Oscar nominations, so why do I have to watch everyone, everywhere, all at once make a five minute speech? Seems borderline criminal.
The first award of the night was given to Best Supporting Actress, with EEAO having two nominees in Jamie Lee Curtis and Stephanie Hsu, alongside a roster of talent in Angela Bassett (Black Panther: Wakanda Forever) and Kerry Condon (The Banshees of Inisherin). Controversially, or maybe not, Jamie Lee won.
A24's multiverse EEAO became the most awarded filem of all time, winning Best Picture, Best Director, and Best Leading Actress with Michelle Yeoh becoming the first Asian actress to win. I was on the edge of my seat for one of the closer races of the night, Best Leading Actor. With names like Austin Butler (Elvis), Brendan Fraser (The Whale), Colin Farrell (Banshees), Paul Mescal (Aftersun), and Bill Nighy (Living), Fraser ended up taking home the Best Leading Actor award.
Believe me, between Ke Huy Quan and Brendan Fraser's speeches, not a dry eye was in the house.

The Drama
It wouldn't be The Oscars without drama. So let's dig in. Starting with the red carpet – which was actually champagne colored and very ugly this year – we had Vanessa Hudgens and Ashley Graham doing interviews. There was a very clear opportunity for millions of TikTok clips if you would have let Baby V interview ex-boyfriend and permanent Elvis stand-in, Austin Butler, but no. Of course not.
Ashley Graham instead interviewed Hugh Grant for quite possibly the most awkward interview of all time. Hugh Grant all but refused to answer questions, even calling The Oscars "Vanity Fair," to which Graham responds "Vanity Fair is where you'll be letting loose later." The whole thing made me sick to my stomach.
And does anyone else feel bad that we keep inviting Rihanna to perform "Lift Me Up" at these shows and then she doesn't win the award? I think adding her and A$AP Rocky to the audience brings added style and attractiveness that would otherwise lack without them – so maybe give her an award to keep her coming back?
We also have Jamie Lee Curtis's controversial win as one of the only white women nominated in her category. And while I agree Angela Bassett did the thing both in her performance in Black Panther and her outfit last night, it's hard to get mad at an actress for winning an award the Academy designated for her. Blame The Academy, not the women.
This year's major cringe wasn't a slap, but rather Jimmy Kimmel asking activist Malala Yousafzai if she thought Harry Styles really spit on Chris Pine. After she proceeds to say she only talks about peace, Kimmel nicknamed her Malala-land. Again, just gauge my eyes out at this point.
And for those wondering about hookups, Bad Bunny and Kendall Jenner were seen together at Jay-Z and Beyonce's afterparty. Also in attendance? Gigi Hadid and Leonardo DiCaprio. Do with that information what you will.
The Style
Perhaps my favorite part of the night: the clothes. Some of my favorite looks of the night were as follows:
Hunter Schafer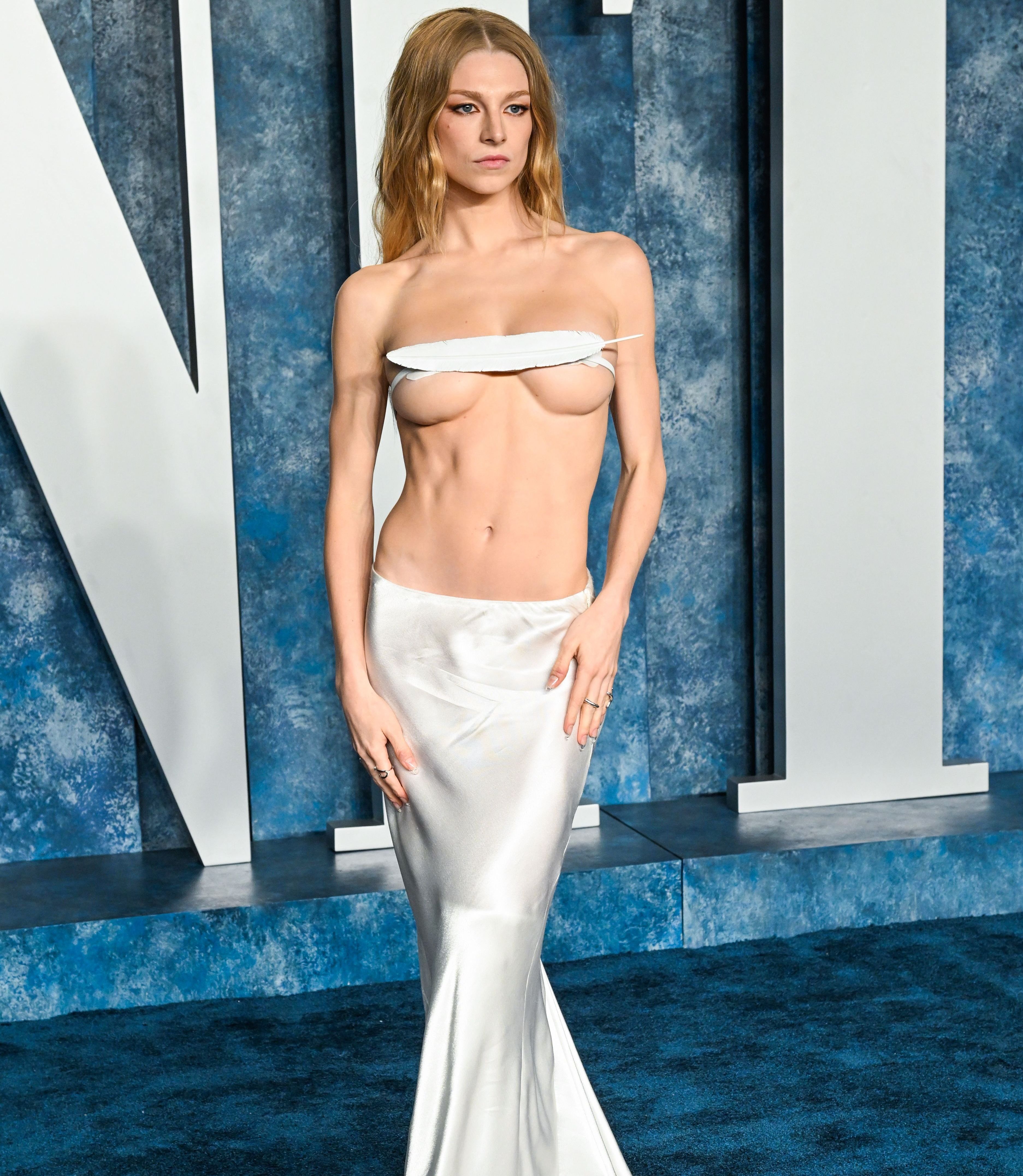 Hunter Schafer
Anthony Harvey/Shutterstock
Megan Thee Stallion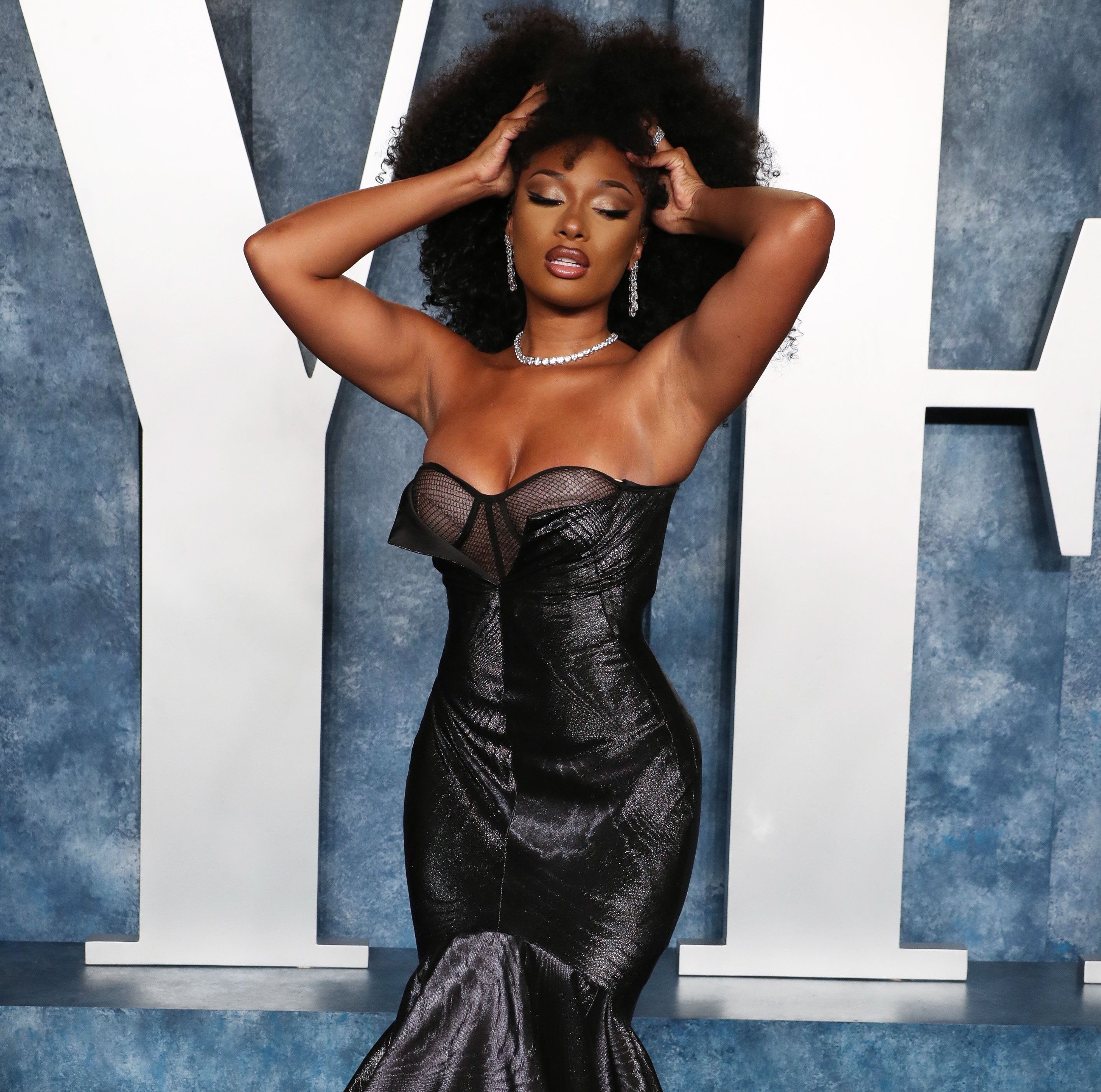 Megan Thee Stallion
Matt Baron/BEI/Shutterstock
Rihanna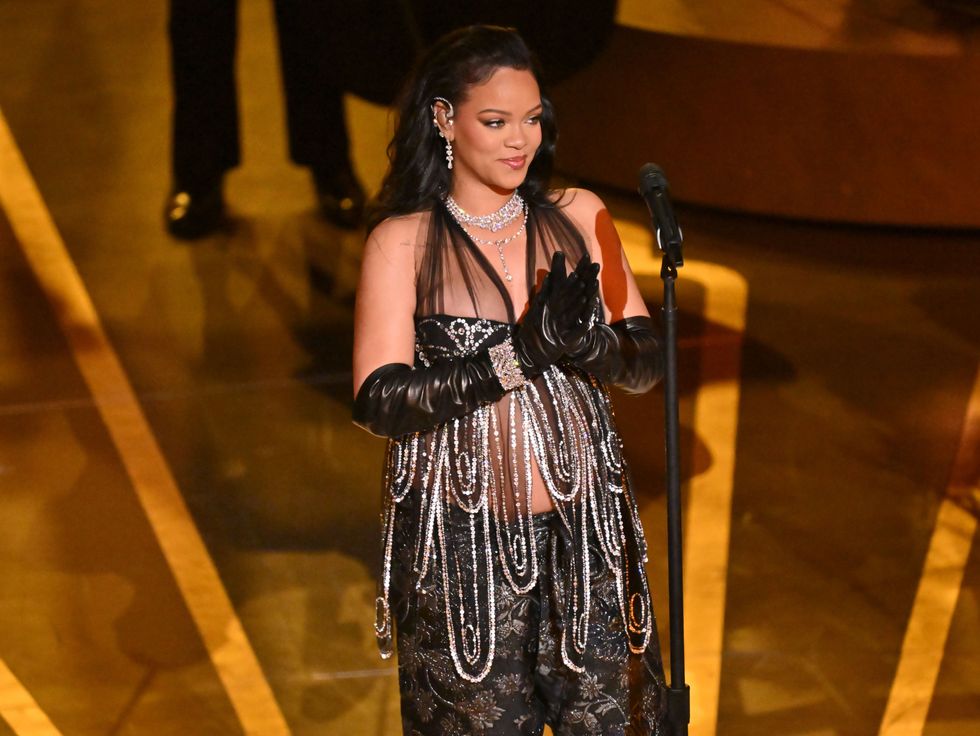 Rihanna
Rob Latour/Shutterstock
Lady Gaga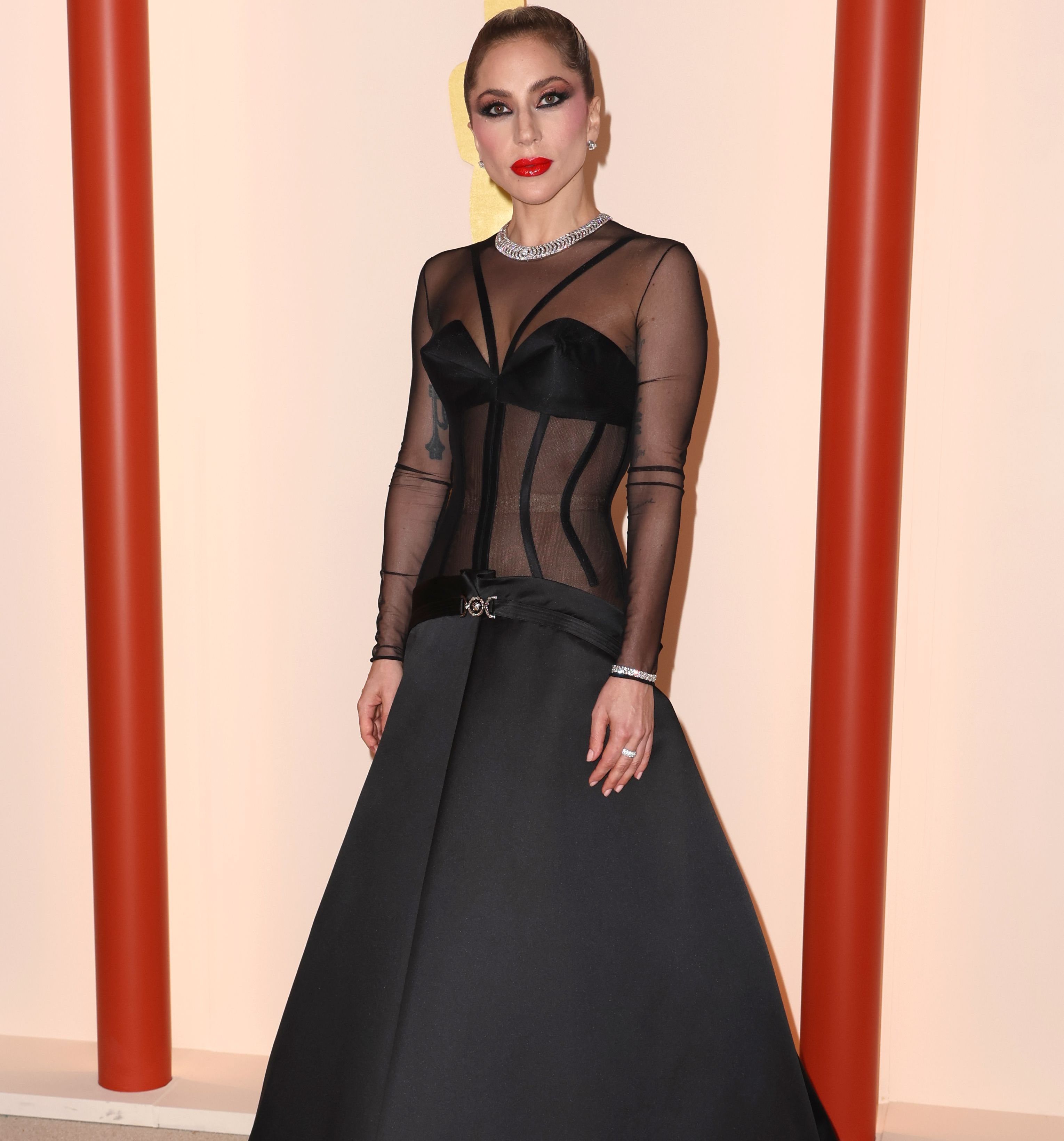 Lady Gaga
Chelsea Lauren/Shutterstock
Angela Bassett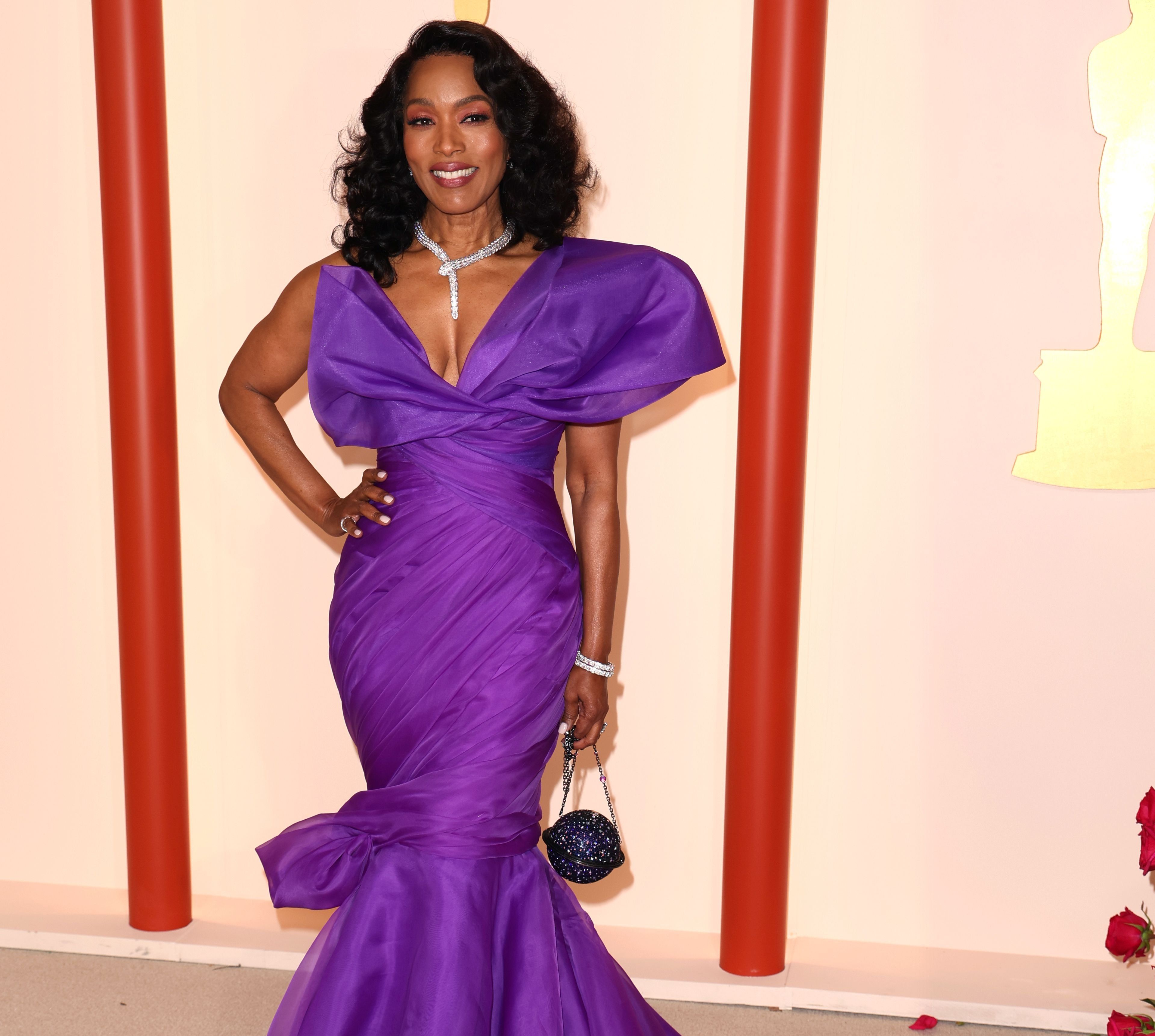 Angela Bassett
Chelsea Lauren/Shutterstock
Tems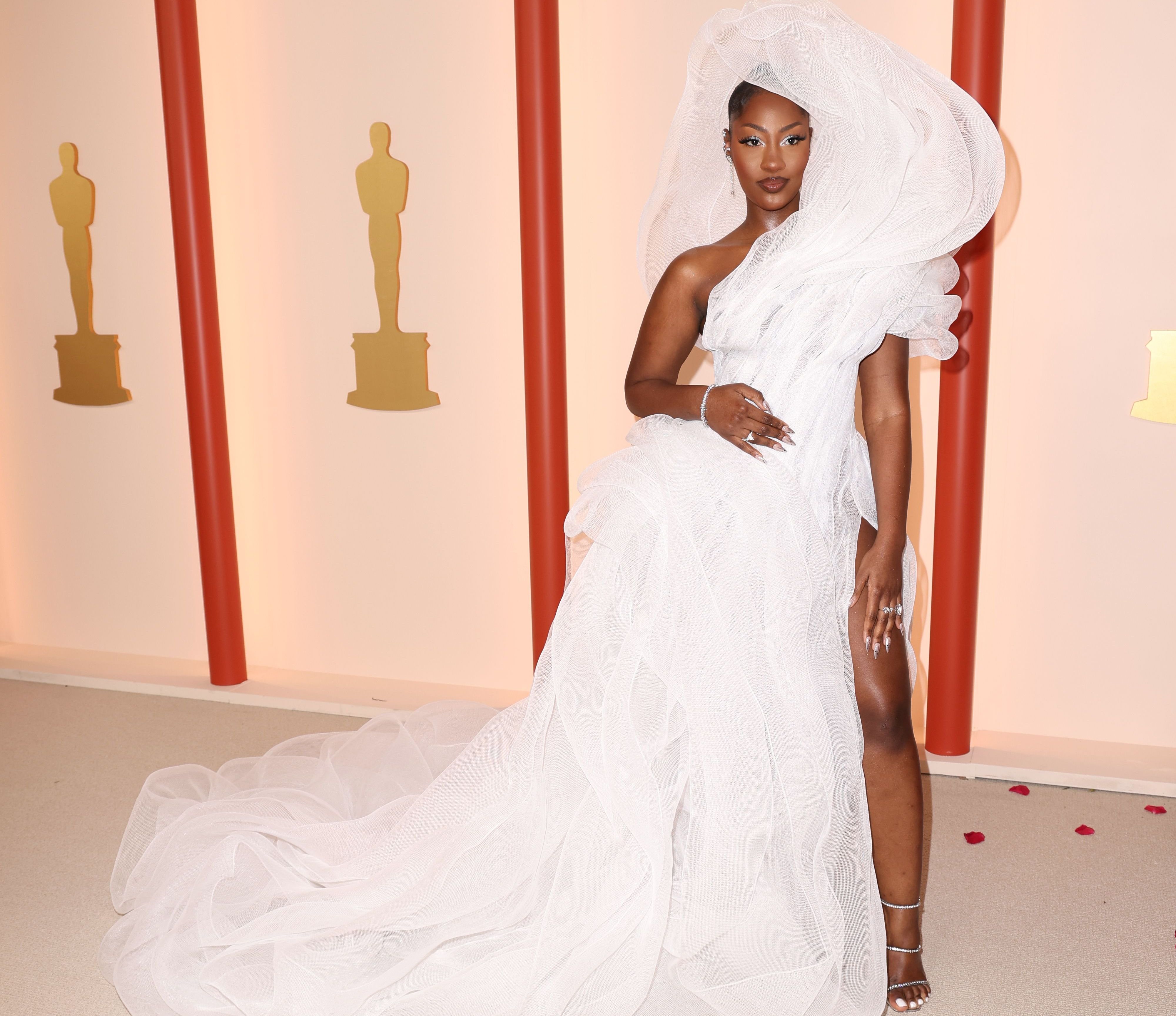 Tems
Chelsea Lauren/Shutterstock