Culture News
The theme of the 2021 Met Gala is a celebration of American fashion.
Vogue and the Costume Institute of The Metropolitan Museum of New York just announced that the Met Gala will return on September 13, 2021. The affair promises to be smaller and more intimate (read: exclusive) than ever and later than its usual date on the first Monday in May due to the pandemic. Yet, pending restrictions, the show will go on — thank God!
Bring me Rihanna in elaborate ball gowns with giant skirts, bring me Zendaya floating up the stairs (and Jason Derulo tumbling down them), bring me Harry Styles (hopefully with Olivia Wilde) looking ethereal, Billy Porter being carried in by shirtless models, and Amanda Gorman, rumored to be one of the hosts, who is just having a really great year.
The Inaugural poet, who was on the cover of the May 2021 issue of Vogue wearing a Louis Vuitton Men's garment designed by Virgil Abloh, has signed to IMG Models and has become much more than a literary star. A fashion icon since she performed at the Biden Inauguration in Prada, the 23-year old poet/activist is the perfect host to represent this year's Gala theme: In America: A Lexicon of Fashion.
The theme is part of a two-year exhibit, the first of which will premiere on September 18, 2021, and the second, In America: An Anthology of Fashion, will premiere on May 2, 2022 with a regularly scheduled Gala. The theme was decided by Andrew Bolton, the Wendy Yu Curator in Charge of the Costume Institute years ago, and feels timely as the country reckons with its identity.

The theme also celebrates the Costume Institute's 75th anniversary and pays homage to the American fashion community "to acknowledge its support, and also to celebrate and reflect upon American fashion," according to Bolton.
American fashion has been an underdog in the Western fashion landscape compared to more established houses in Europe. While American designers have often found themselves at the helm of major European powerhouses — like Virgil Abloh at Louis Vuitton — American brands find it harder to gain the same pedigree.
While fashion is exclusive in many ways, often the best parts of American fashion reflect the best parts of American culture.
In a recent tell all interview for Highsnobiety titled "Read This Before You Decide to Work in Fashion," which was overall a cutting insider's look at the fashion industry, Eugene Rabkin also highlighted the most redeemable part of the industry, what he described as "the aspirational class — the immigrants, the expats, the minorities, the restless souls with the kind of passion that often comes from desperation and the desire to make something out of nothing."
The designers highlighted in this year's Costume Institute exhibit promise to be members of this class — the people who have had the biggest impact on fashion by representing marginalized communities and using fashion as a tool for creativity and storytelling, rather than a marker of status.
There are many visionary designers who will be included at the exhibit and who we hope to see on the red carpet at the Met Gala for their pioneering work:
Halston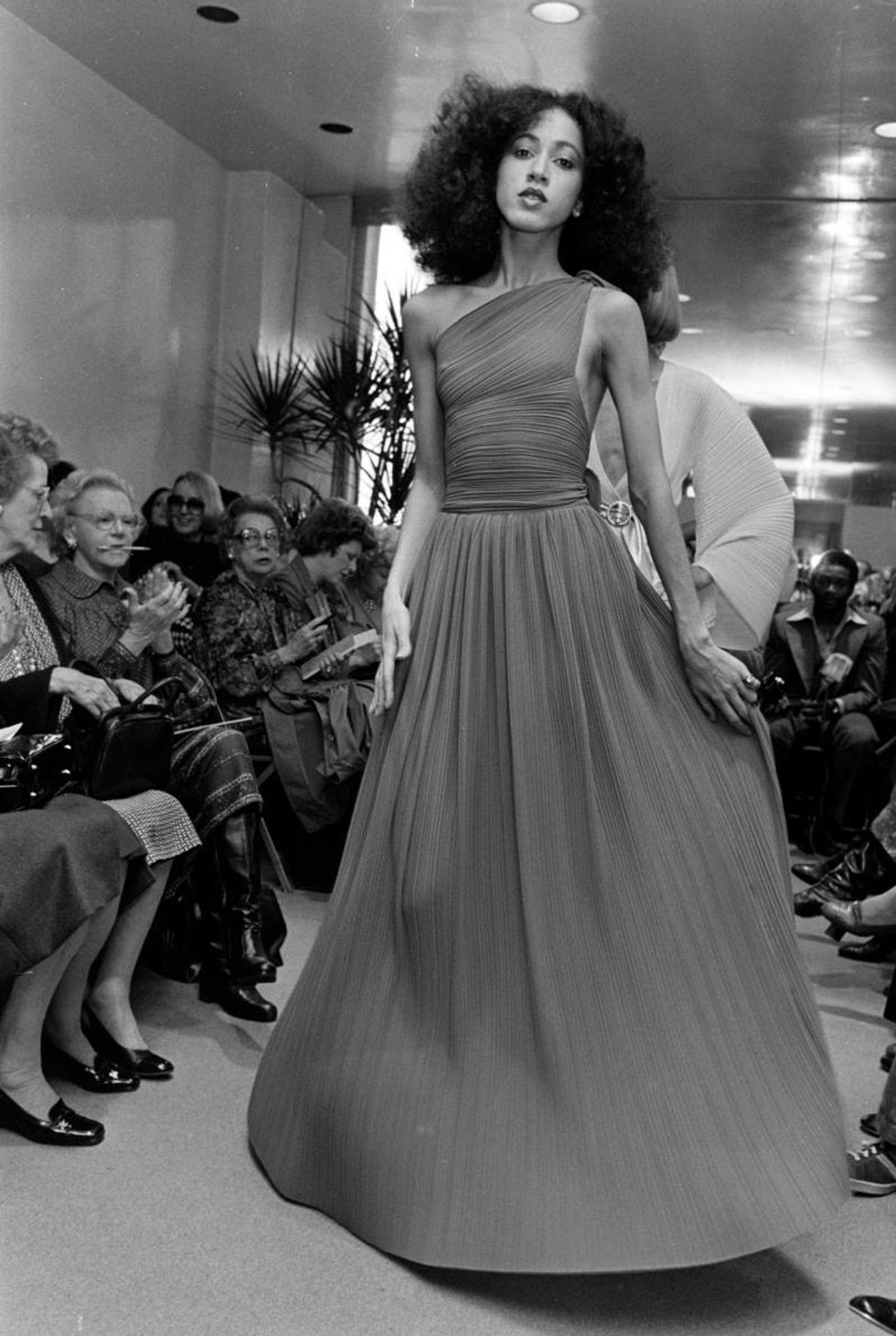 In a lot of ways American high fashion is synonymous with Halston. Starting his career as a hat maker, he famously made the pill-box hat that Jackie Kennedy wore at JFK's inauguration. He reached his peak in the 1970s disco era known for minimalist designs with precise cuts in rich materials. Despite being disparaged early in his career for his sexuality, he became a household name and an icon to the biggest celebrities and to the youth, especially queer youth.
​Stephen Burrows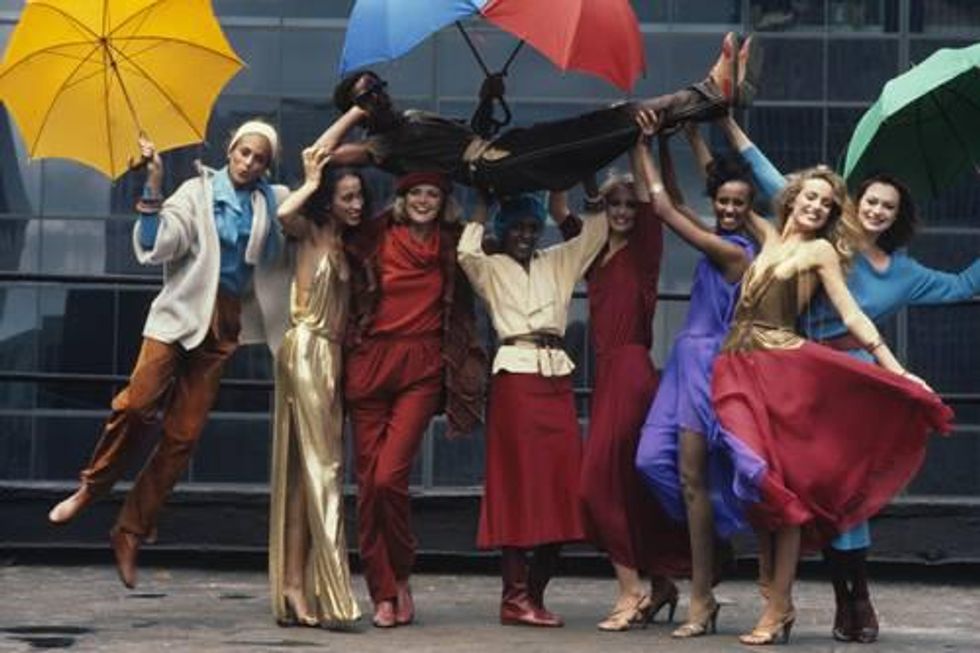 Stephen Burrows Campaign
Stephen Burrows has been a fashion mainstay since his first collection in 1969. He participated in the now infamous 1973 "Battle of Versailles',' a benefit fashion show held at the Palace of Versailles. The show was a "battle" between American and French designers including Pierre Cardin, Christian Dior, Hubert de Givenchy, Yves Saint Laurent, Halston, Oscar de la Renta, Bill Blass and Anne Klein.
The Americans won the battle, according to WWD, whose ensuing headline on November 30, 1973
was,
"Americans came, they sewed, they conquered."
In the 2021 Met exhibition, the battle will be represented by a mural of Versailles by John Vanderlyn to commemorate its place is American fashion history.
Ann Lowe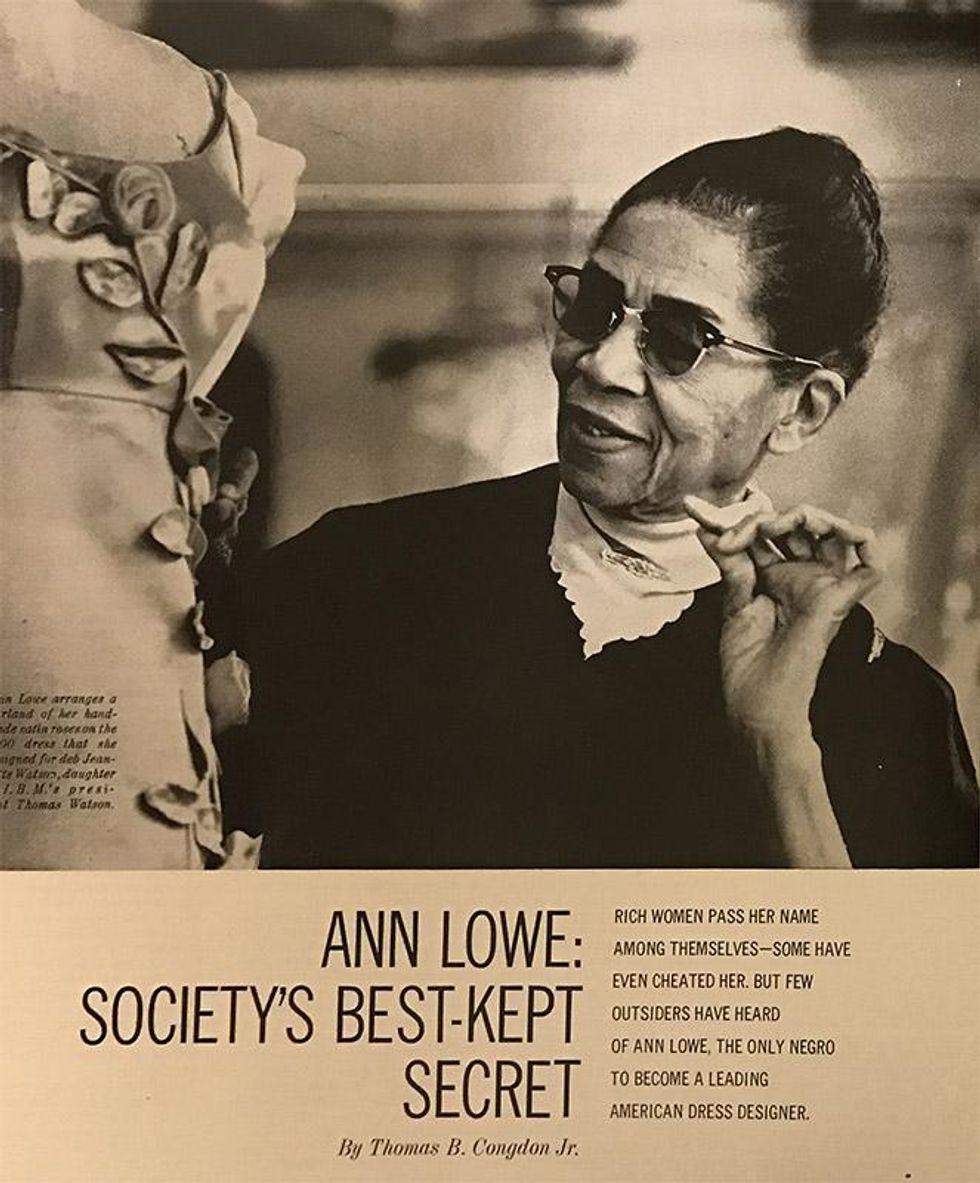 Ann Lowe, Saturday Evening Post, 1964
Ann Lowe was a pioneer in dressmaking whose immaculately stitched gowns became mid-century mainstays among the elite. Born in a line of seamstresses — her grandmother a formerly enslaved dressmaker and her mother an expert at embroidery — Lowe made dresses which prioritized the details to accentuate a dress's hems and hangs. Her impact is resonant in the history of Black American designers, as well for her focus on precision and intimacy.
For a long time, her work was not credited under her name, and high profile work she did for politicians (including Jackie Kennedy's wedding dress) and the elite was credited under pseudonyms like "colored-dressmaker," but later in her career she got name recognition. Some of her pieces are already displayed in places like the Smithsonian National Museum of African American History and Culture, the Museum of the City of New York, FIT, and even the Met.

Ralph Lauren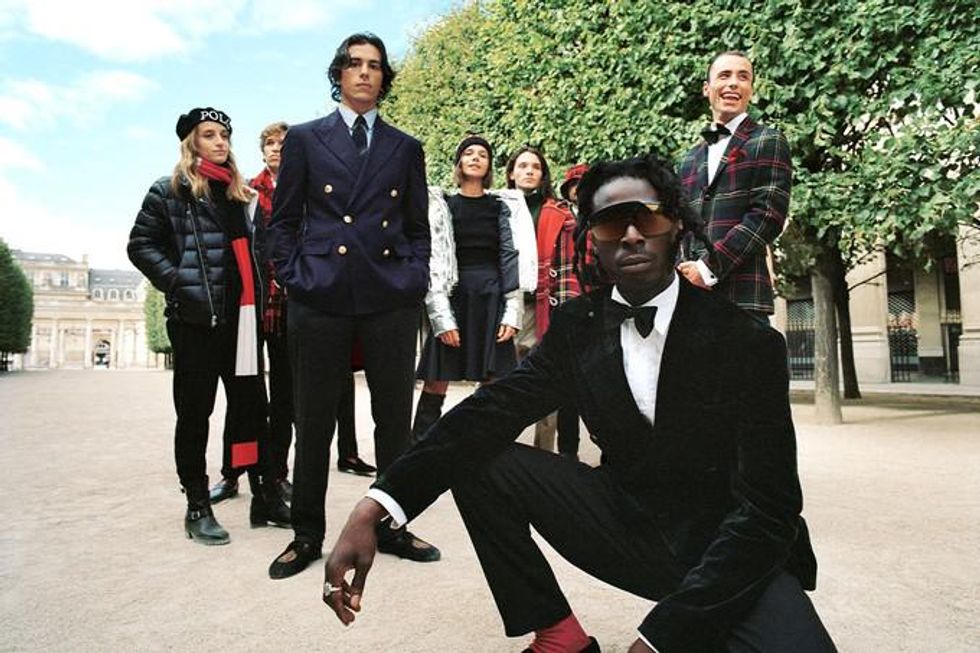 Ralph Lauren 2020 Campaign focusing on diversity
Ralph Lauren is a legacy American brand which has been successful in defining the collegiate/preppy classics. But they're not just your grandfather's favorite brand. By focusing on good materials and timeless designs, they have managed to stay relevant — alongside recent collaborations with popular brands like Kith to appeal to a younger audience.
Willi Smith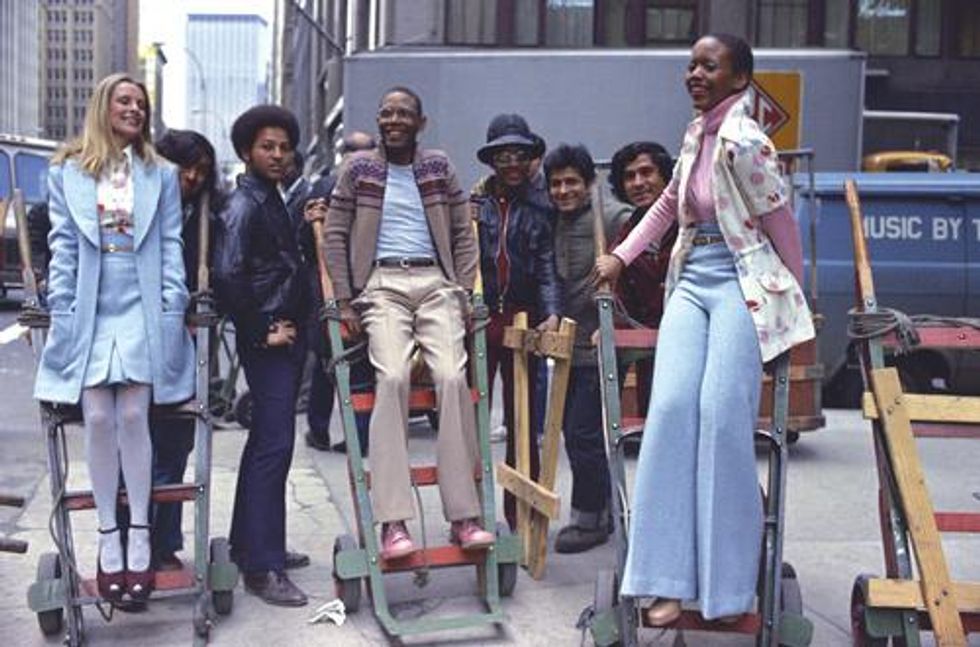 Willi Smith 1972
Willi Smith was a giant in the 1970 and 1980s whose legacy includes highlighting "streetwear" on a larger scale. He was also famed for his immersive creative experiences, which included showrooms, a newspaper called WilliWear News, a film shot in Senegal, and dance pieces and events — a full spectrum creative direction which streetwear brands today aspire to even approach.
Kerby Jean-Raymond of Pyer Moss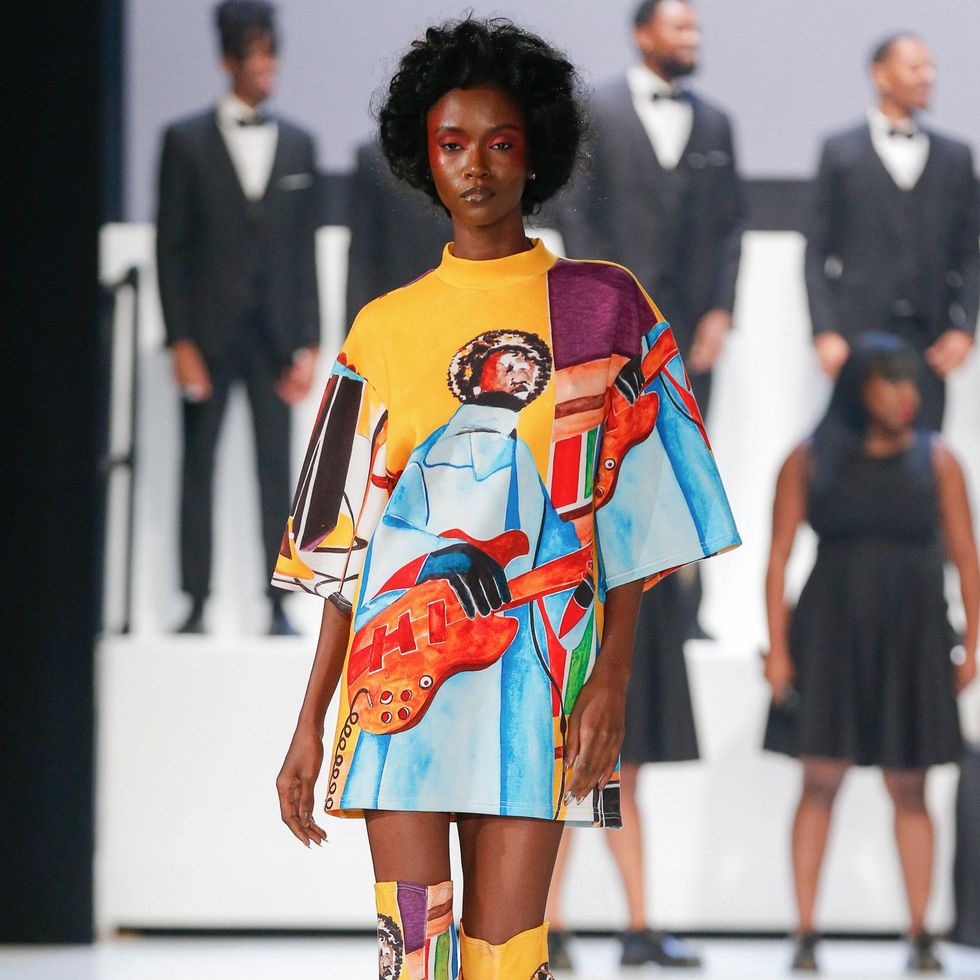 Pyer Moss, NYFW SS20
Pyer Moss is one of the most vibrant contemporary brands. With recent press from Kamala Harris's pre-Inauguration coat and appearing on magazine covers on celebrities like Zendaya, the brand is known for its innovative and refreshing designs. Kerby Jean-Raymond started the brand in 2013 and has received many accolades for his take on luxury-streetwear, which prioritizes visual storytelling through vibrant colors, culturally inspired prints, and compelling shapes.
Andre Walker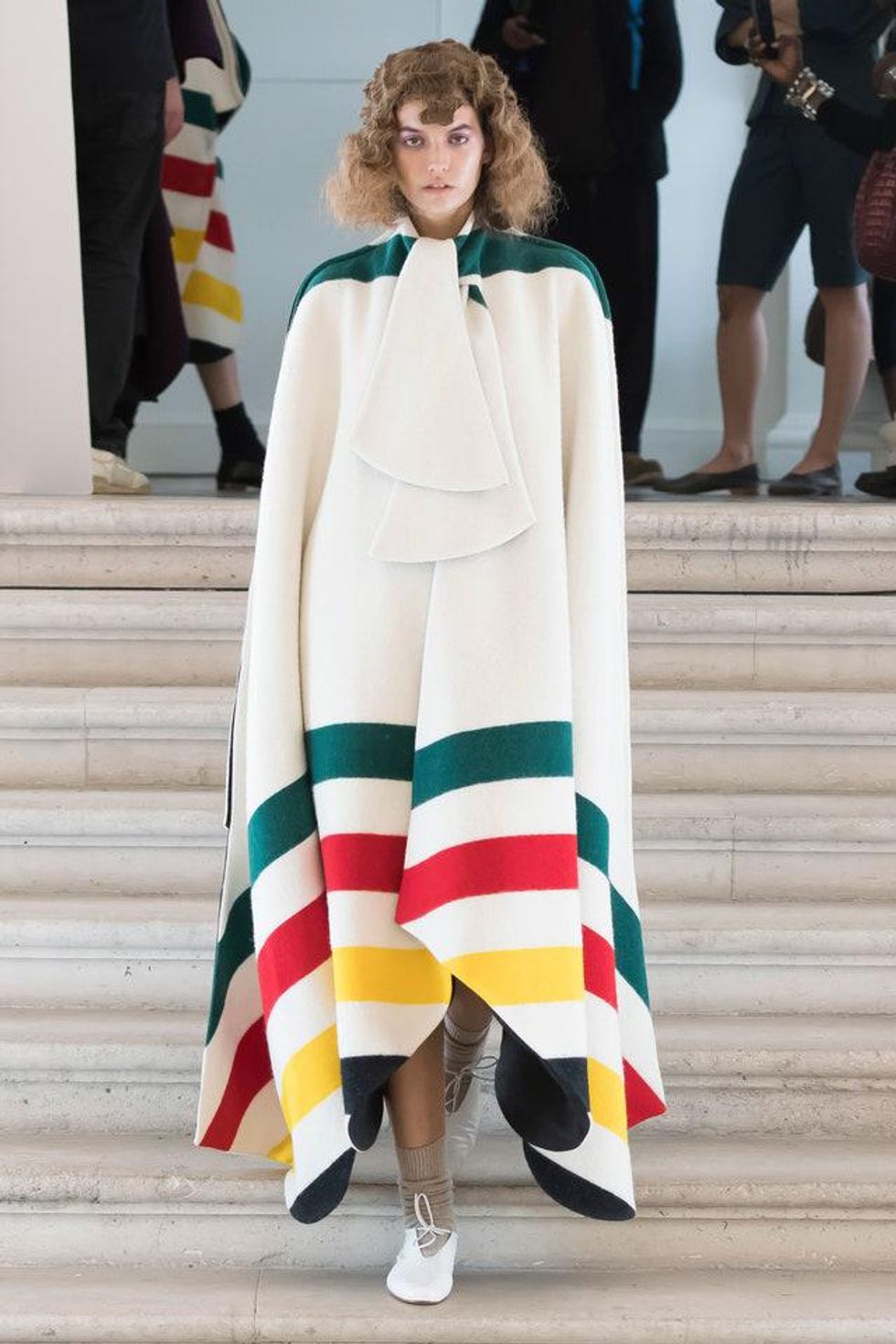 Andre Walker SS18
Andre Walker released his first runway collection in 1981 at a neighborhood nightclub and has been innovating ever since. From his own collections to consulting for Marc Jacobs and Kim Jones to recent collaborations with Off-White, Walker is a constant staple in contemporary fashion — focused on representing Black culture and reinventing classics.
Anna Sui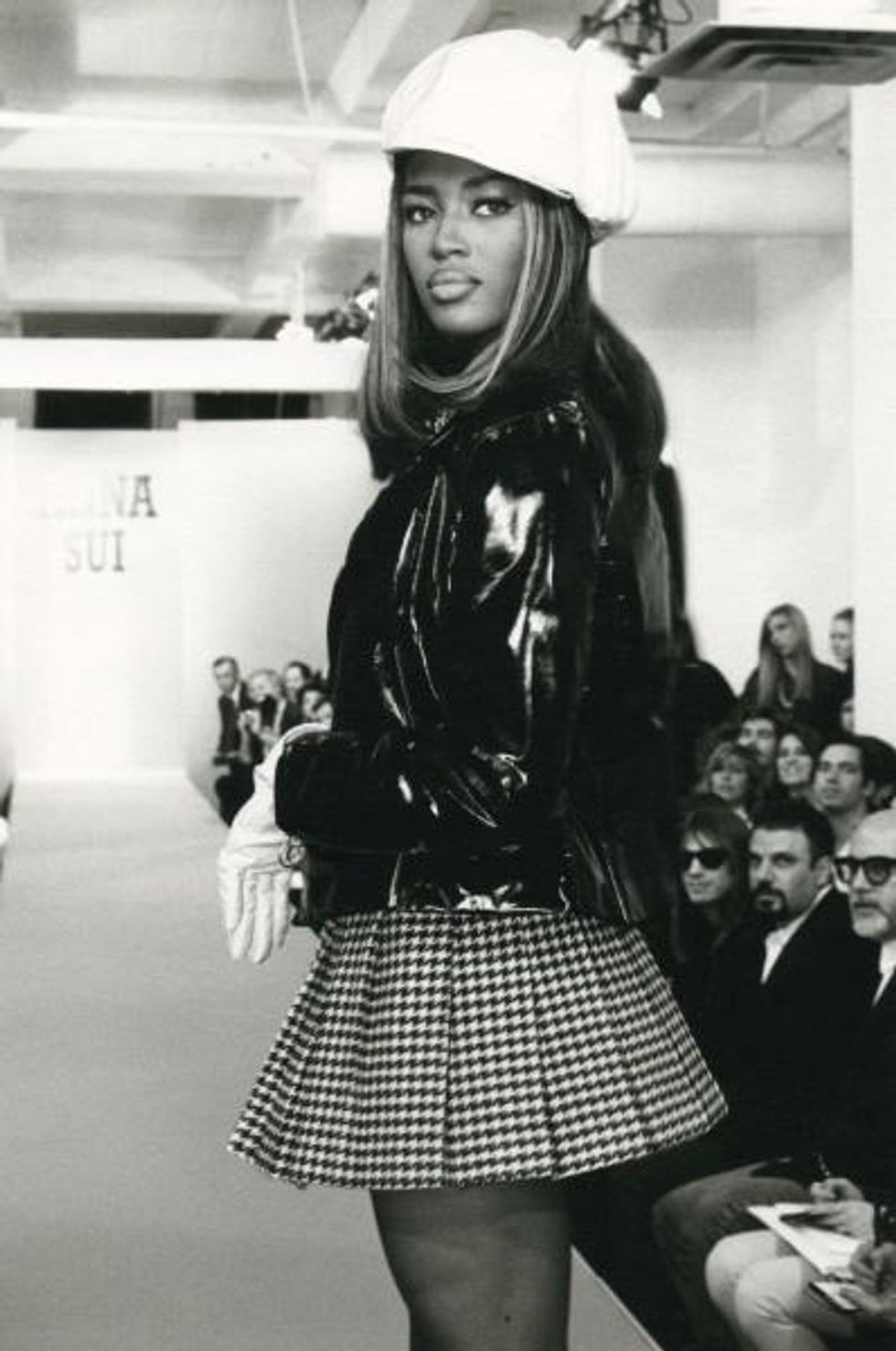 Naomi Campbell for Anna Sui in 1991
Anna Sui is a pioneer who emerged in the 1980s and 1990s, distancing herself from major houses and instead reveling in the underexplored world of the grunge scene. She was a mainstay in the New York fashion scene due to her friendships with supermodels who modeled her clothes and gained a cult-like following alongside many awards and global recognition.
Prabal Gurung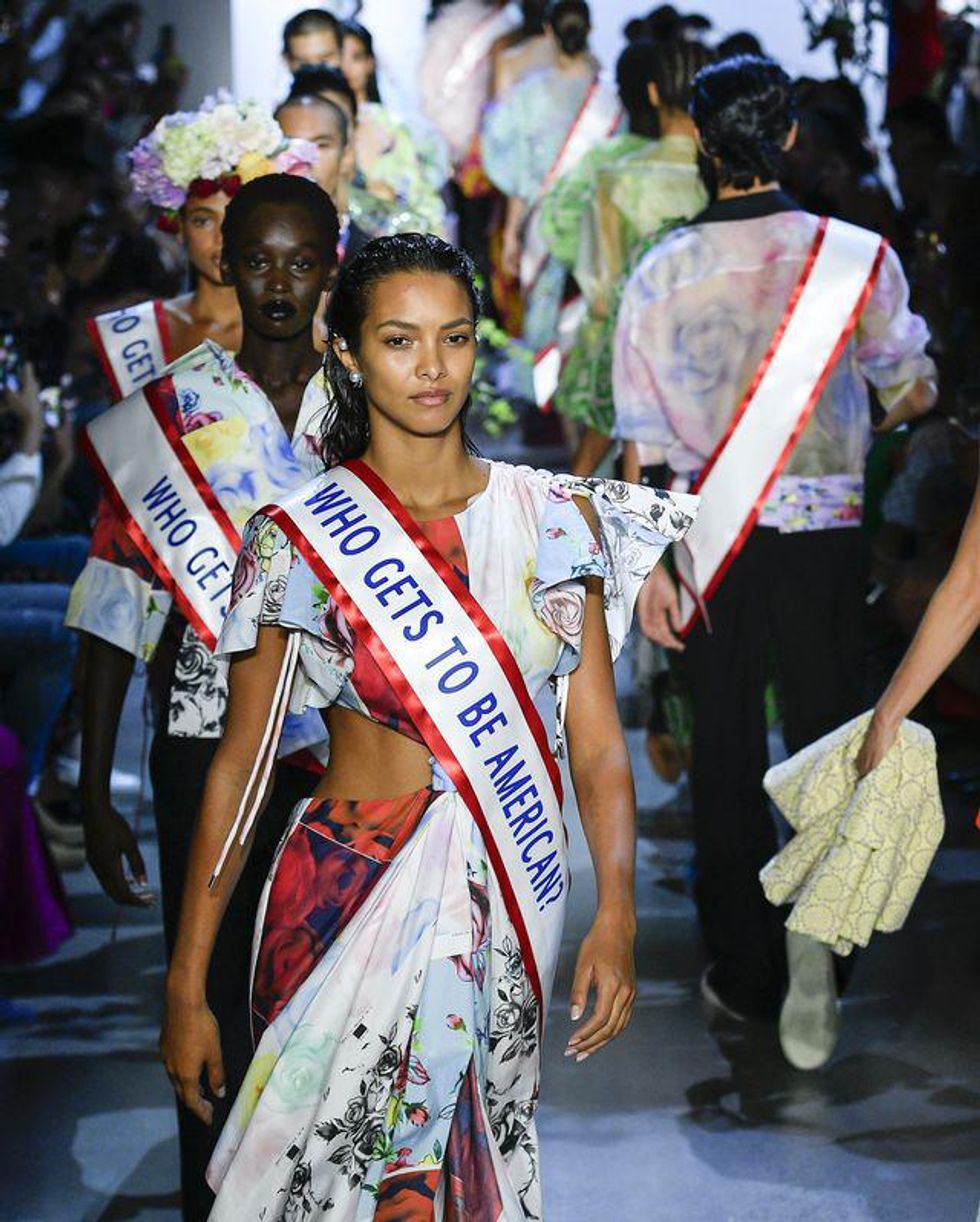 Prabal Gurung SS20 show, asking "Who Gets to be American?"
At their Spring 2020 show, Prabal Gurung posed the question: "Who gets to be American?" This direct challenge to identity through fashion makes them an important emerging brand. Prabal Gurung is not just innovative in design but embodies the values of successful, contemporary brands. Based in New York City, the brand is committed to domestic manufacturing to support the local community. Founder Prabal Gurung also started Shikshya foundation Nepal based on his "personal exposure to the poverty and inequity in his homeland of Nepal."
LaQuan Smith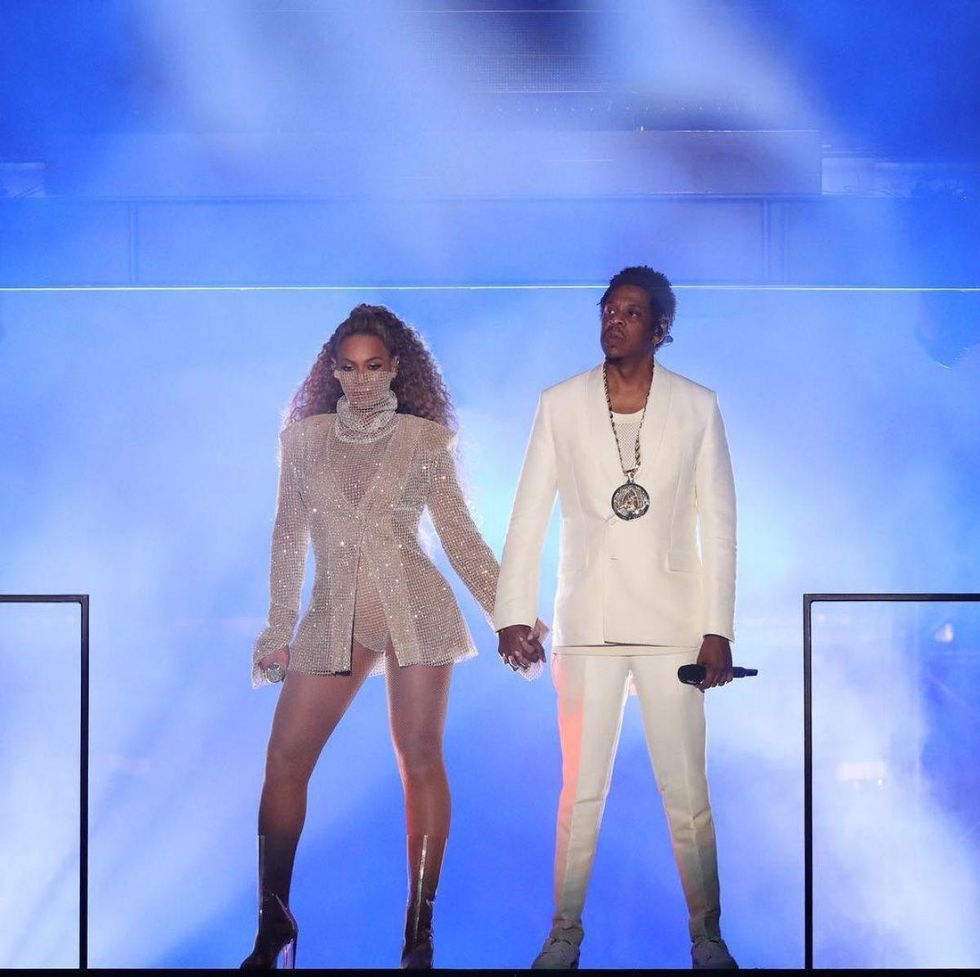 Beyonce in custom LaQuan Smith. Her husband is also in the photo.
LaQuan Smith started his brand at only 21 and is now one of the most celebrated Black, luxury designers. Famed for his innovative pieces and intricate details, Smith has amassed a cult-like following and a reputation spurred by high profile clients including Rihanna and Beyonce.
Peter Do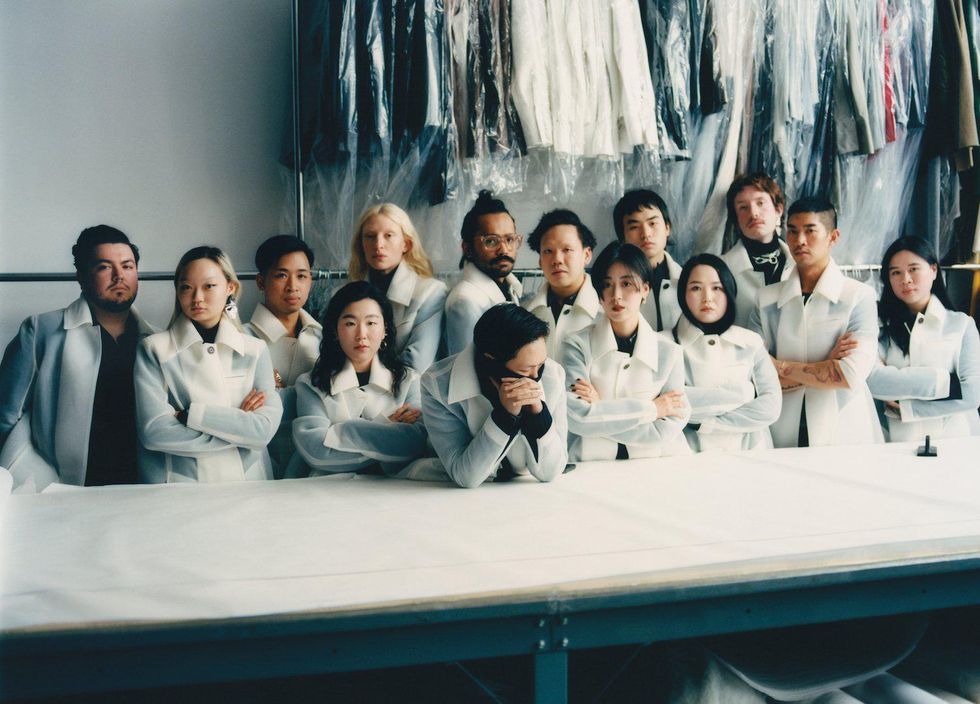 Peter Do Team
Peter Do, helmed by the designer Peter Do himself and made up of friends who met online, is an ambitious brand which has already established itself as one of the leading contemporary brands. After signing contracts with retailers like Dover Street Market and Net-a-Porter without any contacts or connections, their menswear inspired designs are instant classics that take the best of traditional tailoring and modify it for the current times.
Aurora James of Brother Vellies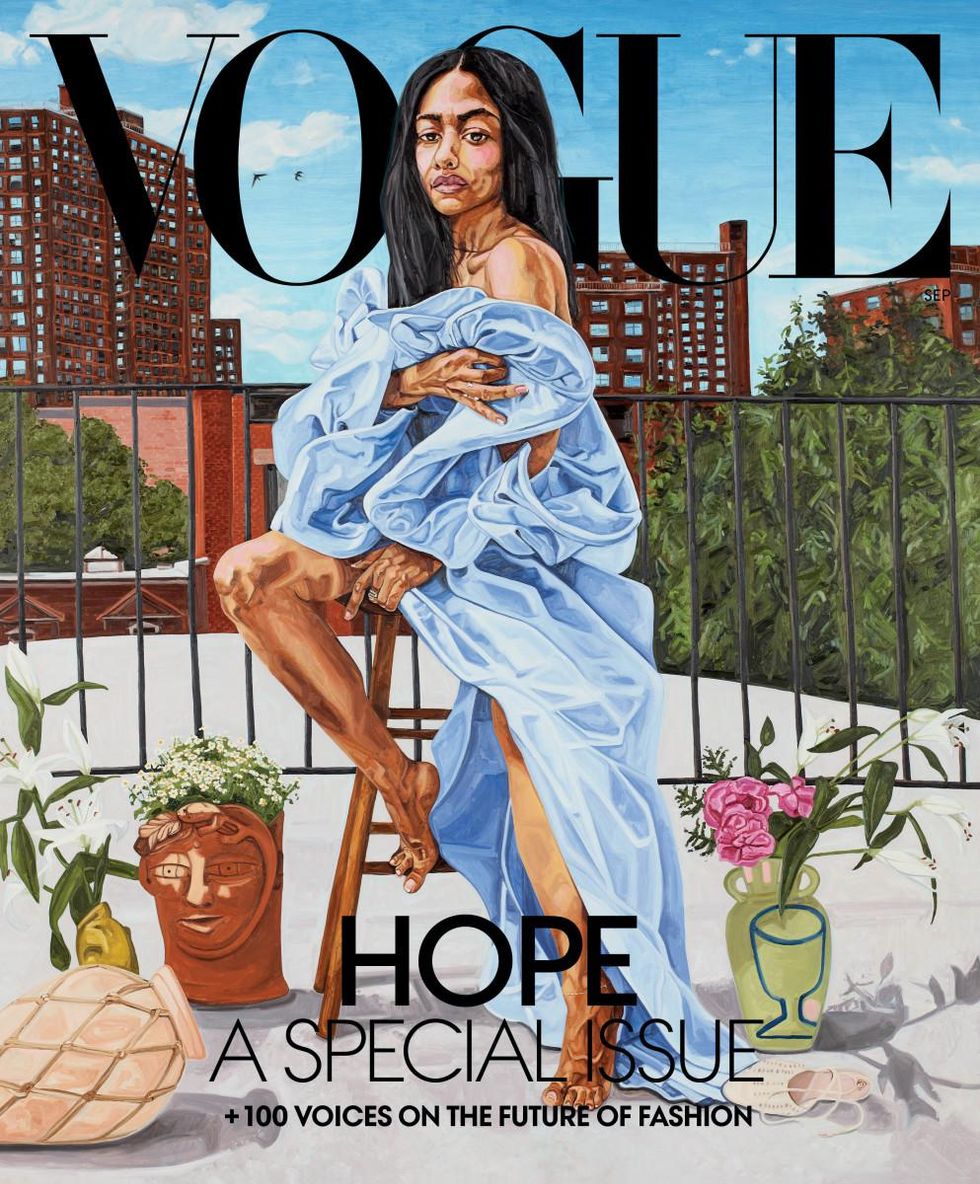 Vogue, Aurora James
Brooklyn-based shoe designer Aurora James is no stranger to the Met Gala. Having previously designed Met outfits for celebrities like Solange and appearing on the September 2020 cover of Vogue, the award-winning designer is known for her African-inspired designs which draw from the continent and are produced in limited quantities in partnership with African designers.
She is also the founder of the 15 Percent Pledge, which started in the pandemic to urge retailers to give at least 15 percent of their shelf space to Black designers.
Shayne Oliver of Hood by Air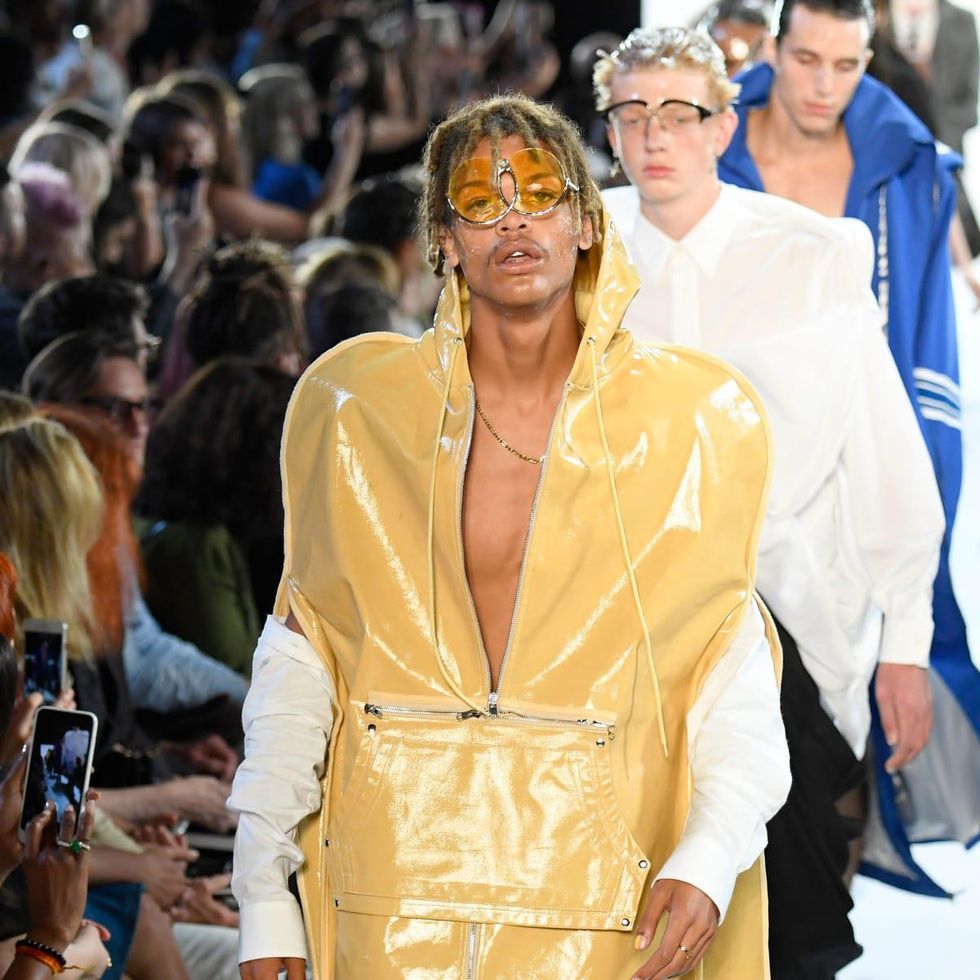 Hood by Air
Shayne Oliver started Hood By Air in 2006, giving new energy to streetwear in high fashion which was ahead of its time. The oversized garments, the gender neutral designs, and the bold urban influence set the stage for major brands like Vetements and Off White and won major awards. He recently announced the return of Hood By Air, and OG streetwear fans rejoiced, anticipating the new iteration of the beloved.
Virgil Abloh of Off-White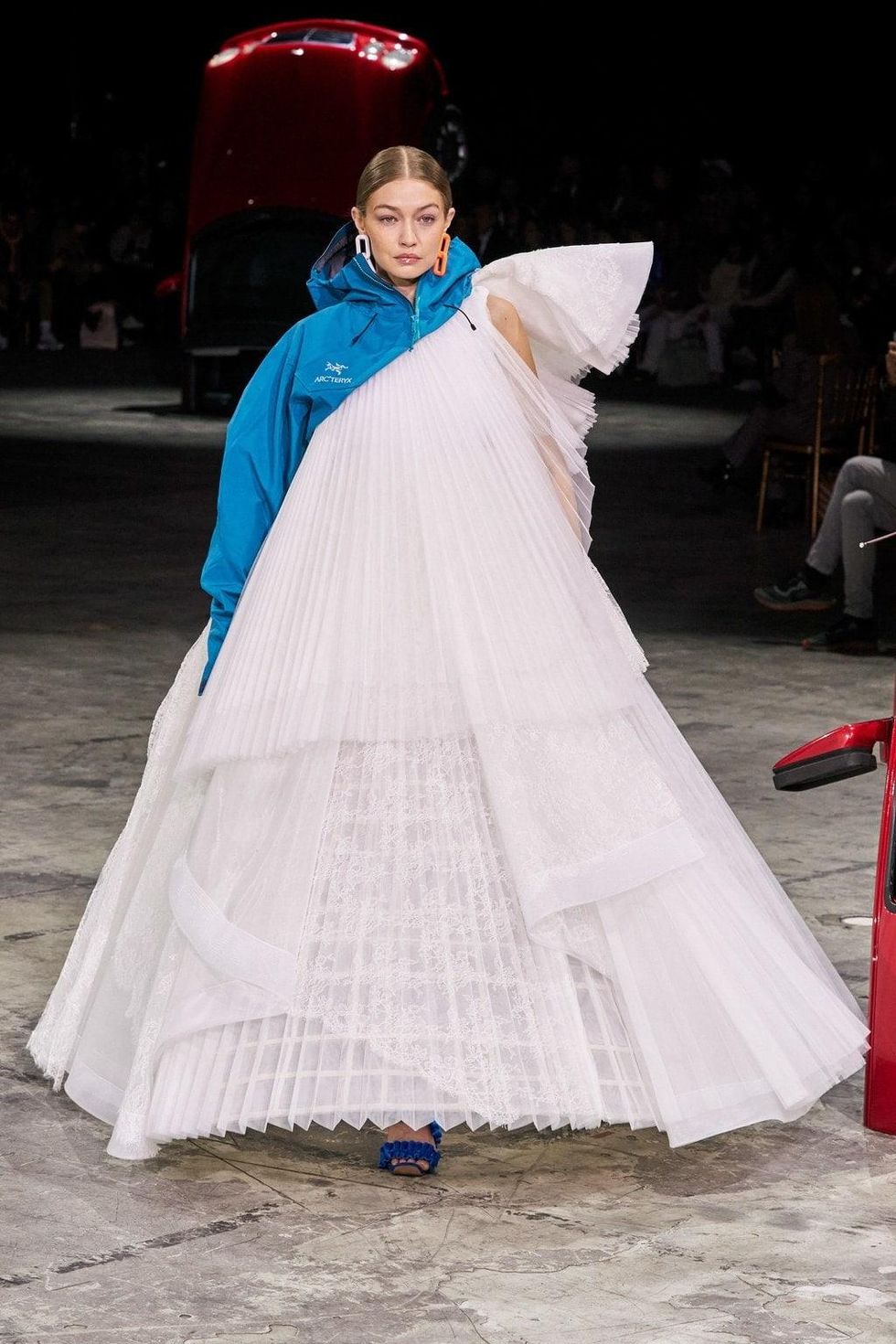 Gigi Hadid for Off-White 2020
Virgil is the current cultish superstar of American design. While currently the helm of the French label Louis Vuitton, he is still best known for his Off-White brand — one of the leading streetwear brands which has been seen on everyone from Serena Williams when she hosted the Met Gala, Kid Cudi in his recent dress on SNL, and even Hailey Bieber's wedding dress. He is also responsible for designing some of the most exclusive Nike sneakers in his infamous collaboration, The Ten. Off-White will undoubtedly be featured at this year's Gala and will remain a hallmark of the streetwear community.
Culture News
We thought it couldn't get better after Harry Styles in 2019, but the 2021 Met Gala is already our favorite.
The Met Gala hosts were just announced and they're a Gen Z dream: Timothée Chalamet, Billie Eilish, Naomi Osaka, and Amanda Gorman.

In any other year, the Met Gala would be held on the first Monday of May, but these are unprecedented times. Given that the gala was cancelled in 2020 and that the pandemic still rages on, there were doubts that 2021 would deliver a Met Ball. However, though delayed, the 2021 Met Gala will be held in September after (a potentially in person) New York Fashion Week.
However, to honor The First Monday of May in some way, Vogue Magazine announced the Met Gala chairs and co-chairs on Monday May 3rd, saying: "Gen Z superstars Timothée Chalamet, Billie Eilish, Naomi Osaka, and Amanda Gorman will serve as co-chairs, while Tom Ford, Adam Mosseri, and Anna Wintour comprise the evening's honorary chairs."
Each of the slated co-chairs has made distinct impressions on both their industries and the fashion world.

Timothée Chalamet is fashion's dream boy as much as he is everyone else's. The 25 year old star has been Hollywood's golden boy since his Academy Award nomination for his starring role in Call Me By Your Name (2017) and has consistently brought a blend of streetwear and high fashion to the red carpet ever since. With no stylist, he's forged relationships with designers on his own, resulting in an impressive array of iconic looks that play with color, shape, and gender expectations.
While we're eagerly awaiting his outfit choice for the night, the real question is: mustache or no mustache?
Naomi Osaka is the newest star of the tennis world, captivating audiences beyond the sport with more than just her athletic talent. From viral moments like rescuing a butterfly in the middle of the Australian open (which had us wondering if she was a real life Disney Princess) to using her platform to speak about issues like systemic oppression, Osaka is … just literally perfect? We'd be happy to see her doing anything, so watching her co-chair the Met will undoubtedly be a delight.
Her style has been noted on and off the court for her striking use of color and her signature sartorial irreverence. Osaka is not the first tennis superstar to act as a co-host — Serena Williams held the post for the last Met Ball in 2019 alongside Harry Styles and Lady Gaga, which are not bad footsteps to follow in. Naomi commemorated the announcement on Instagram with a slideshow of pictures of her co-chairs, the museum and ... Rihanna, with the caption, "oh we lit". We can't blame her.
Billie Eilish has been an instant icon in fashion for her streetwear-inspired oversized silhouettes and her unapologetic disavowal of what a young, female pop star should dress and look like. Experimenting with everything from her hair — which has been green, silver, black, and seemingly every color between — to bold prints and layers of jewelry, Eilish has become the face of experimental, daring fashion.

Her recent album announcement for Happier Than Ever has come with a completely new look to usher in her new era of music. Eilish debuted a blonde bombshell, pin-up inspired aesthetic on the cover of British Vogue, where she talked about being taken advantage of as a minor (which she revealed in her achingly gorgeous new track "My Power") and the hypersexualization of young girls in the industry. Eilish's new era seems to be one of taking control of her image and sexuality in a new way and on her own terms, and we love to see it.
Amanda Gorman is the newest star on the list, but has become a household name in her short time in the spotlight. The Inaugural Poet quickly became a star after performing her poem "The Hill We Climb" at Biden's Inauguration, which led to a spot at the Super Bowl and a deal with IMG.

The 23-year-old poet is focused on using her newfound fame to spotlight Blackness and on being a face for representation. She was recently on the cover of Vogue wearing an African-inspired printed dress by Off-White designer Virgil Abloh for the May 2021 issue of the magazine.
Her Prada headband and yellow coat were the fashion highlight of the Inauguration, and every one of her looks since then has proven her worthy of the Met Gala.
After the announcement, Gorman tweeted at the other co-hosts what we're all thinking: "See you soon legends."
See you soon legends @RealChalamet @naomiosaka @billieeilish https://t.co/DmZkXcW7DO

— Amanda Gorman (@Amanda Gorman)1620057866.0
This year's event will undoubtedly be smaller and more intimate (read: exclusive), but the co-chairs make us excited to see how the event embraces and influences the post-pandemic era of fashion and culture.

Film News
A film about the end of the world? It's hitting a little too close to home right now

If Jennifer Lawrence and Leonardo DiCaprio warned you the world was ending, would you listen?

Considering the fact that Leo has been crusading about the environment for years — okay, Climate Crisis King — between switching out his various 20-year old girlfriends and not much has changed, the answer is probably no.
This question is the (kind of) fictional scenario that serves as the plot to Adam McKay's Don't Look Up, a satirical, dark comedy which kind of hits a little too close to home. The new Netflix teaser trailer makes that abundantly clear.
Experience the be all, end all movie event of the year starring Leonardo DiCaprio, Jennifer Lawrence, and Meryl Str… https://t.co/52YlS1FnjG

— Netflix (@Netflix)1631109601.0
The movie is about the end of the world. Most films in the "apocalyptic" genre fall into one of four categories: psychological thriller filmed in bad lighting; blockbuster summer action film featuring lots of explosions and the latest Hollywood heartthrob playing a character whose defining traits are loyalty and guns; slapstick comedy with a goofy but lovable set of underdogs as the heroes; or the classic fantasy horror film where zombies or some other monster beget the end.

Don't Look Up is in a league of its own.
The film follows two low level astronomers — Leonardo DiCaprio sporting an atrocious beard and Jennifer Lawrence sporting atrocious bangs — as they find out a comet is heading straight to earth. But instead of chaos and action ensuing when they warn the President — played by Meryl Streep with Jonah Hill as her son … who is also Chief of Staff — absolutely nothing happens and no one believes them.
Like Anthony Fauci or Al Gore, the pair are faced with trying to convince everyone they're in danger while Leo has panic attacks in the bathroom and JLaw — relatable as ever — anxiously drinks glass after glass of wine.
Known for his work on Vice, The Big Short, and more, Adam McKay promises to deliver a smart, funny satire, especially armed with the impressive ensemble cast that includes … literally everyone.
If you're not watching it for the plot, which would be valid because we're living it, there's someone for everyone in the giant cast.
Only flashes of most of the film's big names make it into the teaser trailer — but just a glimpse is enough.
Ariana Grande, who was known for acting on stage and in Nickelodeon's Victorious, makes her first major silver screen appearance, alongside Scott Mescudi, aka Kid Cudi, another musician turned-actor. But that's not all! Not even close!
Our dear darling Timothee Chalamet makes an appearance — proving, as Dune and The French Dispatch also make their way to us, that he loves a good ensemble film — as does the inimitable Cate Blanchett, the king of chaos, Tyler Perry, and icon Ron Perlman, amongst others.
Don't Look Up meets us in the (not quite) post-pandemic era and its message seems more prescient than ever considering the combination of human ignorance and natural disasters that we've faced just in the past year.
But when Jonah Hill lists the "end of the world" meetings his character has had to sit through, we also can't help but think of our communal apathy and disaster fatigue. "Drought, famine, hole in the ozone — it's so boring," he laments — and we shiver because it's frighteningly true.
When the end of the world comes, the movie makes us question, will we recognize it? Probably not, telling my Leo's bathroom panic attacks in the trailer — which I imagine he does at home when he thinks too hard about the climate crisis. Us too.
Celebs: They're just like us!
So while it seems maybe a little too morbidly fitting to watch a movie about the world ending as people pretend it isn't, with that cast, of course we're going to watch it anyway.
The movie will be released in select theaters on December 10th, then make its way to Netflix on December 24th.
Watch the trailer now:
DON'T LOOK UP | Official Teaser Trailer | Netflix www.youtube.com
From Your Site Articles
Related Articles Around the Web