Charles Sykes/Invision/AP/Shutterstock
Brad, do you need money? Is the on-going legal battle with Angelina Jolie draining you? Is the single life too mundane? Between Pitt's elusive luxury cashmere sweater line and his elevated red carpet fashion, we couldn't help but wonder – is skincare really necessary?
Yesterday, September 21st, Brad Pitt launched his genderless skincare line, Le Domaine, with prices so high it reminded us that we should probably just be using The Ordinary products. Similar to Harry Styles' Pleasing brand, Pitt will remove himself from the spotlight and detach his name almost completely from it.
We are running out of skin surface area at this rate. Does every celebrity need a skincare line that all boast the same exact results? Especially when Le Domaine's, The Serum, costs a steep $385.
But what's equally important is that Pitt used Chateau Miraval to help him with this project.
Chateau Miraval is the winery he and Angelina Jolie owned together, however Jolie sold her shares following the divorce. Pitt and Jolie were married at the winery, and Pitt even conducted his Vogue interview there.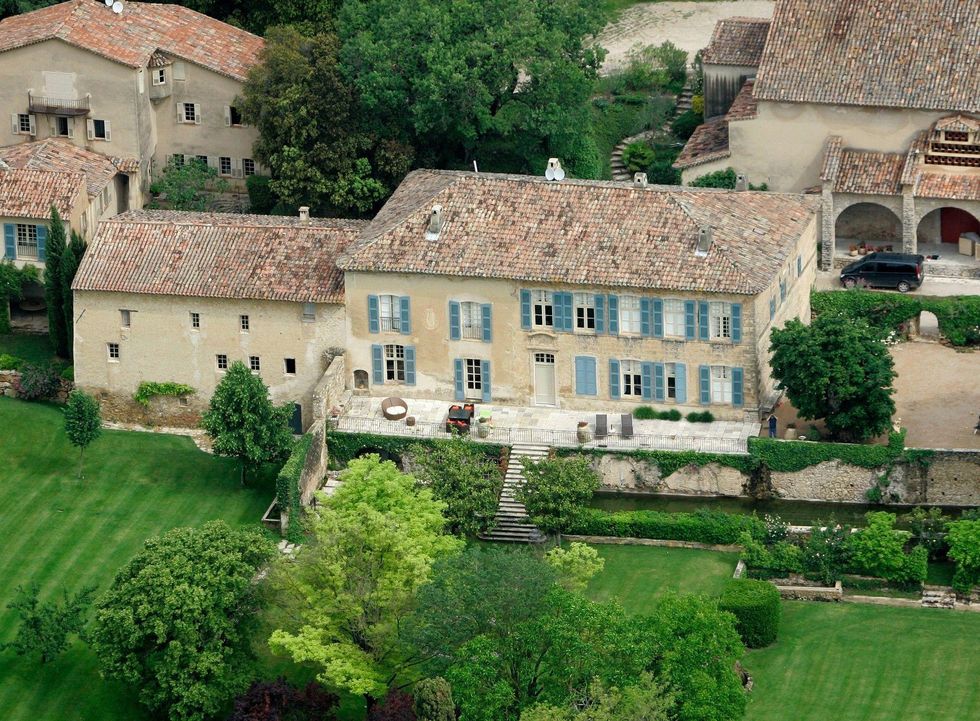 Shows the Miraval property in Correns, near Brignoles, southern France, which was formerly owned by both Angelina Jolie and, now solely owned, by Brad Pitt.
Lionel Cironneau/AP/Shutterstock
The two are involved in an on-going legal battle over the estate. CBS reported Pitt sued Jolie for the "unlawful selling" of her share of the property. Just this week, ironically, Jolie counter-sued:
"In a countersuit filed this week, obtained by CNN, Nouvel LLC, Jolie's former company, [said]…Pitt "and his allies" took "illegal and malicious actions" with the intention to "injure" Jolie and Nouvel, "by devaluing its investments and depriving it of its proper role in the management of Chateau Miraval, the world-famous producer of rosé wine."
While it's suspect that Brad staged all his press at the Chateau the exact week Angelina sued him, I can't help but focus my attention on something a little less litigious and pricey – is he actually dating Emily Ratajkowski?!I
Music Lists
Kim Kardashian, Kendall Jenner, Bella Hadid, Julia Fox, and more have sported bleached brows. Should you?
via Shutterstock
As a kid, Teen Vogue and Seventeen were my bibles. Looking back, they had me in some ridiculous get-ups. But hey, I thought I was slaying. Needless to say, my middle school Facebook albums are locked.
But now, as someone who is very online, I don't count on magazines for fashion advice. God forbid I only jumped on trends when The New York Times reported them … I'd be laughed out of the city. I find out about the hottest trends the old-fashioned way: street-style spotting.
If you see me taking a long lunch outside, I'm probably people-watching. Whatever the fashion girls are wearing in downtown New York or the trendy neighborhoods of Los Angeles, I take note, then scrounge the vintage shops for similar vibes. For fall? I'm seeing lots of metallics, long skirts, those Birkenstock clogs, and … ASICS – you can't win them all.
I also get my cues for beauty trends the same way. Red hair is back. The #CleanLook isn't going anywhere. But most surprisingly, the girls are bleaching their brows.
I started seeing this last year. One of my coolest friends bleached and dyed her eyebrows last winter, but honestly, I thought she was just going through something. Turns out, she was onto something. All across my feeds, I'm seeing people across aesthetics bleaching their brows. First, the beauty vloggers. Then the Insta-famous celebs and the cool TikTokers. Now, Julia Fox, Kim K, Kendall Jenner, and even Bella Hadid have hopped on this trend.
So the question begs: should we all be bleaching our brows?
With experimental style and Euphoria-inspired beauty dominating the trendscape, maybe this extreme-seeming beauty trend isn't so out of the blue. I've seen creators use their bleached brows to enhance their eye makeup and experiment with drawing on their brow shape. And with Halloween around the corner, the possibilities for face paint and all-out makeup just got infinitely higher.
So yes, I'm thinking about it. And you should too.
Why not? It's a fun and reversible way to spice up any look, instantly seem cooler and become one of those cool city girls people look at for style advice. Oh, how the tables have turned. And if you look like an alien — and not in an alternative, Grimes way — you can always dye them back. Simple.
same principle as dyed hair
. You gotta step up your brow care routine. And here are the products to help you do it:
All products featured are independently selected by our editors. Things you buy through our links may earn us a commission.

Nuele's slick, sleek serum is a clean beauty favorite. This ultra-clean serum is a 2-in-1. It styles and holds throughout your day — all as it moisturizes, protects, conditions, and reduces frizz without any buildup. Healthy brows start here.
This revolutionary serum is infused with a blend of vitamins, antioxidants, and amino acids to revitalize your brows to make them fuller and bolder, no matter how they start. Sparse, thinning, over-plucked, or, yes, bleached brows, beware.
This is not the first Kosas brow product to go viral. First, their brow gel became a TikTok staple. Now, this brow-boosting serum will give you naturally fluffy brows — more for your Kosas gel to fluff up.
Biotin is the star ingredient of this clinically-tested brow serum. With nourishing ingredients and amino acids, this Moon Boost formula works well on both lashes and brows.
When all else fails, good old-fashioned castor oil and a spoolie is all you need for strong, full brows. Brush it through your brows, your lashes, and your baby hairs for your best, strongest, and healthiest hair everywhere.
Interview and Photos by Jordan Edwards
It's been a wild couple of months for Malibu Babie. Two massive tracks she co-produced, "Her" and "Super Freaky Girl," dropped on the same day. "Barbiegurl," her take on the Aqua classic, recently trended on TikTok and Instagram reels. Now comes her latest single, "IBTC" (stream below).

She started making music when she four, but didn't turn to producing until she was a senior in college. Just a few years ago, Malibu Babie was living in Nashville (she's a Vanderbilt alum and former All-SEC dancer). Now she's the coproducer of a number one hit with a surging solo career.

We caught up with her at Prescription Songs in Los Angeles to talk about her move to the West Coast, recent success, and building a career as a solo artist.

What inspired you to write "IBTC" Did the music exist first?
I really wanted to make a prideful party bop about small boobs! I wanted to make a song that 15-year-old me needed--something high energy that would make that girl feel confident about her body! We built the music around the energy we wanted it to embody. The chords in this song are actually interpolated from a '90s dance record, "Everybody Everybody," and they really encapsulated the feeling we wanted it to have. Once we had those two pieces, we went from there!

Why did you decide to pursue this solo music project?
I simply had to! I always say, am I chasing the dream or is the dream chasing me? It comes from someplace deep within. It's the drive--knowing that you're supposed to do something that honestly just lives in you. Since I first started doing music, I've always been an artist--writing and making songs for me first, and then others. I want to trailblaze for women producers, artists, and performers and show that we can do it all, be it all, and make the world twerk while doing so.

Did you know what you wanted Malibu Babie to sound like ahead of time, or did it form as you started making the music?
Not at all! It came together in the studio completely organically. Once I had created that first song, I knew something about it felt truly ME and continued to create from that place.

What's the secret to a good interpolation?
Knowing how to reinvent it! Mixing genres, old and new, imagining it in a fresh way...that's the key!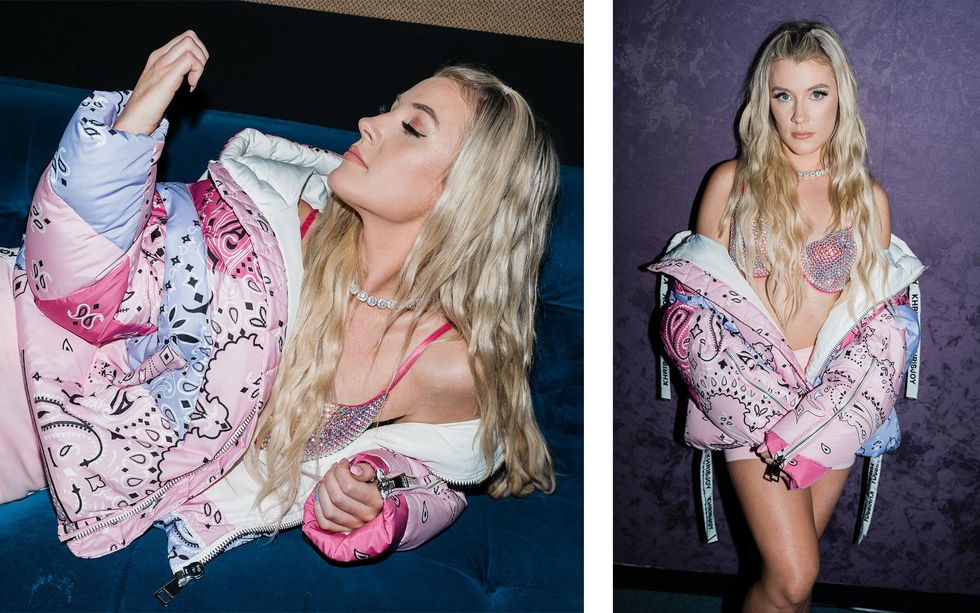 You mentioned one of your favorite years for production is 2004. What is it about that era that you're into?
Really 2000-2010 was such an iconic era for me! I could be biased because those were the songs that I grew up to and experienced those classic life moments to. But there was something about that time period that is so special. Music (at least what I was listening to at the time) was really bombastic, simple, anthemic--people committed to melodies and sonic tones that were just absolute earworms. So much of it was danceable. Honestly, it encapsulated a lot of the trends that I try to put in my music now!

In terms of production, how do you approach a Malibu Babie track as opposed to a song for someone else? Is it hard to step back from your own songs and see them through a producer's eyes?
When I approach it for me, it is a totally different feeling and way of creating. I have to really get centered and channel the energy and intention I want that song to embody, whereas for others it feels more external. Sometimes it is tricky to have the objective distance with my own music, because it truly is an extension of me, which is why I love to bring in collaborators who understand and get me and will help to make tricky decisions! It definitely is magical, but also challenging, to be deeply embedded in every aspect of song creation, so it's great to surround yourself with trusted ears when you can!
Malibu Babie: Artist/Producer (Short Documentary) www.youtube.com
We discussed what it was like to work on "Super Freaky Girl" in the video interview (watch below). Why do you think that song got so big so quickly?
Two words: Nicki Minaj. Her writing, vision, delivery, and rollout of this song was flawless. I think the timing of what the world and audience wanted in that moment from music lined up beautifully too. But truly, Nicki brought a magic to it that was undeniable and her team executed it to the highest level.

Can you listen to a song and enjoy it without dissecting the production?
That is the fun part for me! So in short, absolutely not. Haha!

What do you have coming up?
In addition to working on records for a variety of artists I love and admire, I'm most excited about the rollout of my own artist career! The release of "IBTC" and the rest of the EP rollout leading into new music coming in 2023.