Deposit Photos
Updated: 9/8/2022
In a surprising twist of events...it appears Kourtney Kardashian woke up and chose irony. Kourt has been named Boohoo's new Sustainability Ambassador....where do I begin?
Can we start with the fact that Boohoo, a fast fashion brand, is claiming they are at all sustainable? And to top it all off...their face of "sustainability" is Kourtney Kardashian, whose water intake literally had to be flagged by the city of Los Angeles? This has to be some episode of What Would You Do?
I bet Kourtney did this on Kris Jenner's day off, because there is no way my PR Queen would let this happen...I need a drink.
The summer's hottest gossip is in and it's scathing: celebrities don't give a damn about the global climate crisis and it shows. I can just hear the gasps now as the room falls silent.
Let's start with Elon Musk's nine-minute flight that's only five stops on the train. So much for Tesla being the pioneer of environmentalism, or whatever it was they claimed when they started. When it comes to celebs taking frivolous flights that pour CO2 into our atmosphere, Musk's private jet flight is only the tip of the iceberg.
Taylor Swift tops charts in more ways than one…leading with the most private jet flights taken. The most CO2 emitted. Even if she claims people borrow her private jet, why?
While California faces a drought worse than any since the 1800s…I wonder if anyone's listening. I wonder if we truly care that our environment is imploding. Is it worth defending celebrities if they refuse to acknowledge they're part of the problem? And why aren't they interested in being part of the solution?
Kim Kardashian, Kourtney Kardashian, Sylvester Stallone, Kevin Hart, and Dwayne Wade all received notices to cut back their water usage. They surpassed consumption by 150% since last year.
Before you start telling me about DWade's stats or how Kevin Hart cracks you up…I know. I love these selfish celebs who blatantly ignore the fact that people are dying so they can live a life of luxury.
No seriously. I get they have so much money they don't know what to do with it. But here's an idea, instead of all the wasteful jets and water use, donate to environmental charities!
We all make sacrifices to keep our planet going, so I'm sure Kim K can go without the fountain running for weeks on end. And, much to Elon's horror, public transportation won't kill you. Do better.
Kathy Najimy, Bette Midler, Sarah Jessica Parker Hocus Pocus - 1993/Disney/Kobal/Shutterstock
Kathy Najimy, Bette Midler, Sarah Jessica Parker Hocus Pocus - 1993/Disney/Kobal/Shutterstock
It's that spooky time of the year is here. All Hallows Eve is right around the corner, so it's time to break out the fake skeletons, light the jack-o '- lanterns, and re-watch Hocus Pocus. Oh, wait… Hocus Pocus 2 is out, I can binge-watch them both — "Come we fly''!
Since the movie was released in 1993, I couldn't watch it then — I wasn't born yet. But it's been a Halloween tradition in my home ever since I can remember. Bette Midler, Sarah Jessica Parker and Kathy Najimy know how to turn up the spookiness. I make my best friends watch it, my partner watches it every Halloween since we started dating, and I'll definitely make my kids watch it, too.
Each and every year, the Sanderson sisters light the Black Flame Candle and take me on an unforgettable journey. And although I know most of the dialogue, it's my Halloween must-watch. It's close to 29 years later and we finally have the sequel.
Some sequels can be a total letdown — we all want to forget Home Alone 3, 4 and The Holiday Heist were ever made. But that didn't stop Disney+, who took on the challenge and produced Hocus Pocus 2. Early reactions have been pouring into the cauldron and they're all incredibly positive.
Fans claim it to be as fantastic as the original — but I definitely need to judge for myself. In the meantime — before its release — here's another look at the trailer.
In honor of the sequel's long-awaited release, the Sister's iconic cottage is now on Airbnb! On October 20th, two lucky guests will have an exclusive stay at the recreated, iconic cottage that looks as though it's been frozen in time for 300 years.

So, while I'm getting myself psyched to see the Sanderson sisters come back to life again, I went all out and carted a few things to fill my room and tummy.

Here are all the spooky things I picked up from Amazon:
All products featured are independently selected by our editors. Things you buy through our links may earn us a commission.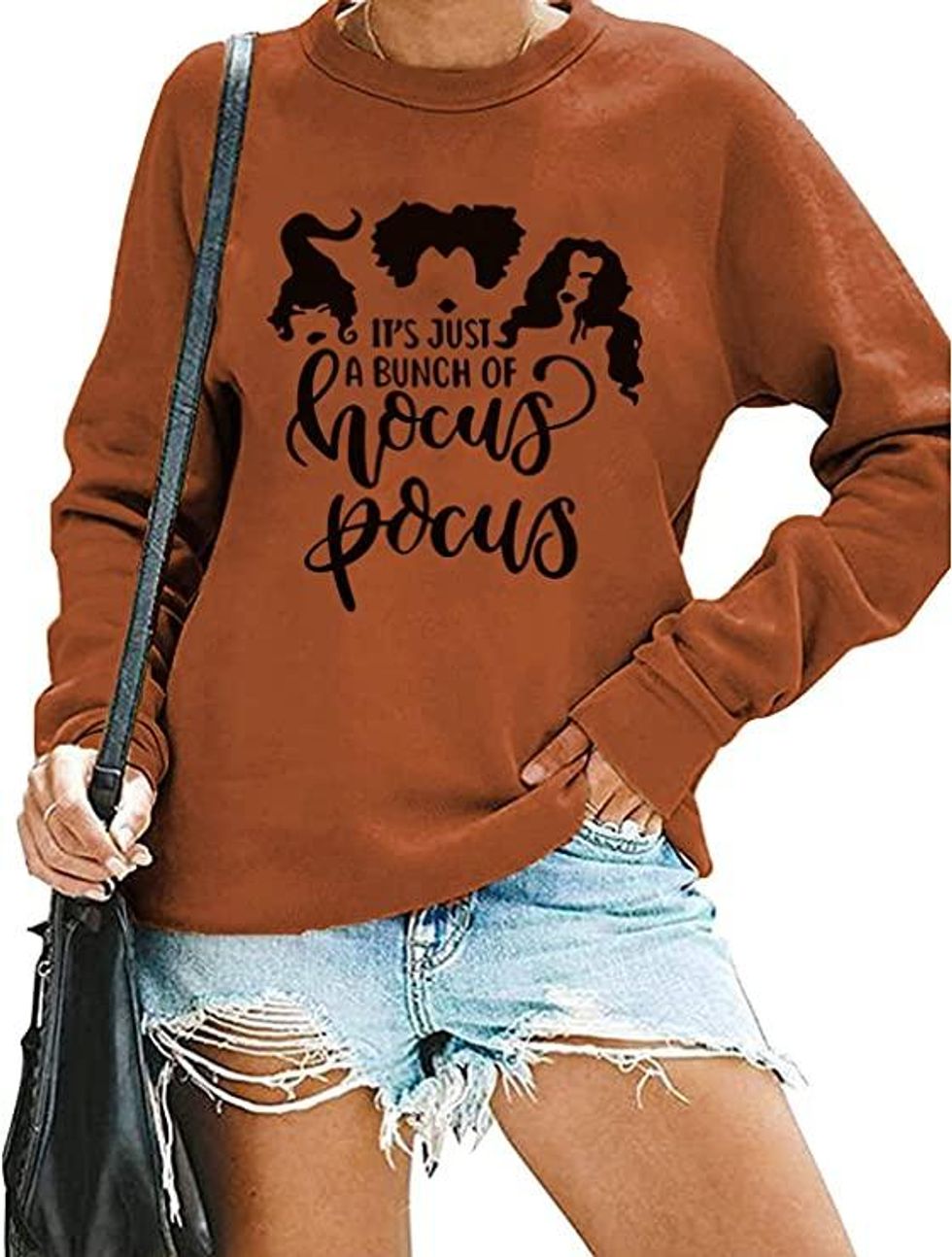 via Amazon
You can't watch a movie without being in a comfy, and what better than this Hocus Pocus sweatshirt? It's lightweight, soft, and breathable. Plus, it's a little big on me which — precisely how a sweatshirt should be.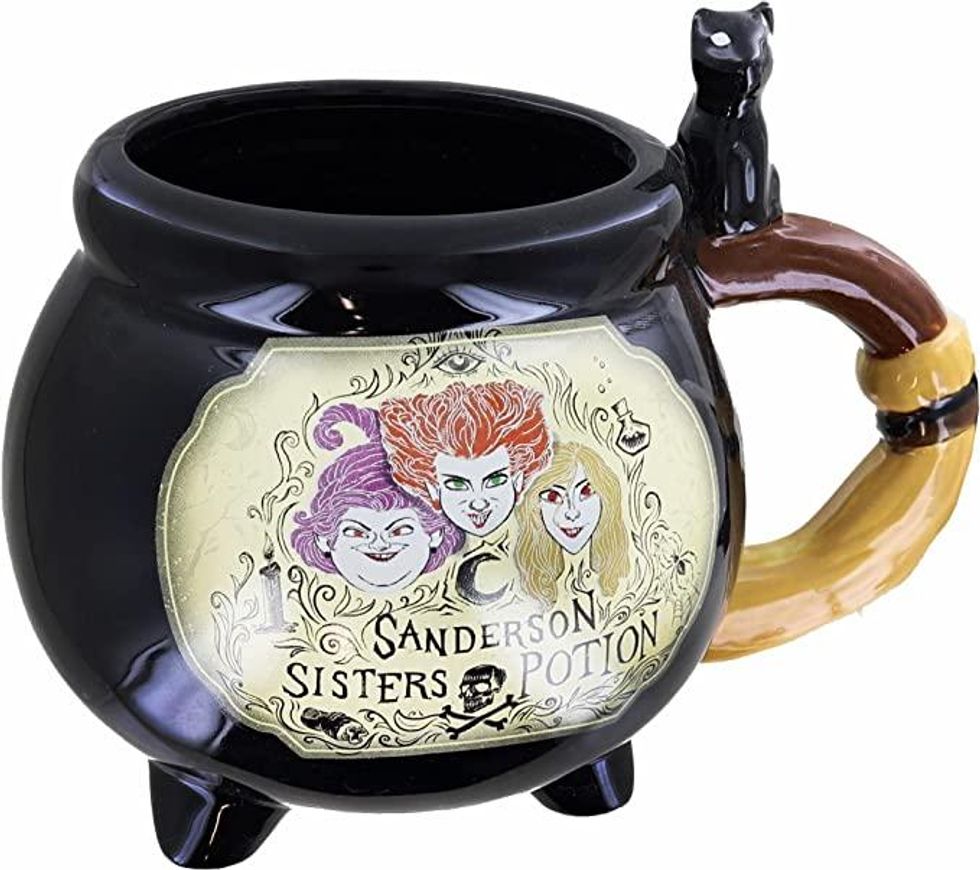 via Amazon
Yes, I actually picked up a 3D ceramic cauldron-shaped mug so I can sip a steaming cup of hot chocolate — with marshmallows of course. All while watching the sisters conjure their latest concoctions.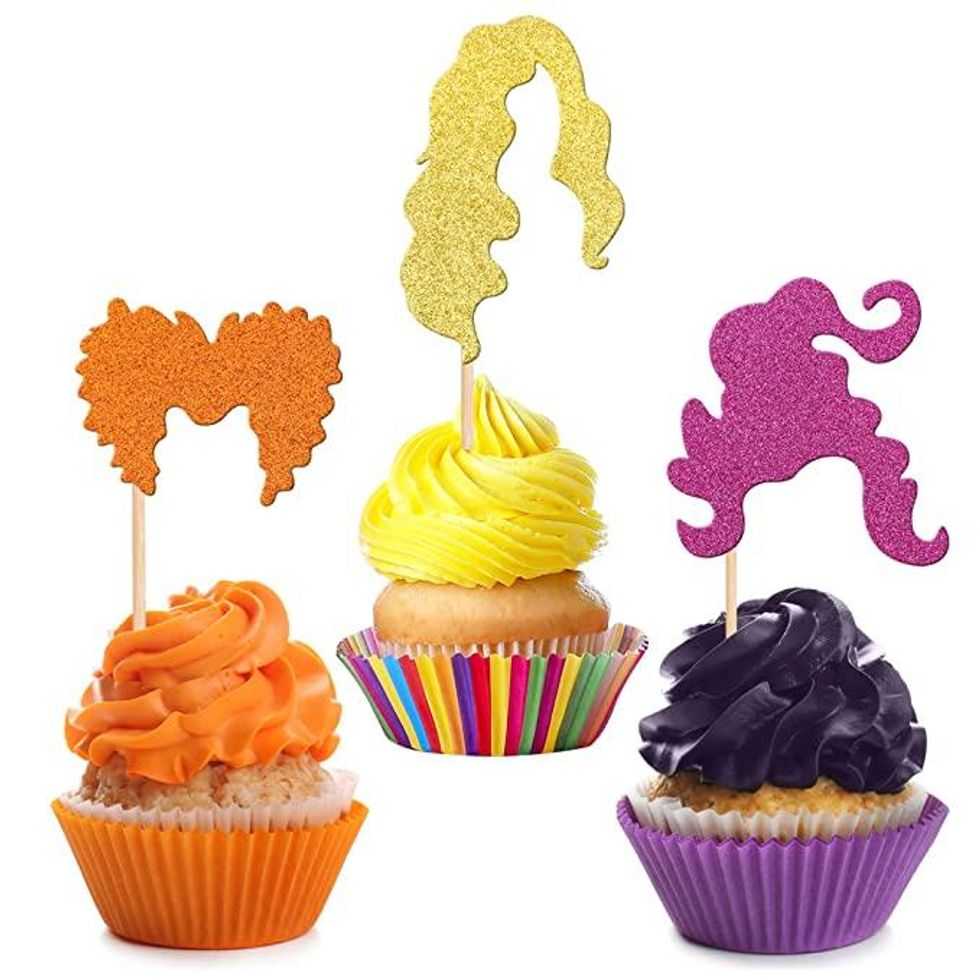 via Amazon
Sure, I have Candy Corn and Sour Gummies, but I'll have to bake my special vanilla with salted caramel cupcakes for the occasion. They'll definitely make the night.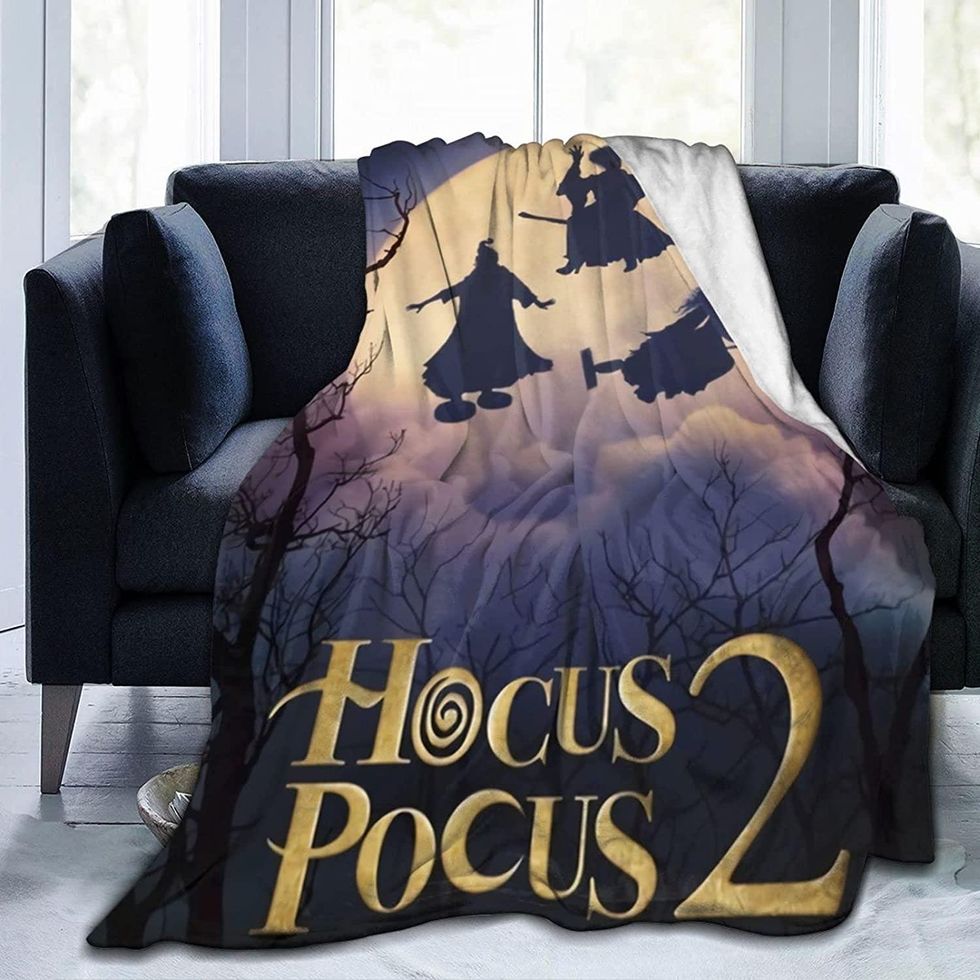 via Amazon
You cannot watch a scary movie without cuddling up under the blanket. This Hocus Pocus 2 flannel is super soft and ideal for every season. Lying under this throw in front of an open fire as the only source of light makes the season eerie.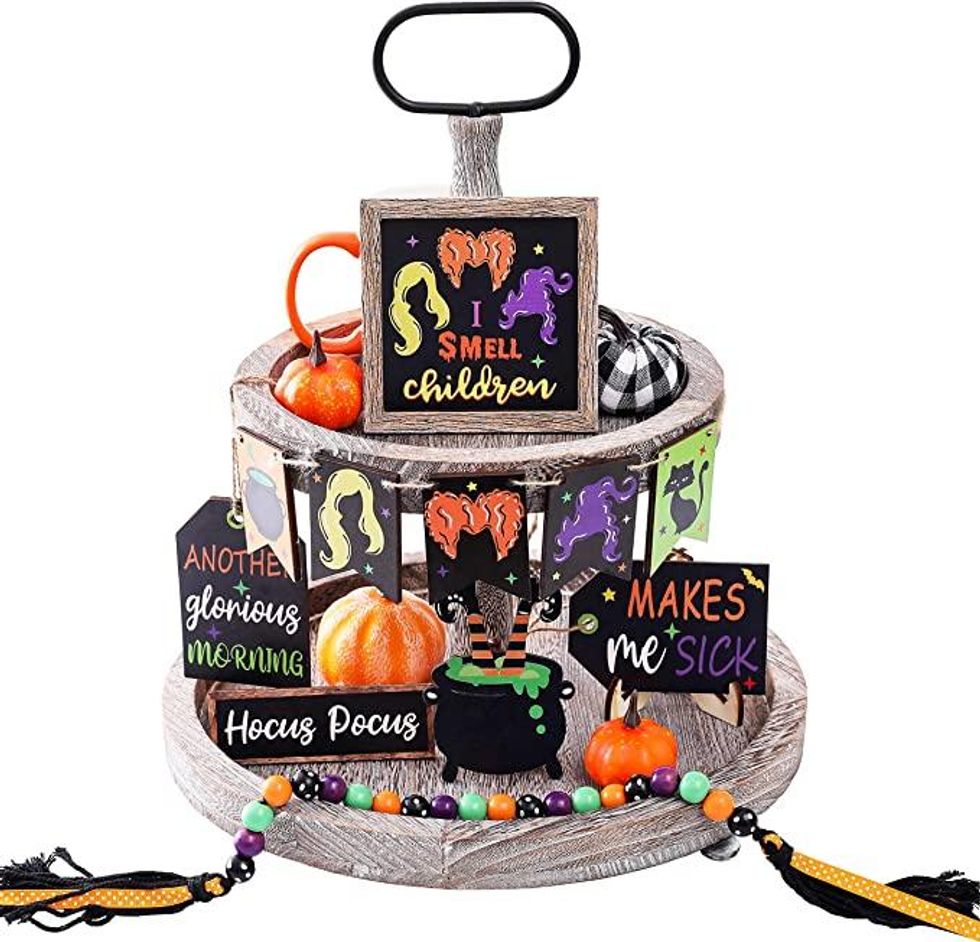 via Amazon
Trays are not usually my first buy, but I had to cart this puppy. But it holds all my sweets and cool cupcakes and is the piece of the puzzle that makes this night come together.
CULTURE
Emma Chamberlain's Architectural Digest Tour just dropped, and we found some dupes you can buy now.
via Architectural Digest
Turns out, all you have to do to become besties with Emma Chamberlain is ask her about her corn side tables. I'm making note.
The
coolest 21-year-old in Los Angeles
just gave Architectural Digest a tour of her 50's home, and of course, it's the perfect mix of eclectic and classic. Just like her dynamic fashion sense — I obviously follow her
3-piece outfit formula
to a tee — Emma's home decor style mixes and matches different elements into a charming amalgamation that somehow makes sense.
If you're anything like our editors, the Architectural Digest Open Door tours are your bible. And we've been sounding off about Emma's all day. Every room hits. The Instagrammable dining room. The Mario Bellini sofas. And, of course, the green kitchen! It's like a Gen Z update of Dakota Johnson's famous olive green kitchen — complete with a drawer of her own coffee brand. Legends only.
There's so much to say about this tour. The funky pops of the color. The neutral bases. Emma's cool girl beer pong finesse. My personal favorites: all the different bathrooms. If you haven't seen it yet, run — don't walk:
Inside Emma Chamberlain's Radiant New Home | Open Door | Architectural Digest www.youtube.com
What I love most about Emma's home is how accessible the decor seems. It seems relaxed enough for hanging out with friends but also impressive enough that it's already going viral on social media. It's mid-century modern with an emphasis on the modern.
And let's not forget: Emma has money money. She's one of the most famous Gen Z faces, is no stranger to a major fashion campaign or brand deal, and has her own thriving personal brand. Yet, her gorgeous home doesn't feel unapproachable. Or like a museum. Or, worse, unbearably gauche.
Instead, though many of her statement pieces are designer or custom-made, the basic tenets of her design philosophy are easy to replicate with dupes. By starting off with a neutral base, she adds fun and personality with strategic color placements, electric trinkets, and conversation starters in every room. I.e., the poolside corn. Enough said.
Oh, to be that cool — you may think, watching Emma float around her mansion. But you can recreate the vibe without the millions in the bank and renovation fees! By adding some dupes and decor to what you already have, you too can create the Emma effect in your own home.
Here are some products to get you started: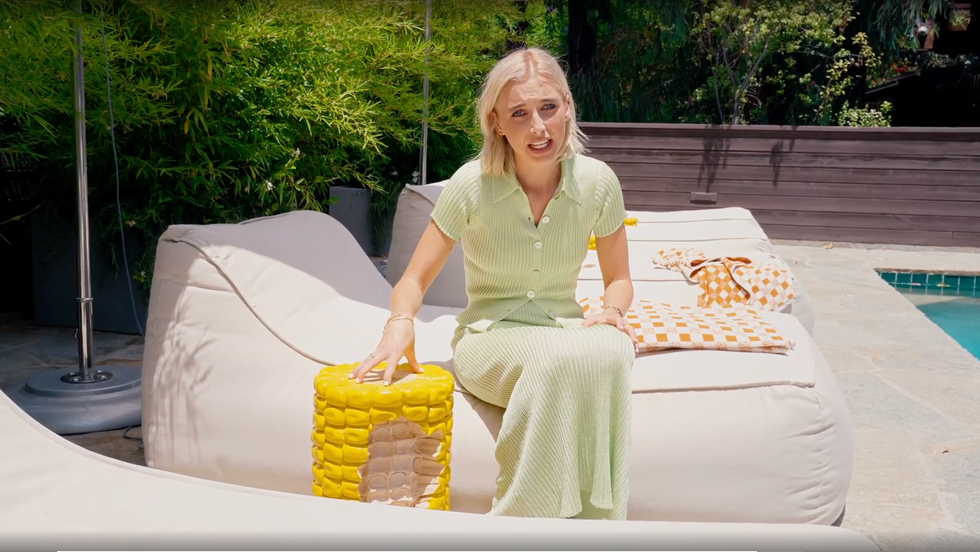 via Architectual Digest
It seems even chic stars like Emma Chamberlain shop on Amazon. Emma bought multiple corn stools for her poolside table, which I understand completely. They're irresistible. I think these are the exact ones she has — and they're on Amazon! She also has a pineapple one, which you can find on Urban Outfitters.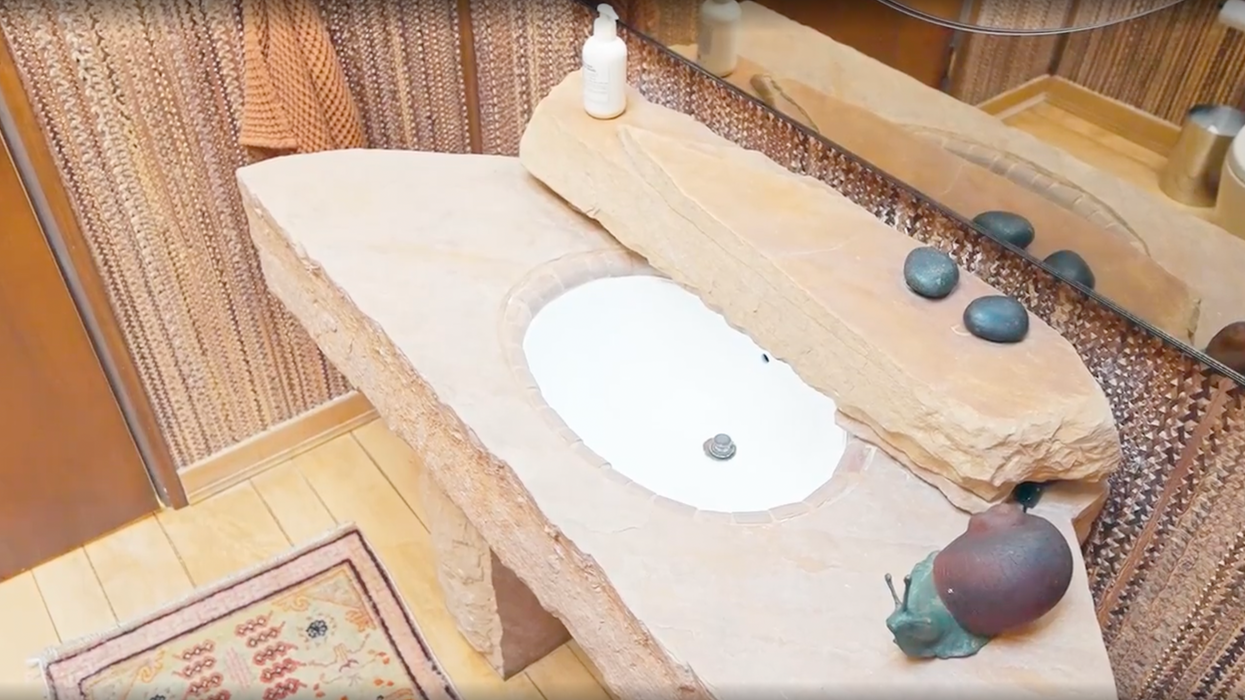 via Architectual Digest
In any AD tour, I look forward to two things: the kitchen and the bathroom. Neither of Emma's disappointed. Her multiple bathrooms are all completely distinct. The first-floor bathroom is my personal favorite — especially because of the little snail figurines. So cute! And so easy to replicate in your own home. This cute little guy is available on Anthropologie. And if snail decor becomes what cow decor was last year, you'll want to snatch this up quick before it sells out.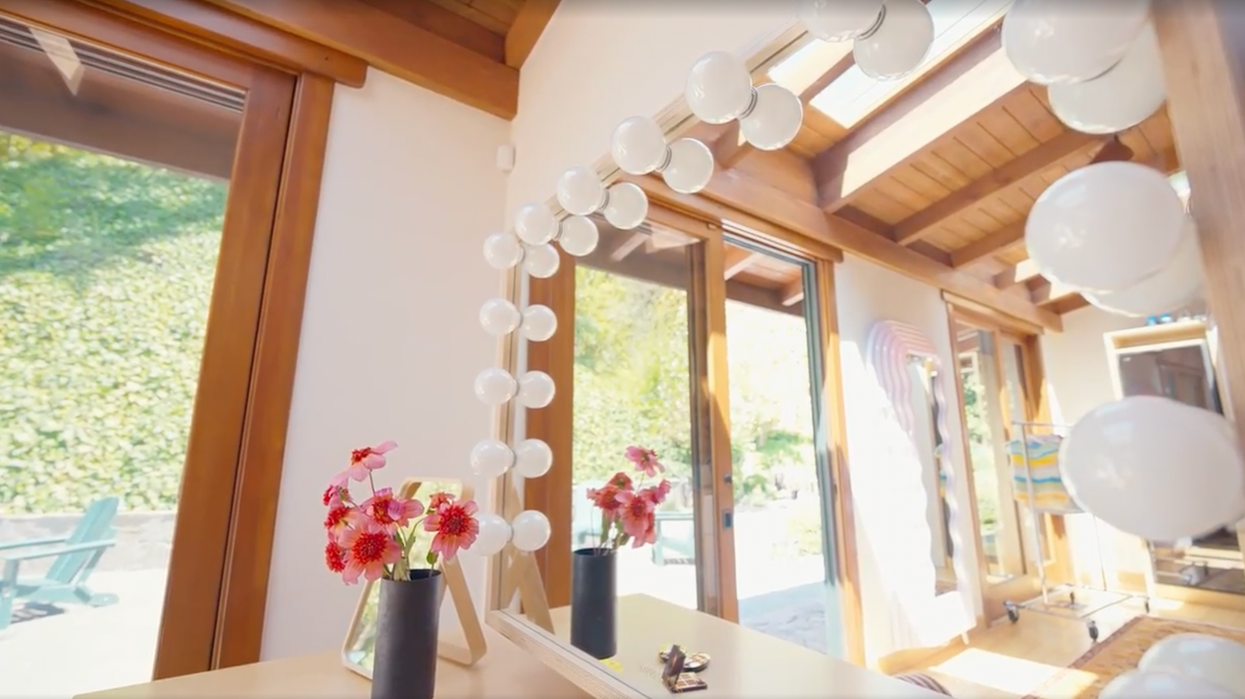 via Architectual Digest
Emma spends most of her time at her vanity talking about her nails. I'm pleased to report that, like Emma, I also paint my own nails — though I use the Le Mini Macaron set because I don't have a whole vanity to dedicate to mine — but we digress. Emma says an easy way to add personality is to spice up functional objects, like mirrors. Her vanity mirror is adorned with lightbulbs, like an old Hollywood dressing room. This Vanity Mirror gives you perfect lighting every morning along with that Emma aesthetic.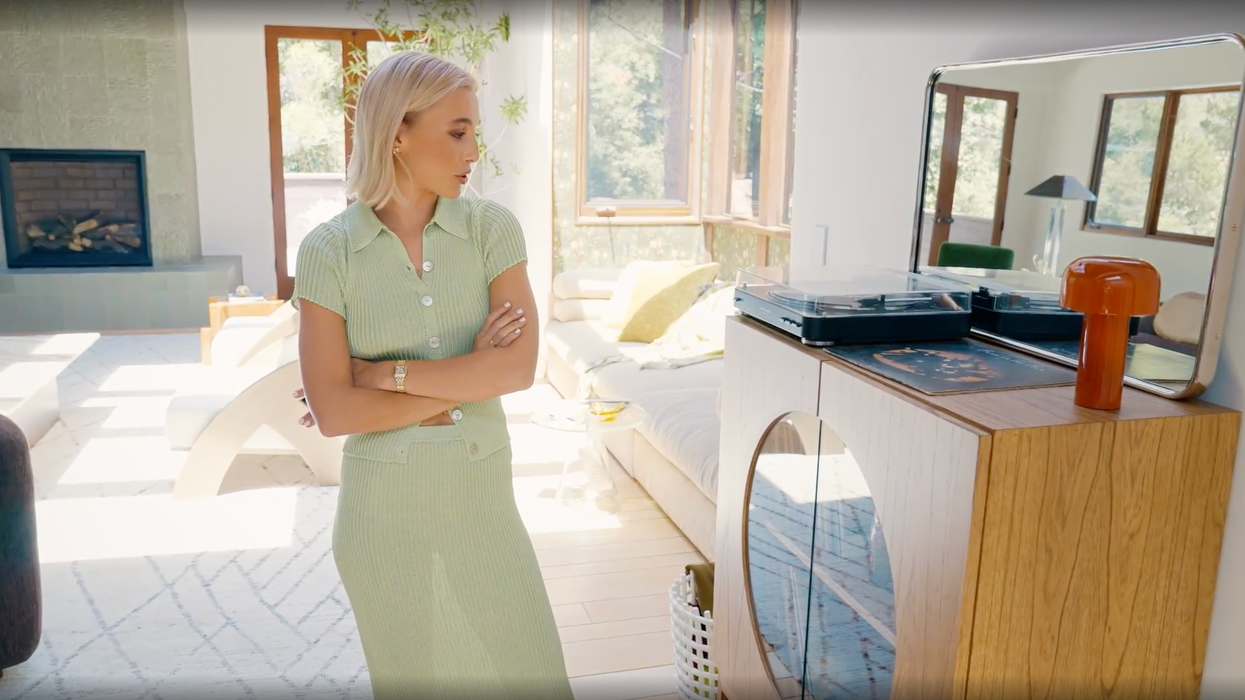 via Architectual Digest
Though Emma doesn't use her record player much, it's all about the vibe! That I can relate to. You have to have one, even if it's just aspirational. Vintage is cool, but thrifted record players always seem to scratch my records the few times I get them out. 1byOne combines that cool, classic look with functionality for a sweet sound. That way, if you ever play it, it will be worth it.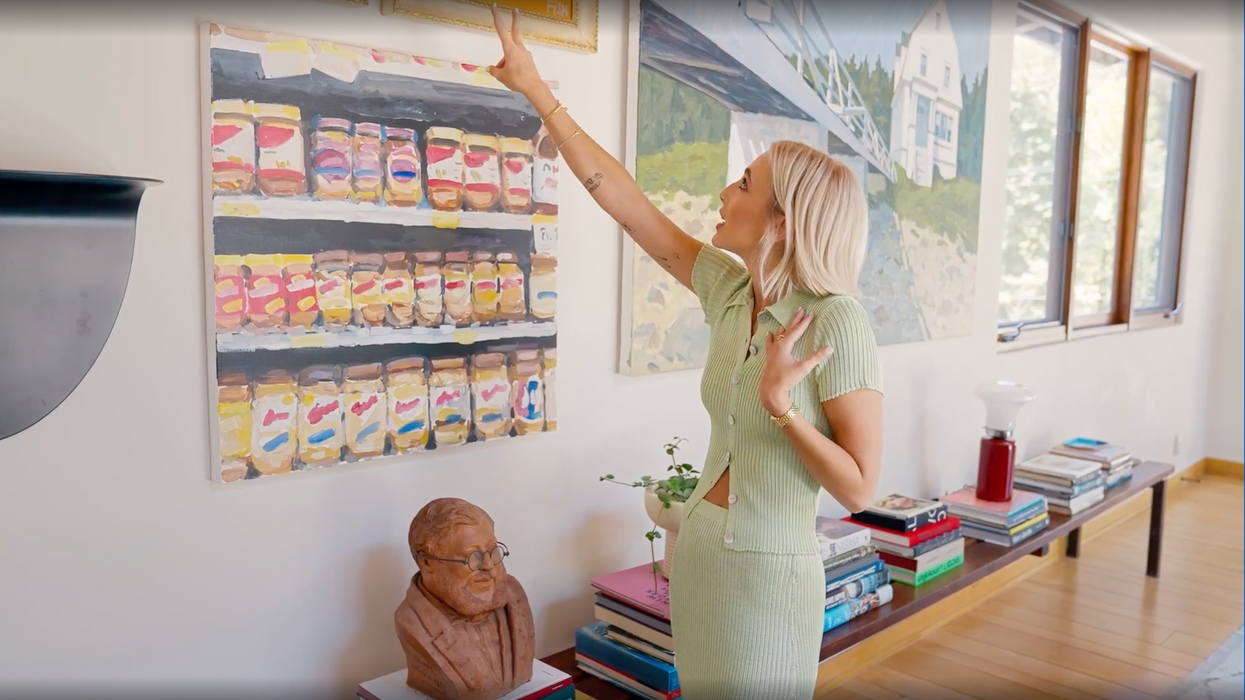 via Architectual Digest
Art is an easy, accessible way to liven up your space. Most of Emma's art is painted by her father, which is convenient for her … not so much for us. But you're in luck! Society6 sells eclectic picks for every personality. Brighten up your home with framed prints in every room with this easy, Emma-inspired decor hack.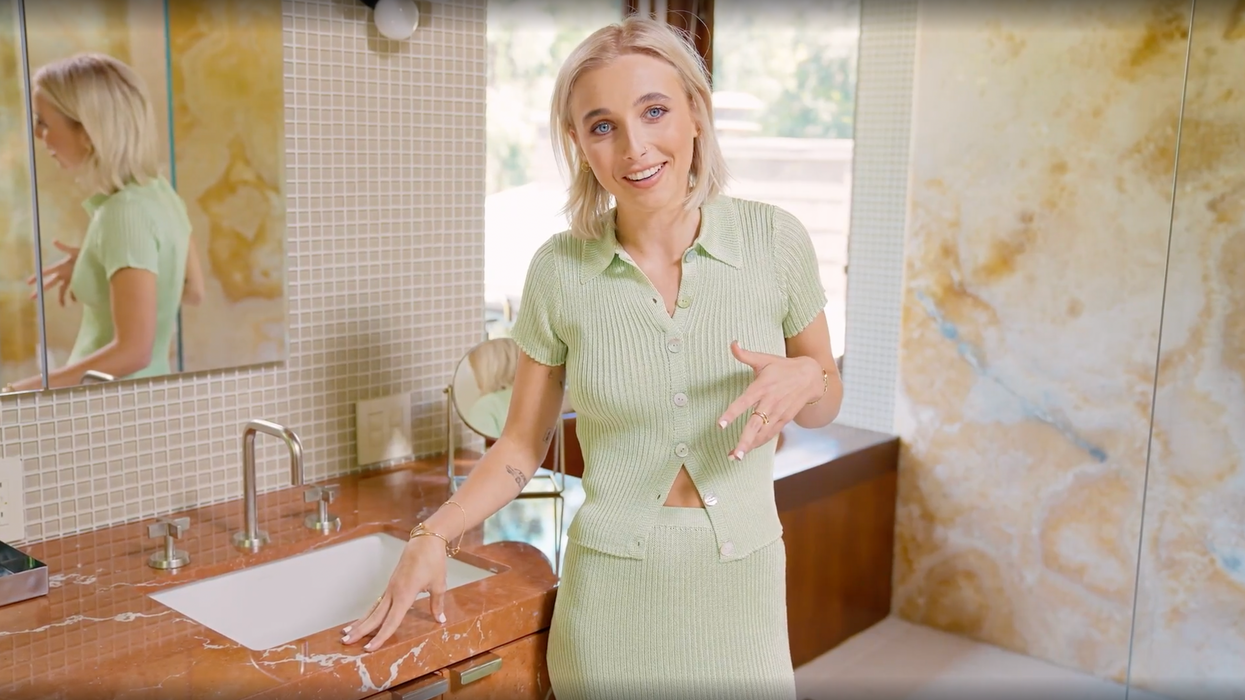 via Architectual Digest
Despite her neutral furniture and wooden cabin-like paneling, Emma's apartment manages not to look too derivative. This is largely due to her playful use of texture. Not enough can be said about that green marble in the kitchen. But don't sleep on the brown marble in the bathroom (which has a balcony … c'mon) and the blue tiling in the other bathroom. Not all of us can afford to knock down and rebuild entire rooms. At least not without making our landlords very angry. But texture goes a long way. Try contact paper for a removable way to add personality to your kitchen and bathroom — and cover up some of that old, 80s tiling.