Top Stories
The New Tampa PD initiative is startlingly similar to the dystopian film.
So what was it all for?

Why did we all have to squint through the dimly lit cinematography of Minority Report, watching Tom Cruise get his eyes gouged out and being forced to root for a cop, if we, as a society, weren't going to learn the one lesson it was trying to teach us: that you can't predict crime.
Minority Report has a 90% on Rotten Tomatoes — which is probably generous, but still — and lives on in the cultural lexicon as a warning. When referenced, people are usually pointing out corruption within the system or forewarning us about the potential evils of the powers that be.
In the past, it had been compared to the school-to-prison pipeline, which the ACLU defines as: "a disturbing national trend wherein children are funneled out of public schools and into the juvenile and criminal justice systems. Many of these children have learning disabilities or histories of poverty, abuse, or neglect, and would benefit from additional educational and counseling services. Instead, they are isolated, punished, and pushed out."
In effect, this culminates in policing in schools, zero tolerance policies, underfunding in low income communities, and lack of resources. All of these combined, money that could be going to student learning instead goes to pushing out lower performing students, who are often at higher risk of being incarcerated.
Even more harrowing than this indirect analogy, however, is the new Tampa Police initiative which literally sounds as though someone watched the first five minutes of Minority Report and didn't get to the end.
The agency has a separate program that uses schoolchildren's grades, attendance records and abuse histories to labe… https://t.co/gtIYDl1KDT

— Julia Davis (@Julia Davis)1627274974.0
According to the Tampa Bay Times, "Pasco Sheriff Chris Nocco took over in 2011 and set out to transform the Sheriff's Office into a cutting-edge data-driven machine. The result is an intelligence operation that monitors, intimidates and harasses families across the county."

The Sheriff's Office apparently sent out a four-page notice to people they deemed "prolific offenders" as part of the "Prolific Offender Program."
The letter read: "You were selected as a result of an evaluation of your recent criminal behavior using an unbiased, evidence-based risk assessment designed to identify prolific offenders in our community."
The letter used language like "accountability" to warp the language of activism abolition to fit its own agenda of blatant targeting and over-policing.
An investigation into the program revealed that it used school district data, like grades and attendance, to identify people for the program.
And though the common myth that states plan new prison capacities using inner-city test scores is false, the Pasco Intel program really did classify potential criminals based on academic performance.
(!!!) "The Times also found that the agency has a separate program that uses schoolchildren's grades, attendance re… https://t.co/yMuPA6c0qE

— Caroline Orr Bueno, Ph.D (@Caroline Orr Bueno, Ph.D)1627280373.0
But don't worry! Despite the recent mainstream attention to the idea of police abolition and the blatant racism ingrained in the US system of policing, the Tampa Police Department has claimed that "racial profiling is not an issue." Phew!

But despite their claims, national outrage from the program sparked some change.
At first, wary of the Office's access and use of Pasco school district data, some national charities pulled out their funding — having adverse effects on the schools themselves. However, soon after, national and state groups came together to speak out against the program, including the NAACP Legal Defense Fund, the Southern Poverty Law Center, CAIR Florida and the Electronic Frontier Foundation.
The solidarity has since made Florida courts propose a bill to limit this behavior in the future — but the fact that this even has to be done is proof that we live in the worst timeline.
Pasco Sheriff's Office (FL) creates lists of people it considers likely to break the law based on criminal historie… https://t.co/dSvfjCXJoQ

— Julia Davis (@Julia Davis)1627274717.0
Pasco Sheriff's Office (FL) creates lists of people it considers likely to break the law based on criminal historie… https://t.co/dSvfjCXJoQ

— Julia Davis (@Julia Davis)1627274717.0
MUSIC
Sure, rock is changing and fading out with the times, but there was a sliver of time where rock stars were pop stars and vice versa.
While the term one-hit wonder has often only applied to pop music, there remain a few rock bands who have had their fleeting moment in the spotlight as well.
Sure, rock is changing and fading out with the times, but there was a sliver of time where rock stars were pop stars and vice versa. Post-grunge took over the world, and by the early aughts muddy-sounding rock bands were a dime a dozen. While many of these band names may escape you, the melodies listed below definitely bring back memories. Here are a few of the most memorable one-hit wonders in hard rock.
"Bodies" – Drowning Pool
The hushed whispers given in the interlude for Drowning Pool's "Bodies" are almost more famous than the actual song itself. Off the band's debut Sinner, "Bodies" was a song in 2001 that became associated with just going bat-shit crazy. School dances loathed it, and the song's early drop often led to unhinged vandalism.
The track, which peaked at number 6 on the Billboard Mainstream Rock Charts, was actually blacklisted across radio stations after the September 11th attacks. Its thematic material of letting "bodies hit the floor" seemed quite insensitive at the time. While Drowning Pool has led a fine career since "Bodies" took over the world, the unexpected death of vocalist Dave Williams was a heartbreaking blow, and while Jason Moreno is a fine vocalist, Williams's grungey delivery, especially on that song, was unreplicable.
"Wherever You Will Go" – The Calling
The debut single from California's The Calling, "Wherever You Will Go" peaked at number five on the Billboard Hot 100 and topped the Adult Top 40 for 23 weeks, setting a record as the second longest-running number one song in the chart's history. The song's brooding melodrama encompassed everything that was wrong (but oh, so right) about the early 2000s.
The lyrics that sound genuine but say nothing at all ("way up high" or "down low," these boys will go "wherever you will go"), the blonde-haired lead singer, The Calling were themselves an earl aughts time capsule. Needless to say, these guys faded out with the time.
"Cold" – Crossfade
Crossfade's career trajectory was at one point a disaster. "Cold," the band's biggest hit, put the South Carolina rockers on the map in a big way. It hit number three on the Billboard Mainstream Rock Chart and number 81 on the Billboard hot 100. But the band's 2006 sophomore effort Falling Away was a total slump, and it led to them being dropped from their label. The band returned in 2011 with the dark-tinted We All Bleed, an impressive third outing that abandoned pop formulas in favor of a heavier sound, but the band hasn't released anything since. It's unclear whether they've broken up or not; but needless to say, they have yet to hit another high as impactful as "Cold."
"Ugly" – The Exies
For a hot second, The Exies were an inescapable band. They soundtracked numerous video games including Guitar Hero and NFL Street 2. Their biggest anthem, "Ugly," off of their third effort , Head for the Door, was even picked up by the WWE and used as the theme song for the 2004 Survivor Series. It was also used by Warner Bros. at one point for one of their commercials. The song evidently became more famous than the band did, and The Exies released one more record before dissolving.
"If You Could Only See" – Tonic
Off of Tonic's platinum debut, Lemon Parade, "If You Could Only See" had a brief but impactful moment on rock radio's around the world in 1997. It hit number one on the Billboard Mainstream Rock Chart and spent a whopping 63 weeks there. In Australia, the song took on a legacy of its own and became the nation's 88th-highest-selling single.
The origin story of the song is also memorable in its own right, as it's about lead singer Emerson Hart's relationship with a much older woman, a relationship which his mommy did not approve of. Tonic themselves went on to be nominated for two Grammy awards before entering a hiatus in 2004. They returned in 2008 with little fanfare and have led a steady career ever since, despite never again achieving the heights they did in the late '90s and early aughts.
"My Own Worst Enemy" – Lit
Off of Lit's pop-infused sophomore album, A Place In The Sun, the project and its coinciding single "My Own Worst Enemy" was a drastic change of pace from their gloomy debut Tripping the Light Fantastic. "My Own Worst Enemy" peaked at number 51 on the Billboard Hot 100 and helped their sophomore effort achieve platinum status. The track became an anthem for drunken debauchery and often soundtracked house parties in the early 2000s coming-of-age films. While Lit are very much still a thing, "My Own Worst Enemy" is another one-hit-wonder that took on a life of its own.
"Paralyzer" – Finger Eleven
Splattered across Gossip Girl and Greek, "Paralyzer" by Finger Eleven was another inescapable track in the early 2000s. Drastically different than anything the band released prior, the song had a funky drive that made it applicable to almost anything fun. It was regurgitated multiple times in a variety of Rock Band-Esque music games and spent 52 weeks on Billboard's Alternative Chart. It eventually peaked at number 6 on the Hot 100. The track went two-times platinum, but Finger Eleven's relevance eventually waned by the 2010s. They're still around, but "Paralyzer" was a special and irreplicable moment for the band.
FILM
Because tearjerkers are cheaper than therapy.
News of mass shootings, threats of nuclear war, and political and cultural unrest are inescapable these days.
The human brain isn't meant to take in such a constant stream of bad news. As a result, many Americans have become numb and pessimistic, hardly blinking an eye when we hear about the latest tragedy. It's not that we don't care—it's that letting every heartbreaking thing actually break our hearts is just too much to handle.
But how do you combat that numbness? A good cathartic cry, that's how. Just as it can be healthy to put up defense mechanisms, it can also be healthy to let some of those pent up feelings out. That's where catharsis comes in. Catharsis is formally defined as "the process of releasing, and thereby providing relief from, strong or repressed emotions," and it's one of the main reasons humans have always and will always need art and storytelling.
The next time you just need a good cry, check out these ten tear jerking masterpiece.
10. If Beale Street Could Talk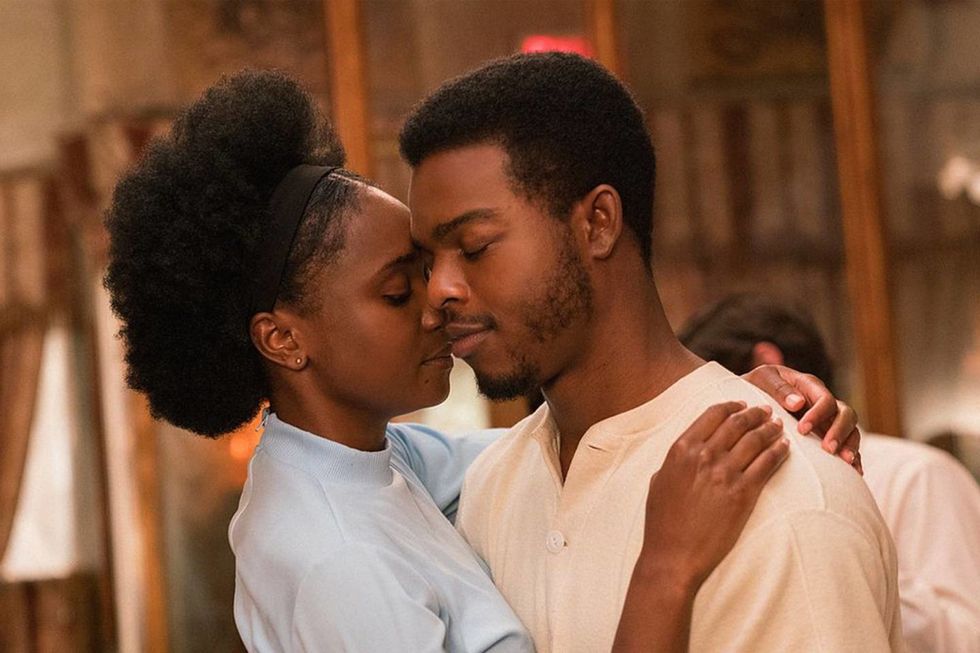 Directed by Barry Jenkins, this Oscar award-winning film based on James Baldwin's classic novel follows the heartbreaking story of a young black couple divided by racism. If you have a heart, the tears will keep rolling long after the closing credits.
9. The Fault in Our Stars
The Fault In Our Stars | Official Trailer [HD] | 20th Century FOX www.youtube.com
Nothing like combining young love and terminal cancer to really give you that one-two punch of feels.
8. Toy Story 3
Toy Story 3: Trailer www.youtube.com
Mothers of 18-year-olds beware: this movie might just be too much for you.
7. Room
Room | Official Teaser Trailer HD | A24 www.youtube.com
This pick isn't for the faint of heart, but if you're looking for an emotional journey, few movies can compare to this 2015 masterpiece. Featuring themes of innocence, trauma, and grief, this film should be viewed with tissues ready.
6. Moonlight
Moonlight | Official Trailer HD | A24 www.youtube.com
There are few better movies than this Best Picture Oscar winner, but it's by no means a feel-good film.
5. The Notebook
The Notebook trailer youtu.be
Sure, this one seems obvious, but it's a go to rom-com for a reason. If true love and Ryan Gosling don't at least make you shed a tear, perhaps you should seek professional help.
4. Marley & Me
Marley & Me Movie Trailer www.youtube.com
This should only be used in emergency situations when a good cry is desperately needed. Never underestimate the emotional toll a good dog movie can take.
3. The Last of the Mohicans
The Last Of The Mohicans - Official® Trailer [HD] youtu.be
This one's a real "even your dad cried" type of movie. The last 20 minutes of the film are guaranteed to leave you weeping into your popcorn.
2. The Bridge to Terabithia
Bridge To Terabithia (2007) Official Trailer www.youtube.com
This 2007 film is almost unfairly sad. We don't want to spoil it, so we'll just say the combination of childhood adventures and unexpected tragedy put this one at the top of our list.
1. Up
Disney/Pixar's Up - Official Trailer www.youtube.com
We dare you to make it through even the first 15 minutes of this movie with dry eyes. We dare you.
Carl and Ellie Fredricksen's love story will forcibly grab your heart and wring the tears right out of it. And if you literally don't have a heart, then Doug's incredibly-good-boy arc helping Carl and Russell bond will give you one—at which point you can go back to the beginning and have a good cry.