Top Stories
Succession Season 3, Episode 3 Power Rankings: Capitalism won this round
Succession Season 3
*Contains Spoilers, sorry — go watch!*

In this house, we don't say: "hello, how are you?" Instead, after watching Succession Season 3, Episode 3, we ask "how's your headspace, are you happy in it?"
Despite how these questions may sound, they're neither as genial nor genuine as they seem. In fact, they're the opposite.
Season 3 of the award-winning, cult HBO dramedy Succession immediately makes it clear that its writers will pull no punches this season. One of the many shows halted during the pandemic, we've all been waiting seemingly eons for its return. After an agonizingly long hiatus from our beloved, terrible TV family, the show is finally back on our screens and assuages the Sunday night scaries quite effectively.
Dialogue has long been the highlight of this HBO drama. Interpersonally, this family is direct, abrasive, and — most of the time — crass and disgusting. However, they're terrifically funny. In fact, so riotously hilarious that each line — though delivered through the stark attitudes of the unfathomably rich — is a satisfying combination of both smart and ludicrous.
But this isn't merely a show for cheap jokes, it's also about the insidiousness of the capitalist patriarchy.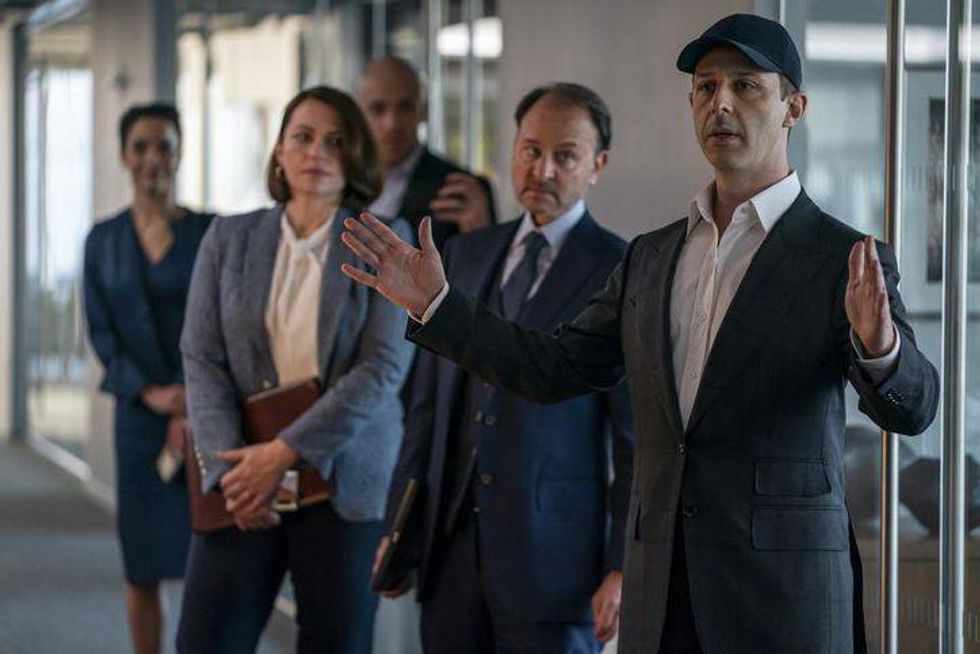 If I were to describe Succession in one sentence, it would go something like this: the children of a charismatic, evil billionaire competing for the company while, at the same time, competing for his love.
What ensues is a rat race to the highest degree — scheming, scrambling, and petty fighting with high stakes and almost unobstructed access to … literally everyone and everything.
Some family members play politics and others assume coveted jobs like they're hobbies. They rub shoulders with celebrities and artists, and they live in and visit impossibly gorgeous places.
When watching Succession, you neither like nor want to be like the characters. Sure, aspects of their lives seem enviable. But as you watch the chaos unfold, these status symbols lose their luster. These spoiled, adult-brats prop themselves up on nothing but their pedigree.
For example, swimming in a pool that's on a yacht might have seemed cool before I witnessed the carnage of Season 2's conclusion. But watching the Roy family tear each other apart while declaring "$5 million is too little to retire on," only made me want to eat the rich.
Season 3, Episode 3 holds both sides of the coin in a delicate, yet decadent, balance. The showy opulence appears in spades, but so does their embarrassment and putrid shallowness.
Cousin Greg is the constant foil for this bit. An awkward, aimless boy, he's achieved any status because of his family. He so wants to belong to this world he talks himself into buying things that are ridiculous. For instance, in this episode, a $43,000 watch.
The joke carried throughout the episode: Greg got swindled into buying the watch. Despite being surprised and hesitating at the hefty price tag. However, he later convinces himself he wanted it the whole time, mostly by showing it off to people and explaining — in that tactless, bumbling way that boy does — how much it cost, and how exclusive it was.
This sequence epitomizes the character. Cousin Greg is the portrait of an impressionable outsider who is seduced by the way a glittering object looks, and painfully leverages it to try to muscle his way in.
However, the reason his attempts at fitting in are unsuccessful isn't because Greg is just so awkward — okay … maybe partly — like, imagine being bullied by TOM WAMBSGANS. Cousin Greg can't achieve the acceptance he craves because the very idea of it is an illusion.
Like iconic characters before them — Gatsby, throwing boozy parties and obsessing on Daisy's green light, being one of the most recognizable — Succession's characters fend for the ultimate reward: acceptance by the system, which is epitomized by Logan Roy.
Even though the family tries to grab some of that power for themselves, their loyalty to their father betrays them.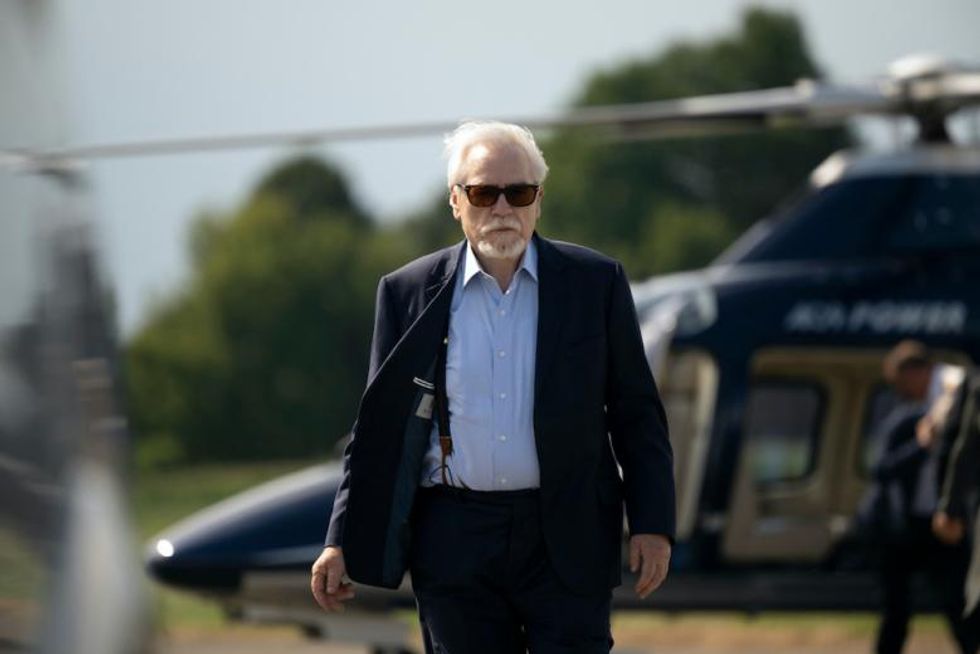 This past episode shows Shiv and Kendall fighting in the championship for the title. Logan's also implicated in the scandals to stand sturdy on his own footing, the two baby birds try to make it out on their own. In some ways, they're better equipped than all the others — they have access, connections, and all those privileges. However, they're both bogged down by that strange, familiar cocktail of arrogance and insecurity that comes with high status.
Shiv, tired of being the token-woman, decides to use her insecurities — about how her gender is perceived as well as her lack of experience — to cruelly attack Kendall in an attempt to stifle any sexist comments. Clearly, Shiv is a time bomb, using desperate measures to gain traction on the treadmill to her father's good graces.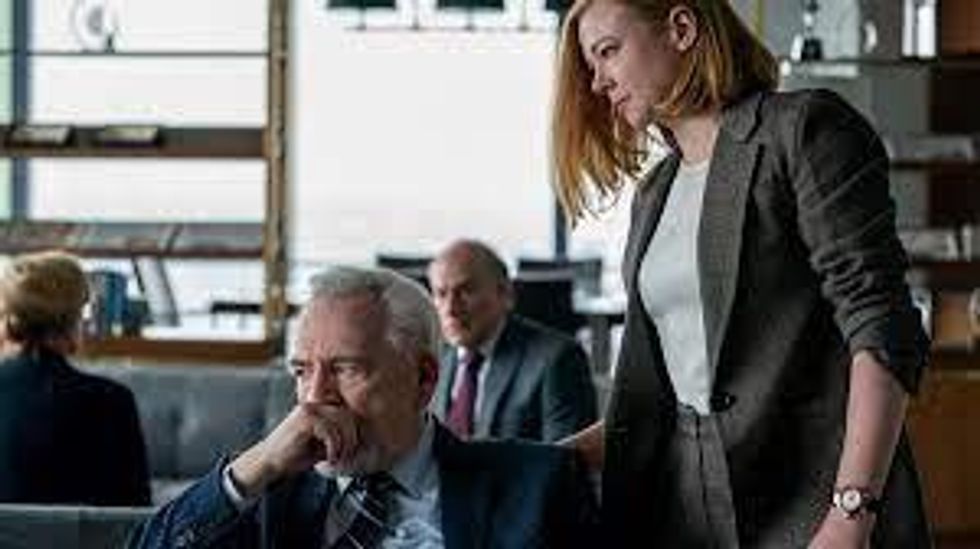 Kendall, who's been a time bomb of false confidence through the season so far, finally broke down.
The episode saw him inflated by yes-men while keeping up his public perception with a childish game called "good tweet, bad tweet."
According to writer Hunter Harris, Kendall's constant "auditioning for his father's love has been replaced by auditioning for the public's."

the most scathing review of Kendall Roy, second only to Shiv's lettervia Hunter Harris
Yet, his breakdown comes at the hand of Shiv, whose letter digs so deep into his personhood that he can no longer reconcile it with his persona.
Succession is a lesson in this distinction — the person: their actions, their insecurities, and fears; versus the persona: who they want to be — how they want to be perceived in public.
As the line between the two is clearly drawn clearly for Kendall to see and the world to know, he breaks down.
This moment is the culmination of many of the show's critiques and themes. Had Kendall been allowed to continue unchecked, dropping names and pretending to save the world, his ego would have completely merged with his personality. And he would no longer be able to distinguish between himself and his purported self-image. Not to mention, the character would be insufferable.
While I don't think this will be a big moment of anti-capitalist realization for Kendall, it demonstrates for the rest of us — who maybe aren't as far gone — that constant reaching always leads to a fall.
It's why "imposter syndrome" resonates with so many of us. Of course we feel like we must prove ourselves — it's the system's job to make sure we do. It wants to make us feel inadequate, while putting on a persona so other people feel emboldened to try to reach us.
Rather than a celebration of money and a parade of opulence, Succession shows us even at the highest levels of society, people can still feel excluded and empty-souled. But the show doesn't attempt to make us feel better, or even to empathize. Instead, the Succession says, what are you going to do about it?
Film Features
Baz Luhrmann's 1996 Romeo + Juliet is an ecstasy-infused, colorful retelling of the star-crossed lovers' tale that takes a 425-year-old story and strangely reflects society in 2021.
Pandemics are known for triggering upheaval and societal change.
It's probably no coincidence, then, that Shakespeare penned Romeo and Juliet around 1595—directly in the middle of the deadly Bubonic plague pandemic that ravaged Europe. Amidst today's pandemic, the most relevant adaptation of this timeless and classic tragedy was made 25 years ago.
Baz Luhrmann's 1996 Romeo + Juliet is an ecstasy-infused, colorful retelling of the star-crossed lovers' tale. Romeo + Juliet made a decent ranking at the box office, but it was heavily overlooked for awards, only receiving one Oscar nomination for best art direction.
Had Luhrmann waited just 10 years to release Romeo + Juliet, there may have been more positive reactions to the film. At one point, Baz himself doubted that the movie would ever be made. During a 2015 interview discussing the film, Baz said: "When we went to Twentieth Century-Fox with it, under the terms of my first-look deal, I think rather than let me go, they sort of said, 'We'll give him $100,000, let him do his little workshop and maybe it'll go away.' Well it did not."
Romeo + Juliet takes a 425-year-old story and strangely reflects society in 2021. Here's why:
1.The Directing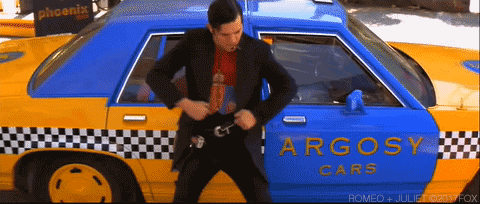 John Leguizamo GIF by 20th Century Fox Home Entertainment Giphy
Baz Lurhmann would go on to direct Moulin Rouge (2001), Australia (2008), and The Great Gatsby (2013), but in 1996 he was an up-and-coming Aussie determined to bring Romeo and Juliet back to the big screen for the first time since 1968—but with a modern (and widely frowned upon) twist.
With a distinctly auteurist directing style, Baz often brings relevance and attention to worldly topics through his staging, camerawork, and symbolism-which is heavy on gang violence as well as Christianity. For an adaptation that was so heavily criticized, his version of Romeo and Juliet is the only retelling in modern times that keeps almost all Shakespearean dialogue intact. And lastly, the use of crash zoom filming during the opening quarrel scene might just be one of the best uses of the now popular filming technique ever used.

2. The Cast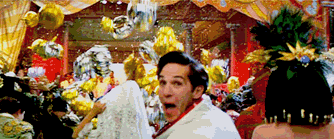 paul rudd GIF Giphy
Before Leonardo DiCaprio was stealing girls' hearts in Titanic, he was starting his career as one of Hollywood's top leading men with his casting as Romeo. Although already a well-known star for his roles in previous titles such as What's Eating Gilbert Grape, Leo's casting as Romeo is most likely what escalated his fame in Hollywood. Alongside his counterpart Claire Danes, who plays Juliet, the duo not only had the perfect looks for the star crossed lovers' roles, but both delivered the obscure Shakespearian dialogue perfectly. Plus, let's not forget about the awesome supporting cast, including the young, handsome Paul Rudd and John Leguizamo.
3. Mercutio's Sexuality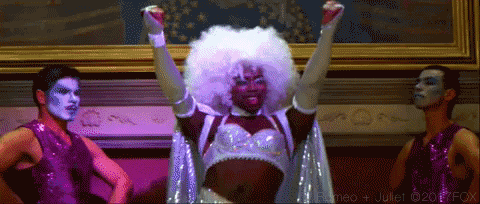 harold perrineau GIF by 20th Century Fox Home Entertainment Giphy
Romeo and Juliet's love story is possibly one of the most well-known of all time. Yet the movie's adjacent love story between Romeo and his best friend, Mercutio, had never been broached in modern tellings of the play—that is, other than in Lurhmann's film.

From analyzing their relationship, it's clear that there is undoubtedly love between Romeo and Mercutio. And whether that love is a friendly love or something more, it was clear that Mercutio was more open about his love for Romeo than the latter.
Harold Perrineau, best known for his portrayal as Michael on ABC's hit series, Lost, first enters the movie rolling onto the camera in a sporty red coupe, sporting a sexy two-piece, a white afro wig, and full-on glam makeup. As Mercutio coaxes Romeo to join him at the Capulet party, Mercutio comes to own his fluid sexuality during the famous Queen Mab speech—ending with a booming, "This is she!"—ostensibly mocking the traditionally sexist take on masculinity in Shakespeare plays.
Roger Ebert, who gave the film a mere 2 stars, stated: "I've seen King Lear as a samurai drama and Macbeth as a Mafia story, and two different Romeo and Juliets about ethnic difficulties in Manhattan (West Side Story and China Girl), but I have never seen anything remotely approaching the mess that the new punk version of Romeo & Juliet makes of Shakespeare's tragedy." My father, a lover of the story of Romeo and Juliet (guess which retelling is his favorite), spoke similarly on the movie when it was released—an opinion which I know was highly influenced by Mercutio's portrayal as a drag queen. I can only imagine that many critics of the movie at its time felt so for similar reasons.
4. The Music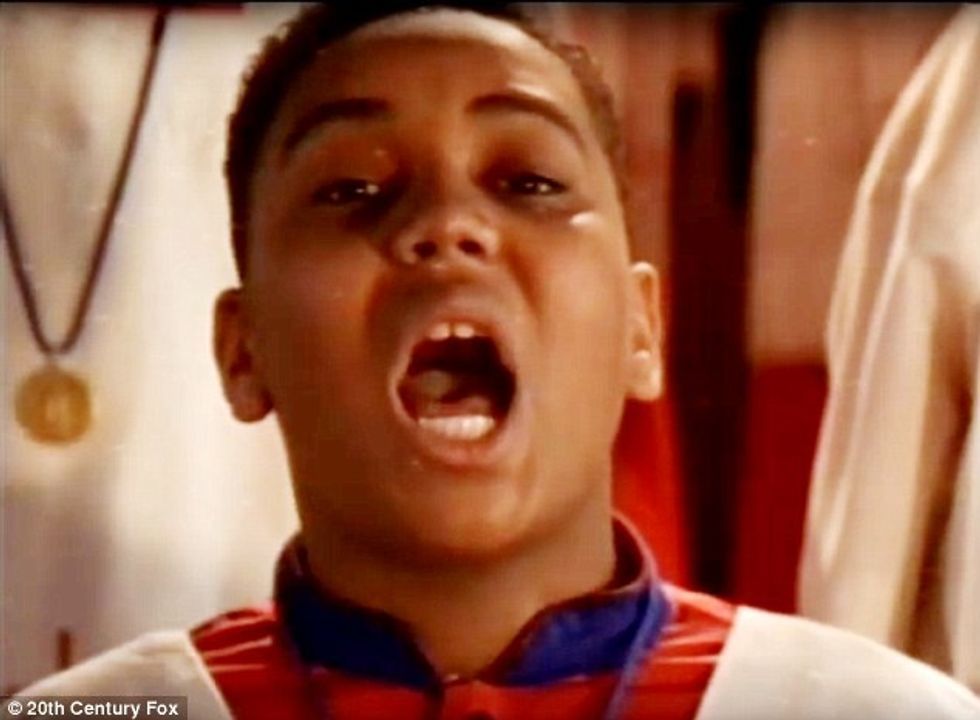 © 20th Century Fox
Released during the peak of 90's music, the soundtrack to Romeo and Juliet was a perfect ensemble of the musical artists who made the nineties such an influential period of music. Outstanding musical moments featured rock acts such as Radiohead and The Butthole Surfers to beautiful soul voices such as Des'Ree and, of course, the angelic voice of the choir boy singing Prince's famous "When Doves Cry" to a pop favorite from the Swedish one-hit-wonder The Cardigans.

5. Racial Representation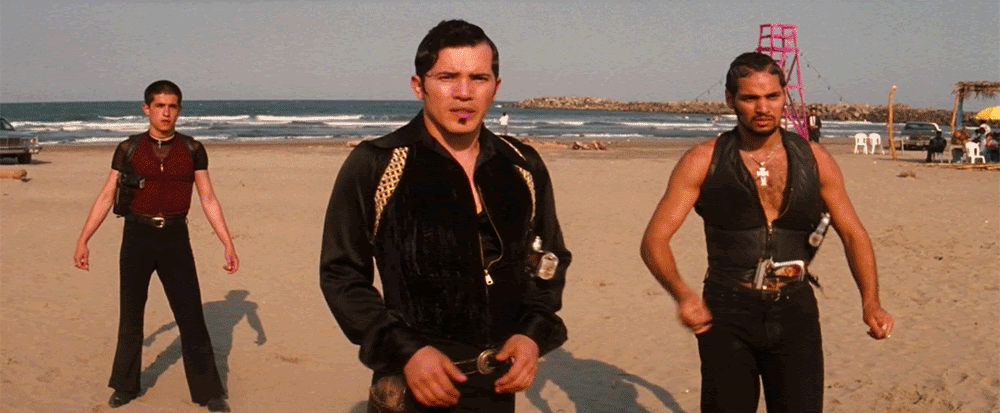 © 20th Century Fox
Baz's depiction of the feuding Montagues and Capulets are inflected with racial tension, which feels all too relevant today.
The Montagues are fair-skinned, similar to an Irish mafia family. On the other hand, the Capulets are undeniably Latinx. The only African American actors were cast as neutral characters that were neither Montague nor Capulet.
It feels purposeful and prescient that Baz chose a Black man to portray Mercutio, a neutral man that gets stuck in the middle of a feud and ultimately pays the price for standing up for his white friend.

6. The Imagery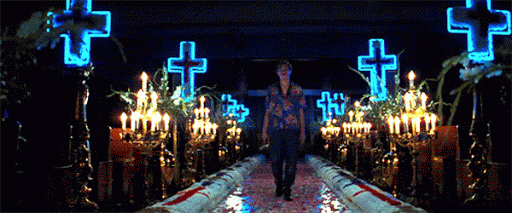 © 20th Century Fox
Guns as swords, Hawaiian shirts, warring businessmen, a badass Father Lawrence, and religious symbolism with neon crosses and Catholic statues are just a few examples of the film's unique imagery. At the time of its release, the film's harshest critics pointed out the contrived nature of its imagery, but this type of filming, known as formalist film, has only grown more popular in movies today.
Whether you love or hate the 1996 rendition of Romeo and Juliet, you can't deny that this idiosyncratic adaptation of a time-honored tragedy resonates today.
CULTURE
The press tour heard around the world
The long awaited Denis Villeneuve adaptation of Frank Herbert's "Dune" is here.
After years pining for its release, theaters have reopened and Dune is finally screening for us to marvel at its splendor. And marvel we will.
A hero's journey of epic proportions, this first installment of the beloved sci-fi series exceeds all expectations. It hits all the notes: the larger than life cinematography of sweeping sandscapes and futuristic fortresses; the star-studded cast; and an exquisite proportion of heart-pounding action scenes and intimate moments between richly developed characters.
Though the running time is over two-and-a-half hours, Villeneuve's attention to detail and commitment to slow storytelling means the film only covered half the book. The last line of the film, uttered by Zendaya herself, hints at a sequel. "This is only the beginning," she says. And we're left as eager as Timothee Chalamet's character, Paul, to discover the world that comes next.
So, more waiting it is. But with the sequel just announced, the only comfort is that another Dune movie on the horizon will bring another Dune press tour.
Since Dune's first in-person launch at Venice Film Festival in September, its beloved stars have paraded through the press tour in a relentless succession of increasingly sensational outfits.
Unsurprisingly, Zendaya and Timothee Chalamet have been every red carpet's standout pair. We had high expectations, and they surpassed all of them. I convince myself that each new look is my favorite, that nothing can top it … only to be proven wrong by the next show of sartorial splendor.
It's hard to pick a favorite, but here are the ones that truly caught our imagination:
Venice Film Festival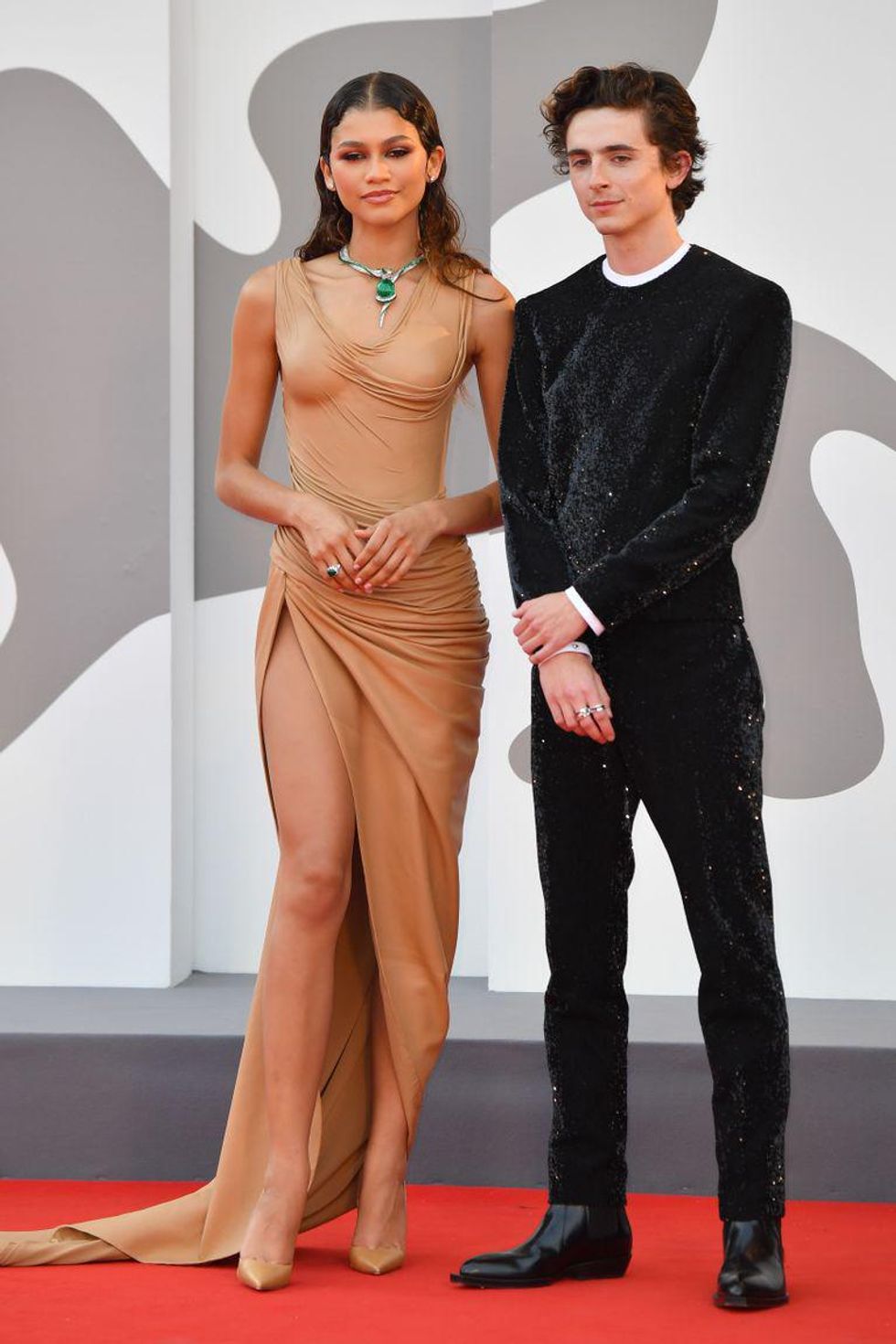 Venice Film Festival opened the fall premiere season with a bang. Going to the movies is finally back! And, coinciding with fashion weeks and award shows, so is fashion! To celebrate the return of so many good things, the fabulous duo showed they meant business in their inaugural red carpet ensembles as a pair.
Zendaya floated across the carpet in a custom Balmain gown. Form-fitted and molded to make her look like she was a grecian statue, the dress was dripping from her. Meanwhile, Timmy wore a deceptively simple black Haider Ackermann sweater-pants ensemble that was hand-embroidered with thousands of sequins to sparkle when it caught the light.
Little did we know, these jaw-dropping looks were only the first of many more to come.
Paris Premiere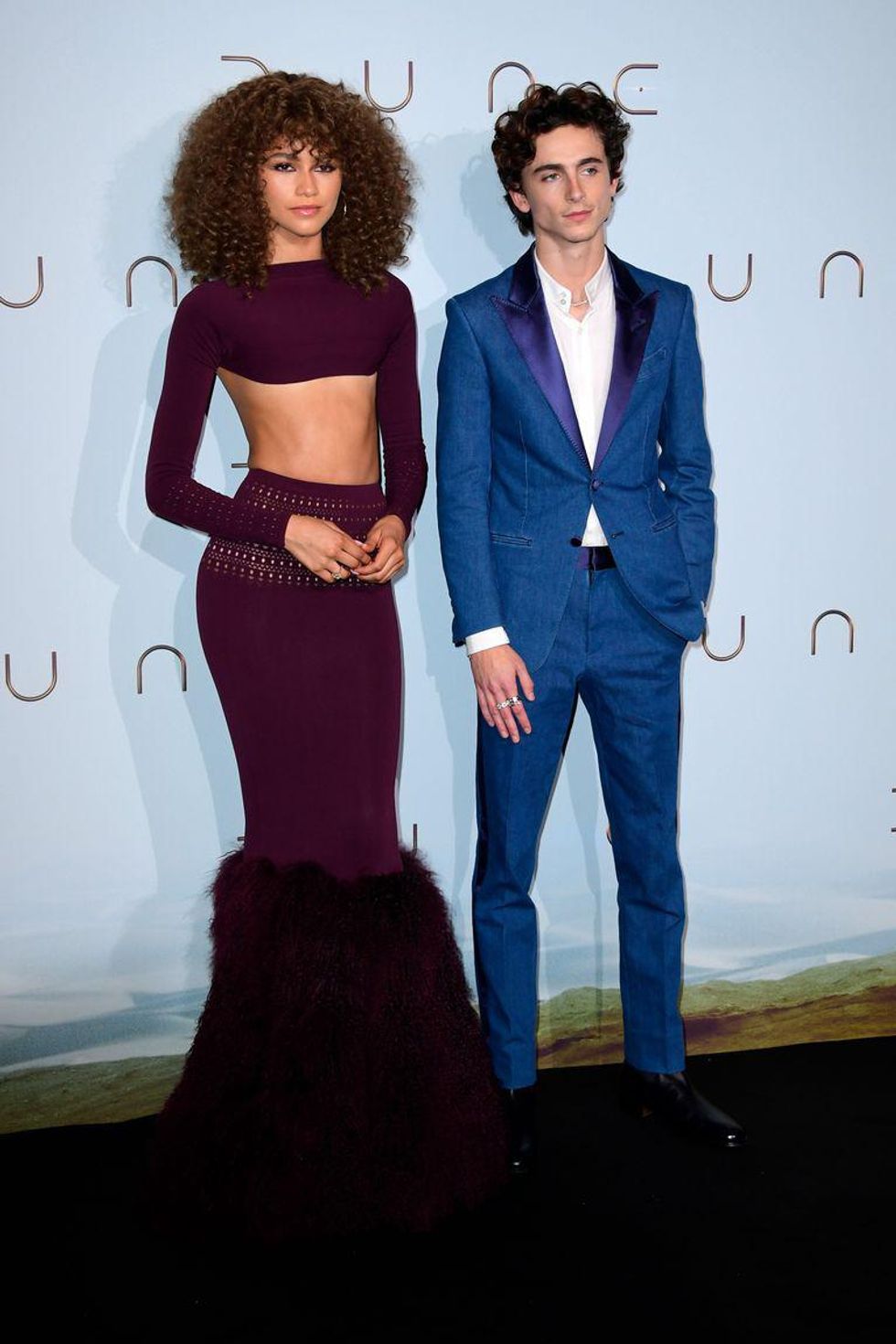 Obviously, our French king Timothee simply had to show out in Paris. Last time he graced that red carpet — for the premiere of Little Women — he donned a fuschia Stella McCartney suit that was both chic-n-femme. And the accessory to end all accessories: a tiny souvenir statue of the Eiffel Tower. His Dune 'fit didn't disappoint either. Going with quite a different aesthetic, Timmy rocked a bright blue Tom Ford tuxedo, looking like your dream prom date … if your prom took place at a Paris movie premiere.
Zendaya matched his daring, vintage-inspired look in a maroon Alaïa two-piece. The slinky silhouette combined with artful, curved cutouts combined with her voluminous hairdo and big hoop earrings created a striking juxtaposition that only Z could pull off.
London Cocktail Party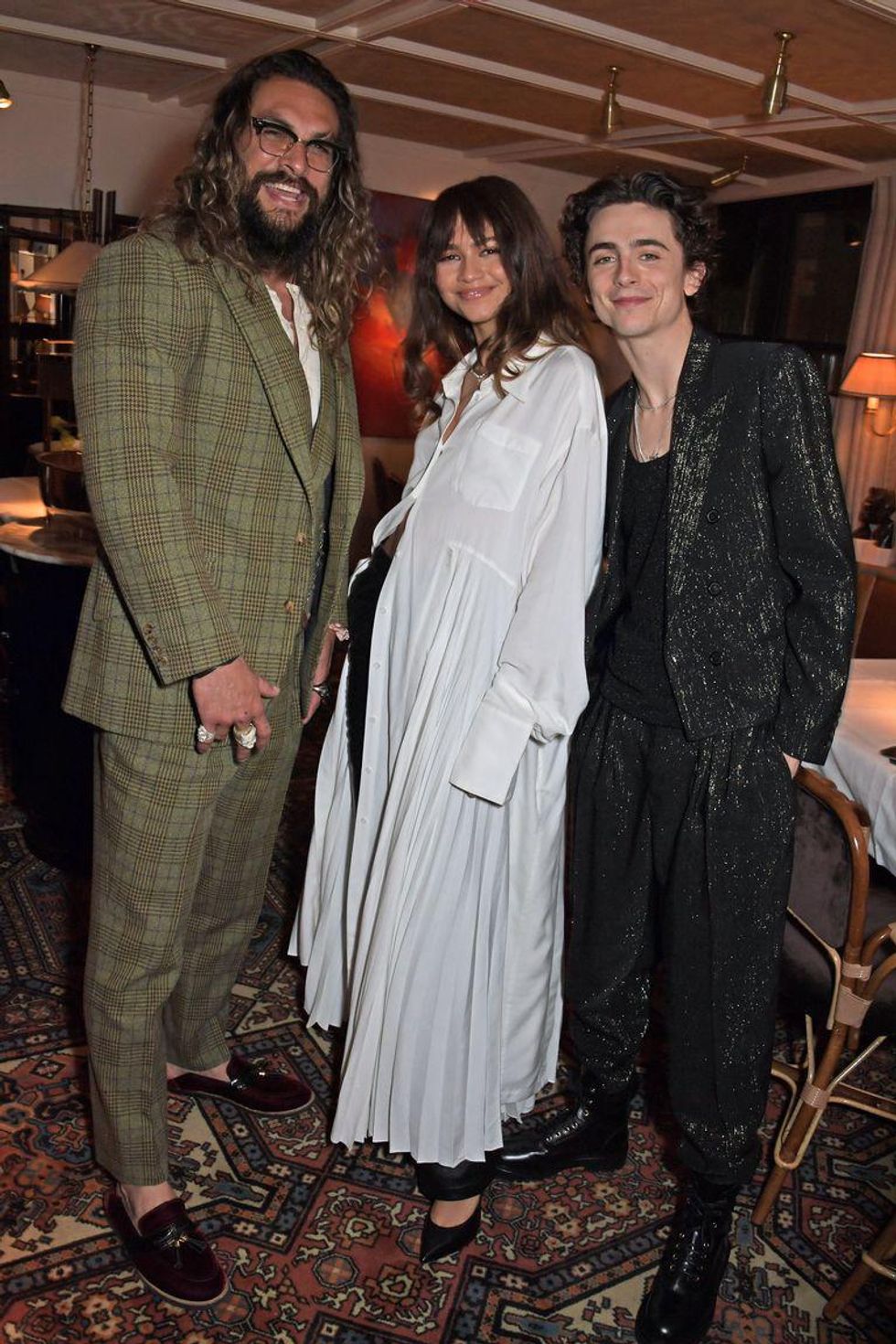 With each look, this dynamic duo proves they'll always be the hottest people in any room. Even when dressed "down" in more business-casual looks, they're eye-catching and unmatchable. At a post-Premiere party in London, the two showed up looking like the coolest people in your office.
In a Saint Laurent blazer, scoop neck tee, and layered silver necklaces, Timmy pulled off yet another shimmering all-black ensemble. Looking like the other half of a matching set, Zendaya's flowy Peter Do button-down and black pants were paired with simple silver accessories that made her the picture of effortless elegance.
London Press Event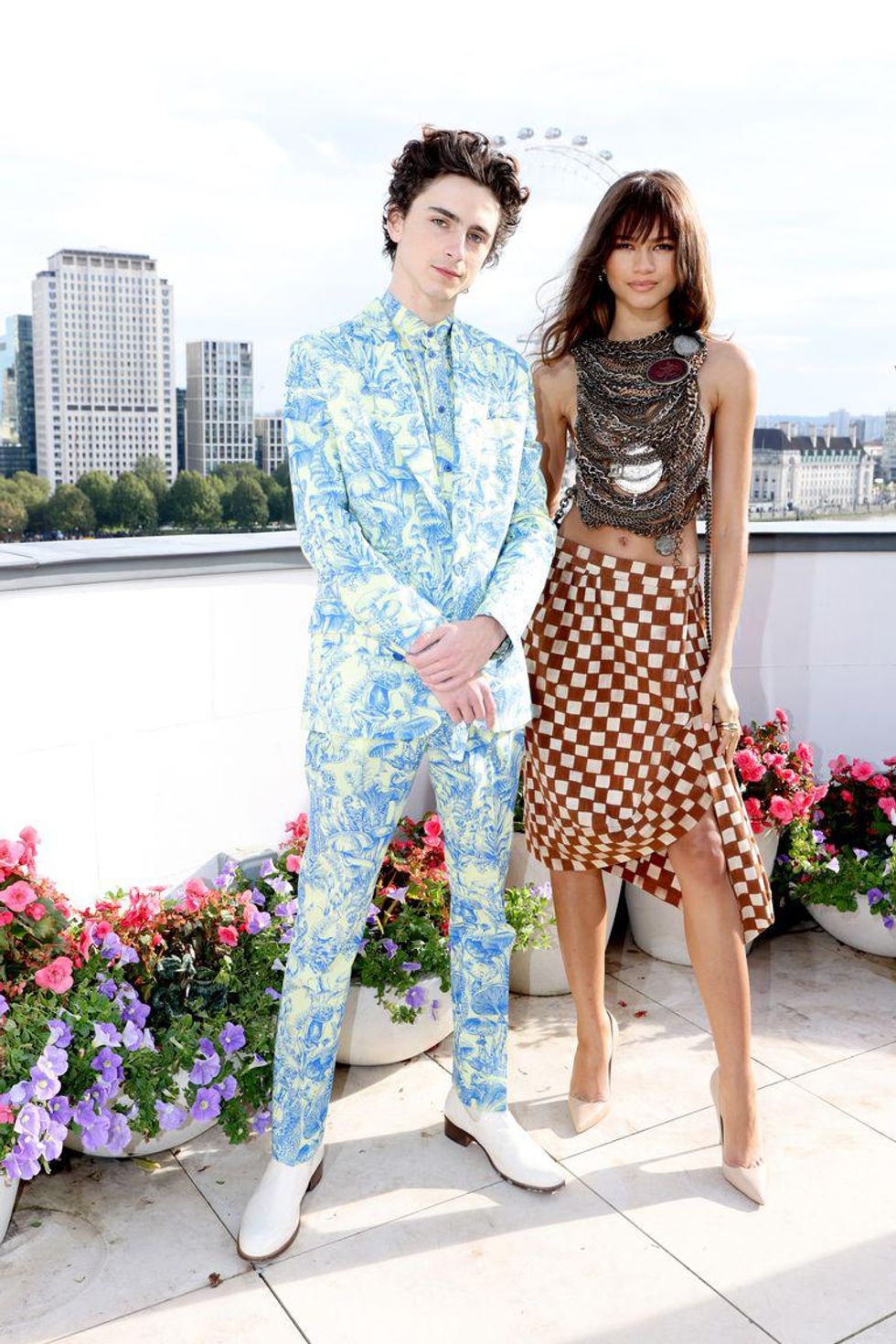 The press tour's London stop served a medley of mind-blowing beauty multiple times a day. How many outfit changes can I take? I started to ask myself, refreshing my feed for photos from each press event.
At a run of the mill rooftop photocall, Zendaya and Timmy rendered the London monuments behind them irrelevant. Big ben? The London Eye? All those faded into the background at the sight of the pair in some of their most daring looks of the season.
Zendaya's Vivenne Westwood pieces were a masterclass in how to do neutral tones that won't bore. Her layered chain-top was reminiscent of her iconic Joan of Arc inspired 2018 Met Gala look. Don't mind me, I'm off to buy gold chains.
Apparently, Timmy also got the assignment, pulling up dressed in a bold mushroom print. This wondrous white and blue Stella McCartney suit was a loving reference to
Dune
author's love for foraging mushrooms.
London Premiere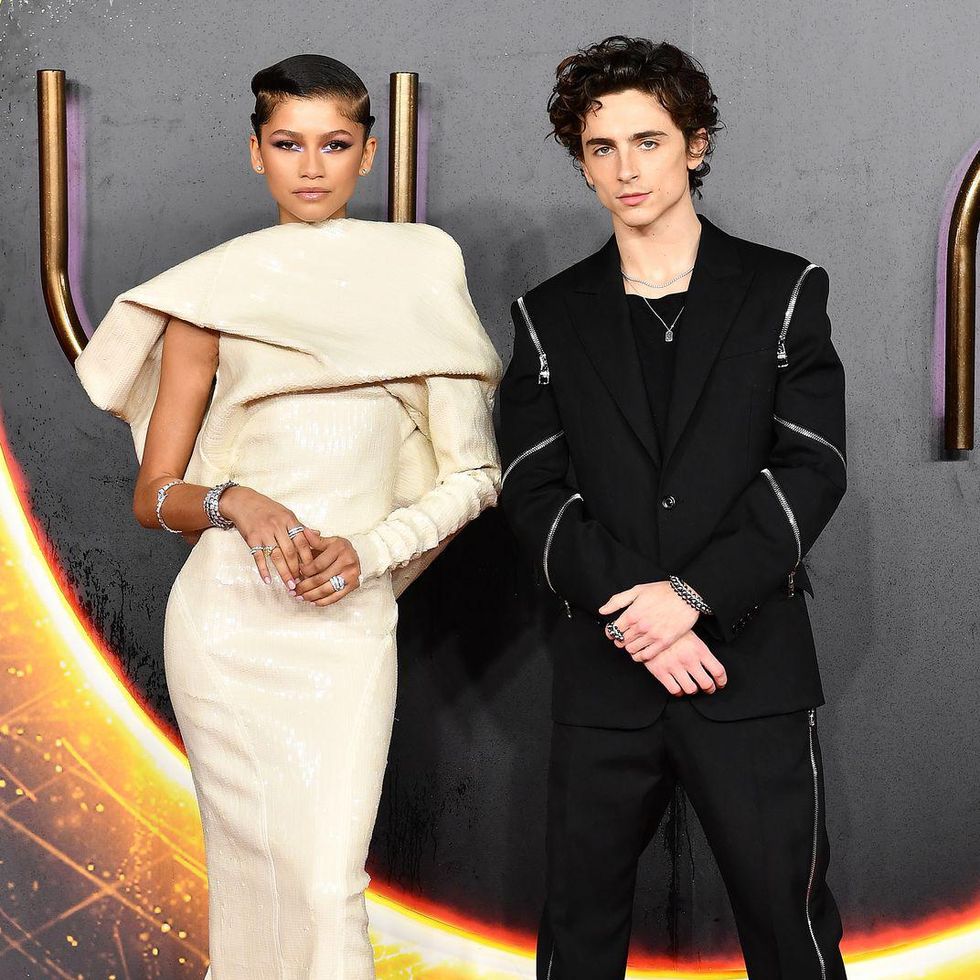 To finish off their memorable parade the way it started, our favorite pair brought it one last time for the Dune London premiere. These chic accoutrements lent stunning final looks to both.
Timothee posted a photo of the pair from the night — Timmy's in another Haider Ackermann black suit, Zendaya in an inventive white Rick Owens gown. In response, Zendaya commented: "two pretty best friends." We have to agree.