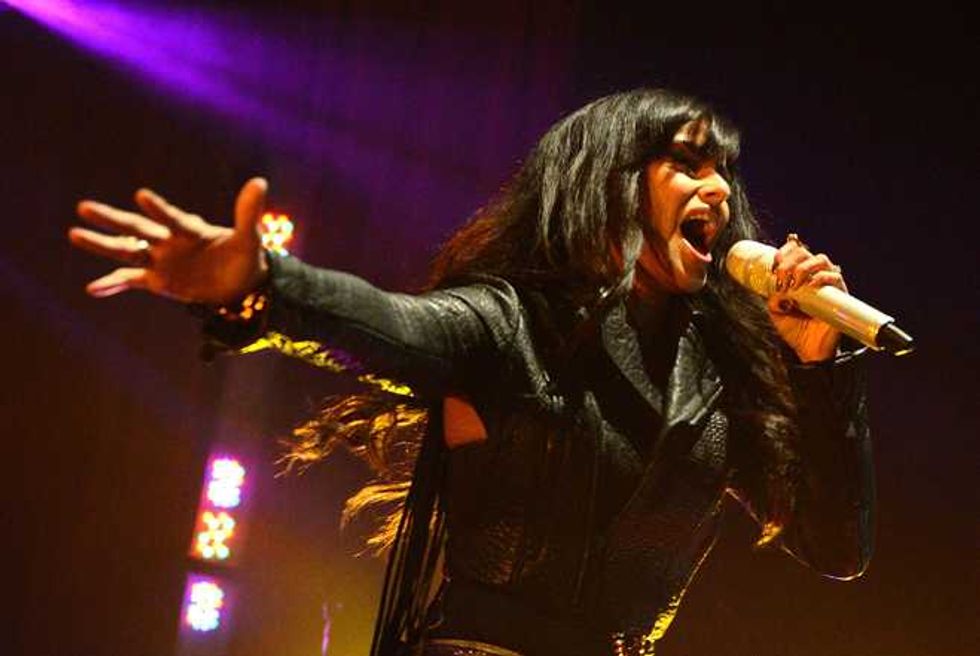 After what feels like months of underwhelming new release weeks—the last five weeks have included #1 albums Matchbox Twenty, TobyMac and the NOW series—we finally have a week of blockbusters, with a handful of big and medium-ticket artists emerging with new LPs. Searching through the New Albums section on Spotify this week is like going to a party with dozens of different awesome hors d'oeuvres being brought on trays—you don't even know what to reach for first.
Well, we've done a little sampling of our own already, and here's some of our early thoughts and summaries on these big new releases. We've also got a Spotify playlist at the bottom of some of our favorite cuts from each of the albums. (Sorry, Grizzly Bear and/or Dada Life fans—we'll get to them soon enough.)
CARLY RAE JEPSEN - KISS
The Songs You Already Know: "Good Time," Our Girl Carly Rae's top ten duet with Owl City, sounding more effervescent than ever, and a new version of "Curiosity," the title track from the 2012 EP that marked her first release stateside. And yeah, "Call Me Maybe" is on here—hearing it in the context of an album for the first time is a disorienting experience after the hundreds of times we heard it on the radio, from our stereos, and just about everywhere else this year.
The Next Hit: "This Kiss," our new favorite song here at Popdust, a spangly, visceral synth-pop blast that probably makes Madonna (and most of her fans) weep with nostalgia for the mid-'80s. We love this damn song so much that we're tempted to ask a provocative question like "Could this song actually be as good as 'Call Me Maybe?'" But...no.
The Sleeper Jam: "More Than a Memory," a sweet and vulnerable little love song with a beautiful sigh of a chorus. Emotional depth isn't really the name of the game for Our Girl Carly Rae, but this is the closest she comes on Kiss.
The Dud: "Beautiful," Jepsen's much-anticipated duet with professional mentor / surrogate little brother Justin Bieber, will probably make some pre-teens swoon, but the One Direction fans are pissed, and rightly so. Sorry guys, but pop music only gets one "You don't know you're beautiful, that's what makes you beautiful" love song a year, and the 1Ders got there first.
The Verdict: Kiss is one of the year's stronger collection of pure pop goodness, and the album's first half—which contains all the collection's best and best-known cuts—is a sugar high that you don't quickly come down from. Unfortunately, that high does taper off significantly in the second half, which feels weak and almost redundant in comparison. Still, even on average, that opening run from "Tiny Little Bows" to "More Than a Memory" makes Kiss a must-listen.
PINK - THE TRUTH ABOUT LOVE
The Song You Already Know: "Blow Me (One Last Kiss)," Pink's Modest Mouse-interpolating kiss-off anthem that recently gave her an impressive 12th top ten hit. We've gone back and forth on the song a little since it came out, but hearing it as the second track here has us digging it more than ever.
The Next Hit: "Try," Pink's touching anthem of relationship self-preservation—no doubt at least partly inspired by the trials and tribulations she's gone through with skater beau Carey Hart—has smartly been tabbed as the album's next single, and is already in the top ten on iTunes.
The Sleeper Jam: Too many to mention here, but the album's real secret weapon is its swinging title track, a bluesy, been-there done-that rumination on love that feels like the hard-earned culmination of Pink's life and career up until this point. Great, great backing vocals, too.
The Dud: "Here Comes the Weekend," quite possibly the most momentum and energy-less song ever written about the weekend. Eminem's presence on the track is welcome but ultimately irrelevant—the song's so bad it'll make you yearn for the return of the work week.
The Verdict: "Weekend" aside, The Truth About Love is a stunning effort, a diverse, coherent, heartfelt and creative album that sees Pink finding great chemistry with collaborators old (Dr. Luke, Greg Kurtsin, Butch Walker) and new (Jeff Bhasker, Dan Wilson, busbee). From barnstorming opener "All We All We Are" to heart-rending closer "The Great Escape," the thing is rarely less than captivating, and taken as a whole, it joins Usher's Looking 4 Myself and Adam Lambert's Trespassing as one of the best pop albums of the year.
G.O.O.D. MUSIC - CRUEL SUMMER
Songs You Already Know: "Mercy," "New God Flow," "Cold" (a.k.a. "Way Too Cold" a.k.a. "Theraflu"), "I Don't Like" (Remix). Considering the album is only 12 tracks long, it's safe to say that if you've been paying any attention to hip-hop radio this year, a large chunk of it is gonna sound fairly familiar.
The Next Hit: "Clique," another tune residing in the top ten on iTunes, with Big Sean, Jay-Z and Kanye West running the triangle offense over a typically epic Hit-Boy beat. It's not quite on the level of "New God Flow" and "Mercy," but it's a smash for certain.
The Sleeper: "Creepers," a surprisingly catchy and non-assaultive solo cut for forgotten do-GOODer Kid Cudi. It's been a minute since Kid Cudi's music sounded anything less than totally delusional, so kudos to producer and co-writer Dan Black for bringing him back down to earth for once.
The Dud: "Higher," a borderline-unlistenable slow-ish jam featuring The-Dream braying "Higgggher thaaan a mooootherfuuuuucker" in a miserable, lifeless way that Nicki Minaj probably never intended.
The Verdict: Cruel Summer is an exceedingly uneven effort, though what side of the balance any given song falls on is basically contingent on whether or not Kanye is involved with the track. He disappears for most of the album's second side, and unsurprisingly, it falls off a cliff, with the likes of Teyana Taylor and CyHi da Prince unsurprisingly unable to pick up the slack. Still, that chock-full-o'-hits first half is pretty undeniable, with the cream of the crop ranking among the finest hip-hop jams of the year.
THE KILLERS - BATTLE BORN
Song You Already Know: "Runaways," the group's typically Springsteen-aping hit-the-road arena-filler with purposefully urgent and uber-dramatic lyrics like "I swore on the head of our unborn child that I could take care of the three of us" and "Like a stumbling ghost, I haunt these halls." It's pretty fun stuff if you buy into the group's schtick.
The Next Hit: No second single announced from Battle Born yet, though if we had to guess, the lighters-up power ballad "Here With Me"—produced by Pearl Jam main man Brendan O'Brien and co-written by Travis frontman Fran Healy—would probably be a pretty sound bet.
The Sleeper Jam: "From Here On Out" is a tight, compact rock blast that makes for a refreshing change of pace from the rest of the album's go-for-the-gusto anthemery. It could almost be a late-'80s Tom Petty song.
The Dud: No real duds to speak of, though we certainly could've lived with one or two fewer power ballads.
The Verdict: Unlike the rollercoaster rides of Cruel Summer and Kiss, Battle Born rides a fairly consistent, if hardly overwhelming, high, rarely faltering from its sheen of rousing, if recycled, stadium pop/rock. As with its lead single, if you're generally buying what the Killers are selling, you'll probably dig it considerably. If not, just go listen to The Truth About Love again.
NELLY FURTADO - THE SPIRIT INDESTRUCTIBLE
The Song You Already Know: "Big Hoops (Bigger The Better)," Nelly's super-fun dance-pop ode to the '90s, namechecking hits by everyone from Bell Biv Devoe to The Pharcyde to Shawn Mullins. (OK, Shawn doesn't actually get any dap from Nelly in this one, but we're betting she's a fan anyway.) Still a shame that "Hoops" wasn't a bigger hit than it was, as it failed to even crack the Hot 100.
The Next Hit: "Want another banger?" Nelly rhetorically asks at the beginning of "Parking Lot," to be the album's next single. With the song's droning, almost harsh synths and boom-clap drums, she certainly brings it with "Parking," her slitheriest and most addictive club jam since "Maneater." If "Hoops" couldn't bring the noise on the pop charts, hopefully this one will.
The Sleeper Jam: "The Most Beautiful Thing," produced by frequest Nas and Amy Winehouse collaborator Salaam Remi, is a disarmingly lush, understated and sweet love song, the kind of which we don't ever remember hearing from a post-"Promiscuous" Nelly. Like Our Girl Carly Rae's "This Kiss," it's very '80s-reminiscent, but this one is more evocative of shimmering synth-pop ballads like Yaz's "Only You" and T-Pau's "Heart and Soul" than anything Madonna would've shimmied to. It's quite awesome, really.
The Dud: "Waiting for the Night" is the set's obligatory EDM dalliance, and while it's not a complete loser, it's a little underwhelming—especially when its title can't help remind you of an infinitely superior J. Lo club classic.
The Verdict: Spirit Indestructible probably won't restore Nelly to the superstar status she surprisingly reached with her Timbaland-produced mid-'00s smashes, but it's enough of a reminder of her off-kilter pop charms to show us why it's a shame that she took so damn long to record an English-language follow-up to 2006's Loose. We wouldn't rule out a second comeback for the girl, though—she'll probably end up singing the hook on some Drake or Calvin Harris cut and be back as popular as ever soon enough.