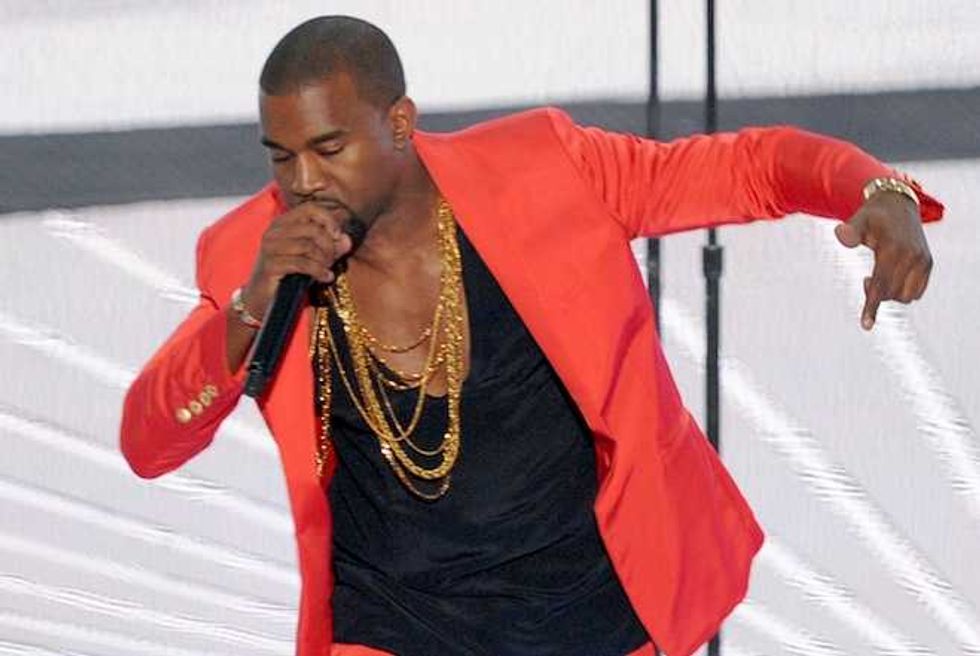 With a teasing tweet, MTV announced Monday that Kanye West would be joining Lady Gaga on the list of performers at this year's Video Music Awards on August 28. Yeezus will be performing "Black Skinhead" in his seventh turn on the VMA stage, which will tie him with Madonna for most VMA performances in history.
Just like Lady Gaga, Kanye has made the VMA stage his own during his decade as a rap superstar. We invite you to relive the glamor and take a look back at all six of Kanye's previous VMA performances.
2004
In his inaugural VMA performance, Kanye treated the audience to a medley of instant classics from The College Dropout. He blazed through "Jesus Walks," "All Falls Down" and "Through the Wire," bringing out the legendary Chaka Kahn to sing the latter's chorus—an impressive exclamation point on an impressive and energetic first VMA performance from the rapper. As we all know, though, this was just the beginning.
2005
The following year, Yeezy upped the drama and glam factor significantly, appearing alongside Jamie Foxx to perform "Gold Digger." The two wore contrasting suits, with Kanye opting for the white tuxedo jacket punctuated by black-and-white wingtips. He confidently strutted about the stage while flawlessly running through the song's exhausting verses while dollar bills rained over the audience. The crowd's screams could only be matched by the excitement over Foxx's suddenly unbuttoned shirt and gyrating hips.
2007
With the VMAs taking place in Vegas that year, Kanye veered from the mainstage—something he apparently wasn't thrilled about—to rap his hit "Stronger" while partying in a suite in the Palms Casino resort. Still, Kanye delivered with high energy for the audience, much of which was decked out in the signature shutter shades from the song's music video. Kanye then followed that up by bringing legendary auto-tuner T-Pain out for a performance of "Good Life," which featured the pair traipsing through the enormous Palms suite and ending up on the suite's ridiculous balcony.
2008
In what we might be able to retroactively identify as the beginning of his descent into everlasting moodiness, Kanye performed "Love Lockdown"  at the VMAs just a year after his party at the Palms.  The suddenly dour rapper opened the performance shrouded in darkness, save for a light-up broken heart emblem on his suit. Even when the stage lights came on, West stayed prone, standing in front of a mic stand while singing his mechanical ballad. After years of taking things as big as they could go, this performance was all about understatement.
2010
After his unofficial appearance at the 2009 VMAs made him America's favorite villain, Kanye's return to the VMA stage a year later was delicate mix of self-aware, entertaining and brilliant. Somehow, Kanye managed to pull this off, appearing in a dramatic red suit and, at first, accompanied only by a small white piano at the center of a strikingly designed stage. In a rare moment of vulnerability, he performed without his signature shades. Of course, Kanye's redemption mission was aided by the fact that the song he performed, "Runaway," doubles as an apology for his actions of the previous year.
2011
Kanye's most recent VMA performance came alongside Jay Z as the two gave an exuberant rendition of Watch the Throne's "Otis." 'Ye and Jay were feeling particularly patriotic during this appearance, because not only did Kanye carry a miniature Old Glory in his back pocket, but he wore an outfit composed entirely of America's favorite fabric, denim. (This is never a good idea.) The performance closed with big ol' American flag dropping behind the pair, as the two megastars celebrated just how fun it is to be the best. Something tells us "Black Skinhead" won't be quite so patriotic.