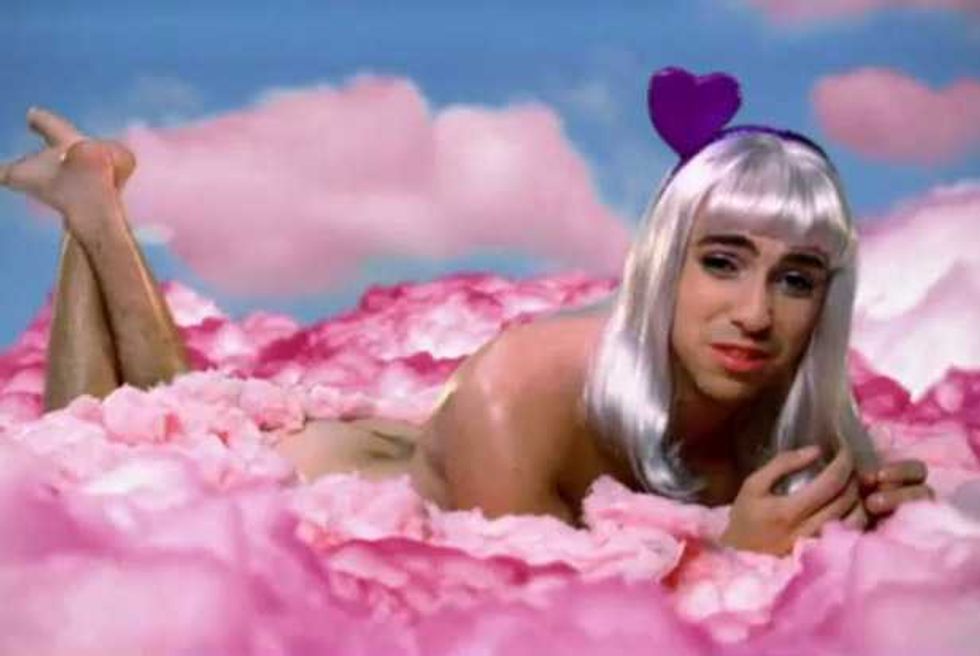 It's a tradition nearly as old as MTV itself. Every couple years or so, when there have been enough new iconic-but-overblown music videos worth taking the piss out of, some jokesters come along to poke a little fun at them, through music videos that feature the artist in sets and situations parodying those of the popular videos. There hadn't been a good one in a while—with viral videos stealing a lot of the thunder of buzzworthy music vids, the best illustration of the concept in recent years had been Weezer's meme-packed vid for "Pork and Beans"—but the form was revived very recently by All-Time Low, whose video for hit-to-be "I Feel Like Dancin'" sees the young'ns in instantly-recognizable mock-ups of videos from Lady Gaga, Katy Perry and Justin Bieber.
About damn time if you ask us, though maybe it just took the emergence of three artists as visually iconic as those three to make it possible. This was rarely a problem in the 80s or 90s, however, when music videos were still integral enough to an artist's pop success that parodists could take shots at them without ever having to worry about people getting the joke. Here's a brief history of the spiritual successors to "I Don't Feel Like Dancin'," five clips that prove that when it comes to music videos, imitation is truly the sincerest—or at least the funniest—form of flattery.
DAVID LEE ROTH, "JUST A GIGOLO / I AIN'T GOT NOBODY" (1985):
The prototypical "parodying a bunch of recent videos" (PABORV?) video, David Lee Roth used the clip for his second solo single, a cover of Louis Prima's melding of pop standards "Just a Gigolo" and "I Ain't Got Nobody," to have a little fun with his pop peers. Freed from the shackles of Van Halen, Roth roams onto the video sets of Cyndi Lauper's "Girls Just Wanna Have Fun," Billy Idol's "Dancing With Myself," and anonymous Michael Jackson and Culture Club clips, generally creating chaos wherever he goes, and even causing poor Billy to get electrocuted. It all goes down on Dave TV, the 24-hour David Lee Roth video channel for which Dave himself is also the VJ, in some sort of weird version of egomaniacal music video purgatory.
PHIL COLLINS - "DON'T LOSE MY NUMBER" (1985):
As in All-Time Low's clip, "Don't Lose My Number" features Collins getting besieged by clueless record-exec types who have all sorts of derivative ideas as to how Phil should film his next video, which invariably end up with him ripping off a bunch of pre-existing music videos. Phil takes his turn in The Police's "Every Breath You Take," The Cars' "You Might Think," and even David Lee Roth's own "California Girls," demonstrating that when it comes to PABORV videos, turnabout is definitely fair play. It wouldn't be the last time Collins went the parody route in his vids, as he later made a jab at Michael Jackson's infamous "Panther ending" to the video for "Black or White" at the end of Genesis' "I Can't Dance."
'WEIRD AL' YANKOVIC - "UHF" (1989):
The greatest pop parodist of them all, 'Weird Al' tends to keep the focus of his videos to making fun of a single artist. But for the theme track to his 1989 film debut UHF, Al decided to expand his scope to the entire realm of 80s music videos, taking on over a dozen artists in the process. The list of videos parodies is too great to name in its entirety here, but suffice to say, Al gets his money's worth in the video's 4:08 running time. Our personal favorites are probably Al doing the arm-chop from Talking Heads' "Once in a Lifetime" and tossing off word-cards a la INXS' "Mediate," probably just because those original videos were so cool.
CHRIS ROCK - "CHAMPAGNE" (1997):
A long-overdue romp through Hype Williams-bred late-'90s hip-hop video excess, Chris Rock's Run-D.M.C.-sampling "Champagne" was the funniest thing to hit MTV in 1997 outside of the historic run of over-serious music videos from Live's Secret Samadhi. (Seen "Lakini's Juice" recently?) Rock flees from the cops via powerboat like The Notorious B.I.G., wakes up from a drowning nightmare like Puff Daddy, and chills in a futuristic color-coded dance club like Kim and Cease. Rock would also memorably take on Baz Luhrman in "No Sex (In the Champagne Room)" a few years later, but in terms of epoch-defining video parody, he got no better than this. Tiger Woods, y'all!
BLINK-182 - "ALL THE SMALL THINGS" (1999):
At the height of the boy band / teen pop / TRL era, in came pop-punk heroes Blink-182 to succinctly recap the last few years' worth of music video ridiculousness. Britney Spears' "Sometimes," 98 Degrees' "I D0 (Cherish You)," Christina Aguilera's "Genie in a Bottle" and of course, Backstreet Boys' "I Want it That Way"—no hit video from the year 1999 was safe from the parodic wrath of Mark, Tom and Travis, as they licked viewfinders, took dumps while being hit by wind machines, tickled each other with dandelions and flashed ass-crack on the beach. Not coincidentally, the video quickly became as popular as any it parodied, winning Best Group Video at the 2000 VMAs (beating N Sync!).
And in case you haven't seen it yet, here's the All-Time Low video that continues the legacy: