You better believe that whole cat stump running president thing is real
Stump the cat is throwing his tail into the presidential ring.
And, considering the current choice of 2017 POTUS candidates, he would totally get our vote.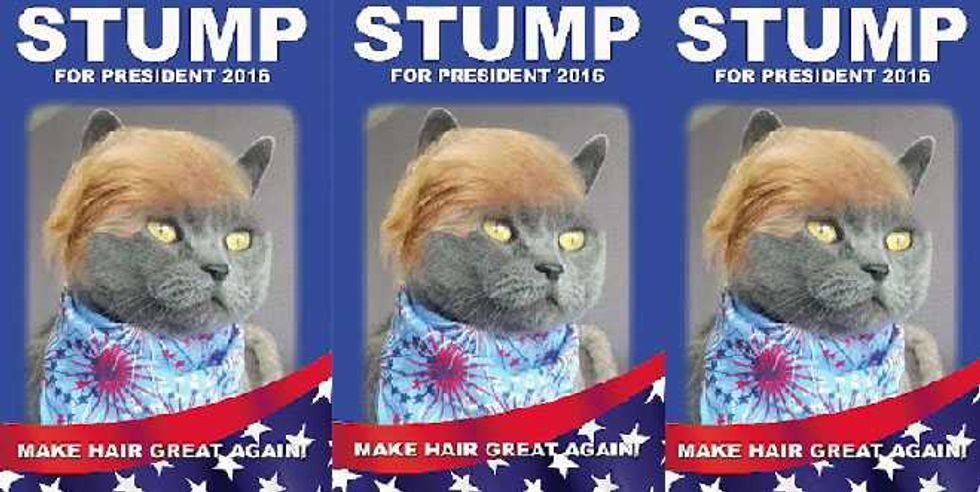 The New York Times visited Stump's campaign headquarters in Rhode Island, and spoke to his owner campaign manager, Denise Rachiele.
Stump campaign headquarters
Rachiele says she was motivated to enter Stump into the running after a Trump campaign office moved into the strip mall where her All About Pets store is located.
She explains:
I pulled in one morning and saw the new Trump campaign office.

I had customers coming in saying they would vote for Stump over Trump and Stump got a wig and decided he'd run.

He felt he was more qualified, or at least as qualified as Mr Trump.
Now, we have to take issue there.
More qualified
We seriously doubt Stump has succeeded in steering even one company into bankruptcy…. let alone four!
And, we're going to guess Stump has never fired a single person on a reality TV show, or body slammed, beaten and shaved the head of a WWE contender.
Pah! More qualified?!!
Well, hopefully, Stump will make up for these failings by way of his running mate.
Running mate
Rachiele discusses the candidates:
Right now we're looking for a running mate, anyone who knows Stump right now, seems to think they have an "in" in the office.

Owen the pug, he's more the front guy.

Customer relations… organizing the people in the events.

Charlotte… we're trying to get her to be head of security… if we can get her to stay awake long enough.

There's also another cat, that would like to be head of the CIA.

He was part of the legalization of cat napping.

He thinks that the world really needs to take more naps.

And, er, if he woke up he could tell you more.
Quite frankly, he doesn't need to....he had us at "more naps".
Devil and the deep blue sea
And, when you consider the two brutes who are looking ever-more likely to be the 2017 POTUS, we'd take Stump and whatever old running mate, any day of the week.
Because, as the candidate race draws to an end, it's indicating either Donald Trump or Hilary Clinton will be the 45th President of the United States.
At time of posting, both candidates are predicted to win today's North Eastern primaries, pretty much guaranteeing them their party's candidacy.
The Republican party is bitterly divided over Trump—and his GOP opponents are pulling every trick in the book to try and thwart his nomination.
Gruesome twosome
Former rivals, Ted Cruz and John Kasich, have even teamed-up in the hope of derailing the Trump train.
The gruesome twosome has vowed to work together for the upcoming Indiana, Oregon and New Mexico primaries, in a desperate bid to limit further votes for the Donald.
They're hoping to block Trump from securing the 1,237 delegates he needs in order to gain the party's nomination.
If—and it's a huge if judging by current momentum—they would force a contested convention in Cleveland, meaning party delegates would choose the nominee, rather than the public.
President Stump is looking like the better option more and more by the minute.
Make America Purrrrrfect Again!
For more entertainment, music and pop culture updates and news, follow Max Page on Twitter
Donald Trump Hair Mystery—Combover, Toupee, Transplant, Follicle Faux Pas?
Donald Trump Miraculously Appears In Missouri Woman's Organic Butter
Watch Tupac Call Out Trump In A Rant About Income Inequality!
Nik Richie Donald Trump Endorsement Was Paid For, Of Course
Mittens Reading Mean Trump Tweets Is Pretty Damn Good
Money Monday—How Much Is Donald Trump Actually Worth?
Donald Trump Is Great In Bed, So That's A Relief
The Donald is clearly a keen amateur Ornithologist—at least when it comes to style.. here he is modeling a wonderful woodpecker 'do

cat stump running president
Donald Trump Threatens To Sue Over Fred And Rosemary West Tribute Tweet
Donald Trump Is Truly The Most Amazing Troll Of Our Times
Donald Trump Butt Plug Is Everything… Just…. Everything
cat stump running president