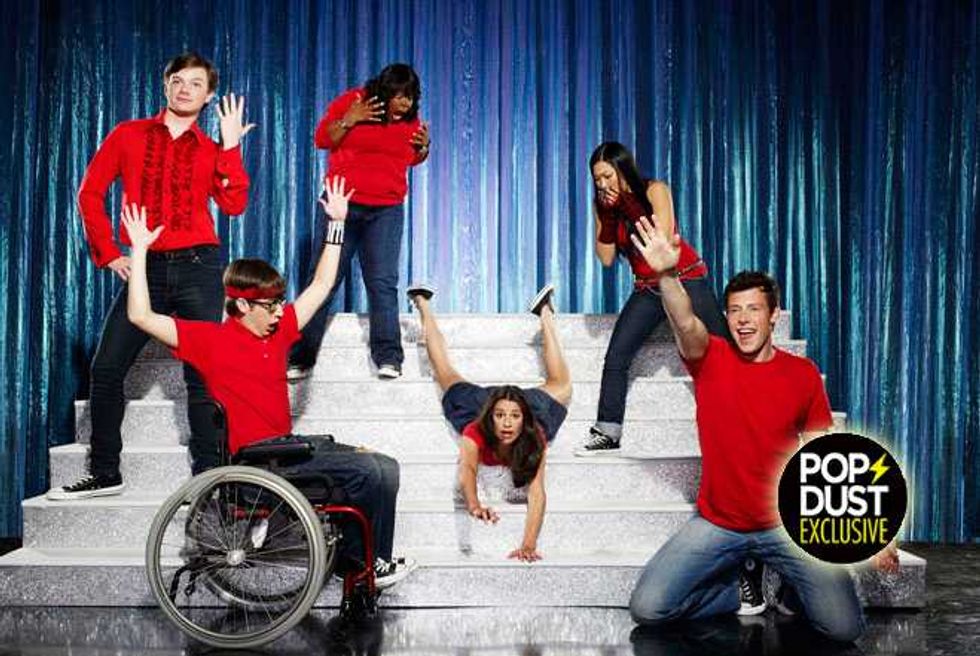 "Being part of something special makes you special"
Glee set the world on fire soon after its May 19, 2009 pilot launch. The show wouldn't go forward with its tall 22-episode inaugural season for another four months, but the first empowering 60 minutes brought a sense of magical self-worth and unbridled charm. As my roommate and I plopped down on the sofa to tune in to this little singing show for the very first time, we had no inkling about what was about to transpire inside the walls of McKinley High. Within the first 30 seconds, I was transfixed by the tumbling and beaming red-skirted Cheerios, as they flew through the air in an attempt to appease the show's archetypal villainess, one Miss Sue Sylvester. The incomparable Jane Lynch, whose career spans several decades of hilarious cameos and stand-up sketches, brought a grounded edge to the otherwise wide-eyed youthful optimism: she served as the fuel, the mechanism which powered Will Schuester (Matthew Morrison) and his band of misunderstood underdogs to dream bigger, reach higher and sing louder.
Ok. I'll be the first to admit it: Glee had a knack for bizarre storylines (Tina's raging crush on Blaine; Quinn's bizarre emo phase), devastating wastes of talent (Tina, Harmony, Lauren), regurgitated and stale plot points (the Marley/Jake/Ryder love triangle) and even over-baked, overwrought performances that fell flatter than flapjacks in July. But when the confetti did finally settle, the show's commitment to tackling taboo topics and it's relentless message of acceptance never faded away. The love the characters had for performing was a marvelous wonder to behold. Even at the series' lowest points, it could strike your heart with a delicate and resounding emotion.
Sure, I was 23 at the time of the first episode, but the reality is: we are all scared kids sometimes. We all get frightened. We are all rattled to our bones. We are all crushed to dust. But the show, strewn with musical covers of some of the greatest songs of all time, instructed us that those scrapes and bruises are what define us. It's not the glorious, intoxicating highs that mold us into living, breathing and vibrant human beings. When we fall (and realize when it's time to get back up), that's when we are truly alive. And that's what Glee was all about.
Rachel Berry, "the stunning young ingenue everyone roots for," hit the screen like a bolt of lightning. She encapsulated everyone's dreams, everyone's struggles, everyone's need to conquer. She might have had a penchant of saying the wrong thing at the wrong time, but her intentions were real. She just didn't know how to control them. In that first magical episodic teaser on that sweltering early-summer evening, the sun was creseting the horizon outside my window. And all I could think (as I belted the closing number Don't Stop Believin' at the top of my lungs) was "man, these kids have something really special." Equipped with gold stars and her bedazzled "Hot Stuff" laptop, Rachel dared to navigate those hallways and challenge the natural order of the slushy facial. She instantly became who we wanted to be when we "grew up."
Finn Hudson, "the natural leader," was the glue that held the entire ensemble together. He might have been part of the football pack, but his soft heart and his tender way of making you feel...special was inspiring. The iconic shower scene stands as one of the show's defining moments: it was chill-inducing, really. His voice pierced through the steam, wafting over to Will—as he was grasping at straws trying to build the glee club back up again. But it was Finn's delightful, yet commanding, presence that became the show's rock-solid foundation. When the quarterback turned to his fellow Lima Losers (after saving a downtrodden Artie from the deathly porta-potty entrapment) and declared "I'm not afraid to be called a loser because I can accept that's what I am," I stand assured that that moment is when I fell head over heels for this show.
Tina Cohen-Chang, "a powerful woman" whose "growing feminism will cut you in half like the righteous blade of equality," was the outsider. Despite being welcomed with open arms and hailed for her differences, her presence on the show (tragically) always felt rushed, always playing second fiddle to the rest of the cast. It was her brashly suggestive I Kissed a Girl and that quirky, endearing stutter (which was later revealed as a gambit to cozy up to Artie) that established her as a diamond in the rough. I've knocked a few of her storylines throughout the past six years, but the truth of the matter is: Tina magnified our deeply embedded insecurities that we attempt to shadow behind a facade. We might fool others, but we ultimately only fool ourselves.
Quinn Fabray: as "captain of the cheerleading squad and president of the celibacy club, people would part like the red sea when [she] walked down the hallway." She could be rather vicious when she wanted to be, but that was only masking a deeper turmoil—a storm of emotions was brewing inside of her, and I'm not talking about her bundle of joy. She was already a champion, but when her world began crumbling down around her, you quickly realized she was just like everyone else. She was a terrified little girl forced to be an adult by her parents. But it was her rise, like a phoenix out of the ashes, that became one of the more intriguing components of the series. She needed to hit rock bottom in order to find her inner strength that she could be and do anything she wanted.
Kurt Hummel, whose "body is like a rum chocolate souffle; if [he doesn't] warm it up right, it doesn't rise," began his journey as a boy tossed into dumpsters. He was not-so secretly in the closet, and as a gay man myself, I identified with his story the most. Trying to navigate the teenage and 20-something wasteland of body image and societal norms is not an easy feat, but it was Kurt's struggle that assisted in bringing those issues to primetime television. His good looks matched his booming voice (I mean, how can anyone forget his soaring Mr. Cellophane audition?) and it wasn't long before he became an LGBT icon.
Santana Lopez and Brittany S. Pierce were mere choir room fixtures during the show's pilot episode, but they would later come to deliver some of the more harrowing, emotionally-charged performances. Santana's coming out story is of particular note here: Finn, in a misguided attempt to show support, publicly outed her, pushing her to anger and slapping him. Her subsequent mash-up of Someone Like You and Rumor Has It is her most masterfully concocted vocal. But I digress, for purposes here, she was Quinn's stunning and sassy sidekick with enough one-liners to quench a donkey's thirst. Brittany, for her part, was a comical device: her Fondue For Two segment may very well be remembered for years to come in TV history. Their passionate love for each other, too, was chiseled onto our hearts.
Mercedes Jones, otherwise known as "Beyonce" (and to clarify, she "ain't no Kelly Rowland!"), embodied everyone's inner Sasha Fierce. She never let others walk all over her, and she'd be damned if you tried to do the same to one her friends. She was the loyal friend who wasn't afraid to look you in the face and tell you, point blank, that you suck. We all need truth tea splashed on our faces every now and then. She was there to serve her duty. You might hate what she has to say, but nine times out of 10, she was right.
You know, I could continue chronicling each and every character's profound impact on my life, but I think you get the point. Glee represented everything in my life that had been missing: it pieced together hope, love, optimism, strength, friendship, loyalty into a patchwork quilt of intense truth, as I turned to face the world with a new understanding of what it meant to be me. Even in my darkest times (and boy, I've had a bunch), I could tune in each week to see these fresh-faced kiddos digging their heels into life, taking it by the horns and achieving greatness.
Of course, I would be remiss, if I didn't at least acknowledge a plethora of other characters that touched my heart along the way:
Artie Abrams (you and your constant belief in a better tomorrow always brings a tear to my eye); Noah Puckerman (you "tried to be the good guy," and even though you lost your way sometimes, you always proved you had a good heart); Blaine Anderson (your admiration and love for Kurt is what every single person fantasizes about); Mike Chang (dude, you couldn't sing a lick, but damn, could you dance your face off!); Lauren Zizes (you might have had a "bad attitude," but you always knew what boys want #wink); Sue Sylvester (yes, you could be grating and uninspired, but without forces like you in the world, we'd never know to push through it); Becky Jackson (thank you for teaching us that being different is so much better than normal); Sam Evans (Trouty Mouth: enough said); Kitty Wilde (in many ways, you were Quinn 2.0, but you quickly stepped out of her shadow to blaze your own inspiring path); Coach Beiste (as one of the show's only transgender characters, you reminded us that being your most authentic self is the key to true happiness); Emma Pillsbury (we are all a little OCD; it's OK not to be OK); Jane Hayward (we barely even got to know you, but that VOICE!!!); Unique Adams (you made be cry, scream, stomp my feet and realize the world needs people like you to fight for equality); Burt Hummel and Carole Hudson (you were the parents we all wished we had); Sugar Motta (you made my life so much sweeter); Jessie St. James (you were the perfect singing rival); and last, but certainly not least, Lord Tubbington (for helping us channel our inner feline).
And with that, I salute you, Glee: despite your many flaws, you changed the world one glorious note after another.
Signed,
Jason Scott, Gleek
https://vimeo.com/83540550
Stay tuned for Glee updates. Be sure to follow @Popdust and @JasonTheScott on Twitter!