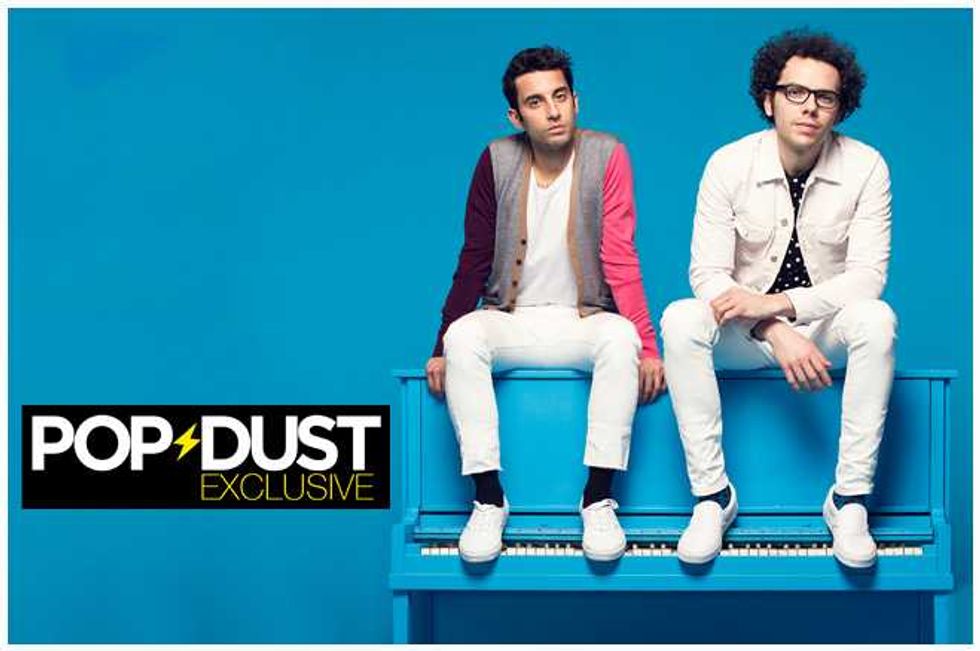 A Great Big World changed, well, our world this past year with their searing ballad Say Something, which became an unconventional hit on the Hot 100.
After pop diva Christina Aguilera first heard the song, she quickly jumped at the opportunity to record with Ian Axel and Chad Vaccarino, furthering the impact of the track on the mainstream.
Following such high-profile performances on The Voice and Victoria's Secret Fashion Show, it was clear that this duo had something pretty powerful to say. But to be clear, it wasn't the duo's intention of releasing the song as a single, "it kind of just happened."
Lifted from their newly released debut set, titled Is Anybody Out There?, the piano-driven tune is not exactly indicative of the album as a whole.
"We've been sort of nervous that people wouldn't be receptive beyond 'Say Something,' just because our whole album is not a bunch of 'Say Something's," Vaccarino tells Popdust exclusively about the album's No. 3  bow on the Billboard 200. "The fact that people responded [so well], it's incredible."
As far as their duo's name is concerned, Axel explains,  "It's a lyric in our song 'Cheer Up!' And the lyric is, 'it's a great big world, and there's no need to cry.' We just thought that's what our music is all about. It's positive. We sing a lot about things and ideas that are larger than life and ask big questions. We wanted to be able to evolve and do anything we wanted."
Of course, as a result of their remarkable success, Vaccarino and Axel were invited to the illustrious pre-Grammy gala, hosted by industry icon Clive Davis. "We knew how legendary the party is, and we'd heard about who was going to be there beforehand," Vaccarino relishes of the evening. "When we were there, I think it was one of my favorite moments of my life. It was so surreal. You're in the room with the history of music and legends and people you've looked up to your whole entire life. They're just sitting there, and you listen."
He adds, "Then, [we got to play] 'Say Something' for them. I think that's what our lives have been building up to and working toward. It felt like we got initiated into some sort of club."
"That's definitely what that party felt like," Axel chimes in. "I want to do that over and over and over again. I feel like I didn't get to really...it was gone in the bat of an eye. I didn't want to leave."
"We didn't get to talk to Buzz Aldrin! [laughs] That was sad. I wanted to ask him if he believed in aliens," quips Vaccarino, slyly.
The band's performance of "Say Something," while well-intentioned, did not exactly go off without a hitch. Vaccarina recalls, "I don't know if you heard, but our piano was out of tune -- something happened with the tuning, from Lionel Richie's set to our set. The piano didn't sound right, so Ian had this awkward pause with the audience."
"He was like 'I can't play this piano. It shouldn't sound like this,'" he continues. "And then these guys came out to fix it. The whole place erupted with laughter and cheers. It felt like these walls broke down. Most people had no idea who we were, 'why are we watching these kids?'"
"I think it was a blessing that that happened," says Axel. "It was a real moment. Also, everyone in that room has had that happen to them. My favorite moment was just being up there on stage. Seeing Macklemore & Ryan Lewis live onstage. They performed right before us, and we watched from five feet away. They have so much energy. They just explode with positivity onstage. Being around that in person is just something that is really special."
And speaking of Macklemore & Ryan Lewis, the rapping masterminds delivered one of the most inspiring performances during Sunday's (Jan. 26) three-hour Grammy event. Vaccarino, who did not attend the show, praises the duo for their work, "I think all the music they're doing right now is changing perspectives. Having all those people married onstage in that moment when all eyes are on them is so incredible. People need to be exposed to that more, because I feel like people aren't exposed to it enough. For the world to see that is a really beautiful thing."
"To see the love these people have for each other...I was so happy when I found out that was happening. I just read a Kid President book today, and it said that 'if it doesn't make the world better, don't do it.' I just feel like that's what they're doing. Everything they're doing is trying to wake people up," Axel notes.
On their own album, A Great Big World projects their own hope for equality on their peppy ditty "Everyone Is Gay," a message that was inspired by the website EverybodyIsGay.com. "[Our friends] asked us to write one of the gayest songs ever for a compilation album," Vaccarino says of the song's creation. "When we went to write it, it was kind of our chance to say the things we wish we could've told ourselves growing up."
"I know when I grew up, I was confused as hell with my sexuality because people made fun of me for it. I never identified as being gay. I wanted to write a song that hopefully would help kids realize that you don't have to label yourself and definite yourself in this moment in time. You can be whatever you want to be or whoever you want to be."
For fans hoping that "Everyone Is Gay" could be the next single, well, it just might. "I would absolutely love if that was a single," he gushes. "We're actually talking about what the next single is after 'Say Something.' We're kind of going to let the universe decide or let the world decide. There's not really a clear, definite single. We're kind of just trusting that the next single will reveal itself over time."
Apart from their smash "Say Something," Axel reveals what the next most personal cut on the album is: "I love 'Rockstar.' It's basically about not letting go, not losing your inner child. It's the part of you that knows everything is possible. When I met Chad, I wasn't singing. I had had that dream when I was a kid, but I forgot about it. It got buried. I almost lost it. In a way, the past eight years of my life singing and writing with Chad, I feel like I've been reconnecting with that kid."
For Vaccarino, his choice would have to be "I Don't Want To Love Somebody Else." "[That song] is probably the most personal song on the record for me. I had to dig from a really deep place to write that one. It's just about falling in love with someone who doesn't love you the same way and not being able to let go of that idea and not wanting to. I feel like everyone goes through that, and it was really difficult. I still struggle with letting go. I think I'm doing a really good job."
2014 is already looking like it will continue the duo's momentum. Recently, Vaccarino and Axel performed for the first time on late-night TV, taking to The Tonight Show stage. "We grew up watching Leno, and to have us be in his last two weeks on air and be able to say in life we performed on the Leno Show, it's an honor," Axel says of the experience. "It was the first late-night show that we've been on, we got to see Magic Johnson..."
"That was pretty awesome. And Dana Carvey!" cheers his band mate.
Don't forget to grab A Great Big World's debut album Is Anybody Out There? on iTunes.