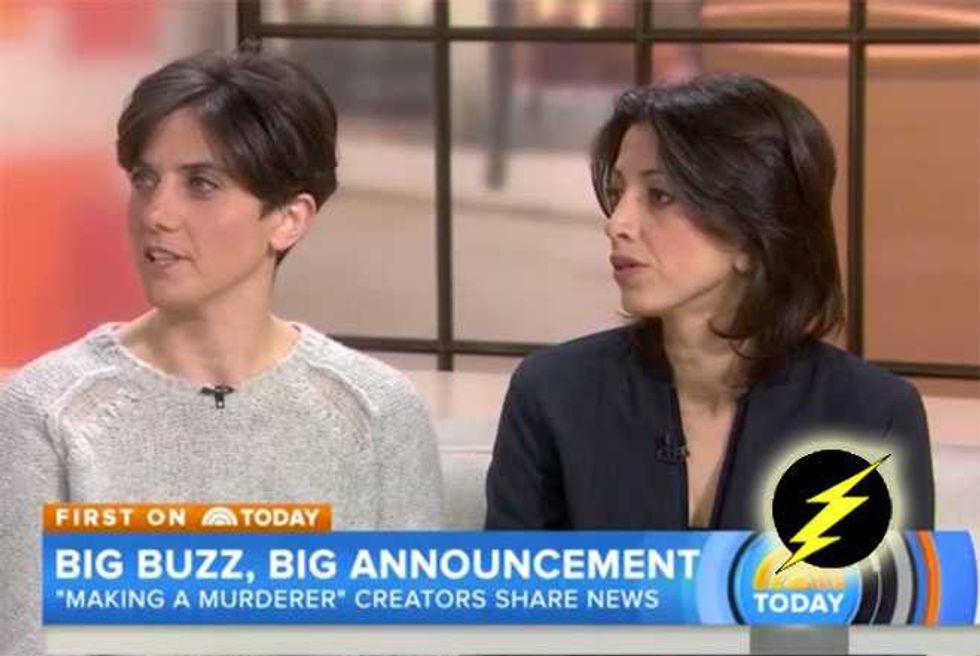 Ever since Making a Murderer hit Netflix on Dec. 18, the internet has been flooded with outrage, leading to several Change petitions reaching over 200,000 signatures (and counting) to free Steven Avery. The 10-episode documentary details one man's trials and tribulations through the Wisconsin justice system, and if you think those 10 hours weren't packed full of enough twists and unimaginable turns, there has been a break in the case. Filmmakers Moira Demos and Laura Ricciardi stopped by The Today Show on Tuesday (Jan. 5) to reveal a bit of news.
One of the jurors in the 2007 murder case against Avery has come forward. "We were contacted by one of the jurors who sat through [his] trial," Ricciardi shares. "They believe Steven Avery was not proven guilty. They believe [he] was framed by law enforcement and that he deserves a new trial, and if he does receive a new trial, it should take place far away from Wisconsin."
Why did they vote him guilty? "What they told us was that they feared for their personal safety," says Demos.
A big announcement from the filmmakers behind #MakingAMurderer: https://t.co/iB0rXpge6I

— TODAY (@TODAYshow) January 5, 2016
Avery was falsely convicted in 1985 of sexual assault on a prominent member of the community, Penny Beernsten. It took 18 years to discover he did not commit the crime, with newly-tested DNA evidence proving his innocence. He was released in 2003. Two years later, when he brought a $36 million lawsuit against the county, the sheriff and the district attorney for damages, he was then accused of the murder of 25-year-old Teresa Halbach, a photographer for Auto Trader magazine. As Making a Murderer documents in great detail, the subsequent investigation and trial were murky, with enough reasonable doubt not to convict. At the outset of jury deliberation, seven voted not guilty, three guilty and two undecided. Within 20 hours, the jury came back with a guilty verdict. He is now serving a life sentence with no possibility of parole.
Meanwhile, Brendan Dassey, whose confession of his own involvement in Halbach's death is believed to be coerced, is serving out his life sentence with the possibility of parole in 2048.
Prosecuting attorney Ken Kratz has been making the media rounds, too, to defend the verdict and his handling of the case, as portrayed in the documentary. "You don't want to muddy up a perfectly good conspiracy movie with what actually happened," he he told People.com last week, "and certainly not provide the audience with the evidence the jury considered to reject that claim."
The story is developing.
Stay tuned for updates. Be sure to follow @Popdust and @JasonTheScott on Twitter!