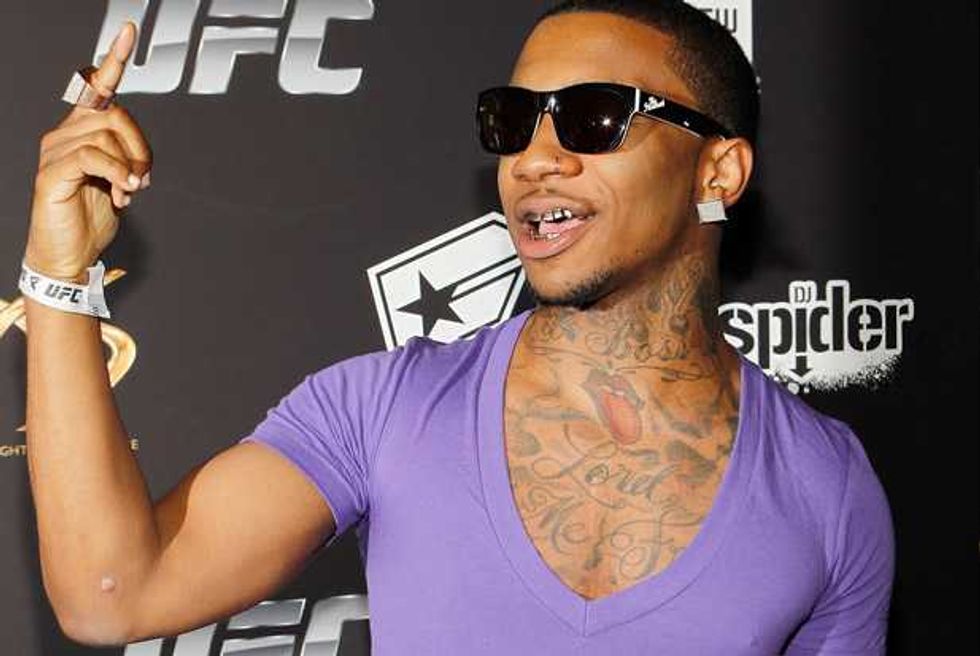 "I'ma do the most controversial thing in hip-hop," Lil B promised the crowds at Coachella over the weekend. "Y'all heard it first." True to word, three years after Nas attempted to stir the pot by titling his new album after the N-word (eventually just opting not to have a title at all), B appears poised to create almost as much discussion over his new album—called, if his public address is to be believed, I'm Gay. According to the BasedGod, the title is not intended to be taken literally as a proclomation of sexuality, but rather, as some sort of sociological linguistics experiment.
"I'm gonna show y'all that words don't mean shit," Lil B explained. "You know, some people be worried about what, like, people mean...definitions of words and shit...but first off all, 'gay' means 'happy,' you feel me?" B went on to clarify about his own sexual preferences for the confused crowd: "I like women—I love women, you feel me? But...it's like, no matter what you do, it doesn't matter. It's like, live life, you only got one life to live, be happy." The rapper closed his address by repeating a message in summary: "Fuck the hating."
Unsurprisingly, the controversy predicted by Lil B is already underway. The Gay and Lesbian Alliance Against Defamation (GLAAD) had something to say about the announcement, telling XXL that organization "hope[s] that Lil B's album title is not just a gimmick, and is really a sincere attempt to be an ally. He has the platform and the voice. We hope he uses it in a positive way." XXL also reached out to a number of contemporary rappers to get their take, most of which were positive. "What he did with that, in one fell swoop, was challenge every single bandwagon fan," says Talib Kweli. "Like are you really down with me or not. And me as an artist, I have no choice but to respect that." Killer Mike also respected B's artistic bravery, finding an interesting historic parallel. "This just feels like knocking down walls and stereotypes, embracing controversy and flipping it," said Mike. "Bravo to him for being the next Madonna."
Meanwhile, B himself addressed the controversy the only way he knows how—taking to social media. The hardest working tweeter in the business has spent the better part of today re-tweeting some of the responses he's gotten to his announcement, both those in support and those expressing a healthy dose of skepticism. A small cross-section:
[blackbirdpie url="http://twitter.com/#!/PleaseDontDm/status/59812249711288320"]
[blackbirdpie url="http://twitter.com/#!/gav_mind/status/60051252612046848"]
[blackbirdpie url="http://twitter.com/#!/djshermski/status/60016790109044736"]
[blackbirdpie url="http://twitter.com/#!/gangstafreakloc/status/60014525709164544"]
[blackbirdpie url="http://twitter.com/#!/TazzyMTheFlame/status/60010525752438784"]
Is Lil B actually trying to generate thoughtful discussion among rap fans, or is he just starting shit for the sake of starting shit? Either way, we appreciate the man's willingness to start gasoline fires in the hip-hop community, and to not run away from the flames. Swag swag, for sure.