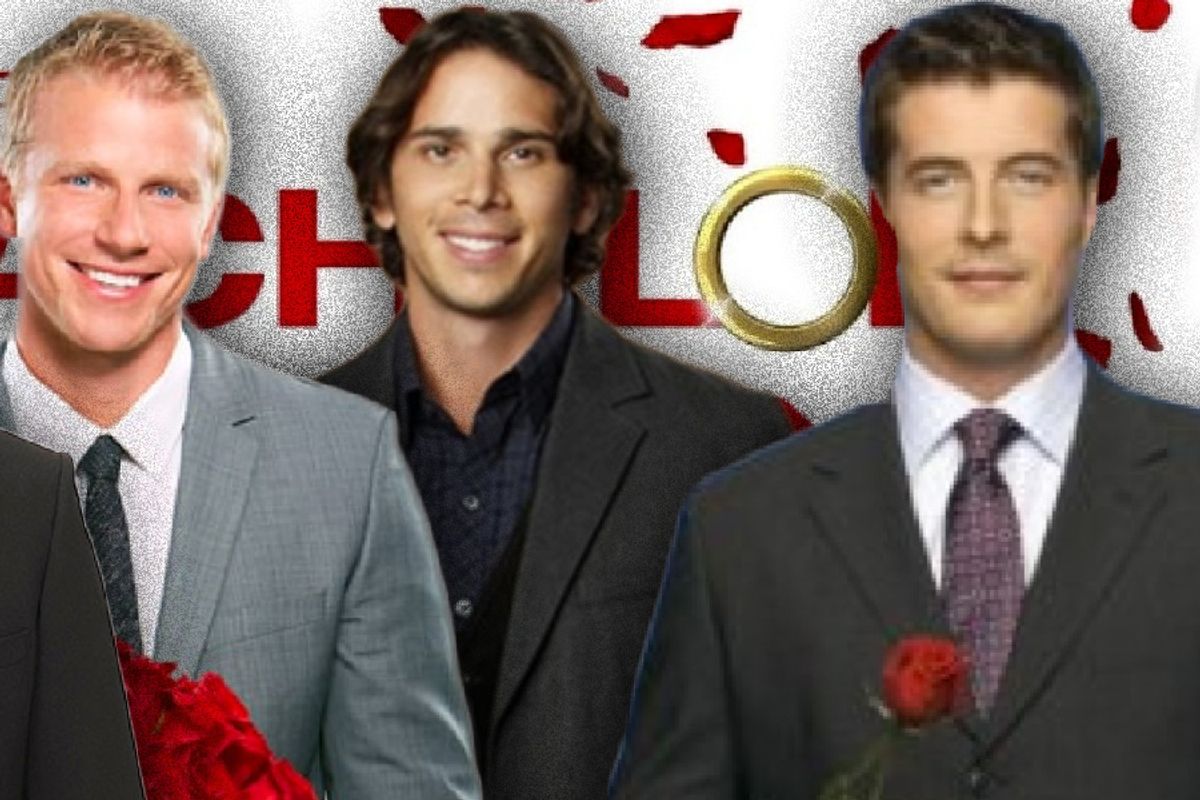 ABC pretending black bachelor is a possibility still…some time in the future obviously…like never (probably)
20 seasons in, and ABC is still pretending they would really like to have a black Bachelor head up their shit-tastic show that we can't believe anybody still watches.

We mean, come on now, even the train wreck element disappeared years ago.
And it hasn't been even mildly entertaining since season 12, when they had the "British Bachelor" Matt Grant.

You may remember he ultimately picked Shayne Lamas—which of course didn't work out—she's now married to Nik Richie and has two kids with the pro-douche.

Anyway, we digress—which is more than can be said for The Bachelor when it comes to the subject of their choice of show lead.

They've all been blindingly white—as white as their chicklet looking choppers—albeit with a healthy splash of orange fake tan thrown in for good measure.

As have all the Bachelorettes—12 in total and counting, although they really all just fade into one long-haired cheerleader prom-Queen type extension of each other at the end of the day.

ABC did attempt to "mix things up" a little along the way—they cast Latino lothario, American-born Venezuelan Juan Pablo Galavis back in 2014, to head up the 18th season of the show.

Galavis ended up being the most notorious bachelor of all time—and not just because of his dusky coloring.

The single dad caused controversy after he was caught on camera whispering in the ear of runner-up, Clare Crawley, "I love fucking you, but I don't know you."

Probably the most honest thing any of these losers has ever actually said.

He caused yet more headaches for show producers after refusing to propose to his final rose receiving "lucky lady", Nikki Ferrell.

He even steadfastly refused to tell her he loved her during the finale—which we really kinda respected—as it's such a ludicrous concept given the show's premise and the reality of the situation.

However, he lost any modicum of respect we could still possibly muster after making a series of homophobic comments when asked about the possibility of a gay bachelor.

So, yeah, there you go.

Anyway, aside from good old Galavis, the Bachelor and Bachelorette has been steadfastly white (aside from the tan orange we mentioned) throughout it's duration.

ABC, and the show's production company, Warner Horizon television, were even subjected to a lawsuit over the matter.

Nathaniel Claybrooks and Christopher Johnson,sued the network back in 2012 for alleged racial discrimination, following an open casting call they attended in Nashville.

The two former college football players claimed they were "rushed through the audition process dismissively while observing white applicants treated with greater attention."

Their suit was dismissed however, after a judge ruled:

As defendants persuasively argue, casting decisions are a necessary component of any entertainment show's creative content...
The plaintiffs seek to drive an artificial wedge between casting decisions and the end product, which itself is indisputably protected as speech by the First Amendment.
Thus, regulating the casting process necessarily regulates the end product.
In this respect, casting and the resulting work of entertainment are inseparable and must both be protected to ensure that the producers' freedom of speech is not abridged.

There you go then.
Despite winning the right to be white, ABC has gone through the motions from time to time of pretending they would love the show to be more diverse.
And, they were doing the same yesterday, as Entertainment President Channing Dungey, fielded questions during a TCAs presentation.
When asked about the show's diversity issue, she claimed:
I would very much like to see some changes there.
I think one of the biggest changes that we need to do is we need to increase the pool of diverse candidates in the beginning because part of what ends up happening as we go along is that there just aren't as many candidates to ultimately end up in the role of the next Bachelor or Bachelorette so that is something we really want to put some effort and energy towards.

Hmm…. OK…
When asked if producers could just pick a candidate and sort the issue out once and for all, Dungey replied:
We could.
[However] the show has been very much in a cycle where the first runner-up in one cycle becomes the person who leads the next cycle.
It's worked very well for us because the audience feels really engaged in helping to choose that candidate.
So I think what we would like to try to do is just widen the pool choices.

Yeah, well, good luck with that.
For more entertainment, music and pop culture updates and news, follow Max Page on Twitter
---
READ MORE...
Airbnb Racist Host Banned After Inundating Woman With Hateful Messages
Bank of America Employee Fired Over Insanely Racist Facebook Rant
Snoop Dogg Calls For Roots Boycott—Focus On Success Not Oppression
Riff Raff Knows How To Stop Racism—Because DUH! Of COURSE He Does
411 On Baltimore City PD Corruption, Racism, Witness Coercion And Coaching
---
Ashton Kutcher and Demi Moore: Before they split in 2011 Ashton made it very clear that they had an open relationship and shared threesomes. Demi had to a) be involved and b) pick the girls. Trouble is they clearly weren't on the same page about how 'open' it actually was. He went off and did it on his own with Brittney Jones causing Demi to throw his ass outta there!
Brad Pitt and Angelina Jolie: According to Angie, just because you're open to being open doesn't mean you have to. She has gone on record as saying; "I doubt that fidelity is absolutely essential for a relationship. Neither Brad nor I have ever claimed that living together means to be chained together. We make sure that we never restrict each other." Hmmm, we think she's pretty safe in the assumption that with that many kids to look after they probably don't have too much time to act on it though!
Dolly Parton and Carl Dean: Dolly and her hubby have been married since 1966 and recently renewed their wedding vows, so clearly whatever policy they have seems to be working. They seem to exercise the 'don't rub my face in it—don't ask don't tell' rule. Dolly has said; "If we cheat we don't know it, so if we do cheat, it's very good for both us. I don't want to know it, if he's cheating on me. If I'm cheating on him, he wouldn't want to know it. And if we do, if that's what's making it work, then that's fine too."
Justin Timberlake and Jessica Biel: Apparently, before they got married and had a baby, old trouser-snake didn't want to be tied down. He told Jessica that he wasn't interested in being in a serious relationship with her and needed it to be open for it to continue. She was devastated but then came around to the idea of being demoted from girlfriend to friend with benefits. She played the long game however and managed to put a stop to it and get him to settle down.
Mo'Nique and Sidney Hicks: This is more of a one sided open relationship. He gets to have sex outside of the marriage and it's ok. She chooses not to. Hey if they're both comfortable with the arrangement then who's judging? As Mo'Nique says; "We've been best friends for over 25 years and we truly know who we are."
Megan Fox and Brian Austin Green: This is one sided too….but the other way!  Allegedly they have a deal whereby she can see other men but Brian can't date anyone else. Sounds good to us!
Pink and Carey Hart: This couple had to revise their open door policy after a change of heart ( ?) by Pink, leading to them separating for two years. They originally had a 'don't ask, don't tell' policy, but then Hart took it too far and started making public appearances with his blond bit on the side. The cute couple seem to have sorted it out now and are happily reconciled.
Tilda Swinton and John Byrne: A truly unconventional open relationship which is about love and not just being free to sleep with other people. Tilda and John have twins and are a family together, but each have other lovers outside of the marriage. Tilda with artist Sandro Kopp and John with a woman named Jeanine. Swinton says; "It may seem odd but it is certainly the best thing for the children. It's not something I try to promote as a radical lifestyle choice. But it's a situation I find very healthy.
T-Pain and Amber Najm: The rapper states that he and his wife do not have an open relationship. They just 'sleep with other girls together'. Sounds pretty open to us, but invoking the 'keep an eye on it' rule that you have to cheat at the same time for it to be ok.
Will Smith and Jada Pinkett Smith: Married for 18 years, whatever rules they have—it works for them!  Pinkett-Smith has been quite open about the open nature of their marriage, saying; "Here's the deal... you've got to trust who you're with. And at the end of the day, I'm not here to be anybody's watcher. I'm not his watcher. He's a grown man. Here's what I trust—I trust that the man that Will is, is the man of integrity. So, he's got all the freedom in the world. As long as Will can look himself in the mirror and be okay, I'm good."