Trending
A look into the "American Idol" runner-up's most impressive live performances.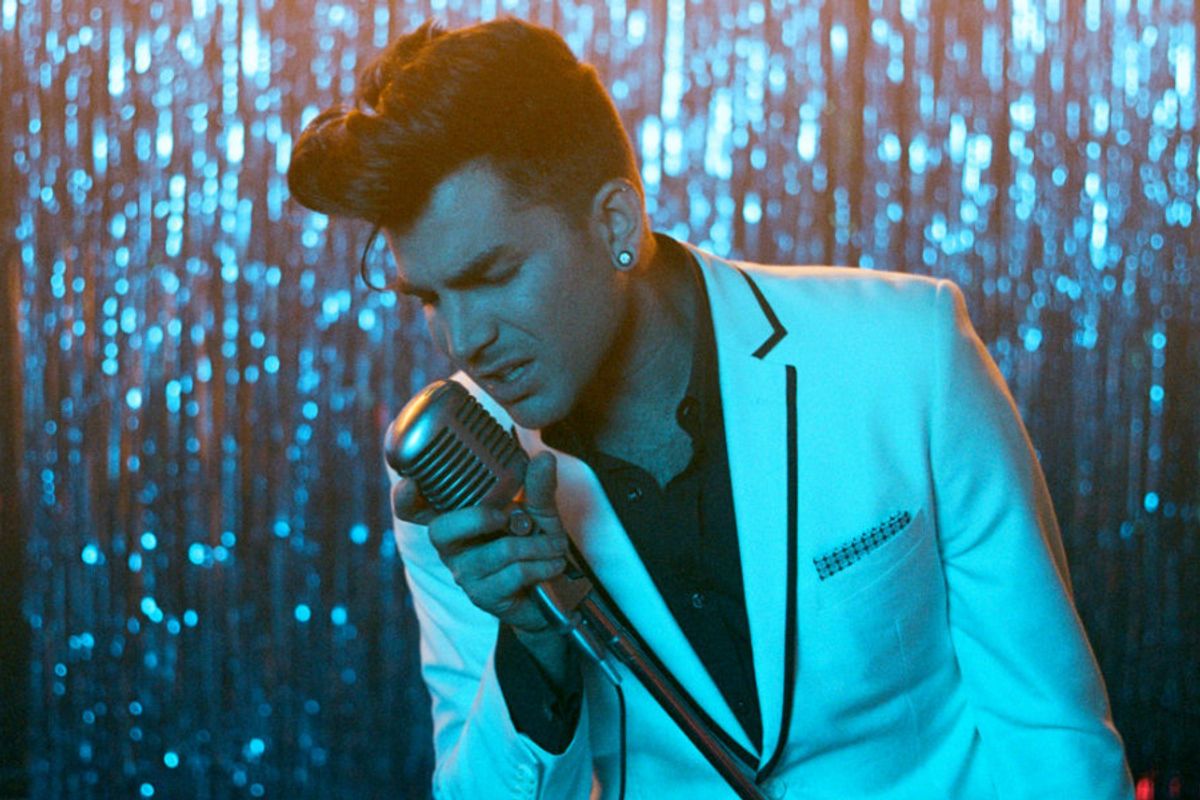 Raphael Chatelain
When Adam Lambert auditioned for the eighth season of "American Idol," the entire musical world shifted. Here came a guy with an extensive theater background more than capable of turning pop music into a living, breathing life force. Armed with one of the best voices of his generation, Lambert--then 27--stormed the stage with reckless abandon, unconcerned about being anything but true to himself. His performances were often flamboyant and spirited, as he flipped such classics as Johnny Cash's "Ring of Fire" and U2's "One" into marvelous displays of creative genius.

To celebrate his career (and as we wait not-so-patiently for his next album), Popdust takes a look at some of his best performances of all time. Read on for our picks, and leave a comment below with your favorite Lambert moment.
10. "Trespassing" (2012 iHeartRadio Album Party)
Lambert's sophomore remains one of the most underrated albums in the past 10 years. Full of groove and funk, the title cut is still the best fist-pumping anthem. Set in the intimate iHeartRadio Theatre in New York City, this particular performance is sassy, fun and free. We heart frisky Adam.
9. "If I Had You" (2010 "The Oprah Show")

From LA to London, Lambert has dominated the world with his electronic dance-pop music. This deep cut on his debut album is a timeless record of feverish proportions. He'll get you dancing in no time, that's for sure.
8. "There I Said It" (2016 concert in Shanghai on The Original High Tour)
Talk about a performance which can knock the breath out of your lungs. Lambert wraps his titanic-sized voice around this piano ballad with tenderness and sorrow and an ache unlike anything you'll ever witness. Popdust warning: You might cry.
7. "Stay," Rihanna Cover (2013 concert in Seoul, Korea)

Balladry is a true art form, at which Lambert absolutely excels. With just a piano and minor percussion to accompany him, the vocalist whipped out a magical and moving version of his Riri smash. It was as if the original didn't even exist.
6. "Outlaws of Love" (2012 Kidd Kraddick in the Morning)
Acoustic settings were made for Lambert's cutting restraint. That's the mark of a real singer, capable of pulling back the punches for stunning vulnerable reveals. Sure, we love his power notes as much as the next fan, but when Lambert goes acoustic, we swoon.
5. "Whataya Want from Me" ("The Early Show," 2009)

Arguably his most well-known pop hit to-date, the P!nk-penned song was a lovely mix of Lambert's rock sensibilities and an undeniable Top 40 hook. When the singer made his promotional rounds to hype his For Your Entertainment debut record, this song became the rallying cry of a new generation of music fans, the self-proclaimed Glamberts.
4. "Sleepwalker" (2011 Glam Nation Live)
Lambert makes us fall in love with music again, and this performance is proof of his full potential. He's captivating, eccentric and completely himself onstage.
3. "Girl Crush," Little Big Town Cover featuring Leona Lewis (2015 "CMT Artists of the Year)

The slow-burning waltz became one of the biggest country hits in recent memory. Lambert's focused delivery gives the song a hefty and even more emotional meaning. He has a remarkable way of interpreting lyrics unlike most other contemporary artists. The sweet flourishes Lewis gives the track, too, is wonderful.
2. "Mad World" ("American Idol," 2009)
Throughout his entire "Idol" journey, Lambert was the one to beat. Performances like this, a dark and rich and nuanced vocal reinvention of a Tears for Fears classic, turned him into the benchmark of talent on the show. Very few were able to achieve what he did.

1. "Somebody to Love," with Queen (2015 Rock in Rio)
Lambert is not Freddie Mercury, and he's not trying to be. He certainly draws plenty of influence from one of the greatest rockers of all time, but Lambert's style and vocal prowess is all his own. But could you imagine any other current superstar touring with Queen? No? Didn't think so.
Honorable mention: His performance of "Fever" for AOL Sessions back in 2010 [watch here]
---
READ MORE ABOUT MUSIC...
Premiere: Laura Saggers' Plucky New Song, "Summer Fling"
Abigail Jerri Is Taking Over Pittsburgh One Song At A Time
Pentatonix's 10 Greatest Performances
---
---