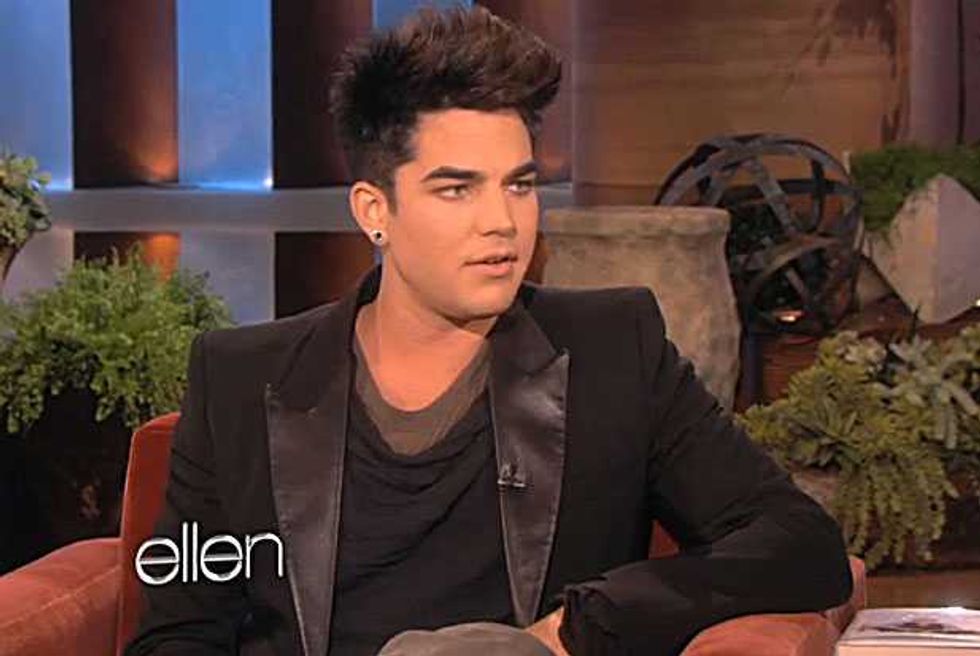 Adam Lambert has left any embarrassing behaviors behind in 2012, in exchange for big performances on mature late-night staples to promote the upcoming release of Trespassing. Of course when commoners like ourselves guzzle too much wine on an empty stomach after work, we only risk ridicule from our local subway platform dwellers who take pleasure in seeing us in a heated presidential debate with a turnstile. Yet when you're an American Idol finalist with a highly anticipated album to promote, there can never be enough questions to follow the words "drunken bar fight."
"Relationships are work and I'm so lucky to have fallen in love with a great partner," Lambert told Ellen DeGeneres on her daytime show, airing Thursday. Ellen gently broached the subject of Lambert's dispute with boyfriend Sauli Koskinen, and subsequent arrest, while in Finland in December. "When you add alcohol to a situation, things can get out of control and some people can get upset and emotional," he explained. But rather than use this opportunity to launch into an impromptu PSA about the dangers of substance abuse, Lambert lightheartedly made fun of himself, noting that the "fight" between the couple was nothing too serious, just the result of one too many. "It was more of just childish, foolishness, messiness," he said. "I owe it to myself, to my loved ones and to my fans, to be a little more adult and pull it together." Last month's embarrassment has already begun to disappear from his memory, thanks to his decision to juice—down, José Canseco—and ride the power of kale and other super foods to the promised land of responsibility. Once again, this candid conversation and his friendly diet tips prove that he's the celebrity we'd most like to be friends with. Watch below.
SAUDI ARABIA : RIM Launches the New BlackBerry Torch 9860 in the Kingdom of Saudi Arabia.
Mena Report September 15, 2011 Research In Motion today announced the launch of the new BlackBerryA Torch 9860 smartphone, which features the new BlackBerryA 7 operating system and a stylish new all-touch handset design. With a spectacular 3.7 display, the largest ever on a BlackBerryA smartphone, the new all-touch BlackBerry Torch 9860 smartphone is optimized for displaying web pages, photos and videos, as well as delivering powerful gaming experiences. It also delivers the highly refined, real-time communications and collaboration experience loved by millions of BlackBerry smartphone users around the world.
The BlackBerry Torch 9860 smartphone runs the new BlackBerry 7 operating system (OS). BlackBerry 7 provides users with a fast, fluid and intuitive experience, featuring a next generation BlackBerry Browser, voice-activated searches, the ability to manage personal content separately from corporate content, as well as additional personal and productivity apps out of the box. in our site blackberry torch review
The next generation BlackBerry Browser combines the dramatically improved performance of the advanced WebKit browser engine together with the powerful hardware enhancements found in the new BlackBerry Torch 9860 to deliver browsing results that are up to 40% faster than BlackBerryA 6 based smartphones and up to twice as fast as models running BlackBerryA 5*. Additional enhancements to the browser have also optimized HTML5 performance for incredible gaming and video experiences. site blackberry torch review
The new BlackBerry Torch 9860 smartphone also features Liquid Graphics technology, which combines a dedicated high-performance graphics processor with a blazingly fast CPU and stunning high resolution display to deliver a highly responsive touch interface with incredibly fast and smooth graphics.
Requires BlackBerry 7 OS. Testing was performed by RIM in July 2011 and measured average page load speeds using pre-release BlackBerry 7 software.
2011 Al Bawaba (Albawaba.com) Provided by Syndigate.info an Albawaba.com company