adam lambert sam smith dating Adam Lambert And Sam Smith Send Dating Rumor Mill Into Overdrive
The ever fabulous Adam Lambert and super cutie Sam Smith have sent the dating rumor mill into overdrive.
The musical twosome were recently spotted cozying up at a New York City club, and according to reports, they're texting and flirting up a storm.
Haters Petition To Stop Adam Lambert From Performing In Singapore
Britain's Daily Mirror reports that the two became firm friends last year, and have been getting closer as they continue to spend time together.
A source tells the Mirror:
adam lambert sam smith dating
Sam and Adam have been friends for a while and often text each other but seem to have grown closer recently.

They're often quite flirty and Sam went to Adam's sold out concert in New York last week after he went to one of Sam's concerts in the U.K.
Adam Lambert Talks About Sleeping With Closeted Stars.. .And Women!
The two are staying mum when it comes to their relationship status, but Adam has been raving about Sam in recent interviews—in addition to posting candid snaps on his Instagram, of them looking decidedly friendly while out and about together.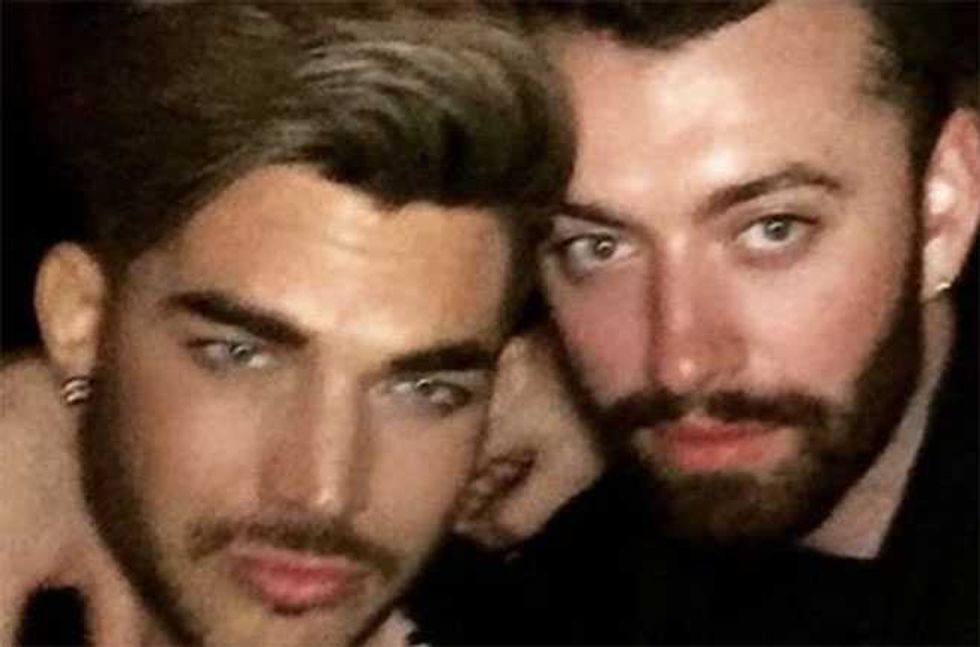 The couple that sings together...
adam lambert sam smith dating
Lambert told the Daily Star he would love to collaborate with Smith on a romantic duet, confessing that he's a "big fan" of the multi-Grammy winning Brit.
I'm a big fan of Sam. I think he's great. I would be up for an all male duet if the song was great and the artist was right.

Even if it wasn't me recording it, I would certainly like to see that happen with someone else.
Adam Lambert Is Looking SMOKIN' HOT!
And texts together..
.adam lambert sam smith dating
In an interview last year, with Australia's News.com.au Lambert gushed about how "amazing" he thinks Smith is, admitting that the two often text to discuss issues close to their hearts—including, being openly gay in the music business.
I have a lot of respect for him. We text each other every once in a while about that. It's not an easy thing to navigate. With Sam's experience, there are some similarities with mine. You can say one thing in an interview after talking for 20 minutes, and all of a sudden, that becomes the only headline.

So in order to try and make the interview about music you have to start saying: 'I don't want to talk about that,' and it's a shame. As an artist you're all of those things, you're a musician, you're a person, your age and your race and your background, it's the whole package.
Adam Lambert Reads From 50 Shades Of Grey—Mmmmm
You ready for Sambert?
adam lambert sam smith dating
Do you think Adam and Sam would make great couple? Sound off in the comments below and vote in our poll!
For more entertainment, world, music and pop culture updates and news, follow Max Page on Twitter