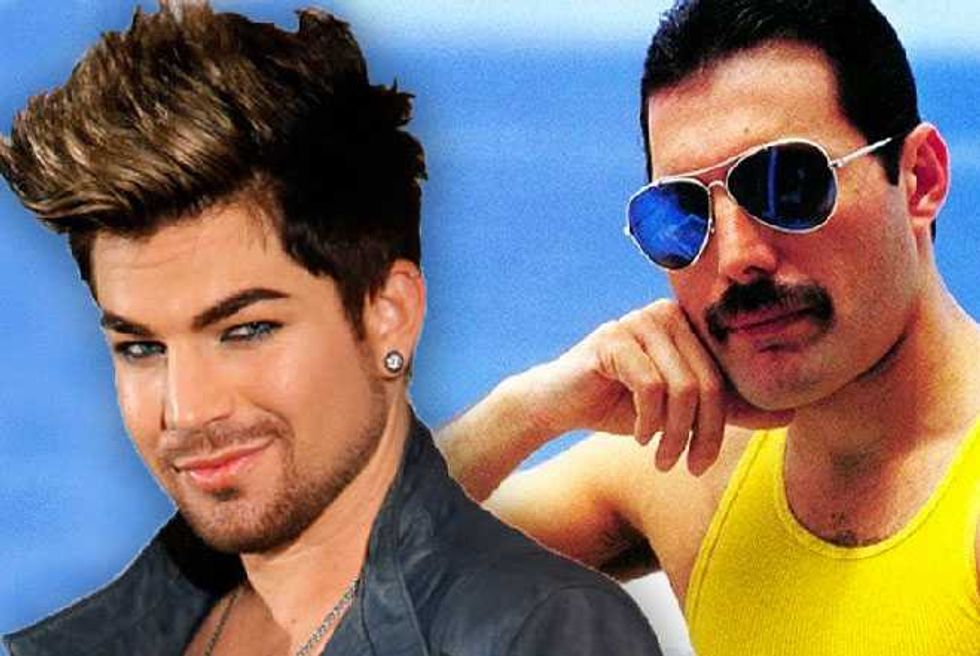 There's a Freddie Mercury biopic in the works, and Adam Lambert wants in!
He specifically wants in to Freddie Mercury's bed—which, as the mighty Lambert points out, is pretty appropriate at this point.
As Popdust previously reported, the 34-year-old has already stepped into the late singer's platform shoes—earning rave reviews throughout the Queen world tour.
Admired and influenced
And, he's been very vocal about his admiration for Mercury, and about how much Queen influenced him as a kid.
Lambert told the Review Journal:
Queen was huge for me. You know, I just became really enthralled with the whole glam rock thing.

What I loved about it was it was music that was rock, but it was also pop, obviously, at the time, and it was also … the fashion of it was something that was really … especially at that time, I was, like, 22, 23, I had just come back from doing a show in Europe, where I was in Germany for six months.

And everybody in Germany is very progressive and liberal. I was dressing like a crazy club kid.

And I got home and I was like, well, how do I combine all these things that I love, and that's one of the reasons why that glam rock movement of the '70s spoke to me.
So, who better to star in the biopic than the ever-fabulous Lambert?
In development
The movie is being developed by Queen band members Roger Taylor and Brian May.
They were in talks with Sacha Baron Cohen to play the part of Freddie—but he pulled out of the project late last year, amid claims Taylor and May wanted to "sugar coat" Mercury's story.
May has denied that's the case though—telling the Daily Mail:
We had some nice times with Sacha kicking around ideas but he went off and told untruths about what happened.

Why would he go away and say that we didn't want to make a gritty film?

Are we the kind of people who have ever ducked from the truth? I don't think so.

We decided he wasn't right for the role for very good reasons, which will become apparent if you watch what he's done recently.

It's obvious that it wasn't going to work, him playing Freddie. It wouldn't suspend your disbelief.

We're hoping Ben Whishaw will do it. He's fabulous – a real actor.
Ouch!
Adam Lambert Freddie Mercury Biopic role
So, with the role of Freddie looking like it's filled—what part could Lambert play?
Well, he has a very specific part in mind—and it would be every bit as perfect as Lambert himself!
I'd want to be in bed with Freddie. I think that would be appropriate at this point!

I don't usually say things on the record, but that's the part I want. I want to be one of his lovers.

I've had little conversations with [Brian May] about it. I asked about how times have changed as far as being open about somebody's private life.

And I asked them, 'How are you going to approach that with the story of Freddie?' Back in the '70s and the '80s, it was something you just didn't really talk about.

Obviously we're in a much different time now, and it's very topical so it'll be really interesting to see how they'll approach that part of his life.

They haven't quite figured it out yet as the movie is still in development.
Meanwhile, Lambert is staying busy, doing what he does best, performing on stage.
Original High
adam lambert freddie mercury biopic
He's currently wowing the crowds on his The Original High world tour—and will be back singing with Queen, when the band headline Great Britain's Isle of Wight Festival in June.
What role do you think Adam Lambert should play in the Freddie biopic?
Sound off in the comments below and vote in our poll!
For more entertainment, music and pop culture updates and news, follow Max Page on Twitter
Who Knew? Wednesday—5 Things You Never Knew About Adam Lambert
Adam Lambert Addresses Sam Smith Dating Rumors—Is He Or Isn't He?!!
Haters Petition To Stop Adam Lambert From Performing In Singapore
Adam Lambert Conquers Brazil, Continues With Plan For World Domination
adam lambert freddie mercury biopic