MUSIC
Videos Ranked In Order Of Greatness
A true original who set the standard.
Adam Lambert was an American Idol game changer. A true original who set the stage for other contestants to be themselves, not just emulate other pop stars.
Add to that his pitch-perfect, octave-defying, titanic voice, captivating showmanship, and prince charming face, and ladies and gentleman, a star is born.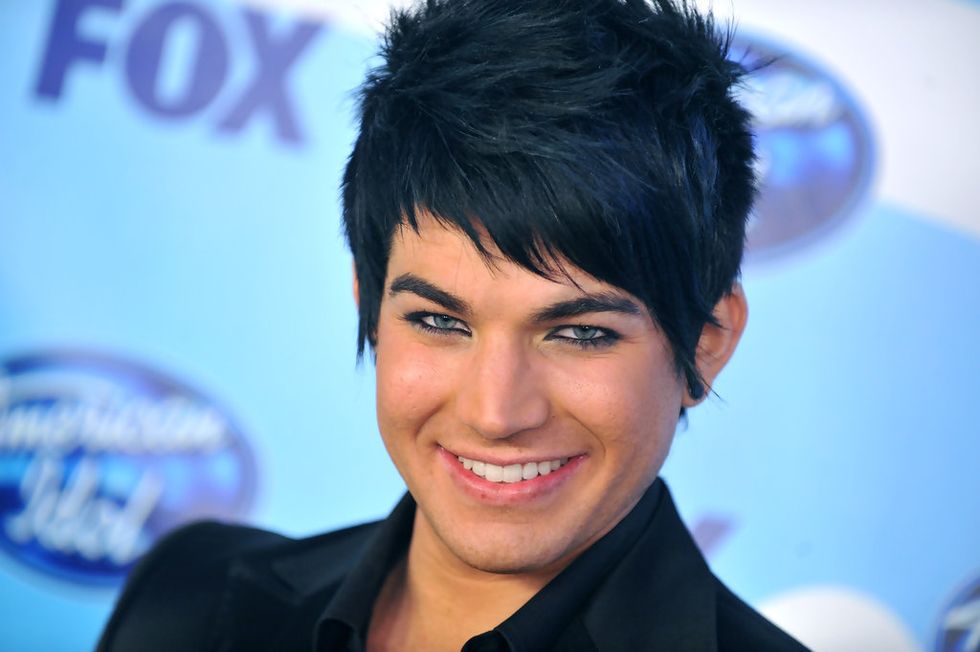 Zimbio
Popdust picks of Adam Lambert's best American Idol Performances ...in order of Greatness:
---
10: Play That Funky Music — Wild Cherry
Here was this pretty white guy from California, but when the opening chords of Wild Cherry's 1976 one hit wonder began, Adam morphed before our very eyes, and boy was it funky. He laid down the boogie, and played that funky music into stardom. It was immediately apparent that American Idol had a seasoned pro on their hands, as Adam stood in stark contrast to his much greener competitors.
---
9: Rock and Roll All Night — Kiss
Simon Cowell accused Adam of being theatrical at his America Idol audition, but he proved he could rock and roll with the best of them when he joined forces with Kiss. And why wouldn't he? Both wear make up, have a flair for the dramatic, and captivate audiences all over the world.
---
8: Tracks of My Tears — Smokey Robinson
There wasn't a dry eye in the house when a then 27-year-old Lambert crooned a pared-down, bare bones version of Tracks of My Tears. Even the song's author, the legendary Smokey Robinson raved, "I was very proud of Adam's interpretation of my song. He just kept it tender, and sweet, and soft, and I've never heard it done like that."
---
7: Ring of Fire — Johnny Cash
Conversely, when country music star Randy Travis heard Adam Lambert's snake-charming version of the Johnny Cash classic, he was horrified! Lambert dared to replace a banjo with a sitar and create a seductive, exotic, sexy time version of a song that, up until that moment, no stripper ever included in her repertoire. But there was no denying that Adam is a fearless artist, a true innovator, and a creative genius. Simon may have said, "It was absolute indulgent rubbish," but Randy Jackson said it best when he said, "If you can imagine Nine Inch Nails doing a country song, that would be it. It's hot, it's young, and it's fresh!" Popdust heartily agrees.
---
6: Feelin' Good — Nina Simone
Once again Adam proved he was fearless in all aspects of performance when he opted for one of the most vocally challenging songs ever tackled on Idol. But Lambert, who comes from a musical theater background, owned the entire amphitheater when he swaggered down the stairs and onto the stage in his white satin suit and played his voice like a five-tone buttery saxophone. It was a new dawn, it was a new day, and Adam had everyone Feelin' Good.
---
5: Titanium — Sia
Adam thrilled the audience when he joined Angie Miller on stage for this Sia powerhouse. The harmonizing was truly chilling and the synergy between these two performers was palpable. The gender-bender masterfully hit the high notes while Angie handled the baritone.
---
4: David Bowie Medley
It didn't surprise anyone when Adam revealed that David Bowie is one of his biggest inspirations, and the young star was truly in his element on the Season 8 tour when he performed a three-song medley consisting of Life On Mars, Fame and Let's Dance. Adam took us on an emotional journey with each haunting refrain. International music producer Nile Rogers was so impressed, he called Adam and asked him to perform at a concert for the AFTEE (All For The East End) charity raising money for local non-profits.
---
3: We Are the Champions — Queen
Only the bravest, or most delusional, attempt to take on the great Freddie Mercury, but our boy did it for his audition! And when he got to fill the shoes of the late great Queen front man in an American Idol performance with Kris Allen, all the original members of the band, even Freddie himself, would have been blown away—and, obviously they were, as Lambert is now officially filling Freddie's platform shoes as he tours with Queen. But, back to his We are the Champions AI performance—the audience was breathless wondering if Adam could hit the high notes, but, just like Michael Jordan, it was a slam-dunk.
---
2: If I Can't Have You — Yvonne Elliman
Disco was back in a big way when Adam owned this Yvonne Elliman classic. He tugged at our heartstrings with his emotive "I don't want nobody, baby," and brought down the house with his heart-rendering crescendo. For those 5 minutes, CBS studio was Studio 54.
---
1: Mad World — Tears for Fears
The ever-intrepid burgeoning star chose this Tears for Fears '80s hit and brought down the house with his dramatic perfoamce. Adam came out of left field with his new wild interpretation, but by the second bar had everyone, including Simon, eating out of his fingerless-gloved hands. Adam's theatricality demanded an upgrade in Idol's lighting and effects and paved the way for future contestants to push their creative limits. Adam even got a standing ovation from Simon after his performance....and, that, my friends, really says it all.
What do you think about our ranking? Do you think we missed anything? Sound off in comments below and tweet us your thoughts @Popdust
---
POP⚡ DUST | Read More…
RELEASE RADAR | Legends Collective Soul & Pitbull & The Stereotypes drop music this week
REVIEW | What "Riverdale" Says About Teen Relationships
BOX OFFICE BREAKDOWN | What's coming to theaters this weekend?