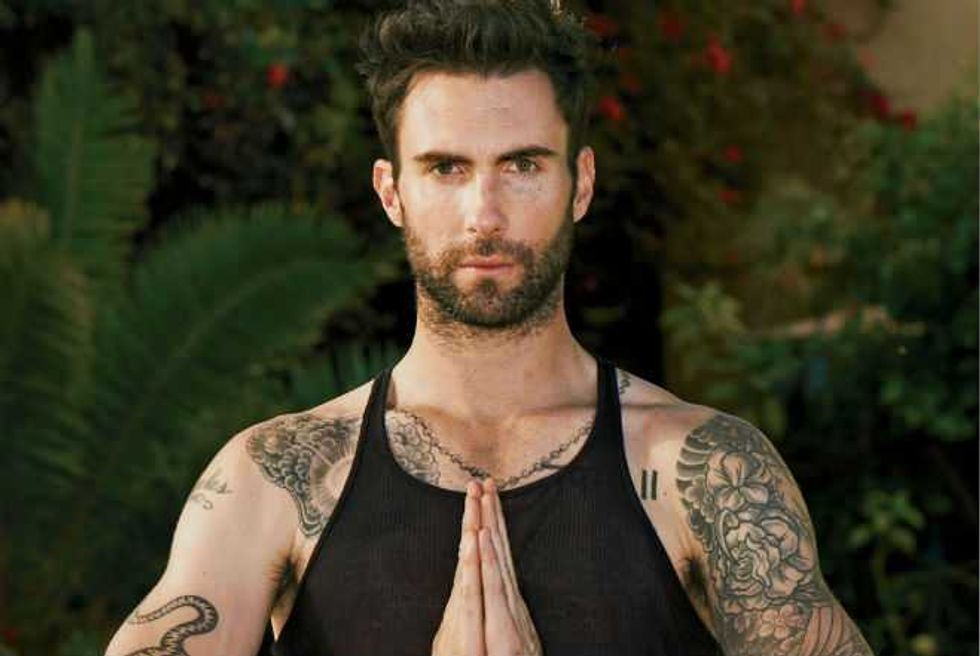 Adam Levine has put himself in a tough spot. The tattooed singer and The Voice coach has publicly decried celebrity fragrances, going as far as to say (via Twitter): "I…would like to put an official ban on celebrity fragrances. Punishable by death from this point forward."
He issued that dramatic statement before he was approached to create his own celebrity fragrance. Now, he's joined fellow singers-turned-perfumers like Britney Spears, Madonna, Nicki Minaj, Tim McGraw and Katy Perry by selling two scents—a men's and a women's version—each bottled in a flacon shaped like a microphone.
Image via The Gloss
Instead of backpedaling or apologizing for his statements, Adam decided to release a two-minute video explaining why his fragrances are different than other celebrities' products. He launches right into his argument at the beginning of the clip, saying, "I typically hate celebrity fragrances…When I see them, I don't necessarily believe that the people promoting them were particularly connected to what they were making."
Image via Maroon 5/Flickr
But, he swears, this time it's different. Adam Levine cares about the way you smell, deeply. And although he seems confused, he insists that he's not "insecure about it" though he definitely had his "reservations" about the process. Of course, he still thinks that the whole thing is an "overextension for someone in his position." But he'll still be happy to sell you his new scents, which retail from $35 to $65 depending on size and are available at Macy's, Ulta and other big retailers.
For what it's worth, Adam's fans don't seem to care that he's a hypocrite. "I HAVE IT AND IT SMELLS LIKE SEXY FRUIT!!" yelled one in the comments of his promo vid on YouTube. Watch the entire ad, featuring motorcyclists crashing through walls, women in bondage gear, random b-roll footage of chemists and flowers and Adam on his own hog, below.