Screw "Rockin' in the Free World," "Harvest Moon" is the real hit of Neil Young's second coming. It's been covered by everyone from Bon Iver and St. Vincent to the electronic party animals at Poolside, the latter a favorite of James Murphy's DJ sets. I've had the chorus of "Harvest Moon" on the tip of my tongue lately and those bars about enjoying that last dance felt weirdly resonant when I put on "The Archer," the latest single from Adam Melchor, a New Jersey native who also plays guitar in Frances Cone, a Brooklyn band that just played SXSW. In "The Archer," Melchor turns Neil Young's proverbial dance into a chase between hunter and hunted. "This is how you turn me, from the marksman to the mark," he sings over an aragement not unsimilar to Ben Keith's work with Young on their early '90s classic.
Take a listen:
---
But anyone whose watched a few episodes of Bugs Bunny and Elmer Fudd knows that all interactions between huntsman and the hunted are full of some sadness. Which is why I was excited to have the chance to chat with Adam about his inspirations for the song, his love of Father John Misty and his time over in Frances Cone.
"The Archer" is the title track of Melchor's latest EP, which will be released at the end of the month.
AK: When I listen to "The Archer," I don't see cupid and his collection of bows and arrows. How did you go about reinventing that proverbial wheel?
AM: There is a print by an artist named Mark Samsonovich which entails an archer reaching for arrows that are pierced into his back. Since Mark is one of my friends, I was able to discuss my love for the imagery with him, and was inspired to write about it.
When you can reach millions of people, why not try to improve the lives of those people instead of ripping them off with some sort of commercial garbage?
I've always had a knack for using the ways people hurt me, turning them around, and projecting them onto people who don't deserve it. The archer in this instance was an embodiment of how my insecurities can sometimes mask themselves as protection, and in the end we alienate ourselves. This leads to distortions of what we think is right for us in terms of emotional and physical health. This song is a way for me to break the habit.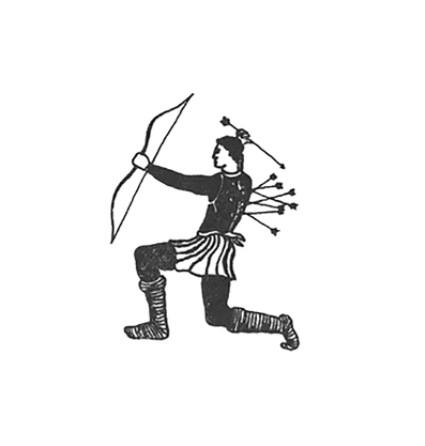 courtesy of Mark Samsonovich
I read somewhere that you have a fondness for Father John Misty. Last summer, he abandoned performing to talk about the place of entertainers in politics. What's your take on that?
First off, I think Josh Tillman is one of the best songwriters around. I especially love his willingness to talk about things that make people feel wildly uncomfortable. When you can reach millions of people, why not try to improve the lives of those people instead of ripping them off with some sort of commercial garbage? I think he can go even further, and I'm excited for his next release to do so.
I read somewhere that you're classically trained. How does that affect how you listen to music? Do you feel less rock-and-roll than some of your idols?
I think the magic of being classically trained is to learn how to untrain yourself. Most of the things I learned from classical music have nothing to do with music. I'm also not sure if classical training has any bearing on listening for me. Of course when I was in school, we had classes to deconstruct pieces and songs, but really it was mostly about deconstructing your own feelings. Sometimes I would find myself thinking, woah, why is this opera about nuns making me overwhelmed with emotion?
You're also in Frances Cone, a band with much more of a synthy flavor than anything I've heard on The Archer. Is this the acoustic side project or is there something else you're really trying to explore?
Frances Cone's music may be sonically different than my recorded music, but the foundation of FC is the same as my solo music. It's honest. It's from places we are trying to figure out. Although there are these differences in the endgame of our respective songwriting, the start point is still the same.We may dress up differently, but the human aspect is something that can hopefully speak to everyone. Christina, the lead singer and songwriter, has always been a huge supporter of paying respect to a song and she does it flawlessly. I've learned so much in my time in the band from her. The Archer is my way to pay respects to this moment in time.
Baeble Music, who premiered your last single, wrote that it was "perfect for moments like these," referring to the then-uncharacteristically warm February. Is the pain and desolation of "The Archer" perfect for the feet of snow outside my window?
I would say it's perfect for anyone who feels like they're stuck in feet of snow. Some of my loneliest months have been in perfect summer weather. If this song can accompany you through those times, that's all I can hope for. Just to know you're not alone in feeling alone is a huge part of why I wrote this song.