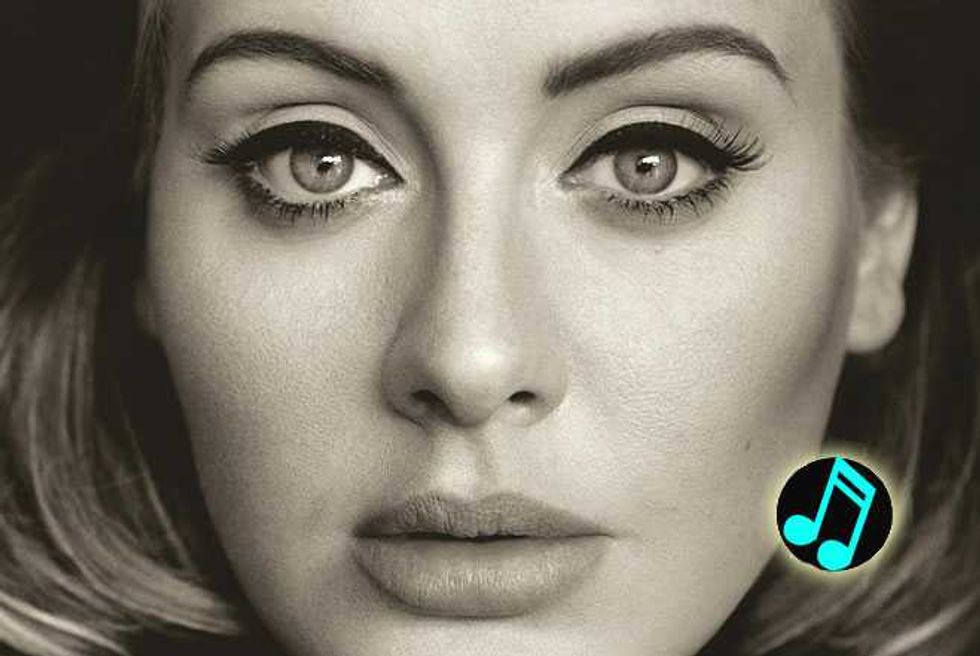 "The present is too much for the senses, too crowding, too confusing, too present to imagine," reads the last line of Robert Frost's timeless poem, appropriately titled "Carpe Diem"—an enduring rhetorical device through which creatives and poets and thinkers examine their own inevitable death march. "I feel like my life is flashing by, and all I can do is watch and cry," Adele reflects on her own quandary Million Years Ago, a sharpened, mature vocal narrative on futility and vulnerability. The passing of time becomes the threadline of 25; now 27, Adele is as majestic as she's ever been, clutching onto the timepieces of sorrow and tireless regret—"give me a memory I can use," she laments on the potent All I Ask (co-written with Bruno Mars), perhaps her finest, most visceral performance of her career. When We Were Young—in which she upends a former relationship, "let me photograph you in this light, in case it is the last time that we might be exactly like we were, before we realized, we were sad of getting old," she ponders—and even the monstrous anchor Hello focus on that crushing weight and a hefty, glorious progression. Adele's wisdom, too, flickers past like a book of classic poetry (with impressive songwriting and producing contributions from Danger Mouse, Ryan Tedder and Tobias Jesso Jr.), each poem constructed on sturdy images of fading love and anguish. 25 should not be examined as the 21 sequel. Instead, it is a collection of prose, sweeping into a grander vision and abruptly spiraling into a darker abyss.
"We both know we ain't kids no more," the singer chides on the poppy kiss-off Send My Love (To Your New Lover), a guitar bone-structure created under the watchful eyes of pop titans Max Martin and Shellback (known for their work with Taylor Swift, P!nk and Britney Spears) and destined for radio success. Adele's sheepish, witty delivery is an intoxicating reprieve from her harder edge, into the wistful, nearly whimsical, portrayal as she, too, recounts her very own responsibility in the dying embers of forlorn lust. "But be delicate with my ego," she coos on the tribal-pinned, ghostly chapter I Miss You (produced by long-time collaborator and songwriter Paul Epworth). She illuminates her misery with effective strings and driving rhythms; her vocal beckons the listener into a fire-storm of insurmountable pain. When she's not pushing the envelope sonically, Water Under the Bridge (co-written with Greg Kurstin) is particularly effective, a high-flying design of gospel overtones and contagious Top 40 ardor. "If you're gonna let me down, let me down gently. Don't pretend that you don't want me. Our love ain't water under the bridge," she implores on the pounding hook, grappling with her own ache and loss of forever.
Stained with sophistication and discernment, 25 exudes far more vitality and polish than 21, the storytelling is engaged in a way only someone her age could understand. The burdens of motherhood, the sleepless nights, the overwhelming stress are coupled with the joys and jubilations of a baby boy. The bombastic closer Sweetest Devotion brings Adele's perception into the present and gazes into the future. "The way I've described it is that something much bigger has happened in my life. I love that my life is now about someone else," she told USA Today of the track, whose sound is expansive, touching and picturesque. ""That's the main reason I've grown up."
The explosive lack of tempo and variation are not a slight to the magic of 25. Adele cuts from the same fabric of heartache and loss but in stimulating, mature ways; Remedy and River Lea are exceptional, endearing in philosophy, familiarity and insight. Her observations of age are sometimes profound. "I can't love you in the dark. It feels like we are oceans apart. There are so much space between us, baby, we are already defeated," she inwardly infers on the sleek, but haunting, Love in the Dark hymn. They say, "if it ain't broke, don't fix it," and for any other artist, that would not be the case. But for Adele, in this moment, her ability to capture the entire world's heartache in the span of only 11 songs is breathtaking.
"'Twas Age imposed on poems. Their gather-roses burden to warn against the danger, that overtaken lovers from being overflooded with happiness should have it," Frost also conjectures on love in his poem. Adele, too, seems to frame the record around that idea, casting off barbed roses as cruel cautionary tales but with a glimmer of advisement that we are all better off for the experience. 25 is not the kind of immediate, career-defining record 21 scorched into pop history, but it's an apt and satisfying follow-up worthy of our tears and our years.
Must-Listen Tracks: When We Were Young, All I Ask, Water Under the Bridge, Million Years Ago
Grade: 4 out of 5