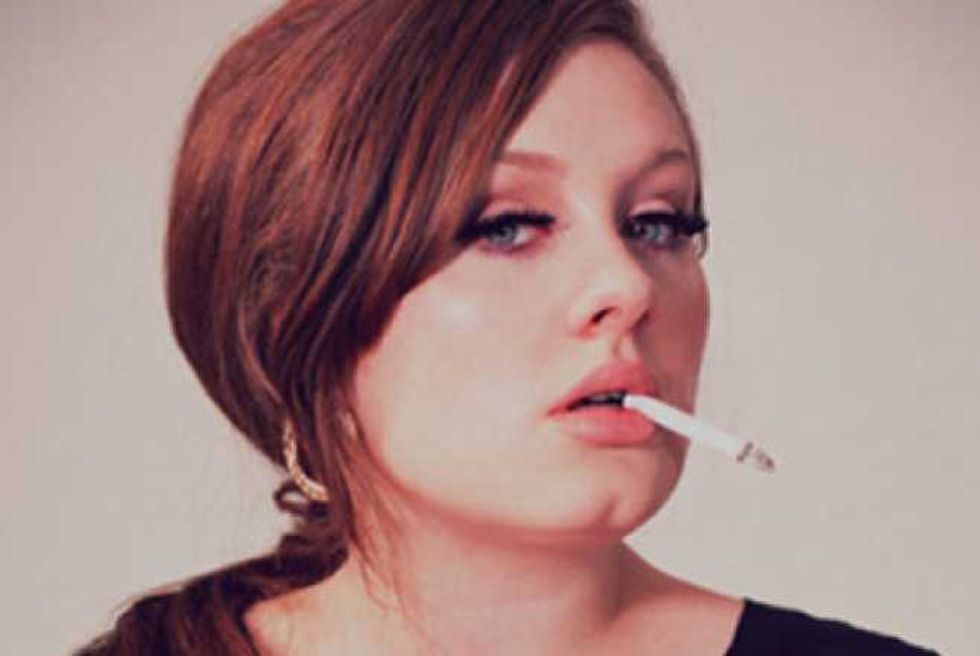 adele ex boyfriend breakup song
As Queen Gertrude says in Shakespeare's Hamlet, "The lady doth protest too much, methinks."
And, quite frankly, she could have been speaking about Adele, and that goddamn breakup that she just can not stop warbling on about.
Adele Punk'd Adele Impersonators By Pretending To Be…Herself!
As Popdust previously reported, the British singer has made a veritable fortune from her heartbreak, becoming the go to breakup song queen, following the release of her multiple grammy award winning album, 21, back in 2001.
Both Someone Like You, and Set Fire to the Rain, were inspired by her ex—who infamously dumped her just prior to her 21st birthday.
The 25 Most Insulting, Condescending and Demeaning Love Songs Ever
Fast forward four years, Adele is now in a new relationship, with 41-year-old charity worker, Simon Konecki—the couple even has a child together, Angelo, 3—but, she clearly has yet to move on from the dumper dude, as evidenced by her new album, 25.
However, Adele would beg to differ, telling Britain's The Guardian, that the album includes a massive "fuck you" song that she wrote to her ex to let him know she's finally "over it."
Yes, because nothing but nothing tells someone you're over them, by continually publicly telling someone you're over them—it's kinda like calling someone to tell them not to call you, because you don't want to hear from them anymore.
"It sounds obvious, but I think you only learn to love again when you fall in love again," Adele says. "I'm in that place. My love is deep and true with my man, and that puts me in a position where I can finally reach out a hand to the ex. Let him know I'm over it."
50 Of The Best Break Up Songs Of All Time
Adele lets her ex know she's totally over him in a track called Send My Love (to Your New Lover), with lyrics such as, "Send my love to your new love-HUH-er/ Treat her better."
She clarifies just how much she's over him in the lyrics of Hello, her first single release from the album
Hello, it's me

I was wondering if after all these years you'd like to meet

To go over everything

They say that time's supposed to heal ya, but I ain't done much healing

Hello, can you hear me?

I'm in California dreaming about who we used to be

When we were younger and free

I've forgotten how it felt before the world fell at our feet

There's such a difference between us

And a million miles
Vote Now to Decide The Greatest Love Song Since You Were Born!!
Then, just in case the ex is still in any doubt, she drives the point home further in another track, I Miss You:
Yes I miss you,

In the summer days,

In the winter nights,

When the moon is bright.

Yes I miss you

And it`s cold inside

In my heart, in my mind

In my heart ....

Yes I miss you,

In the summer days….
Well, that should leave him in no doubt, whatsoever! But, just to clarify her level of "over-ness" yet further, she repeats, "I miss you, I miss you, I miss you, I miss you."
Adele has steadfastly refused to name the ex that's she's now TOTALLY over, telling The Guardian, "Who cares? Nobody famous, just old boyfriends. I don't date celebrities. I ain't fucking Taylor Swift, dyouknowhatImean?"
Sure Adele, writing about breaking up from your ex is VERY unlike T-Swift….
"I don't think I'll ever forgive myself for not making my relationship with my ex on 21 work, because he's the love of my life," she also shared.
90 Shades of Red: Every Taylor Swift Song Ranked, From Worst to First
Speculation on who the mystery ex is has thrown up two possibilities—DJ Ned Biggs, and musician and actor, Slinky Sunbeam.
But, various reports have named him as Alex Sturrock, a 34-year-old British fashion photographer, who has numerous candid snaps on his website of Adele, taken during her first U.S. tour.
Heat magazine was first to ID Sturrock as the subject of Adele's writing material heartbreak, claiming the couple dated in secret from Summer 2008 to April 2009.
Listen Up, Haters—Rita Ora Sings Adele's Hello
A source told Heat that the relationship was "volatile" and that they broke up after Sturrock started hooking up with somebody else.
Well, doesn't really matter now that Adele's clearly finally moved on….
For more entertainment, world, music and pop culture updates and news, follow Max Page on Twitter
Britney Spears Rocks Ballet Moves To Adele's 'Hello'