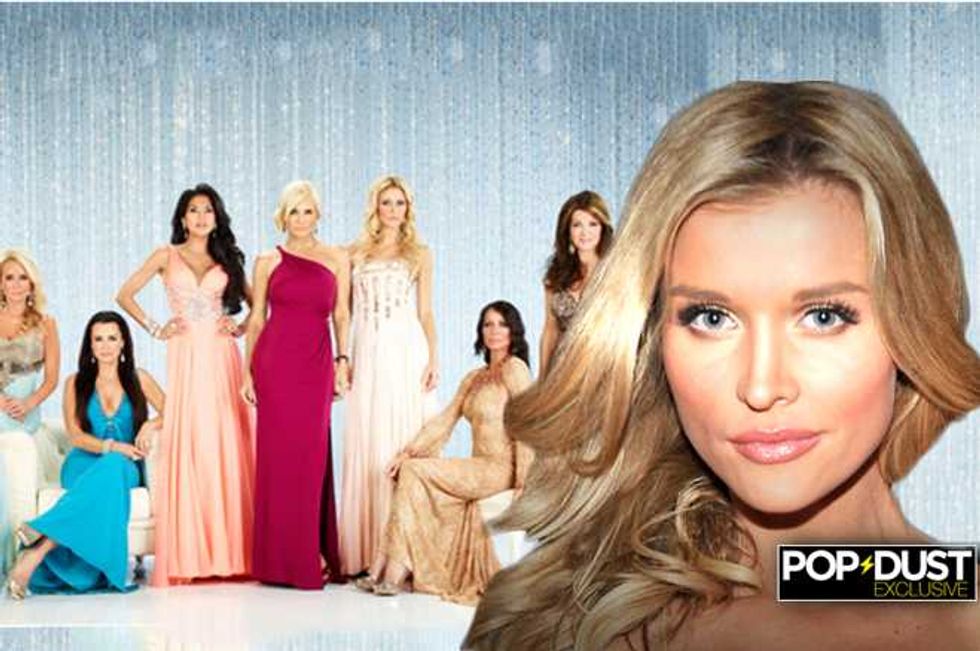 Joanna Krupa is PISSED at Real Housewives of Miami !
The beautiful blonde is so pissed in fact, that she's ready to quit after producers nixed her request to transfer to the Beverly Hills show, a source tells Popdust exclusively.
The 34-year-old has (very publicly) been taking the west coast by storm recently –she's been snapped half naked at parties, having lunch with Orange County Real Housewife, Gretchen Rossi, dining at Lisa Vanderpump's LA eatery, Villa Blanca, and hanging out with Kyle Richards and Joyce Giraud.
Not surprisingly, speculation has been building that Krupa's about to jump ship from Miami to the 90210—but not so, as Bravo has firmly nixed the move, leaving the model less than happy.
How Real Are The Housewives? RHOBH Plastic Surgery Exegesis
"Joanna really wants to move to the Beverly Hills Housewives—she knows it's a much higher profile show and that it has way better ratings than Miami," a well placed source tells Popdust.
"It's where all the drama happens and she wants to be front and center. Plus she would LOVE the chance to go head to head with Brandi Glanville on camera.
"Joanna pleaded her case to producers, but they absolutely refused to even consider the idea. As far as they're concerned, if Joanna leaves Miami the show will totally sink—and they don't think they need her on the Beverly Hills franchise as there's more than enough strong story lines to keep the show going right now and they already have at least one new cast member lined up for next season."
As Popdust previously reported, [Real Housewives production company, Evolution] is currently in talks to bring Dr. Ava Cadell on board to replace "boring" Kim Richards—believing the outspoken sex therapist will really spice things up.
So, that leaves Krupa—who is currently bi-coastal as she splits her time between Miami and Los Angeles—out of the picture, but, it may also leave Bravo scrabbling to find yet more new Housewives… this time in Miami.
"Joanna is seriously at the point of calling it quits and heading to live on the west coast under her own steam," the source says. "She feels her time on Miami Housewives has more than run its course and that her future is in California.
"Their refusal to transfer Joanna because they don't want to lose her from Miami, is going to seriously backfire—she's ready to leave the show anyway.
"And let's face it—Joanna is unlikely to have any problems picking up a new show outside of Real Housewives, she's drop dead gorgeous, she's got a ton of sass and her lifestyle is amazing—she'll get snapped up in no time."