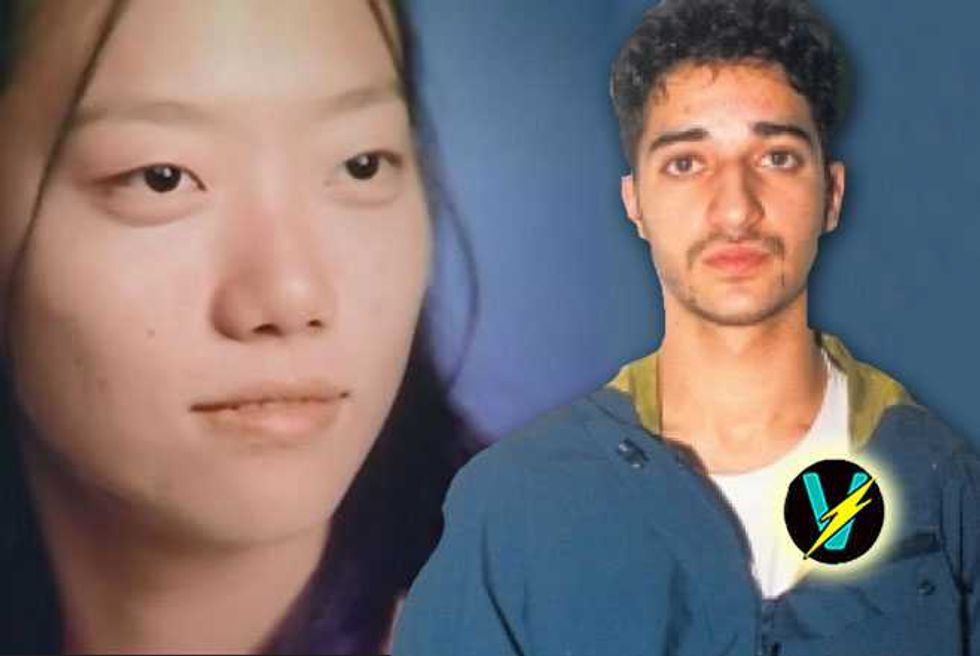 Just when you think you've made up your mind if Adnan Syed is innocent or guilty, there's yet another curve ball thrown.
As Popdust previously reported, the 34-year-old has spent the past 15 years in jail, after being sentenced to life plus 30 years, for the murder of his ex-girlfriend, Hae Min Lee, back in 1999—Syed vehemently maintains his innocence.
The case garnered national attention last year after reporter, and NPR This American Life producer, Sarah Koenig, covered it in great depth, on her new weekly podcast, Serial.
At the end of the first season last December, there were many, many questions left unanswered—to say the least—and, pretty much every listener was left at least slightly conflicted when it came to the subject of Syed's innocence or guilt.
Last month, the Maryland Court of Special Appeals agreed to hear arguments from Adnan's legal team, who are requesting a new trial on his behalf—in the meantime, that very same team has decided to continue to explore their client's case—and throw shadow on the prosecution's version of events, via a new podcast series, titled, Undisclosed: The State v. Adnan Syed.
The first episode aired Monday April 13th—and, you an listen to it right here on Popdust.
The new Podcast is written and produced by lawyer, Rabia Chaudry, along with fellow attorneys, Susan Simpson, and Colin Miller.
At the very start, Chaudry discloses she is a longtime family friend of Syed's—she's known him since he was 13-years old, he was her younger brother's best friend—she also shares that it was she who first brought the case to Koenig's attention.
Chaudhry explains that she, Simpson and Miller, are "not journalists, but three lawyers, interested in the minute details of the case of the State vs Adnan Syed," continuing, "We like getting into the leads, and plan on taking you with us.
"This is not going to be a beautifully crafted narrative as with Serial—you will be run down many rabbit holes in the  case—but, we aim to bring a new analysis to things you've already heard, share things you've never heard, and answer some of the most frequent questions that I get asked as I talk about the case, and Serial, across the country."
So, let's kick off with one of the BIGGEST questions surrounding the case—why doesn't Syed remember anything about what happened on January 13, 1999—the day he was contacted and told his ex-girlfriend had mysteriously disappeared—and the date, it subsequently transpired, she was strangled to death?
Well, so here's the thing [TAKE NOTE, MY COUSIN, AARON DEXTER!!!!]…according to Syed's defense team, things are nowhere near as mysteriously vague and blank as we have been led to believe.
Adnan's defense team go into great detail when it comes to that fateful day—and, as is often the case, things are seemingly not quite as clear cut, depending on whose side you fall on—And, in the interest of full disclosure, I'm not fully swayed either way, but (SO FAR) I definitely feel that there's more than enough reasonable doubt surrounding the case to seriously question the validity of a guilty verdict.
"It's a bit of a misperception that Adnan has absolutely no recollection of [January 13] whatsoever," Chaudry claims. "I get asked this question all the time… how can he remember nothing?
"That's actually not true. Adnan did remember many portions of the day—in fact, he had made notes to that effect, that he gave to his attorney in September 1999… breaking down what he remembered…different periods and stuff."
From that starting point, Chaudry, Simpson and Miller, take Syed's recollection of accounts and compare it to all of the witness statements and testimony; the police statements; and all of the "grand jury stuff", in a bid to "try and corroborate what Adnan has said, and, try to figure out who is, and who is not, remembering correctly. To try and nail down what Adnan was doing, where he was, all day, on January 13."
Sounds pretty straightforward, right?
Nope, in actuality, not really……
Miller, who is Associate Dean of Faculty Development at the University of South Carolina School of Law, points out that as often happens in court cases, witness statements, especially those taken some time after events transpired, can drastically contradict each other—due to a memory deficit called "confabulation"—which results in witnesses falsely remembering events that actually occurred over multiple days, as happening on one single day.
Given that, Simpson concludes the most credible accounts are those that are corroborated by more than one witness—which, in this case, are few and far between, quite frankly.
With that in mind, the team break down January 13 into four time periods:
ONE: The morning—Adnan's arrival at school
TWO: Early afternoon—when school lets out
THREE: Later afternoon— following track practice
FOUR: The evening—after Jay picks Adnan up
There are two differing witness accounts when it comes to the start of school on January 13 1999.
Debbie, a fellow Woodlawn High School student, and mutual friend of both Adnan and Hae, told cops she remembered Adnan being late to school that day, claiming he arrived "sometime after 8.05 am"…. however, there is no official record of Syed being tardy on that date—despite previous accounts marking him as late on January 5, and 12, in addition to many other days.
Meanwhile, the second witness, Krista, also a fellow student and mutual friend of the former couple, claims in her initial police statement, back in March 1999, that Adnan was on time that morning—and, more importantly, she recollected walking into school with him as they bumped into Hae, whom, she claimed, Sayed asked to give him a ride after school, to which Hae agreed.
The two versions are obviously conflicted—so, who is right, who is wrong?
There are arguments to be made either way that one or other had the date wrong when it came to their account—but, after weighing up both stories, Syed's team comes down on the side of Krista.
In the meantime, Miller shares that two witnesses subsequently recalled seeing Syed immediately after the end of school, around 2.15, to, 2.20pm, outside the career guidance councilor's office.
According to Miller, one of the witnesses, Becky, told cops she was with Keisha and Ayesha, when she saw Adnan and Hae walk past each other in the corridor that afternoon—in her initial police statement, she claimed Syed stopped and asked Lee if it was still OK to give him a ride after school (as mentioned in Krista's statement)—but, Hae said she couldn't, as, she "had something else to do" and that, Adnan said it was "fine", and he would ask someone else.
If indeed true, this is dynamite—as, when it came to the time of trial, this very important part of the story was noticeably missing.
Becky did subsequently testify to seeing Hae in the corridor that afternoon at school, and recalled her saying she "had to be somewhere" before walking out the door to her car, but made no mention of Adnan, and or, his and Hae's interaction….
Shockingly, Syed's defense failed to quiz Becky as to whether their client was a part of that conversation, or even there in fact….Posing the question—did Syed's defense team drop the ball? Or, was there a strategic reason for not asking? Or, were they never provided with a copy of Becky's original statement to cops, that seemingly blows away the prosecution's argument that Adnan wangled his way into Hae's car after school, by asking for a lift, then went on to strangle her to death?
Keisha, who also appeared as a witness for the prosecution, testified to seeing Hae and Adnan talking together that afternoon—a fact the prosecution jumped upon and used as evidence during their closing statement—arguing that Syed HAD to have killed Lee… as, he had asked her for a ride earlier in the day, she had agreed, Keisha saw them together talking after class…..and therefore……unless "something strange" happened during the next few minutes, it's reasonable to believe Adnan got in Hae's car, and then killed her….
On a side note, you would never have known Keisha's testimony would ultimately prove so damning—according to Syed's defense team, her initial police interview was so brief, and seemingly so irrelevant, that it allegedly wasn't written up immediately and wasn't filed by cops until two weeks later.
Then, according to Syed's defense team, there's the later part of Debbie's statement to cops, claiming she saw Adnan outside the career guidance councilor's office around 2.45 pm, holding his gym bag and talking about heading to track practice—and, the claim that she later saw Hae, sometime between 2.45 and 3.15…
Adnan's team allege that by the time of trial, Debbie had been written out of the prosecution timeline, as her version of events didn't fit with their assertion that Syed had strangled Hae in the Best Buy parking lot by 2.36 pm, when he is alleged to have called Jay from a nearby pay phone and asked to be picked up.
So, yeah, what about Jay?!!!
That was the burning question throughout the entire first season of Serial—and promises to remain so, for at least the foreseeable future, throughout future episodes of Undisclosed: The State v. Adnan Syed.
Then, there's the alibi provided by Asia, that Sayed was at the library that fateful afternoon—oh, and the testimony from Coach Si that seemingly matches up with the assertion that Syed was indeed at track practice, on time, on January 13, 1999, even though Jay testified otherwise.
Hmmm…. there's that name again.
Oh, but what about Kathy's testimony, and those pesky cell phone tower records? Infuriatingly, when it comes to those hoping for "closure" there's seemingly an answer for every one of the prosecution's arguments..
Listen to the first episode below and check back on April 27th for the second installment of Undisclosed: The State v. Adnan Syed