TV Features
On June 25th, BMO kicks off a new era for the Adventure Time saga.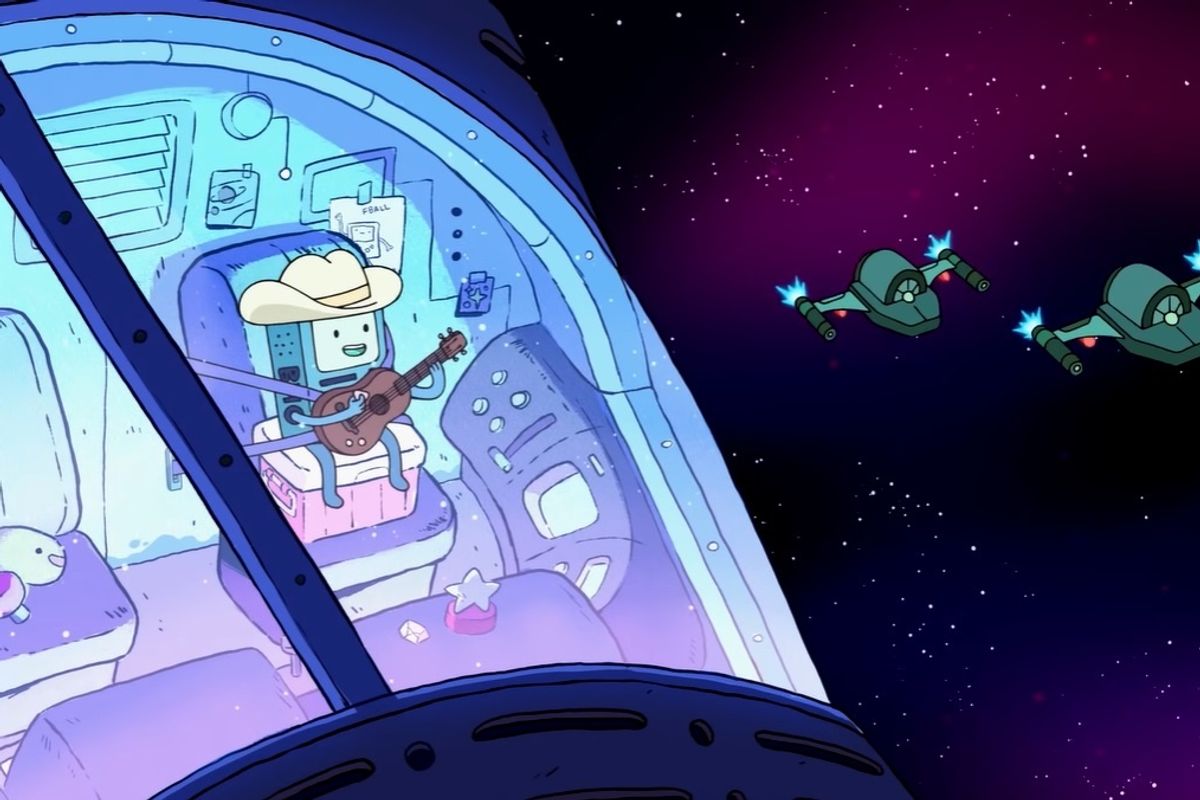 Just when you thought you'd finally caught up on all 10 seasons of Adventure Time, HBO Max announced their new miniseries—Adventure Time: Distant Lands—and you had a reason to go on living.
The original run of Adventure Time aired on Cartoon Network from 2010 to 2018 and squeezed increasingly complex stories and character arcs into its original 12-minute episode format.
As creator Pendleton Ward became a more mature storyteller throughout the years–while never abandoning the show's core of immature, absurdist, gross-out fun—that format clearly became an obstacle to what he and the Adventure Time team could do. While later seasons did a good job of cutting longer stories into segments for 8-episode arcs like Stakes, and Islands, it was clear that there was a lot of work going into fitting these ideas into Adventure Time's short form mold.
---
BMO Full Trailer | Adventure Time: Distant Lands www.youtube.com
But now Distant Lands is freeing up Ward and his collaborators to take your favorite Adventure Time characters on epic, uninterrupted adventures in a series of four hour-long specials. Each installment will see heroes paired up or on their own, having new adventures and exploring some of the "very distant lands" referenced in the Adventure Time theme song.

While Pendleton Ward has had some recent experience with longer episodic stories in The Midnight Gospel—which beautifully pairs Ward's distinctive art style and world-building with the spiritual and philosophical ramblings of comedian Duncan Trussel and his guest stars—this will be the first case of Adventure Time having more room to breathe.
The second, third, and fourth installments—"Obsidian," "Wizard City," and "Together Again"—will feature the return of Princess Bubblegum, Marceline the Vampire, Peppermint Butler, and of course, brothers Jake the dog and Finn the human.
Beyond the basic log lines, we don't know much about these later adventures (we don't even know what year we'll get to see Peppermint Butler learning to be a wizard), but with the first installment, "BMO," just around the corner, teasers and trailers have given us enough to get excited about.
Along with the initial trailer, HBO shared the opening scene of "BMO" earlier this month, which featured plenty of lovable nonsense from titular sentient video game system/robot designed for love, along with enough detail that we can start to piece things together.
BMO's Space Adventure
With Niki Yang returning to provide her unmistakable voice, BMO starts his adventure leaving the land of Ooo behind on a lonely quest to terraform Mars—with only his potatoes and Football (his adversarial reflection) for company. But those plans are disrupted when one of BMO's potatoes rouses a mute, shape-shifting robotic being which BMO dubs Olive.
Olive, after scanning BMO—"You like what you see, huh? You got the good taste"—seems to determine that he has some vital component (his heart?) that could be the key to saving Olive's embattled home world. As BMO puts it in the trailer: "It does need saving, correct?" Without hesitation, Olive transforms to hijack BMO's ship and pilot them past Mars and through a matter-bending rift in space to a distant region of the galaxy—"The stars are all jacked."
BMO Intro | Adventure Time: Distant Lands www.youtube.com
To see how things progress from there, you'll have to check out the full special on HBO Max this Thursday, but the trailer at least gives us a general impression of where the story is headed. Teaming up with a local anthropomorphic bunny creature, and using Olive as a sonic-screwdriver-like omni-tool, BMO must end a war and save the floating domed pods of this strange alien world from certain destruction.

The fact that BMO will spend a full hour interacting with aliens in outer space is an exciting development for the Adventure Time universe, but the fact that the special will clearly preserve the original show's wholesome strangeness is even more encouraging.
Adventure Time: Distant Lands—BMO will be streaming on HBO Max starting Thursday June 25th.

From Your Site Articles
Related Articles Around the Web