Dating in the computer age—There's Tinder, Grindr,  OkCupid, FarmersOnly, Clown Lovers, Craigslist Casual Encounters, Adult Friend Finder, Ashley Madison, Plenty Of Fish, JDate, Christian Mingle, BBW Cupid, FurryMate.....Fetster....Beer Passions...Cougar Life.....Match.com....Naturist Passions.....Cat Lovers Network....Singles With Allergies.... PinkCupid.... AgeMatch..... SploshDating.... ZombiePassions... Zoosk.... DateVampires.. .OurTime...Sea Captain Date....Missed Connections... FelonyDatingService....the list is endless.
Each week, Popdust's intrepid reporter, Suzy McCoppin, goes deep undercover in order to guide you through the potentially murky waters of cyber lovin'.
Can you really swipe, click, match, wink your way to true love?
This week, we shine the spotlight on Kwink Potheads...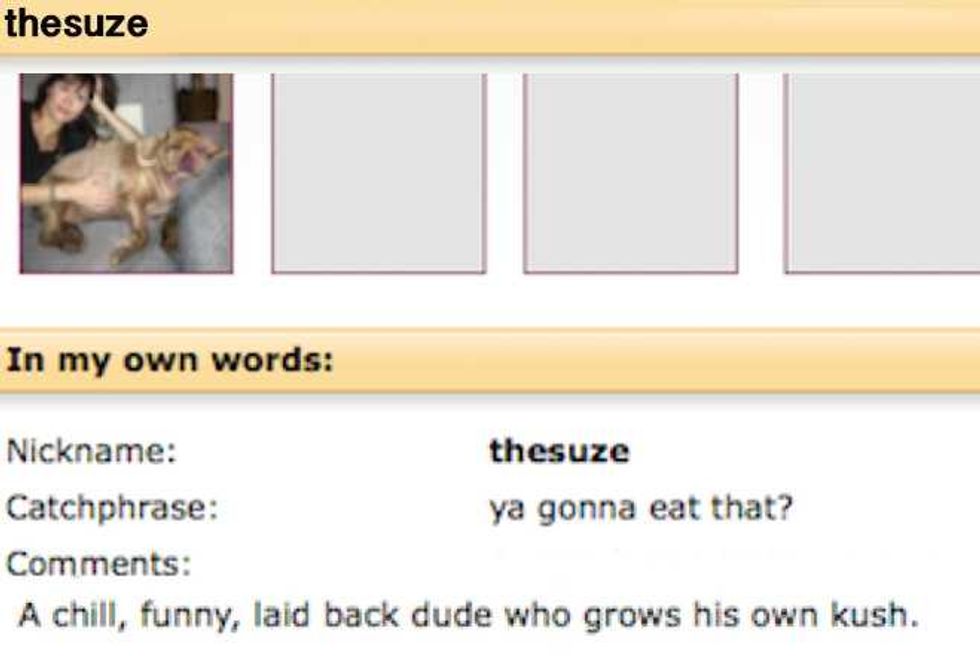 SLOGAN: A kwink is a trait that best defines you. It may be a passion, lifestyle, deviation, or affliction. Our mission is to unite soulmates & lovers based on their defining trait... their kwink.
[As for Kwink/potheads specifically, they don't really have a slogan. 'Cuz potheads are lazy]
Kwink is essentially a portal site into other, more specific sites…and so we found our way towards fellow like-minded 420 enthusiasts….
Hollywood 420—Morgan Freeman's Not The Only Surprising Celeb Weed Lover
A dating site for potheads? It seems counter-intuitive. Doesn't pot totally kill your sex drive? A dating site for Molly users—now that would make sense. That shit makes you wanna hump the gear shift in your Uber.
Are they just seeking out someone to smoke pot with? Or are they looking to put their weed whackers into someone's kush bush? That's why I went deep under cover…..For the free drugs.
The perception is that potheads are lazy, and Kwink did nothing to dispel this myth.
The site doesn't even have a slogan, I got the lowest number of correspondences in one week so far, and no one really bothered to fill out their profiles.
Texas Cops Discover Loaded Gun In Woman's Vagina During Drugs Bust
Aaaaah, I was home at last.
HOT TO NOT RATIO: 1 out of 20
BEST PICK UP LINE: "I saw you online and thought, 'I bet she needs a taco, too'."
WORST PICK UP LINE: "Would you like to buy one of my kushley odor eliminating products?"
NUMBER OF CORRESPONDENCES IN ONE WEEK: 4
HOTTEST GUY: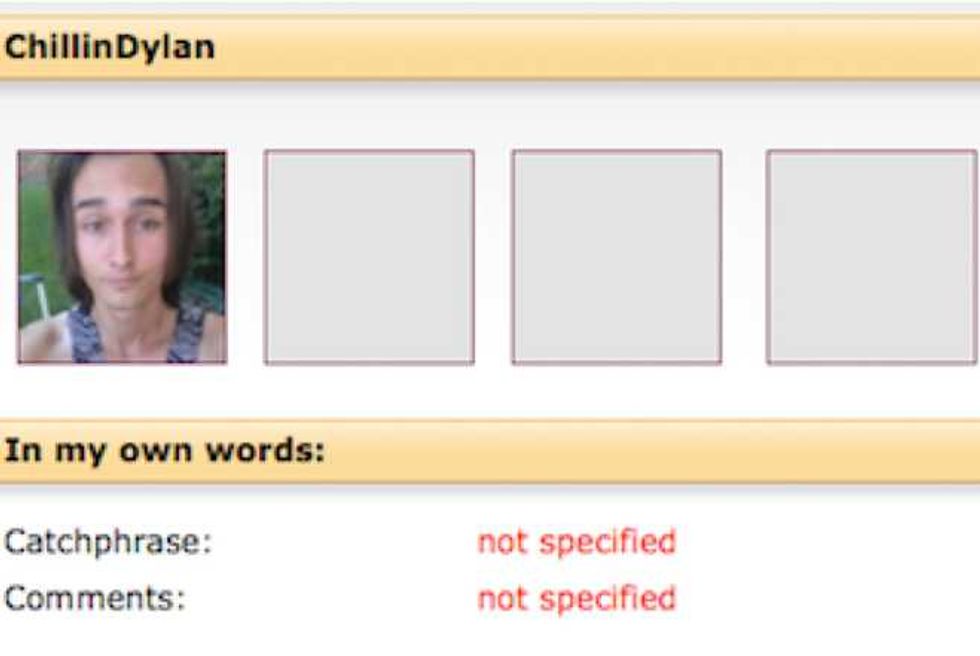 Approach/Chat Up Line: "Hey, you wanna hit this?"
Conversation Skills/Rapport: So Pretty and witty and [possibly] gay
Closing Skills: Sure he crushes it with sexually confused tween set
Stupid Stoner Calls 911 To Report Drug Deal Gone Wrong
GUY MY MOM WOULD WANT ME TO DATE: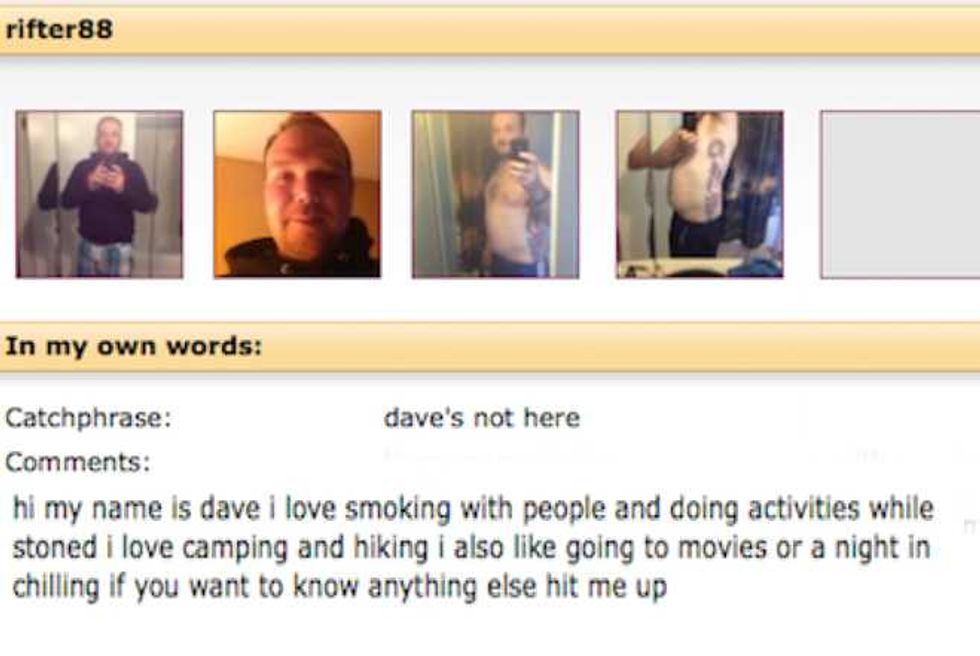 Approach/Chat Up Line: Do you smoke pot? 'Cuz weed look so good together.
Conversational Skills/Rapport: Punny, chubby guy.
Closing Skills: Pretty sure our genitals will never meet.
Woman With BIID Blinds Herself With Drain Cleaner To Fulfill Lifelong Disability Dream
WEIRDEST GUY: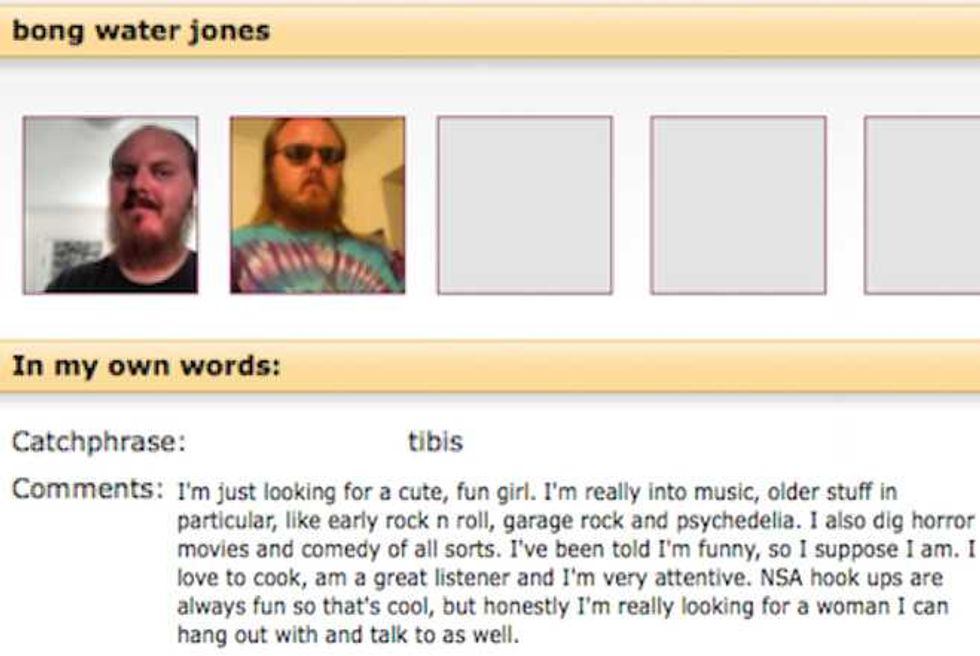 Approach/Chat Up Line: Wanna be the master of my puppet?
Conversation Skills/Rapport: Okay, he didn't really say that.
Closing Skills: That would have been funny if he did though. And maybe he could have closed the deal.
Man Accused Of Calling Deaf Service Over 4,000 Times To Jerk Off
HELL TO THE NO GUY: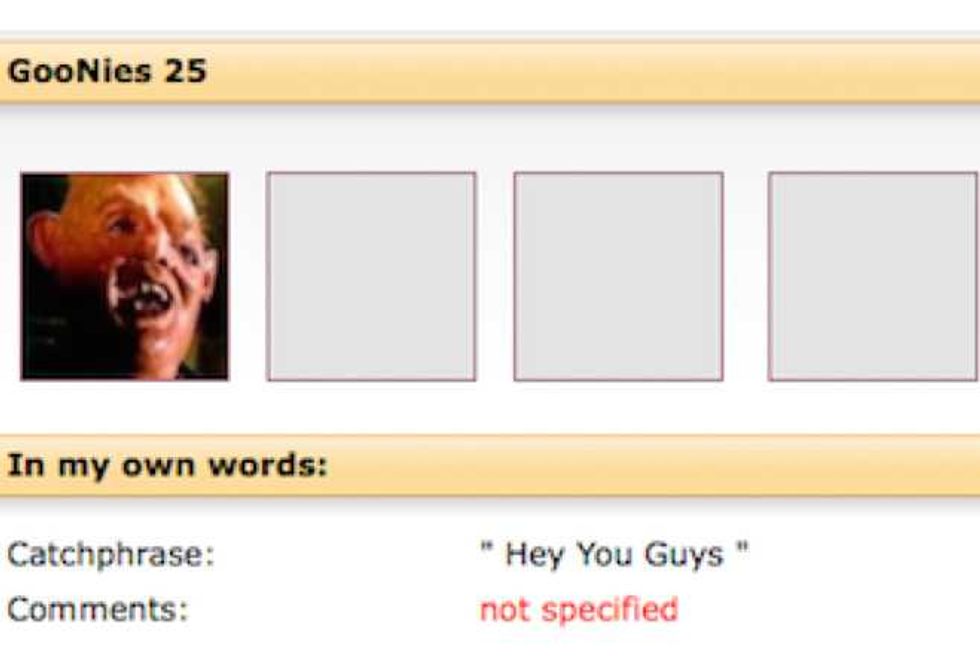 Approach/ Chat Up Line: "HEY YOU GUYS!!!!!!!!"
Conversation Skills/Rapport: Doesn't have access to a phone.
Closing Skills: Is chained to a radiator, which really inhibits movement.
Dude Pretends To Be Ashton Kutcher To Avoid  Drug Arrest
BLOW BY BLOW DATE SUMMARY:
Stoners love Mexican food, and thusly, Mike and I went to La Cabana in Venice, and after ordering the Super Lomo burrito, our date essentially turned into a public service announcement.
Specifically, the one that opens with the guy saying something like, "I started smoking pot in high school and nothing happened to me." Then they show a time lapse of his couch over the next decade, and the guy never leaves it...not even once.
"I hate all this government propaganda about drugs, man," Mike moaned, cracking open his first can of cliché. "They say weed is a gateway drug and all this bull shit, but it's the only thing I've ever done."
Hmmmmm….that sounded vaguely familiar.
Mike went on to describe how he dropped out of high school at 16 to grow/sell his own weed farm. Because this was before pot was legal in Cali, Mike got busted and was put on probation for 5 years.
Next he got his GED and bounced around wearing many hats, like that of a bee-keeper, and a bassist in a Foo Fighters cover band.
His recent incarnation was podiatry school, which he dropped out of last year because one of his teachers smelled like soup. He didn't specify which soup and I imagine smelling like soup could range from being stomach churning all the way up to down right pleasant.
Of course, this irony was lost on Mike, who was now up to his eyebrows in Super Lomo.
SUMMARY:
Just say no…..to podiatry school....
And the quest for love continues....
Check back on Popdust every Friday for an all new foray into the singles world….In the meantime, you can read past Adventures In Dating here