online dating reviews best worst experiences
Dating in the computer age—There's Tinder, Grindr, OkCupid, FarmersOnly, Clown Lovers, Craigslist Casual Encounters, Adult Friend Finder, Ashley Madison, Plenty Of Fish, JDate, Christian Mingle, BBW Cupid, FurryMate.....Fetster....Beer Passions...Cougar Life.....Match.com....Naturist Passions.....Cat Lovers Network....Singles With Allergies.... PinkCupid.... AgeMatch..... SploshDating.... ZombiePassions... Zoosk.... DateVampires.. .OurTime...Sea Captain Date....Missed Connections... FelonyDatingService....Kwink Potheads....DateACanadian...Black People Meet....the list is endless.
Each week, Popdust's intrepid reporter, Suzy McCoppin, goes deep undercover in order to guide you through the potentially murky waters of cyber lovin'.
Can you really swipe, click, match, wink your way to true love?
Taiwanese NGO Gives Disabled Men Hand Jobs
This week I wanted to see what kind of luck I would have if I bent my gender, so I downloaded an app appropriately called Gender Bender, and submitted my face to a Crying Game caliber makeover.
The result was sort of a Satanic Ricky Martin with oral thrush, as evidenced above.
Also, I'm an epic douche bag. Why am I wearing 3 earrings?
Anyway, I was off to see if I could slay as much ass as the former Menudo member, and I mean "ass" in a gender non specific way.
Here we go, ale, ale, ale!
Off to JDate we go!
The Vag Selfie—Definitive Guide To Securing The Sexiest Snatch Shots
SLOGAN: Get Chosen.
HOT TO NOT RATIO: 1 out of every 7
BEST PICK UP LINE: My milkshake brings the vast majority of boys to the yard.
WORST PICK UP LINE: I don't need a spoonful of sugar to swallow you.
NUMBER OF CORRESPONDENCES IN ONE WEEK: 12
HOTTEST CHICK: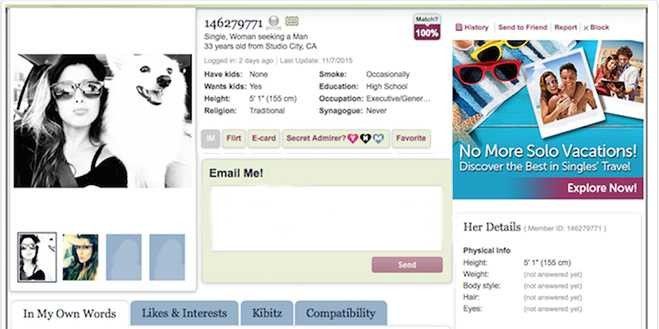 Anjewlina Jolie...
Her Approach/Chat Up Line: "Good things come in small packages."
Conversation Skills/Rapport: As with all my JDate lady friends, communication was exclusively via text.
Closing Skills: All the boys be up on it.
At Last! Those Vag Emojis We've All Been Waiting For Are Here!
CHICK MY MOM WANTS ME TO DATE: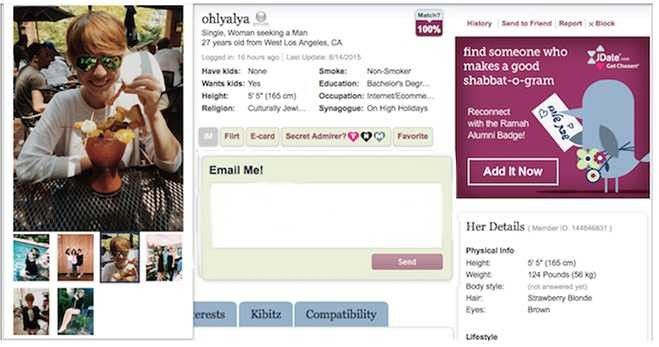 My mom has a total boner for chicks with short hair. She gets so psyched when I rock a pony. "You can see ya face!"
Her Approach/Chat Up Line: "You should message me if you're smart, confident, quick on the draw and a little sarcastic." (and have a prosthetic penis)
Conversation Skills/Rapport: Ohlyala is ten pounds of sass in a five pound bag.
Closing Skills: Likes day drinking. That's a good sign.
Did a Wendy's Worker Use Her Vag Discharge As Mayo For Her Enemy's Burger?
WEIRDEST CHICK: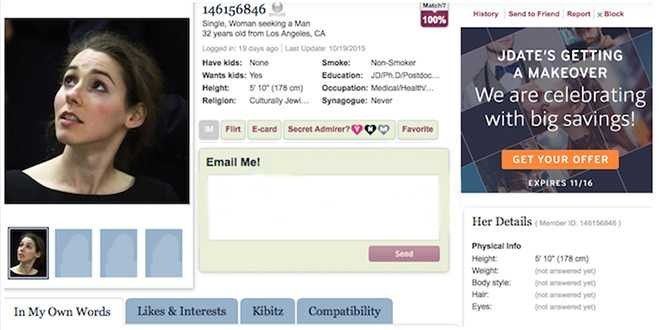 What is she looking at?!!!!
Her Approach/Chat Up Line: Okay, so 146156846 isn't exactly a super freak, but J Date is home to thousands of Bat Mitzvahed basic bitches, and thus I was limited in my options. That said, she chose an awfully peculiar profile pic.She looks like she's about to have her throat slit. Or get pooped on by some sort of avian beast.
Conversation Skills/Rapport: Pretty sure she wouldn't date a guy who wears 3 earrings.
Closing Skills: We totally scissored.
Texas Cops Discover Loaded Gun In Woman's Vag During Drugs Bust
HELL TO THE NO: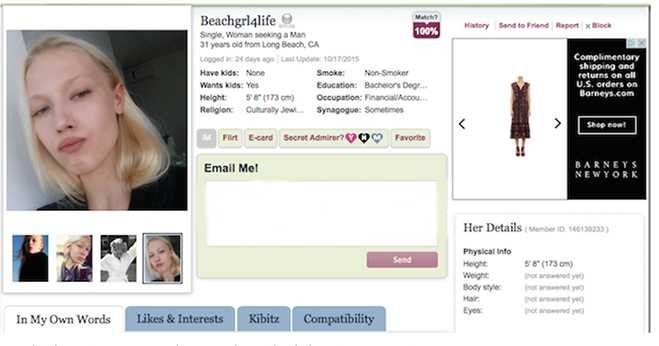 So high maintenance she says her ideal date is "expensive."
Her Approach/Chat Up Line: "Work hard, play hard. Not messing around."
Conversation Skills/Rapport: I was too intimidated to talk to her.
Closing Skills: Is she gone yet?
Jenna Jameson Claims Rotten Cheese Is The Worst Thing She's Had In Her Vag
BLOW BY BLOW DATE SUMMARY:
I may be a blogger whose work is enjoyed by dozens of readers each month, but I actually have a degree in drama from NYU.
I studied both the Sanford Meisner and the Stella Adler techniques of method acting, and therefore, my performance was not going to stop at Gender Bender. I was going to go all the way.
And so I brought in a team. Caitlin Ross, BFF and professional Hollywood make up artist who's credits include Ariana Grande and Khloe Kardashian, assisted in the transformation. Caitlin remarked that my strong jaw line and manly vocal register would help make for a convincing drag king.
Thanks, asshole.
Brandi Glanville Talks Plastic Surgery, Designer Vag (Courtesy Asshole Ex Eddie Cibrian)
She contoured my face to make it more angular, filled in my brows to make them stronger, shadowed around my throat to give the illusion of an Adam's Apple, and finally snipped off pieces of wool and stuck them to my face with eyelash glue to simulate stubble.
Since they're all the rage, we fashioned my hair into a manly man bun.
We brought in fashion stylist Traci Reedy who decided that Timberland boots would add height, Levis 501's were a good middle of the road choice. A hipster flannel was thrown over my very binding sports bra.
It was go time. Almost.
Solemnly, Caitlin handed me a d*ldo. We exchanged knowing glances. "I'll just put it in my purse," I said.
"No you won't," she corrected. "Truman doesn't have a purse."
Lena Dunham Talks About Finding Pebbles In 1-Year-Old Sister's Vag
It was then that it all became too real. Guys don't have purses, they have penises, and there was only one place for mine to go.
I few strips of duct tape later, "Max" was ready to party.
I had been corresponding with Laura for about 3 days via text, and she mentioned that on Saturday night she would be attending her friend's bachelorette party and that we should meet afterwards at her place. Perfect. She would likely be intoxicated and not notice my fake stubble.
She told me to arrive at her one-bedroom Hollywood bungalow at 1 AM. She was drunk. After regaling me with basic bitch bachelorette stories, she went in for the kiss.
As the "man," I decided to take initiative, push her back on the couch and mount her.
Things progressed from there, but a gentleman never talks.
Summary
:
Just kidding....You didn't actually believe any of that, did you?
For more stupid stupidity, follow Suzy McCoppin on Instagram
Check back on Popdust every Friday for an all new foray into the singles world….In the meantime, you can read past Adventures In Dating here