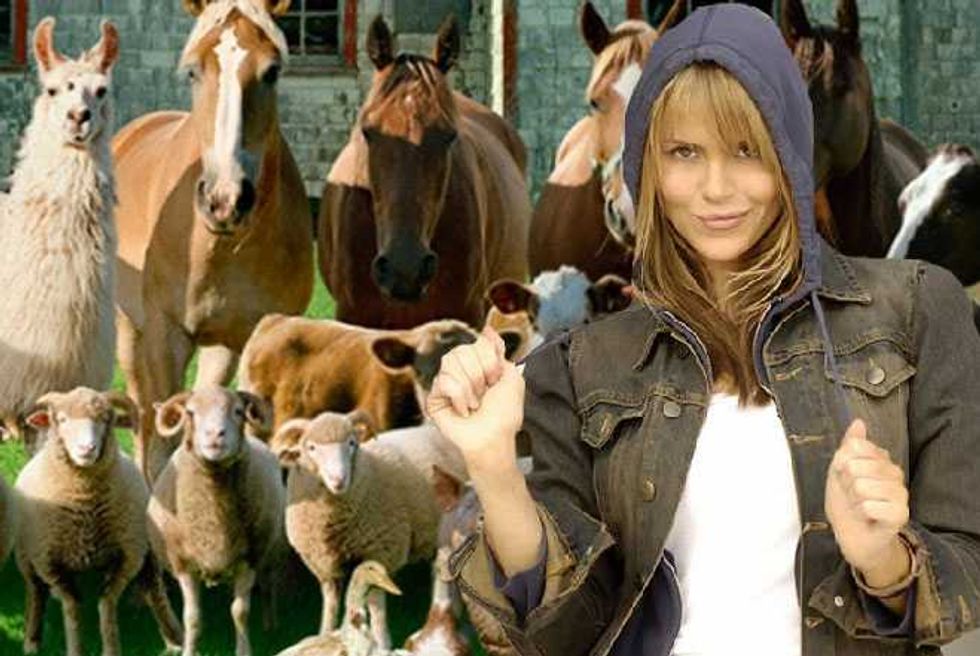 online dating reviews animal lovers Adventures In Dating—Spotlight On Animal Lovers
Dating in the computer age—There's Thanksgiving,  Tinder, Grindr,  OkCupid, FarmersOnly, Clown Lovers, Craigslist Casual Encounters, Adult Friend Finder, Ashley Madison, Plenty Of Fish, JDate, Christian Mingle, BBW Cupid, FurryMate.....Fetster....Beer Passions...Cougar Life.....Match.com....Naturist Passions.....Cat Lovers Network....Singles With Allergies.... PinkCupid.... AgeMatch..... SploshDating.... ZombiePassions... Zoosk.... DateVampires.. .OurTime...Sea Captain Date....Missed Connections... FelonyDatingService....Kwink Potheads....DateACanadian...Black People Meet....the list is endless.
Each week, Popdust's intrepid reporter, Suzy McCoppin, goes deep undercover in order to guide you through the potentially murky waters of cyber lovin'.
Can you really swipe, click, match, wink your way to true love?
The Most Famous Celebrity Sex Tapes Of All Time—A Ranked List
This week we shine the spotlight on Animal Lovers.
SLOGAN: The largest network of individual dating and niche social networking sites.
I safely deduced that The Passion Network-Animal Lovers is a dating site for people who love animals, but the site isn't specific as to how it's members love animals.
Like, is it just your average, unassuming pet enthusiast who might have a Siamese or an Bearded Collie? Or is it for people who loooove animals? Like, with their genitals?
Dude Who Had Sex With Mailbox In Middle Of A Mall Is Found Dead
As I perused the site, and scanned through all the weirdness, the answer to this question became murkier and murkier still.
But I signed up anyway, because the fact that "what are you, a narc" is one of the options given for members' feelings about drugs makes me respect the hell out of this site.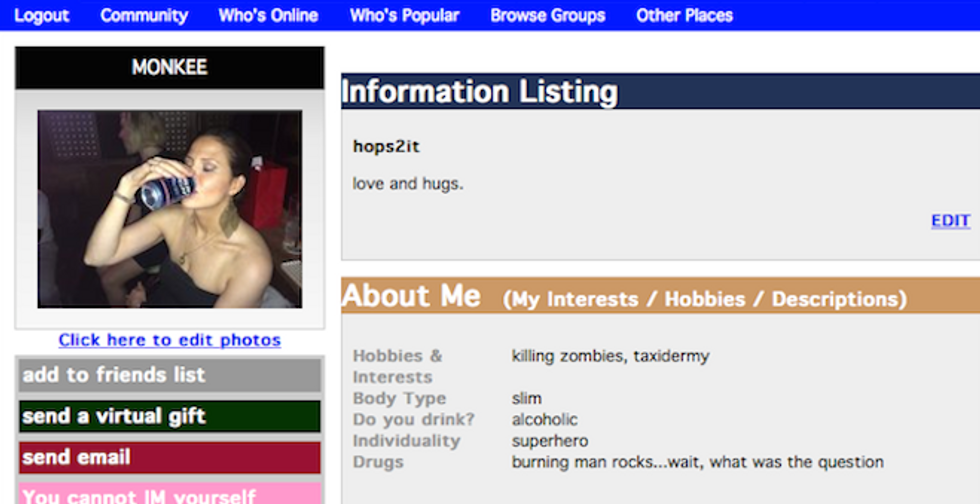 HOT TO NOT RATIO: 1 out of every 16
BEST PICK UP LINE:  You like whales? Cause I was thinking that we could "humpback" at my place.
WORST PICK UP LINE: My cat's dead, can I play with your pussy instead?
NUMBER OF CORRESPONDENCES IN ONE WEEK: 7
Town Is In Uproar Over Sex Toy Food Cart
HOTTEST GUY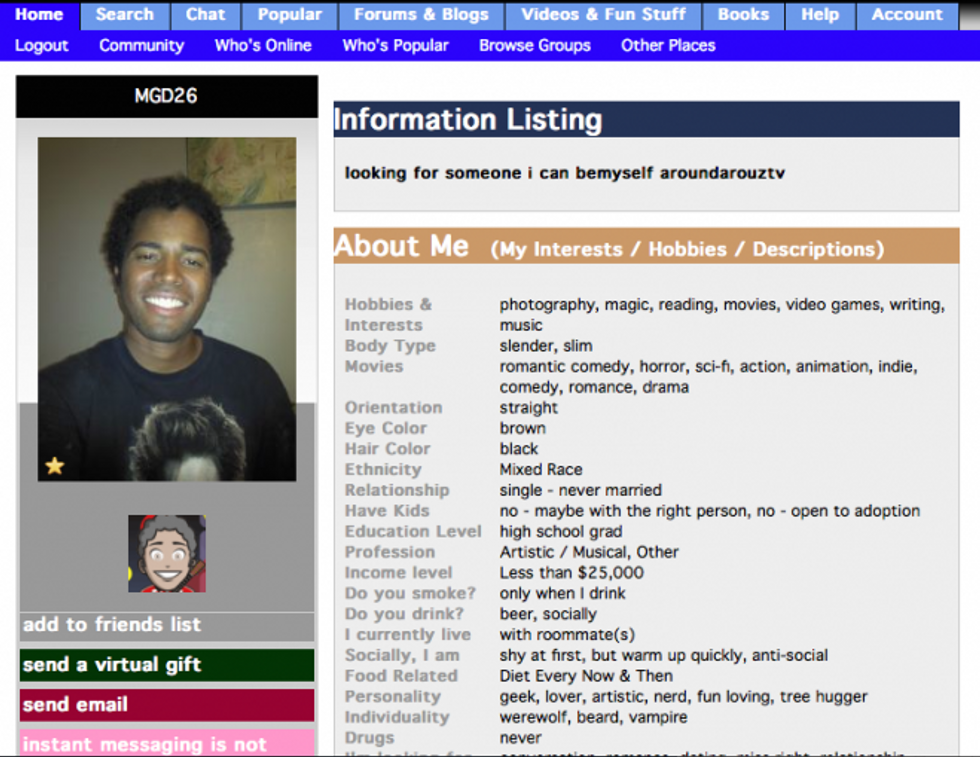 His Approach/Chat Up Line: I just like that he's comfortable enough to say that he makes less than $25,000 a year on his dating profile.
Conversation Skills/Rapport: I just kept pretending I was talking to Tiger Woods.
Closing Skills: And then suddenly I wanted to hit him with a 9 iron.
Woman Had Screaming Loud Sex—So Her Neighbor Live Tweeted It
GUY MY MOM WANTS ME TO DATE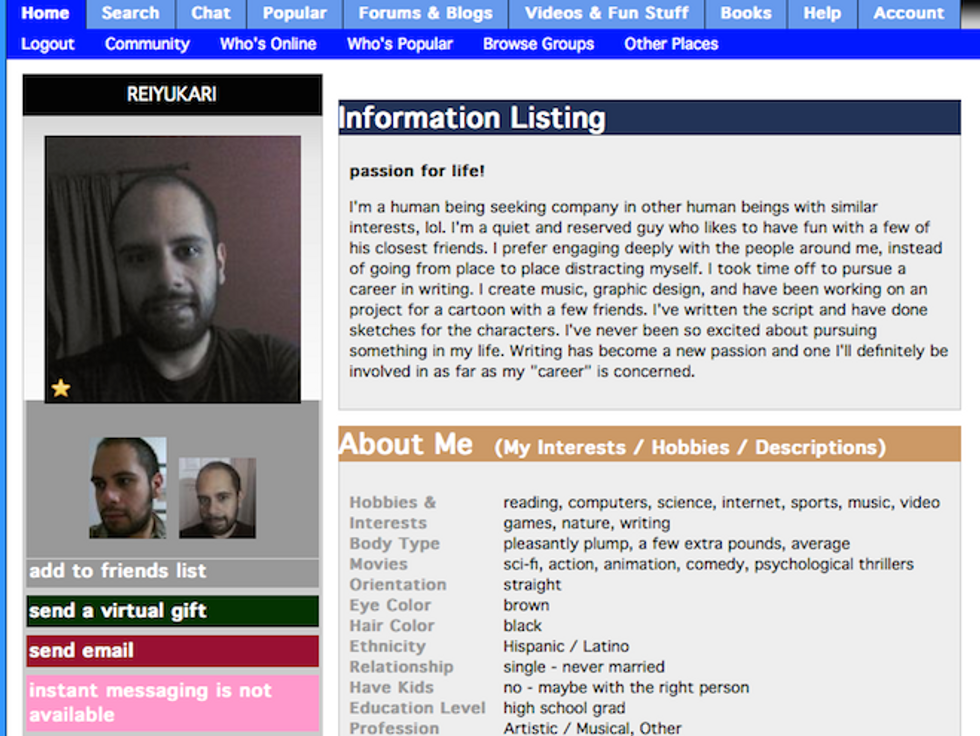 His Approach/Chat Up Line: I'm a human being seeking the company in other human beings with similar interests.
Conversation Skills/Rapport: Lol.
Closing Skills: Would slay at Comic Con.
WEIRDEST GUY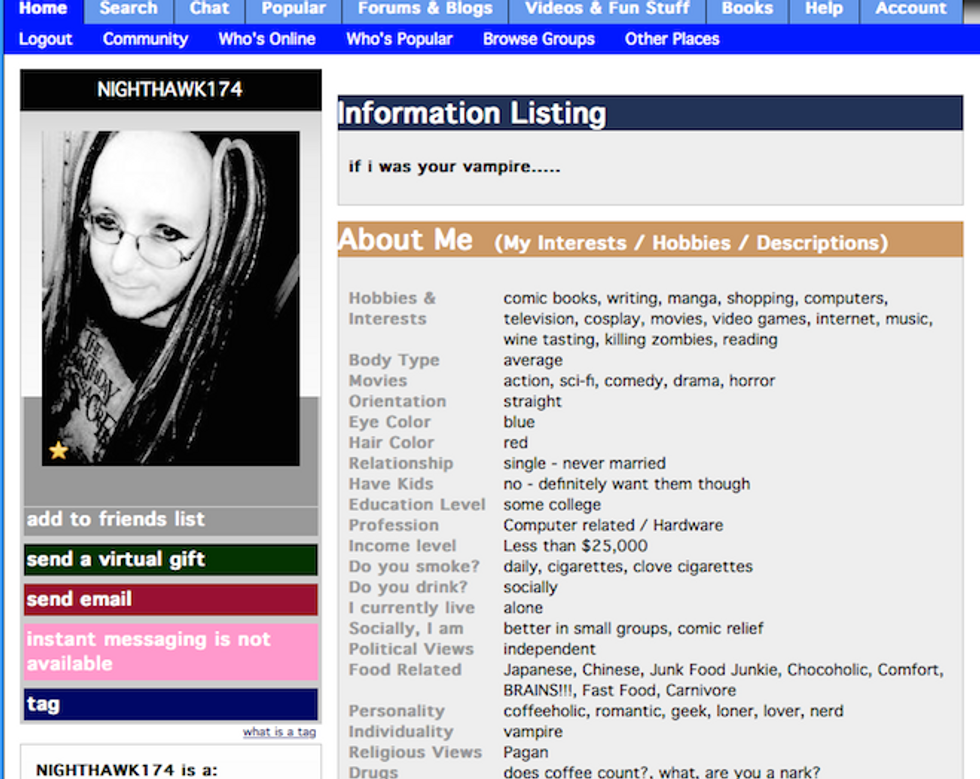 Their Approach/Chat Up Line: Also admirably forthcoming about his income. Just owns that shit. Well, I'm not sure if he owns anything, but he may lease with an option to buy.
Conversation Skills/Rapport: Wanted to take me out for Milwuake's best and BRAINS!!
Closing Skills: Turns out brains taste like Ray Liotta.
HELL TO THE NO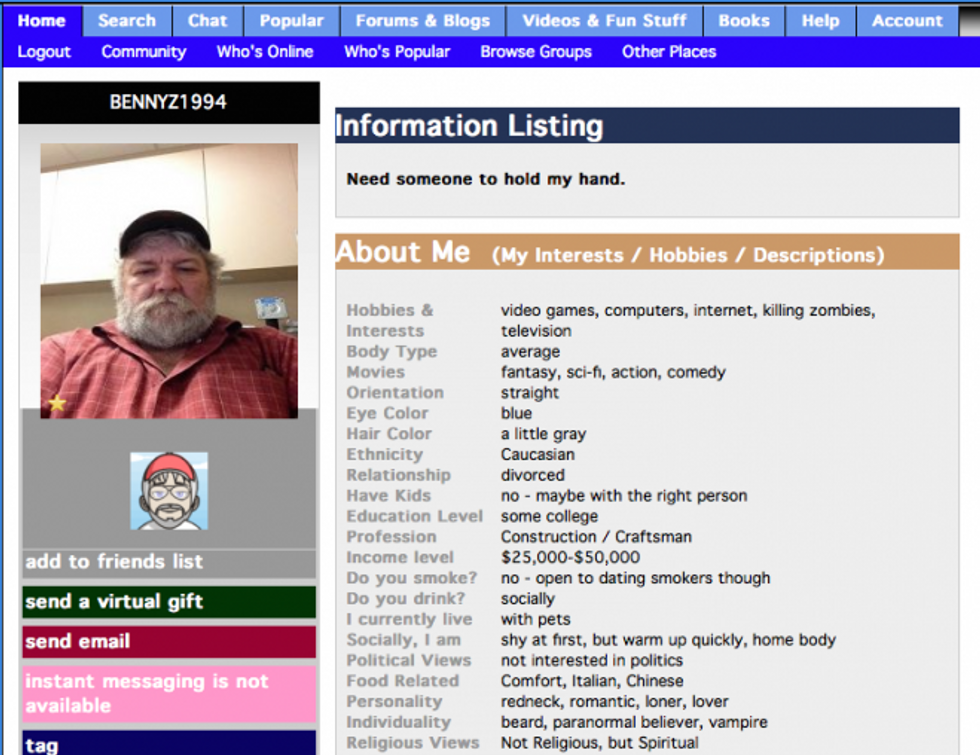 His Approach/Chat Up Line: "Ho, ho, ho," which I couldn't help but find insulting. 
Conversation Skills/Rapport: When he says he loves animals, he may be talking about his reindeer. 
Closing Skills: Let's just say, he knows when I was naughty.
BLOW BY BLOW DATE SUMMARY:
LA women. We're a bunch of gold diggers, right? This week, I decided to put the theory to the test. How easy would it be to pluck a guy off a dating site, and have him take me to a $500 dinner?
On a site where most of the members make under $25,000, not too easy.
Not that this would be an easy undertaking anyway. I usually reroute my dates to Jack in the Box because my dad didn't love me and I just don't feel worthy of The Olive Garden.
So when my friends proposed that I take on this social experiment, I had to do further research in order to locate an appropriately obnoxious restaurant.
Melisse was the unanimous answer. Check out the truffle menu.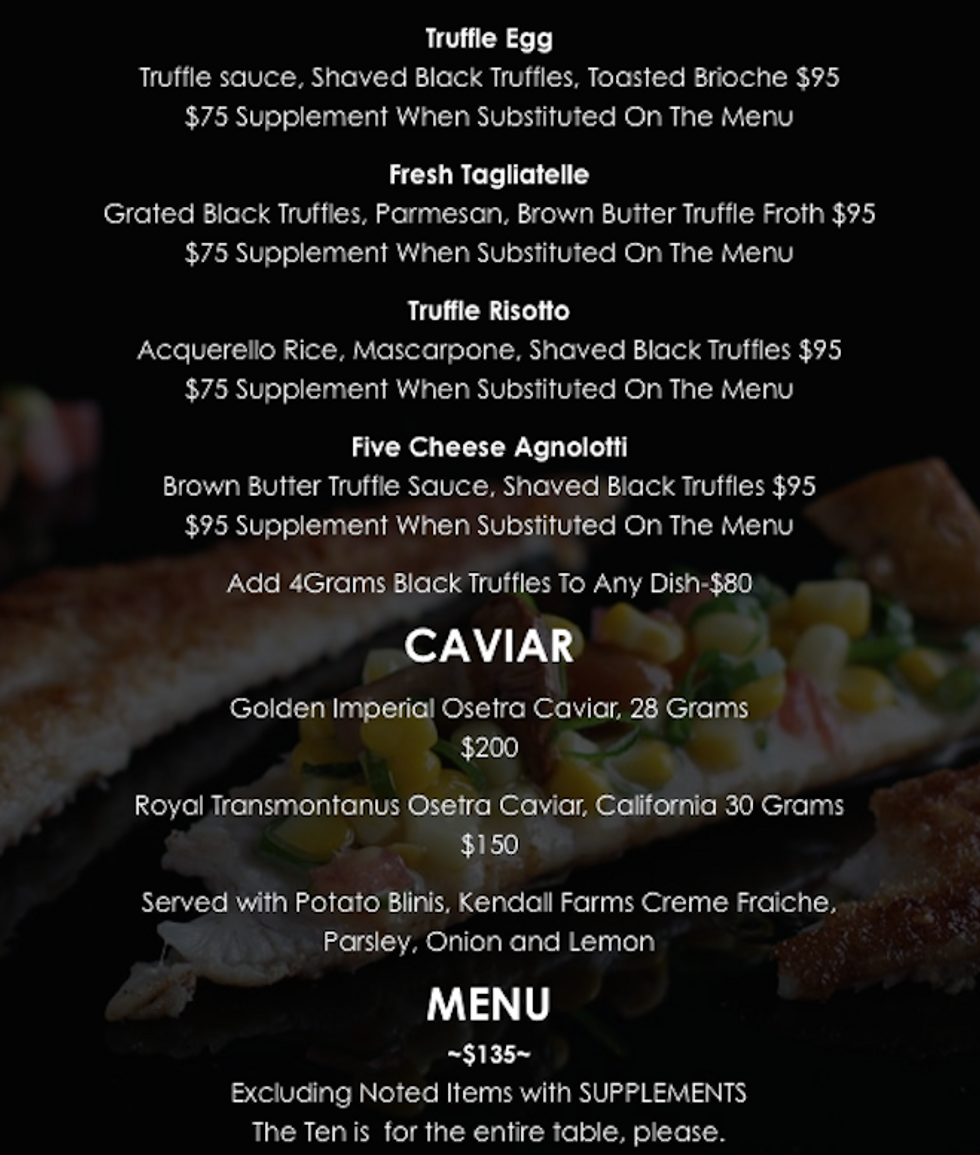 Tell me this guy's not gonna expect anal. I was hitting out of my league or whatever sports analogy is appropriate here.  Anal-ogy. There's that word again. I was terrified, but my friends assured me this would be good for me to act like someone who loves herself.
So, when Edward, an editor for Life Time Television for Women, asked me where I wanted to eat, I inhaled sharply and fired off my answer.
"Sure," he wrote back so quickly I was certain Edward was even less familiar with Melisse than I. It was a game of chicken. It was only a matter of time before Edward Googled Melisse, if only to make a reservation, and then he would see just how much respect I allegedly have for myself.
So Edward called to cancel because he was getting a boil lanced on the day in question and revealed that Melisse had a policy of charging $100 per person for a cancellation.
I agreed to split it with him. Because my Dad didn't love me.
SUMMARY:
Fat guys try harder.
And so, my quest for love continues....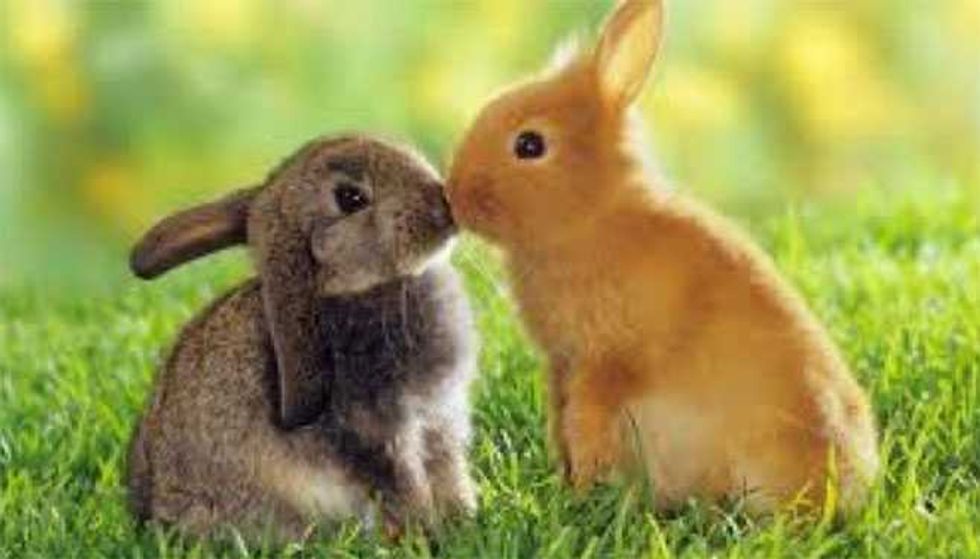 For more stupid stupidity, follow me on Instagram.
Check back on Popdust every Friday for an all new foray into the singles world….In the meantime, you can read past Adventures In Dating here