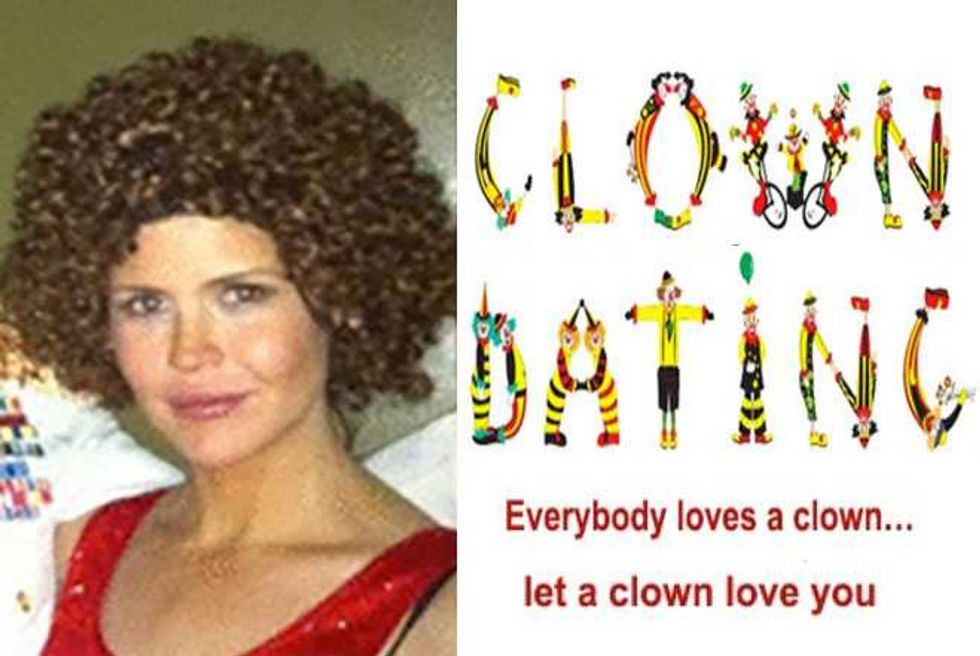 Dating in the computer age—There's Tinder, Grindr, Match, FarmersOnly, BeerPassions, OKCupid, Fetster, Craigslist Casual Encounters,  Ashley Madison, Adult Friend Finder, Plenty of Fish..…the list is endless.
Each week, Popdust's intrepid reporter, Suzy McCoppin, goes deep undercover in order to guide you through the potentially murky waters of cyber lovin'.
Can you really swipe, click, match, wink your way to true love?
This week, we shine the spotlight on Clown Passions.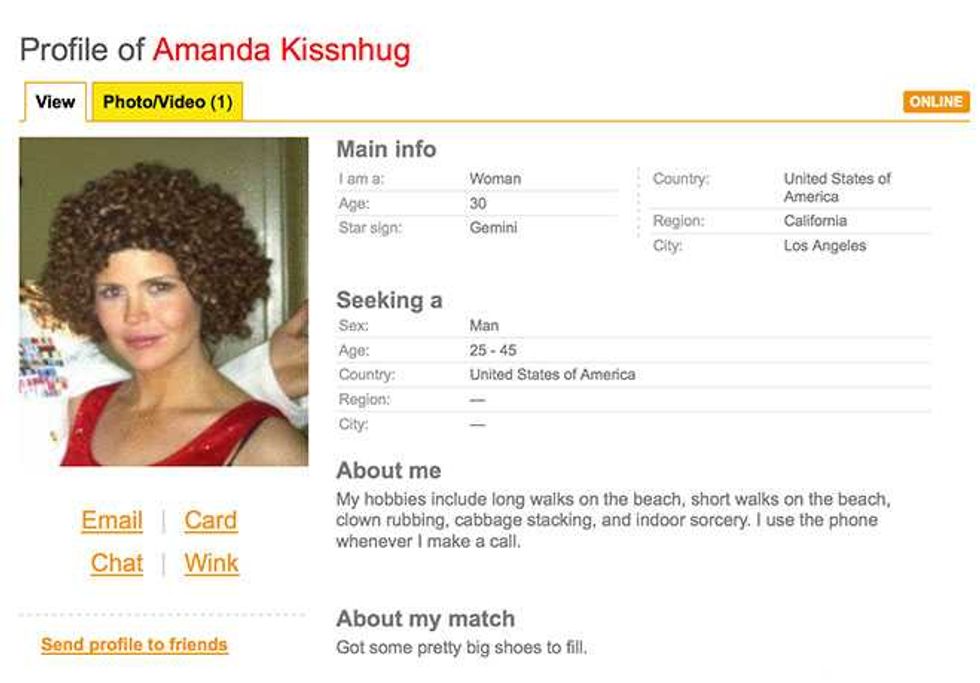 McCoppin goes deep deep under cover....
Clown Passions taught me many things during my week of perusing. I learned that clowns love puns. I learned that "painting the horn" is clown for masturbation.
Though I suspected that even in my Richard Simmons' wig, I would still crush major ass on Clown Passions, I learned that there are actually hot chicks like this one below who are just dying to get honked.
And finally, I learned that there's a slew of alternate and pornographic uses for clown accessories.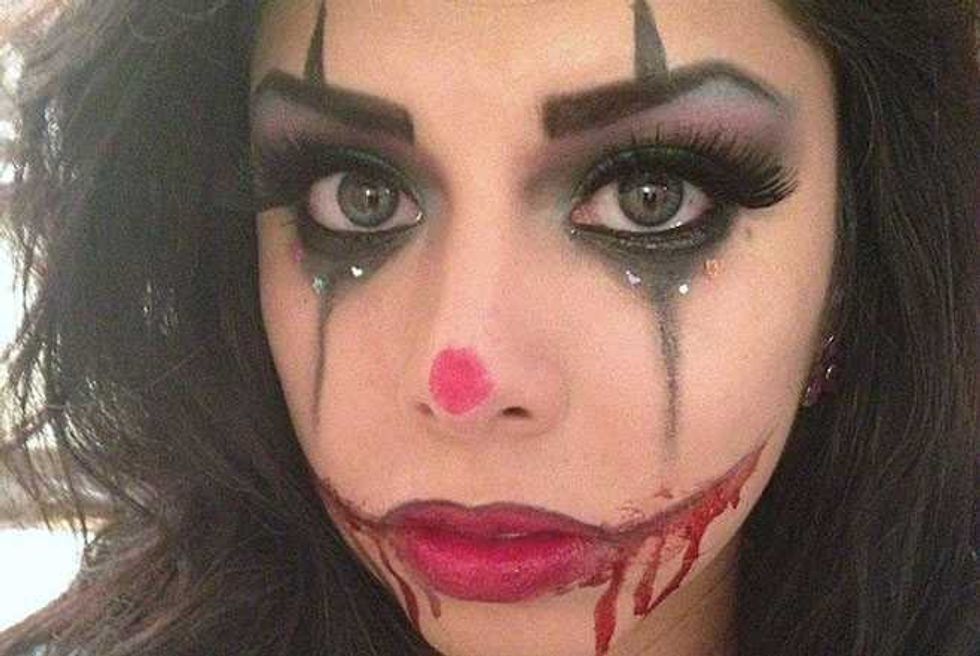 This chick is hogging all the clown cock, and it's not cool...
HOT TO NOT RATIO: 1 out of 70, give or take a red rubber nose or two…
BEST PICK UP LINE: You're a perfect 10 on the rubber chicken scale.
WORST PICK UP LINE: Big shoes, big…..
NUMBER OF CORRESPONDENCES IN ONE WEEK: 32
HOTTEST GUY: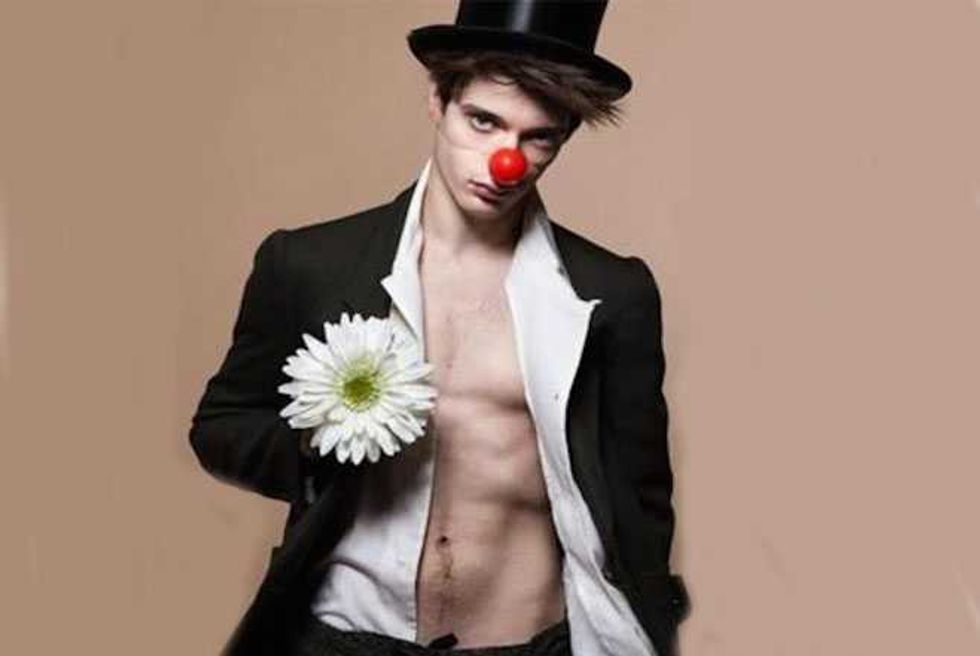 That flower squirts...
Approach/Chat Up Line: Let's settle down and stop scaring children.
Conversation Skills/Rapport: Remember the frog in the Bugs Bunny Cartoon that sings Rag Time, but then when his owner takes him to meet a Hollywood agent, he just says, "Ribbit?"
This guy was kinda like that. The opening line, that I now strongly suspect was lifted from a more clever clown counter-part, was so solid I was fully excepting a tour de force of politically incorrect hilarity. But the guy pretty much, well, ribbited.
Closing Skills: Let's just say the agency didn't sign him.
GUY MY MOM WOULD WANT ME TO DATE: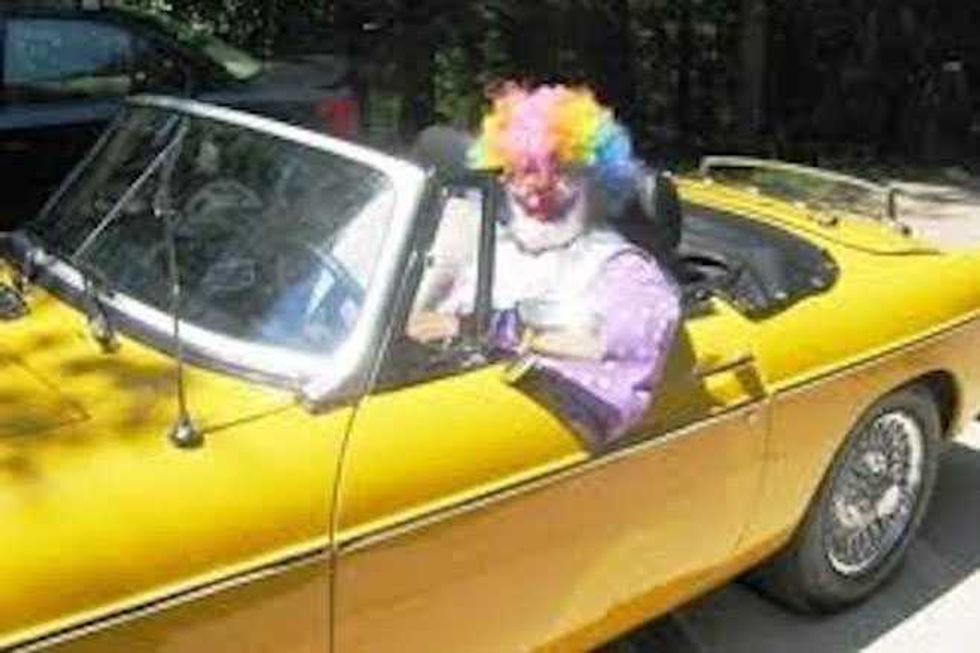 A convertible goes a long way when it comes to the ladies—even if it is banana yellow
This is mostly non-applicable because my mom wouldn't want me to date a clown….or maybe she would, because it means they're employed. Anyway, I picked this pick not because of the clown, but because of the convertible. My mom lives in Michigan and she's always complaining there's not enough sun and she's worried about her vitamin D levels.
Approach/Chat Up Line: Having sex in an elevator is wrong on so many levels.
Conversation Skills/Rapport: The guy really likes puns. I mean he really, really likes puns.
Closing Skills: My mom's coming in next week, so he's taking us to The Olive Garden.
WEIRDEST GUY: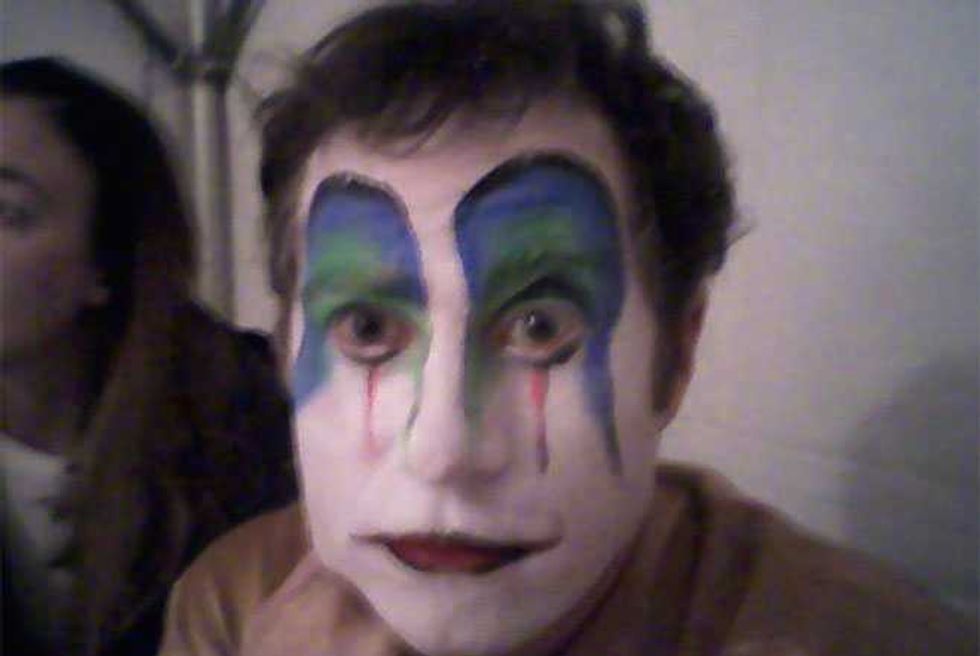 Every parents dream son-in-law....
Approach/chat up line: "I think I smell like my mother."
Conversational Skills/Rapport: Dropped a lot of FBI watch word phraseology.
Closing Skills: Probably involve duct tape.
HELL TO THE NO GUY: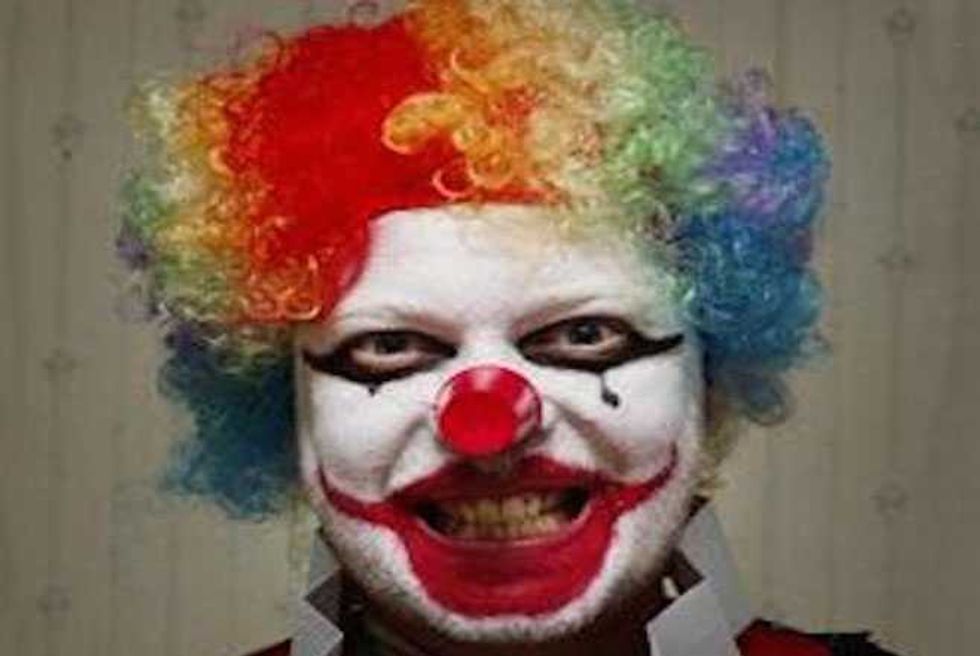 Sleep well my beauty, I'll be right here when you wake up....
Approach/Chat Up Line: Can my dancing poodles watch? Honk honk!
Conversation Skills/Rapport: Likely suffers from Aspergers……actually definitely suffers from Aspergers.
Closing Skills: Probably involve roofies.
BLOW BY BLOW DATE SUMMARY:
His name was Mark but he insisted on being called Marcus, so already I'm annoyed, but I rolled with it, as I wasn't as interested in getting in Marcus' clown suit as I was getting in his head.
Over pizza at Happy Endings, Marcus explained to me that after graduating from Clown College he became a marketing exec at Perdue Chicken but continued to "clown" on the side.
He insisted that he didn't have a clown fetish, but did have a cat o'nine tails made of rubber balloons in the back seat of his Honda Accord, a decidedly un-clown car. I mean, you could barely fit 6 of the funny guys in there.
Anyway, Marcus did confess to having a fetish that he more than likely developed at Clown College. (I'm not even sure if I'm supposed to capitalize "Clown College." I think I am. 'Cuz there's only one, and it's in Florida, of course.)
During his drunken and decadent formative years at CC, Marcus' sexuality became entwined with balloons and a fetish was born. He likes to watch hot chicks pop balloons because the anticipation before the pop is comparable to that before reaching orgasm apparently.
There are porn sites entirely dedicated to balloon popping in fact, and—as well as springing for my pizza—Marcus generously hipped me to some URLs.
In return, he requested that after dinner, I indulge his fetish. Just once.
I was conflicted. His proposition was in no way sexually compromising, but the act itself seemed a little off kilter to me at the very least. Surely there is discomfort accompanying that thunderous popping sound? Still, I was relieved that his request didn't involve my rectum. Or feature the word "midget" or "gang bang."
But, what if he found my popping performance satisfactory? Would he then want me to "paint his horn"?
I declined. It's a woman's right to say 'no.'
But I did do ungodly things with his rubber chicken.
SITE SUMMARY:
It made me log back on to Farmer's Only to see if I could re-instate my membership.
That, and I just think it's weird that, in light of the fact that clowns love puns so much, and that the clown fish is an actual fish, and "fishing" is a dating colloquialism, they would have come up with some kinda clown/ fish pun.
But they didn't, cuz they're horny and all they wanna do is paint the horn.
That's where Clown Passions comes in, so that these lost souls might some day find someone, somewhere, that is willing to paint their horns for them.
Check back on Popdust every Friday for all new Adventures In Dating…next week—Ashley Madison...